There is a lot to think about when it comes to setting up your first website. It can be overwhelming to choose a platform to get started on if you have never built a website before. WordPress is a great platform to use when you are building your first website because it is versatile and user-friendly.
But is WordPress really easy to use?
The user interface for WordPress is very easy to use. You can easily add features to your website to make it whatever you want. There are different themes and plugins available right on your dashboard that you can use to customize your website without advanced computer knowledge.
A website built on WordPress will stand the test of time. It is an ideal platform to choose when you are just starting out, but it will grow with you as you continue to add features to your website and skills to your web design repertoire. To learn more about why WordPress is a great choice for beginner website designers, keep reading.
There are tutorials on WordPress and YouTube that can help you learn how to make your website exactly what you want in just a few easy clicks. These tutorials help you learn every aspect of website building step by step.
Do I need to know how to code to use WordPress?
Coding knowledge, while helpful, is definitely not a requirement to build your website on WordPress. There are hours of WordPress tutorials available for free on this website that will teach you how to create your website without any coding.
WordPress has a detailed back-end user interface that even someone with only basic computer skills can use with a little bit of practice.
What are the benefits of using WordPress?
WordPress is by far the best website building platform for both beginners and advanced website builders. There are so many benefits to using WordPress to build your website from the beginning. Here are just a few of them.
1. Budget-Friendly
WordPress is incredibly cost-effective because the platform itself is free to use. If you stick with WordPress for hosting your website as well, the cost stays free. The only downside of this is that you can't choose a custom domain name, but you would have a completely free website.
If you would prefer to purchase a domain name of your own, you will need to pay a small domain registration fee to a hosting platform like BlueHost or GoDaddy. The fee for your first year of hosting is usually very inexpensive, and you can integrate it seamlessly for free with WordPress.
Other than hosting, you can use all of the design features on the WordPress platform for free out of the box. This is great for new website creators who may not have a large budget to get started. There are paid plugins and add-ons, but they are not necessary depending on your website needs.
2. Highly Customizable
If you can dream it, you can make it on WordPress. The platform is a blank slate that is ready for you to customize exactly the website that you want. Whether you are creating a blog, an informational site, or an e-commerce store, it can all be done on WordPress.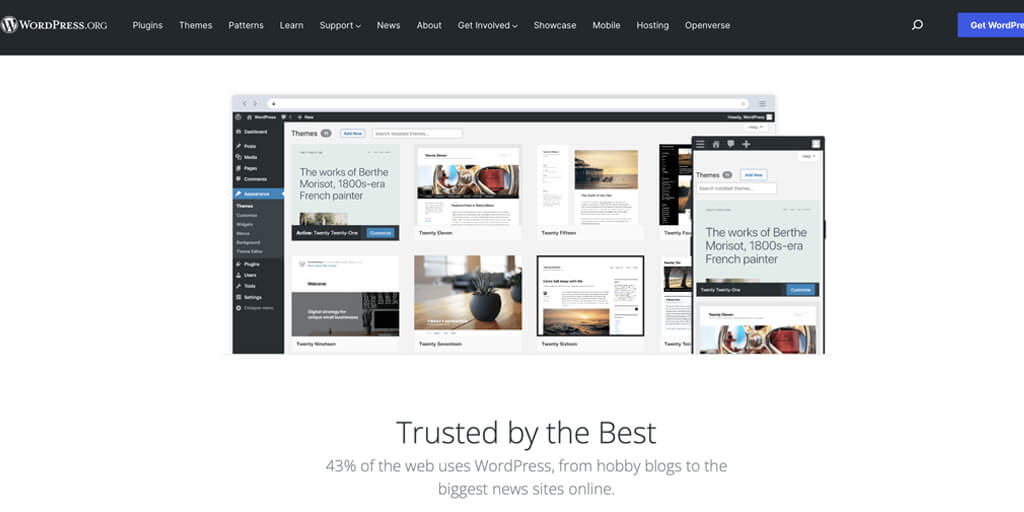 You can customize your site with photos, text blocks, custom color schemes, and logos to represent your business or brand. You can also add additional features like a link to your social media accounts, set up for e-commerce, install plugins for email newsletters and surveys, and so much more.
3. Fun For Coders
If you know any HTML or CSS coding, you can let your skills shine on WordPress. Although you don't need any coding knowledge to be able to use WordPress successfully, there is an option to do your own coding if you wish.
4. Integration Options
One of the best things about WordPress is that it is set up to integrate easily with other platforms. WordPress makes it seamless to link your website to different programs for tracking data and sending communications to your customers.
WordPress offers free plugins that integrate with software systems like Shopify, Salesforce, MailChimp, and so much more right on their user dashboard. In just a few clicks, you can link your accounts and set up your website with rich additional features.
5. Secure Platform
WordPress is committed to safety for its users. As a trusted website building platform, they make it easy to keep your website safe from cyber attacks. They offer a detailed security guide for all new users to learn how to protect themselves online and a free security plugin to help keep your website safe.
6. Helpful Analytics
To keep track of how your website is performing, WordPress offers built-in analytics. You can view basic reporting on visitors to your website, clicks, and other actions that are taken. As you grow your website, you can use other reporting software but WordPress offers more than enough to get you started.
7. Easy-To-Use Themes and Templates
If you know you want a beautiful website but you aren't interested in building it from scratch, there are countless templates that you can find online for a low price. WordPress themes and templates will help your website look professional right away with cohesive colors, fonts, and details. 
Once you find and purchase a template that you love, you can install it on your WordPress site very easily. Templates are a great way to make your website look polished, make sure it's optimized for different devices, and ensure that all features will work well together on your site with minimal back-end work needed.
References