There are hundreds of free WordPress themes available, and it's hard to know which ones will be the best theme for your website. In this article, we have compiled a huge list of the best free themes for every occasion! You can find some great options for business websites, e-commerce sites, churches and magazine sites. There is something here to suit any need!
3 Critical Questions to Ask Yourself Before Choosing a WordPress Theme
Choosing a WordPress theme can be difficult, especially when there are so many to choose from. Free themes seem like the best option if you're on a tight budget, but they come with trade-offs. Free themes typically have limited customization options and usually don't offer good support for your needs. Free themes also tend to load slowly and aren't always responsive. However, free WordPress themes can still be great for certain websites that need something simple or want to get started quickly without spending any money upfront. In this post we'll explore 10 questions you should ask yourself before choosing a free WordPress theme for your website!
1. Will I need support for my new theme?
How tech savvy are you? When installing a WordPress theme, if you're not very tech savvy, you may want to stay away from a free theme that offers limited support. Free themes typically have small communities of users and the community's knowledge base is often times lacking or incomplete compared to other premium options. These themes are great for people who know how to find answers on their own through Google searches or by combing through the theme's documentation. A free theme has a lot to offer, but make sure you're comfortable when dealing with any tech issues or questions about how things work on your website before committing to one!
2. Can I live with a lack of fancy features?
Themes that are free tend to be simpler and for good reason. Free themes have a lot of features, but they typically don't have as many options or "bells & whistles" compared to premium WordPress themes. If you're okay with not having every possible option available in your theme's settings panel, then maybe going with a free theme is right for you. If on the other hand, your website needs certain features that are only available in premium themes (e.g., sliders, parallax scrolling), then a free theme might not be right for your site!
3. Do I need a normal business website or do I plan to go big?
The bigger a website gets the more money it costs to maintain. Free themes typically are easier and faster for developers, but they often come with less features than premium WordPress themes. This is because there's simply more code that needs to get written in order to add new functionality or fix bugs if something goes wrong on a large website. You'll also be responsible for hiring someone tech savvy when you need support if you choose a free theme without good community resources available. Free themes have their place, but they're typically not ideal for large websites that are trying to grow and scale over time.
The Top 10 of the best free WordPress themes
1. Kadence – One of the top free WordPress themes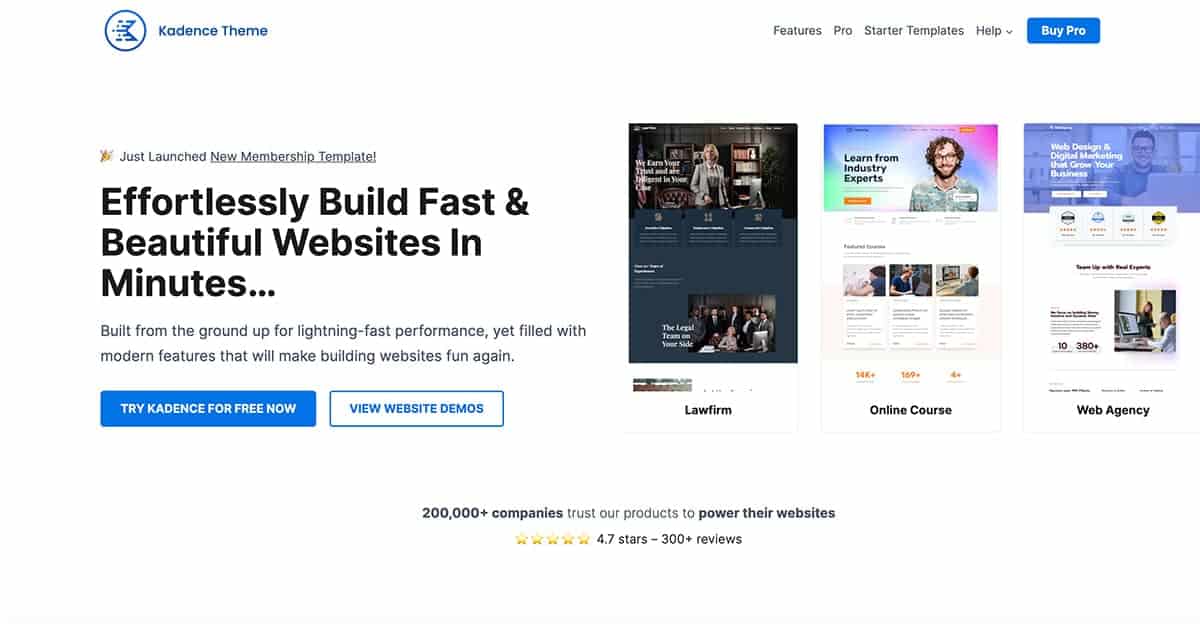 Kadence is a free WordPress theme designed to meet the needs of bloggers, photographers, creatives and anyone who wants to share their story with the world.
Kadence comes loaded with features that make it easy for users to customize their site without code knowledge. The pre-built layouts are perfect for quickly getting started, but you can also use your own custom design or one from the other themes in the marketplace.
You get full control over your header image which means using logos and branding are as simple as uploading an image or adding text. Finally, Kadence's ultra-fast loading times will help you put out more content faster than ever before!
| | |
| --- | --- |
| Developed by | Kadence WP |
| Active Installations | 80.000+ |
| Community Rating | 5 out of 5 Stars |
2. GeneratePress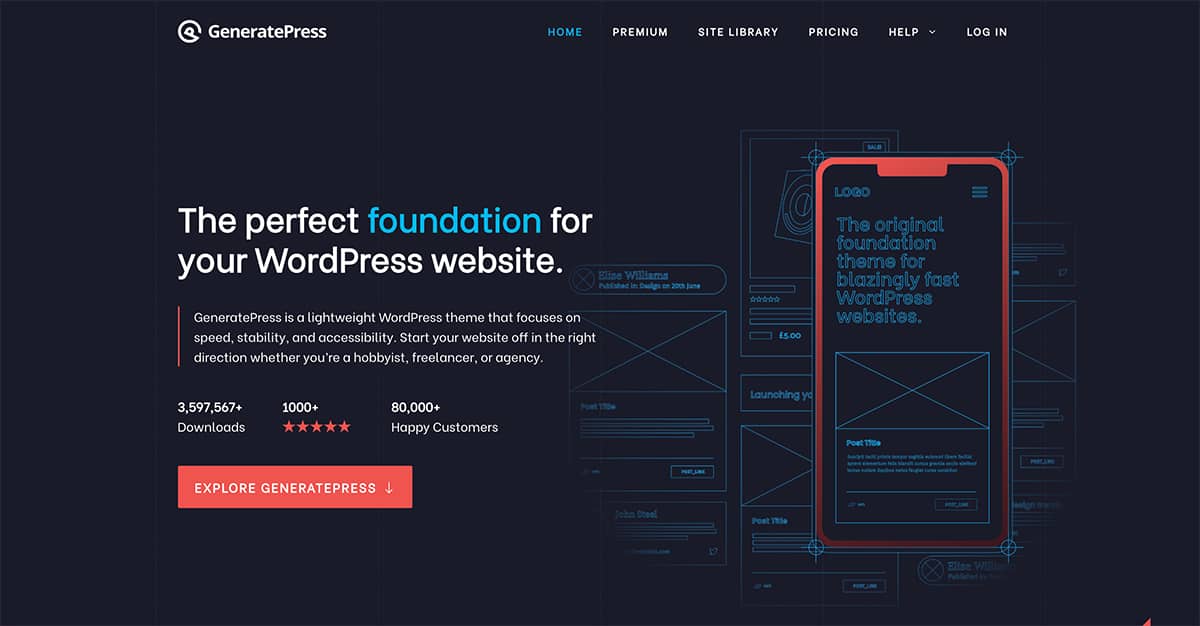 GeneratePress is a free, open-source WordPress theme. It's not just any old free theme though. This one has everything you need to get started with building your own website in as little time as possible.
And it couldn't be easier!
GeneratePress features a block-based theme builder that lets you customize anything from typography to spacing without having to touch any code at all. Plus, it includes the best support available for WordPress themes on the internet today!
| | |
| --- | --- |
| Developed by | Tom Usborne |
| Active Installations | 400.000+ |
| Community Rating | 5 out of 5 Stars |
3. Neve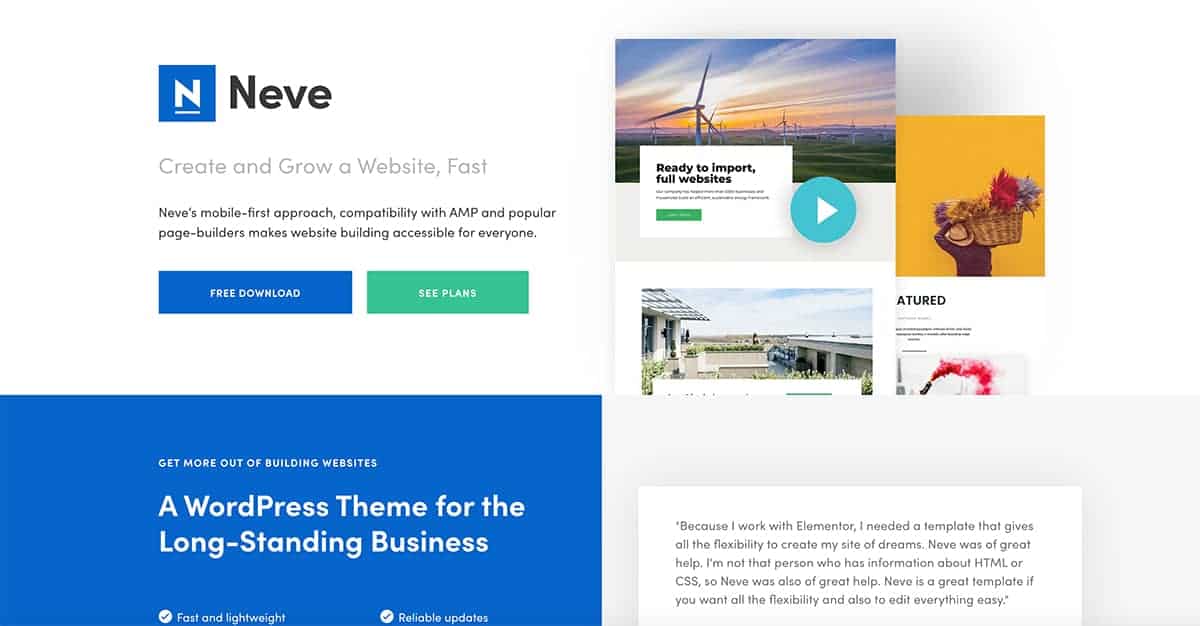 Neve Theme is one of the free WordPress themes that offers you the ability to create an amazing website in less than 5 minutes. Not only does it load fast, but it also comes with features such as: Complete customization of the header and footer, Mobile ready design, AMP compatibility and more. The theme is fully responsive which means your site will look great on any device! If you're looking for a reliable theme that can be customized to fit your needs- this is the best choice for you!
| | |
| --- | --- |
| Developed by | Themeisle |
| Active Installations | 200.000+ |
| Community Rating | 5 out of 5 Stars |
4. OceanWP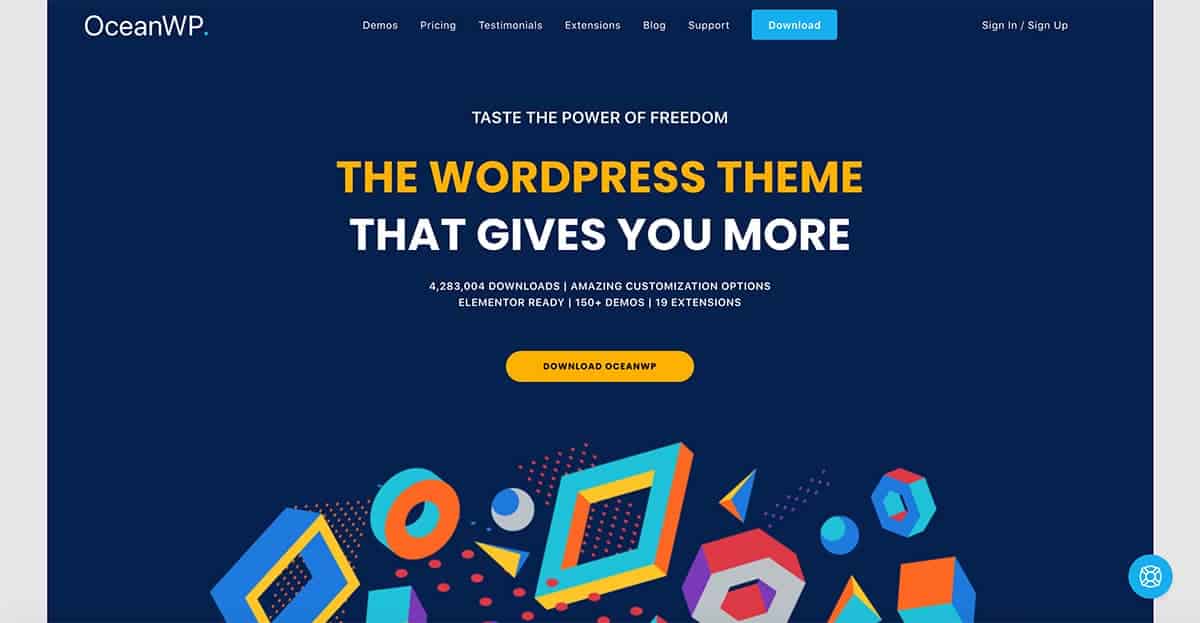 OceanWP is a free WordPress theme that includes over 150 demos, 19 extensions and best SEO practices. This theme offers accessibility ready features and is fully responsive.
OceanWP has many different demos to choose from when starting a new website or blog such as the "Fashion Blog" demo, which gives you an idea of what your website will look like with OceanWP installed.
Not only does this free WordPress theme help bloggers and website owners get started quickly by providing several demos and 19 different extensions, but it also makes their site run as smoothly as possible without any hassle. The best SEO practices are built into the OceanWP theme making your website fully accessible to both Google and social media platforms.
| | |
| --- | --- |
| Developed by | OceanWP |
| Active Installations | 700.000+ |
| Community Rating | 5 out of 5 Stars |
5. Hello Elementor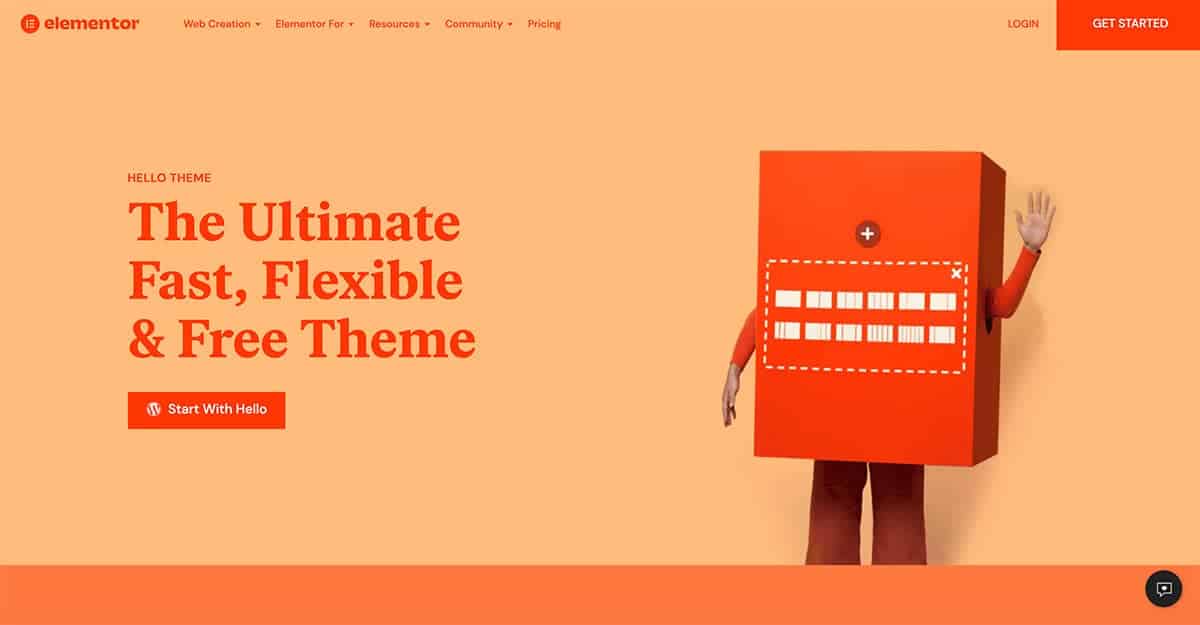 Hello Elementor WordPress theme is a lightweight and fast-loading theme that has been designed to be highly flexible with the use of Elementor page builder. The theme allows you to customize colors, typographies and logo quickly and easily. Hello Elementor also includes WooCommerce integration so users can create online shops within minutes without any coding knowledge.
Whenever you use the Elementor page builder plugin, this theme has the ability to make your website mobile responsive. With Hello Elementor, you can create almost any layout that you desire for both your blog and homepage thanks to this page builder's extensive features. Elements such as sliders, galleries, call-to-action buttons and contact forms are just some of the items included in Elementor's library which comes with more than 40 different elements.
Hello Elementor is also SEO friendly meaning that it has basic SEO implemented already so site owners who want search engine optimization can have an easier task of having their sites rank higher on SERPs (search engine result pages). You can also choose from a wide range of Google fonts that will look great no matter what theme color or you choose to use.
| | |
| --- | --- |
| Developed by | Elementor |
| Active Installations | 800.000+ |
| Community Rating | 4.5 out of 5 Stars |
6. Astra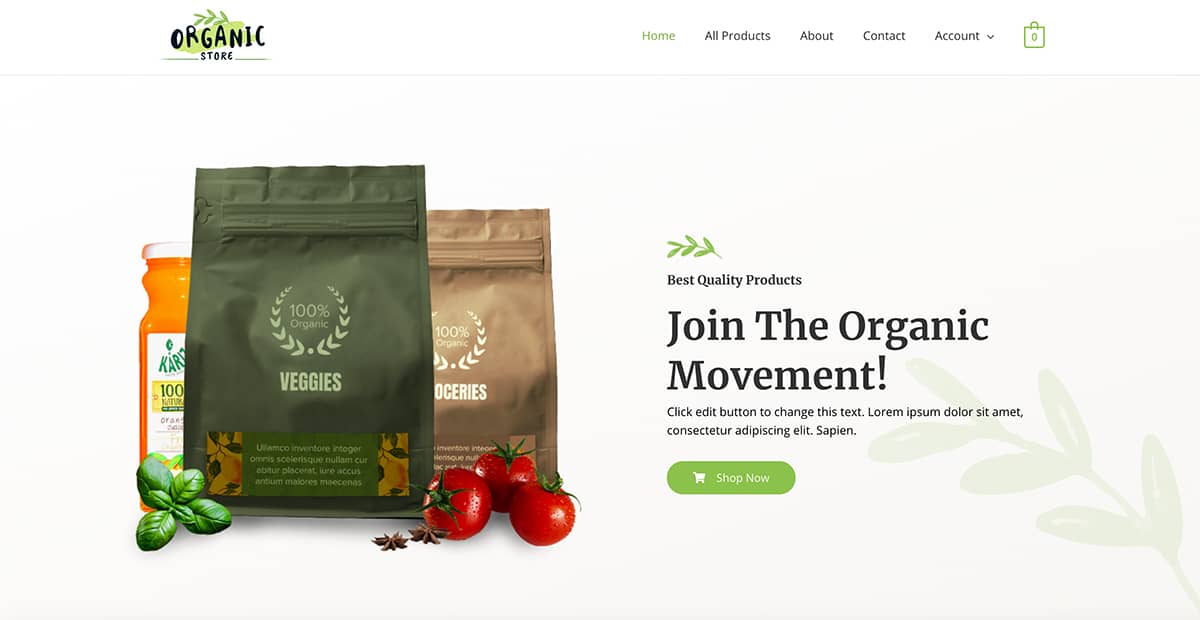 No list without one of the most popular free WordPress themes. 😉
Whether you're a blogger, an online store owner or just want to create your own website, the Free Astra WordPress Theme is perfect for you.
It's fully customizable and comes with Schema.org code integrated so it'll rank higher in search engine results pages like Google. The theme is also WooCommerce ready so if you have an online store then this is the perfect template for you too!
The free Astra WordPress Theme works perfectly with all page builders like Elementor, Beaver Builder, Visual Composer and SiteOrigin meaning you can use whichever one suits your needs best. It's responsive which means it looks great on any device and finally, the free Astra WordPress theme is regularly updated making sure that security flaws are fixed.
| | |
| --- | --- |
| Developed by | Brainstorm Force |
| Active Installations | 1+ million |
| Community Rating | 5 out of 5 Stars |
7. Zakra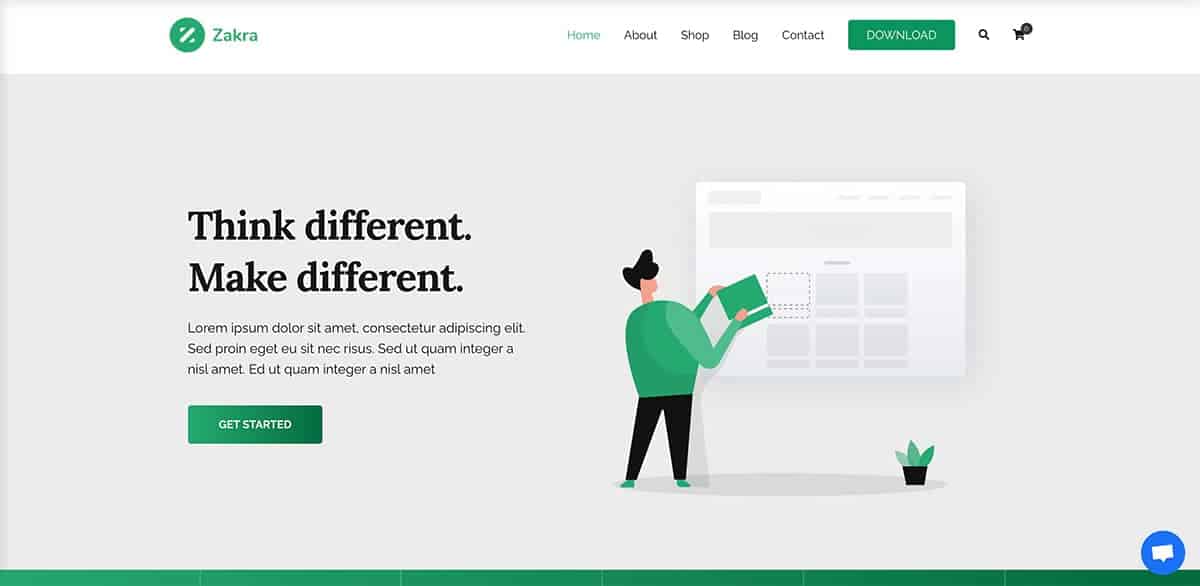 Zakra WordPress Theme is a lightweight, flexible and modern multipurpose theme. It features many starter free sites for personal blog, portfolio, WooCommerce stores, business websites and niche-based sites. The theme also has Elementor compatibility plus translation ready & SEO friendly features. Zakra is Gutenberg compatible and works with other major page builders as well. It's also fast with a clean design that will work on any device or platform without affecting the user experience in any way.
Zakra WordPress Theme doesn't require coding skills to get started so it's easy enough even for amateur web developers who are just starting out.
The theme comes with extensive documentation to help users set up their starter sites quickly while also offering support via multiple formats. The developer is very popular for his free WordPress themes.
| | |
| --- | --- |
| Developed by | ThemeGrill |
| Active Installations | 60.000+ |
| Community Rating | 5 out of 5 Stars |
8. Hestia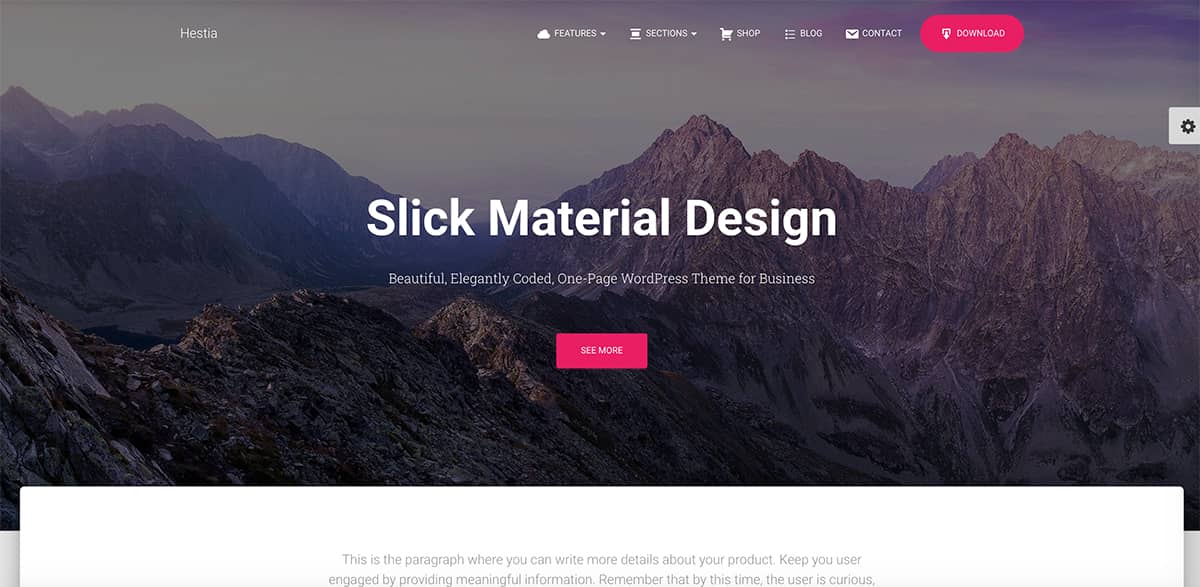 The Hestia WordPress Theme is a multipurpose theme that can be used for multiple purposes. It's perfect for creative businesses, startups, online agencies and firms, portfolios and ecommerce. The Hestia Theme has many features including a modern design, widgetized footer, Material Kit design and more.
Hestia is one of the completely free WordPress themes to download and use!
Anyone can use this theme for whatever purpose they want! It's super easy to install and setup. If you are looking for a high quality, modern multipurpose theme then you should give it a try!
| | |
| --- | --- |
| Developed by | Themeisle |
| Active Installations | 100.000+ |
| Community Rating | 5 out of 5 Stars |
9. Hueman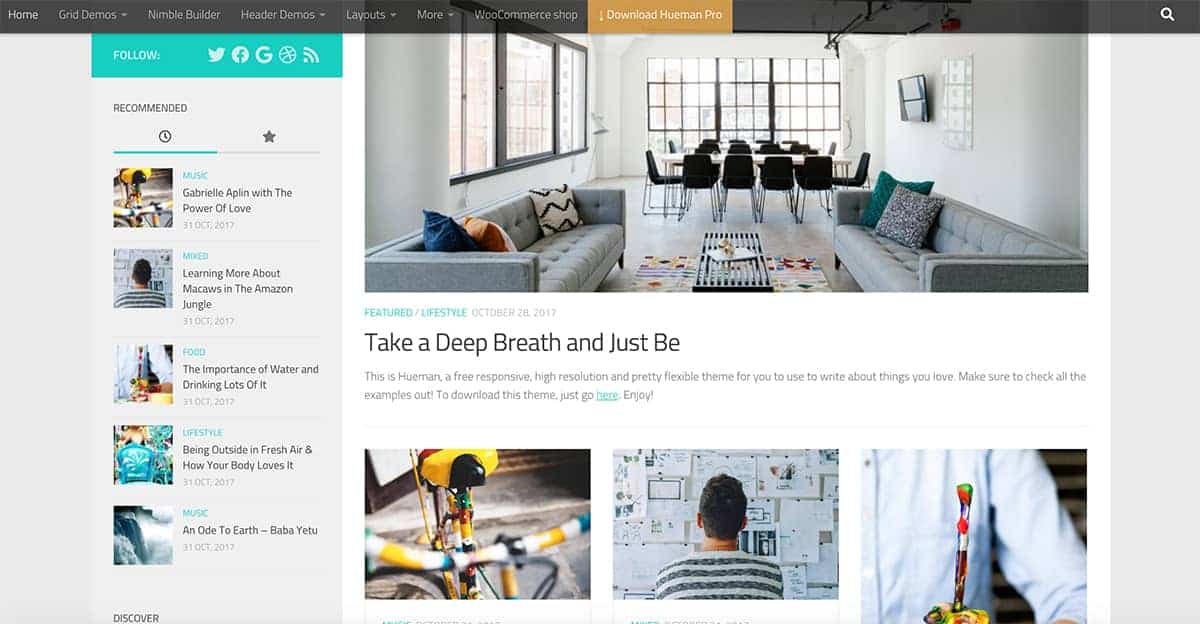 Hueman WordPress Theme is a responsive and SEO-friendly theme that loads fast and is 100% mobile friendly. It has been designed to increase conversions by using the latest best practices in web design.
Complete with support for WooCommerce, Hueman can be used to create anything from a family blog, magazine or online store! All of this packaged into one of the best rated themes for blogs and magazines as well as powering over 70K websites around the world.
Its validated HTML markup and valid CSS ensures that your blog or magazine is future-proof while the powerful options framework offers tons of customization. All this without you needing any coding skills.
| | |
| --- | --- |
| Developed by | Nicolas |
| Active Installations | 50.000+ |
| Community Rating | 5 out of 5 Stars |
Free WordPress themes for business
There's no need to pay your hard earned dollars when there's an affordable option out there that will work great for your business. If you want a beautiful website without breaking the bank, then these free WordPress themes are just what you need!
Jump right into our list of free WordPress themes that are perfect for businesses like yours. Our team has tested and reviewed every theme on this site, so we can help you find the best one for your needs. Plus, all our themes are mobile-friendly and search engine optimized to get you found online!
Airi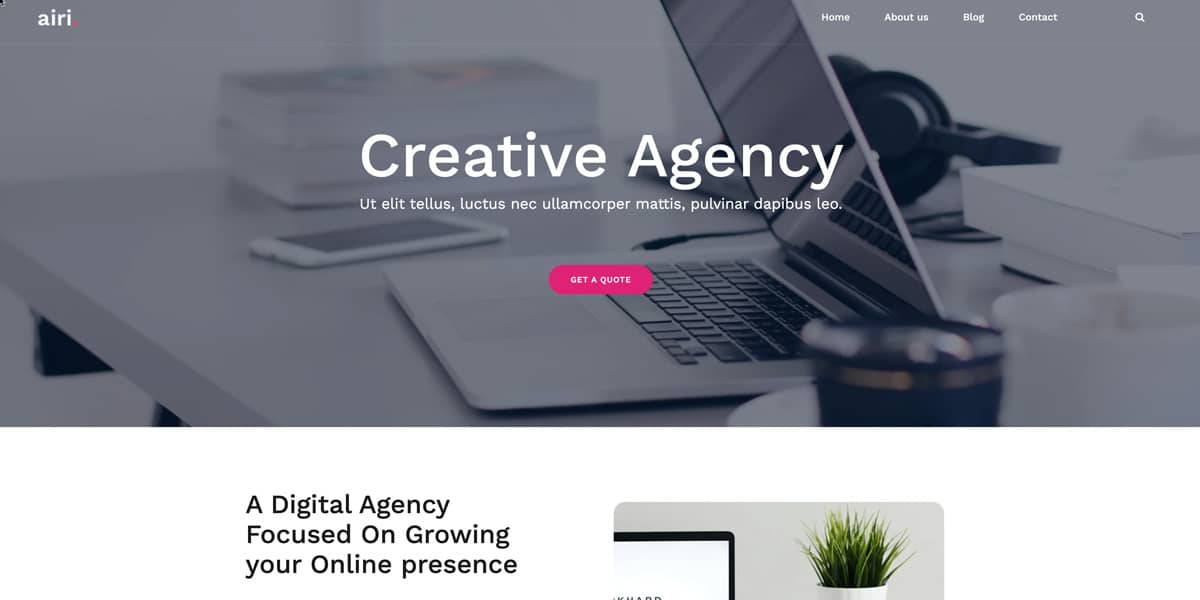 Airi is a business WordPress theme with an elegant and modern design. It's perfect for any kind of business, from small startups to large enterprises. Airi comes with powerful yet lightweight and flexible features that will meet all your needs.
You can easily customize the look and feel of your site using the Elementor integration or by using pre-made Elementor layouts available in this theme.
With Airi you'll get full WooCommerce support which means you can sell anything online without worrying about compatibility issues! Finally, enjoy unlimited colors, fonts, icons and logos – everything you need to make your website unique and successful!
This free theme is a good choice for any digital agency, organization or freelancer.
Rocked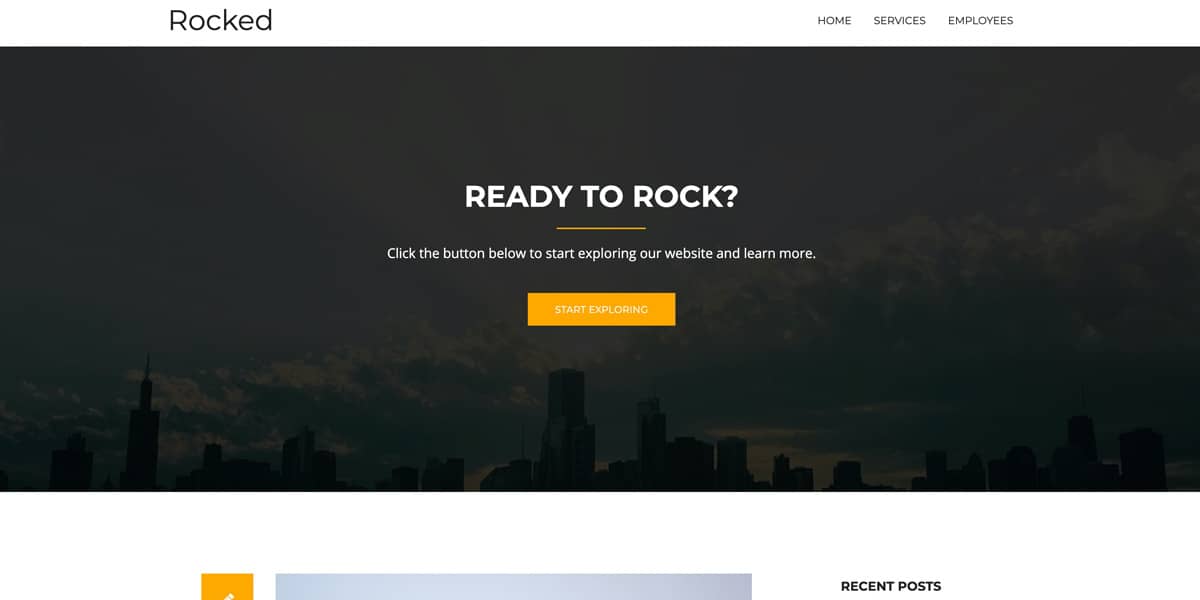 Rocked is one of the free WordPress themes that has been designed to provide you with the best possible experience. Made by aThemes, one of the most popular and reputable companies in this industry, Rocked offers plenty of customization options, including color schemes and layouts. This makes it perfect for those who don't want anything too flashy or complicated but still want their site to look great.
It's also worth noting that there are many features included which make editing your site even easier than before, such as live previews in the Customizer and access to Google Fonts among others.
Blocksy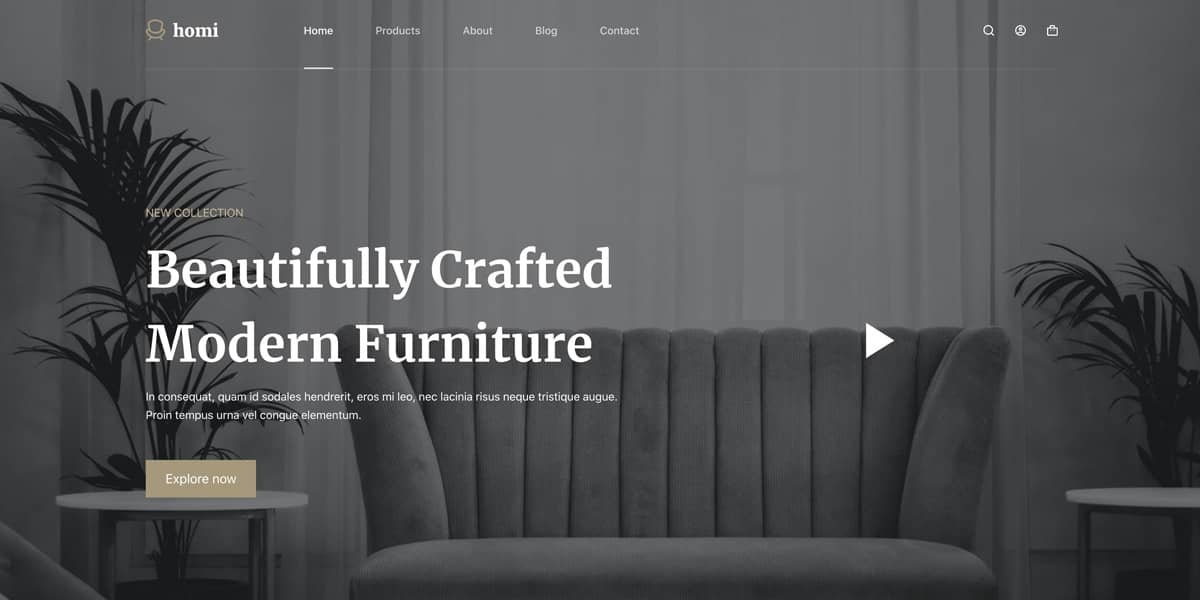 Blocksy is a completely free WordPress theme with fast loading times, built-in Gutenberg compatibility and WooCommerce integration.
Blocksy's design also allows you to create any type of website you want, such as business agency, shop, corporate, education or restaurant. It works with popular page builders like Elementor and Beaver Builder too! Blocksy has been designed for SEO from the outset and looks great on all devices.
WooCommerce is already built in so that you can sell products, services, and more.
Blocksy has extensive documentation and the support team is always on hand to help if needed. This WordPress theme is completely free for anyone to build the website they want with it!
Sydney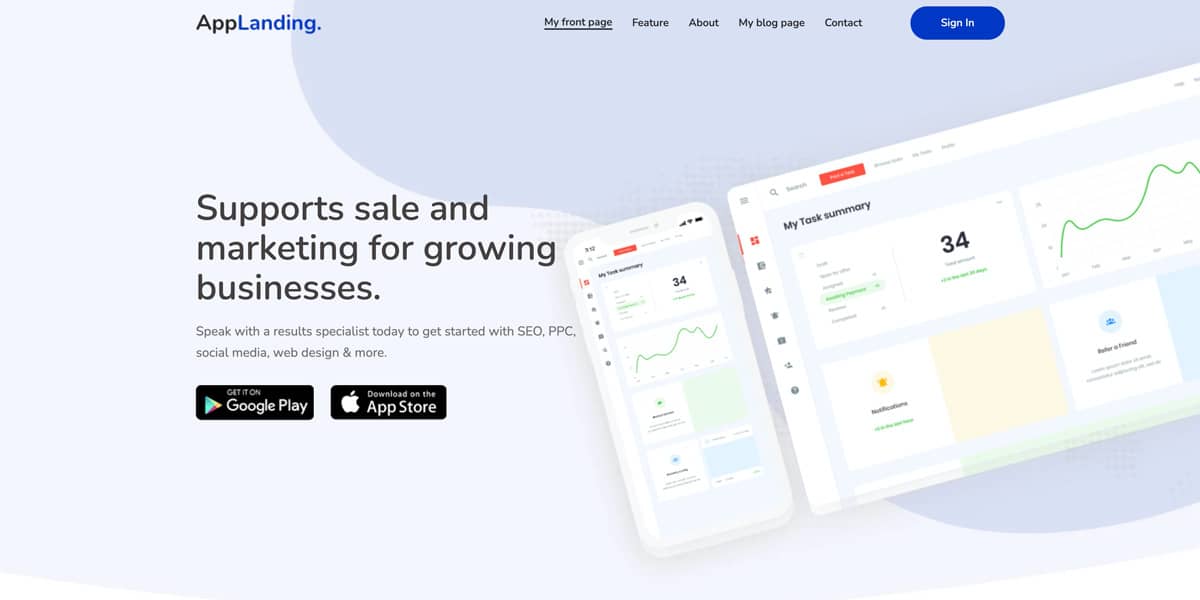 The Sydney WordPress Theme can be applied by any company or freelancer who wishes to create a professional online presence quickly.
This theme includes all of the features needed to make your site stand out from the rest, including
access to Google Fonts,
color control,
layout control,
logo upload capabilities and much more!
Amongst its many features are construction blocks that allow you to rapidly create an engaging front page with just a few clicks. Sydney theme is compatible with Elementor so you'll have plenty of customization possibilities like full screen slider headers images sticky navigation etc…
With this theme it will be easy for your company to make a stunning website in just a few clicks.
Flash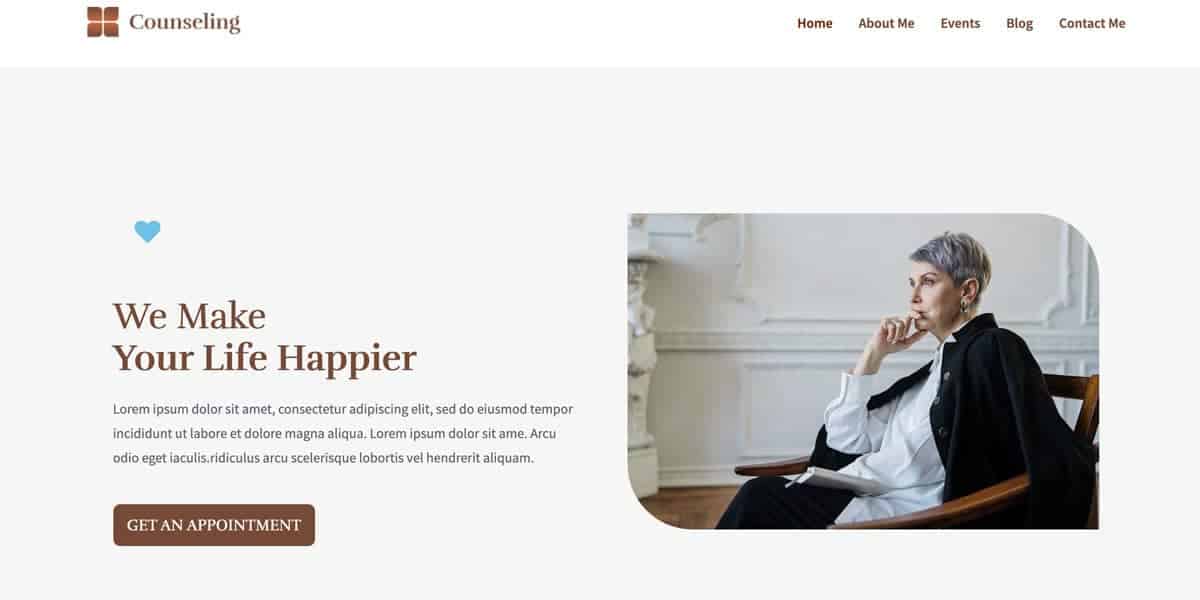 Flash is one of the multipurpose free WordPress themes that provides multiple pre-built demos which can be imported in seconds. This free responsive multipurpose theme comes with all the features you need to create a beautiful website, blog or online store.
It integrates fully with Flash Toolkit and SiteOrigin's Page Builder Plugin so it is user-friendly and easy to use for those who are not familiar with coding languages.
With this theme, you get multiple blog layouts including one page scrolling layout to make your content stand out from the rest of your site's design. There is also an audio player integration feature that will allow users to play music on their site without any extra plugins needed!
Free Flash multipurpose WordPress theme has a rating of 5 stars out of 5. The only disadvantage is that it does have a few minor bugs that need to be addressed but the developer has been great about fixing them. With a little bit of patience and some trial and error, this theme can be the perfect one for you! Make your site stand out with Flash WordPress Theme today!
OnePress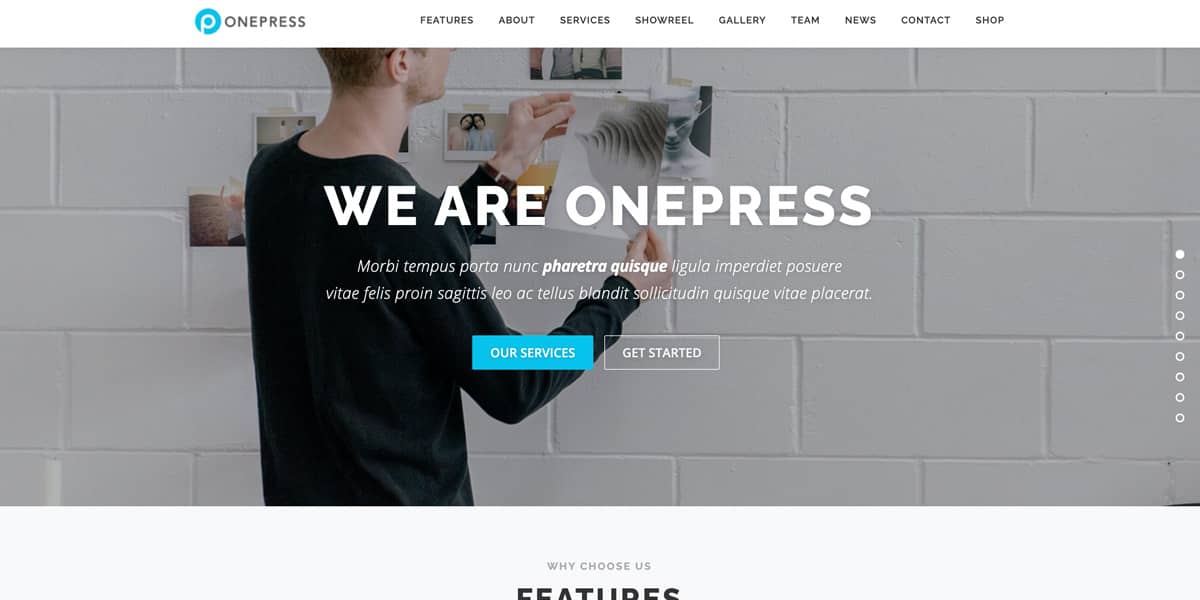 OnePress is a one page WordPress theme. Perfect for business websites, freelancers and digital agencies. It has all the features needed to make your website stand out from the crowd.
OnePress includes a modern design with bold colors, an intuitive interface and many functionalities like: Bootstrap 4 framework compatibility, WooCommerce compatibility and more!
OnePress is a one page theme which means it's a perfect solution for creative people and businesses who want to have an easy to use website which allows them to focus all of their attention on showcasing their products or services on only one page.
Best free WordPress themes for blogs and blogging
Foodica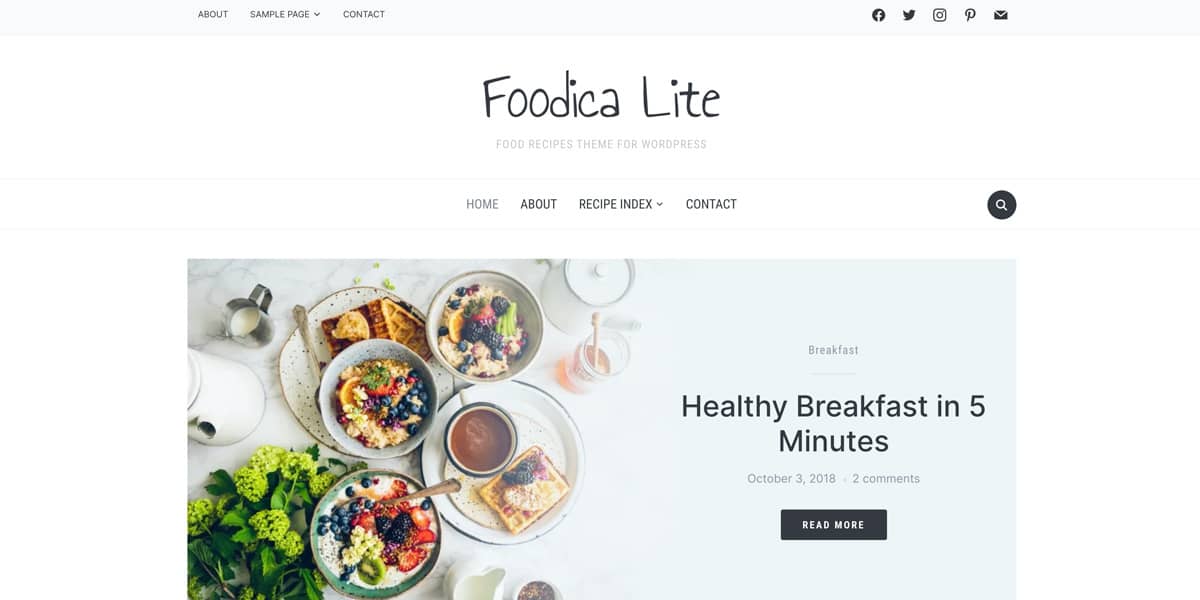 The Foodica WordPress Theme is a perfect theme for food based blogs and recipe websites. This free theme has an attractive featured slider, WooCommerce integration, and features a beautiful Recipe Index template. With the Foodica WordPress Theme you can create something that will get people talking about your blog!
Foodica is one of my best recommendations, due to the fact that it has everything.
This free theme was designed specifically for food blogger or blog covering recipes with a taste for modern trends. The theme features a solid fully responsive frame offering full adaptability on mobile devices as well as high resolution displays for getting the most out of your screen estate.
Cenote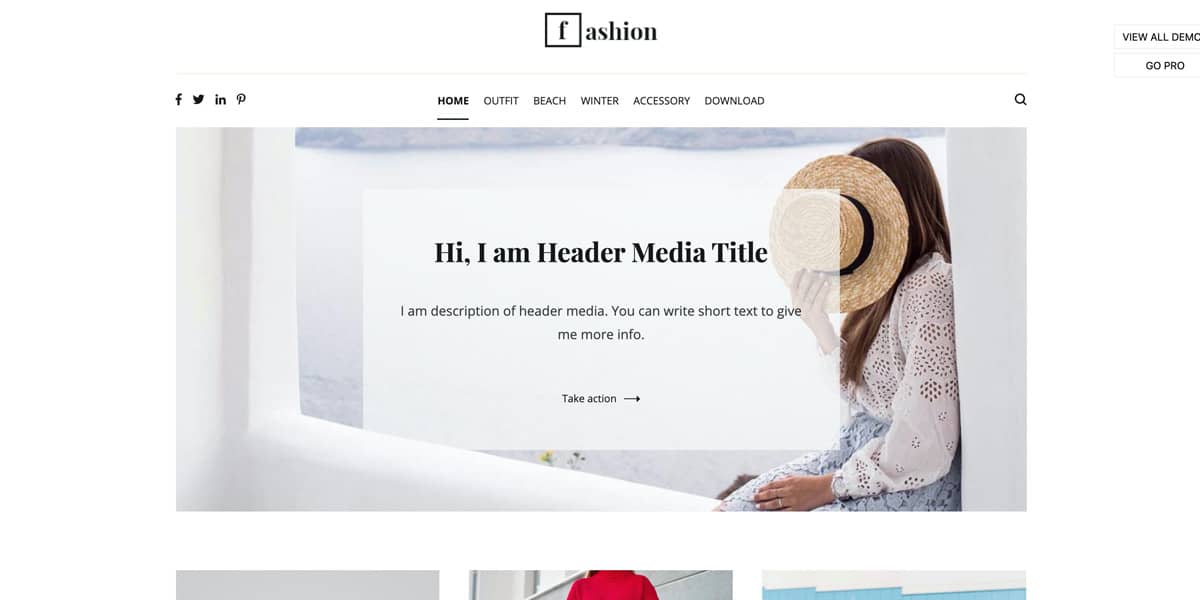 A free WordPress theme with clean design and multiple features.
Cenote is one of the free WordPress themes for blogs that offers something for everyone from personal blogs to niche sites, as well as food, fashion, travel and more. It's easy to set up on any hosting service provider and comes with various demos so you can easily create the site of your dreams. Cenote has been downloaded over 500 times in just the last month!
It also boasts an impressive 5 out of 5 stars rating from users who love how it looks on their websites. If you're looking for a new website or blog theme, download Cenote today!
Vertex (Blogging)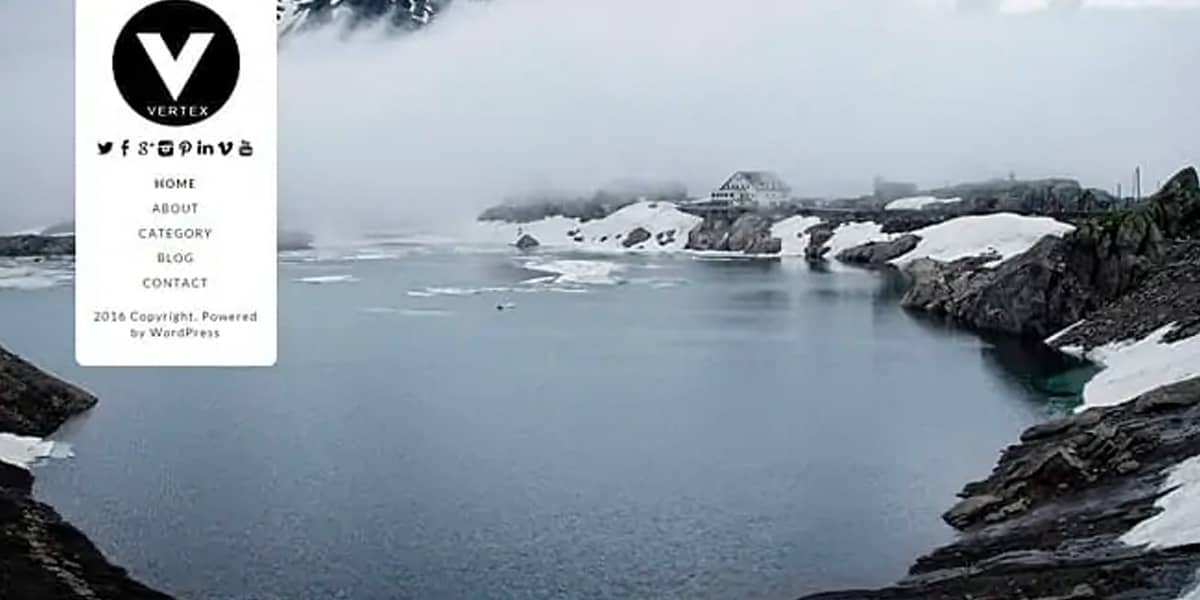 Vertex is a clean and modern WordPress theme, perfect for any business looking to make an impact with their website. Vertex includes many features that are important to the success of any site: Mobile-friendly design, SEO-friendly code and layout, responsive slider, beautiful typography options. Vertex has one goal in mind: To help you succeed online.
If you want to start your own blogging business, Vertex can help you do that. If you want to offer a professional website for your business, Vertex is there for you.
Not included is WooCommerce compatibility. So if you want to start an e-commerce business, this theme might not be right for you.
Hemingway WordPress Theme for blogs and bloggers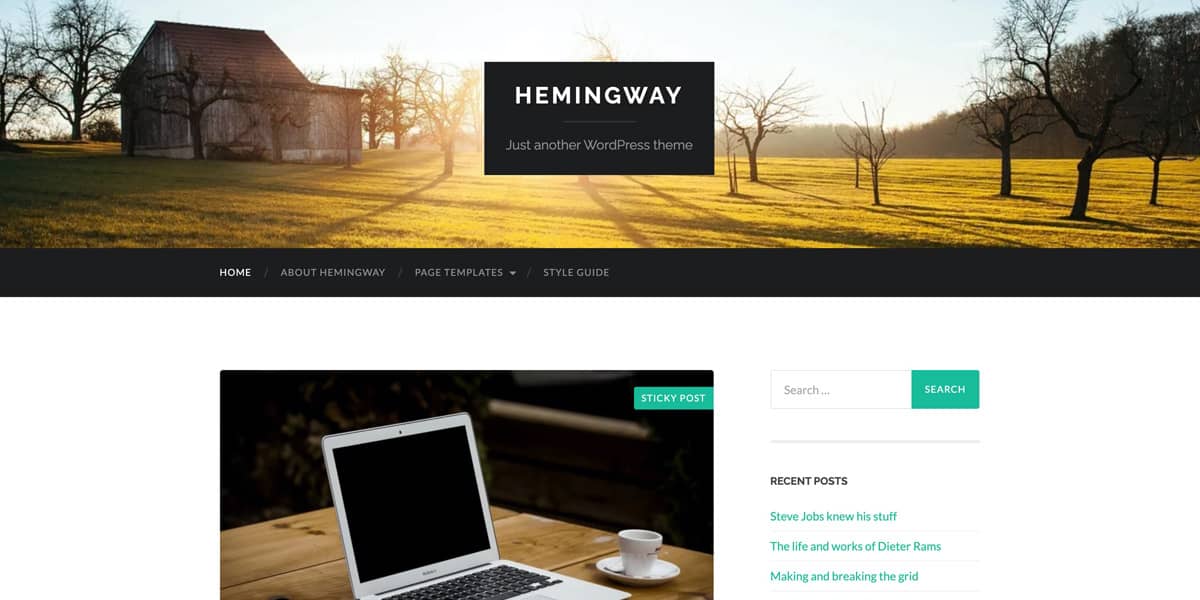 If you're a blogger, then the Hemingway WordPress Theme for blogs and bloggers will be perfect for your website. This theme features two-columns and is responsive so it can adjust to any device.
It also has retina-ready assets and full width header images with parallax scrolling effects which give an awesome look out of the box! You'll love this theme if you want something clean, beautiful, responsive and that looks great right from the get go!
And best of all, it's completely free!
Hemingway supports the block editor which is the new editor for WordPress. The Hemingway WordPress Theme for blogs and bloggers is not only free, it's also open source software so you can download all the PSDs of this theme right from Github!
Spacious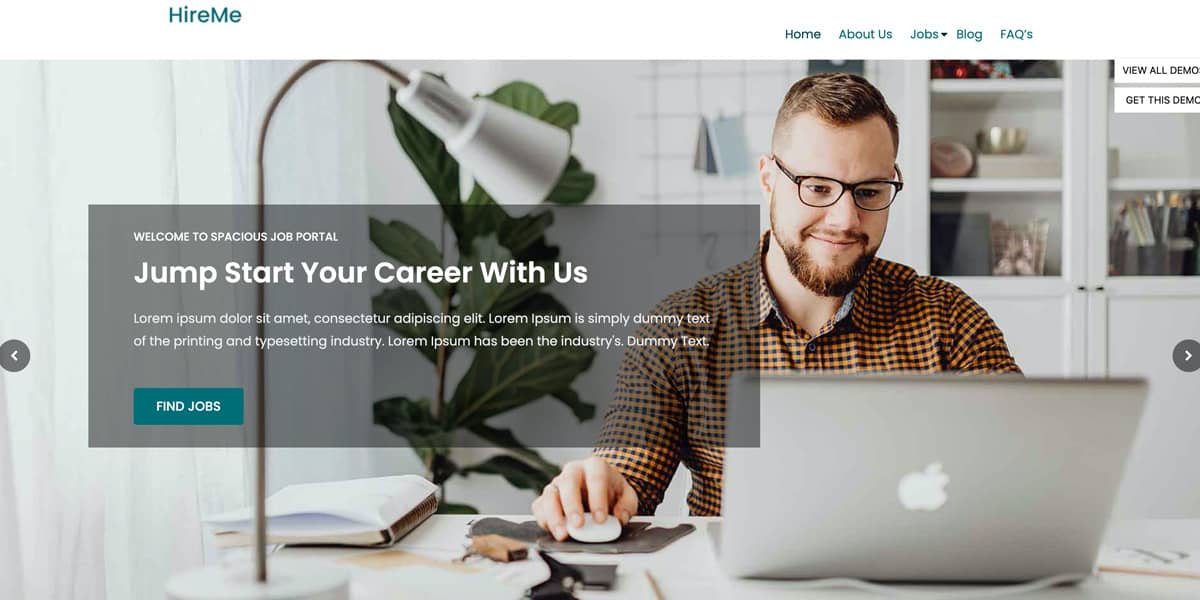 Spacious is a multipurpose WordPress Theme with an incredible amount of features. It's coded and designed with care, and it can be used for any type of site: business, portfolio or blog.
There are four different page layouts to choose from, 13 widget areas that you can customize to your needs and an awesome slider.
Free Spacious WordPress Theme has everything you need!
Free church WordPress themes
Will be updated soon!
Free real estate WordPress themes
Will be updated soon!
Free ecommerce WordPress themes
Storefront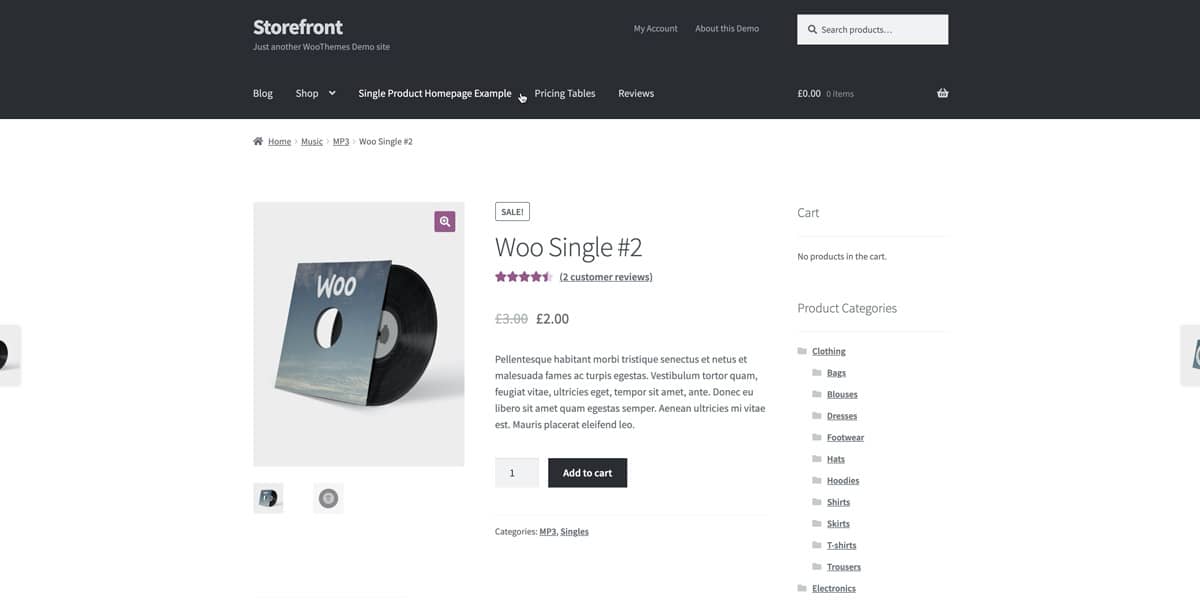 The Storefront WordPress eCommerce theme is a perfect choice for your next WooCommerce project. It was developed by some of the WooCommerce core developers and has several layout and color options to personalize your shop.
The responsive design makes it easy to use on any device, from desktop computer screens to mobile phones. There are multiple widget regions which you can adjust depending on how much content you want in each section of your website.
It also includes a range of features that make setting up an online store or blog as simple as possible, including SEO optimization, Google Fonts integration, various header layouts and many more!
Orchid Store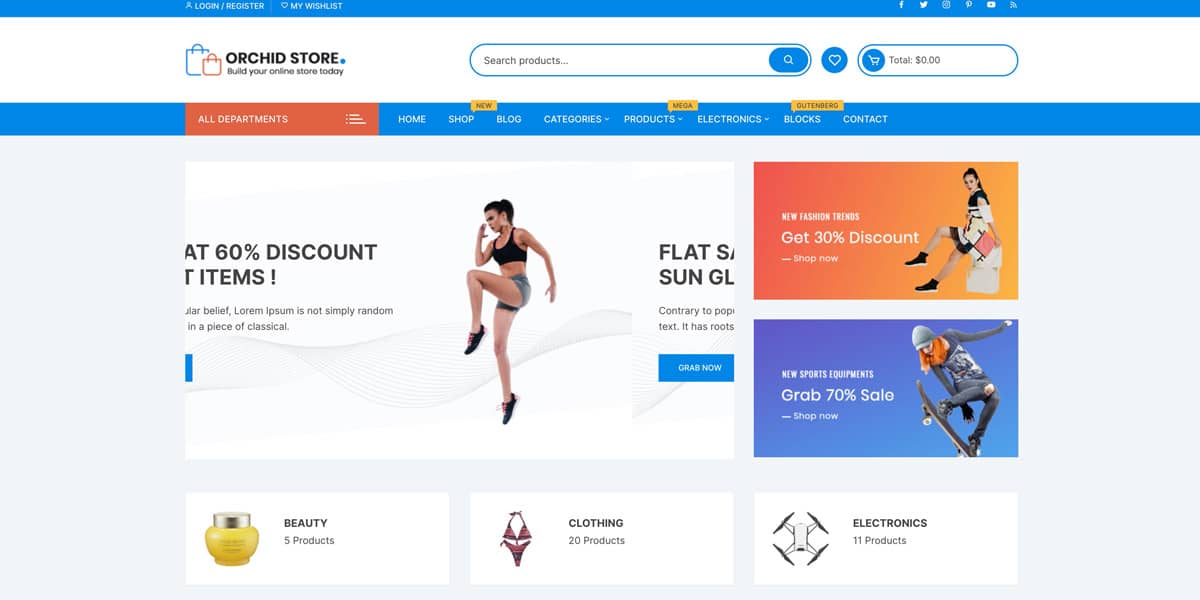 Do you want to be in the forefront of eCommerce? Do you have a business that needs an online store? If so, then it's time for you to get your hands on the free Orchid Store WordPress theme by Themebeez.
Orchid Store is a clean, flexible and stylish WordPress theme designed especially for WooCommerce. You can use the theme to build a wide range of stores from fashion stores, mobile/gadget stores, furniture shops or any kind of multi-category store with ease.
The best part is that this awesome theme comes completely ready with Elementor page builder plugin integration!
eStore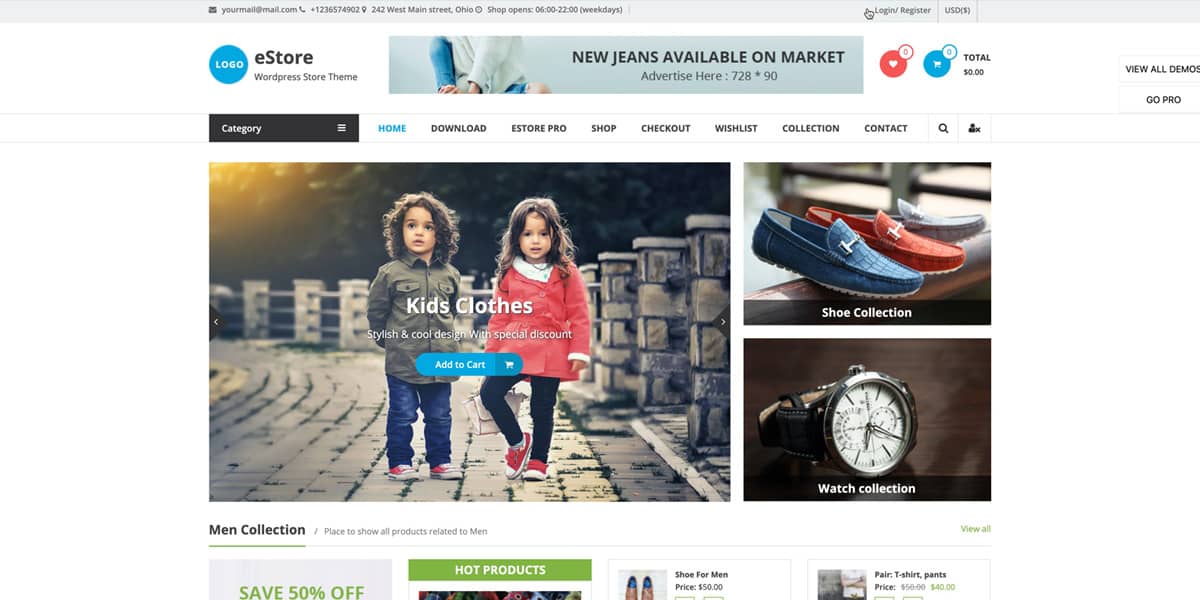 The eStore WordPress Theme is a fully customizable responsive WooCommerce theme that packs many premium features and several custom widgets. This theme makes your online store look professional and well organized.
You can use this theme for any type of business, blogger or shopaholic who needs an attractive website. It's also perfect for those looking to sell their products on the internet without having to spend too much money in doing so.
The free version comes with limited customization while the pro version offers more features and options to customize as per your requirements. Check out both versions now!
Free minimalist WordPress themes
Crate – Minimalist WordPress Theme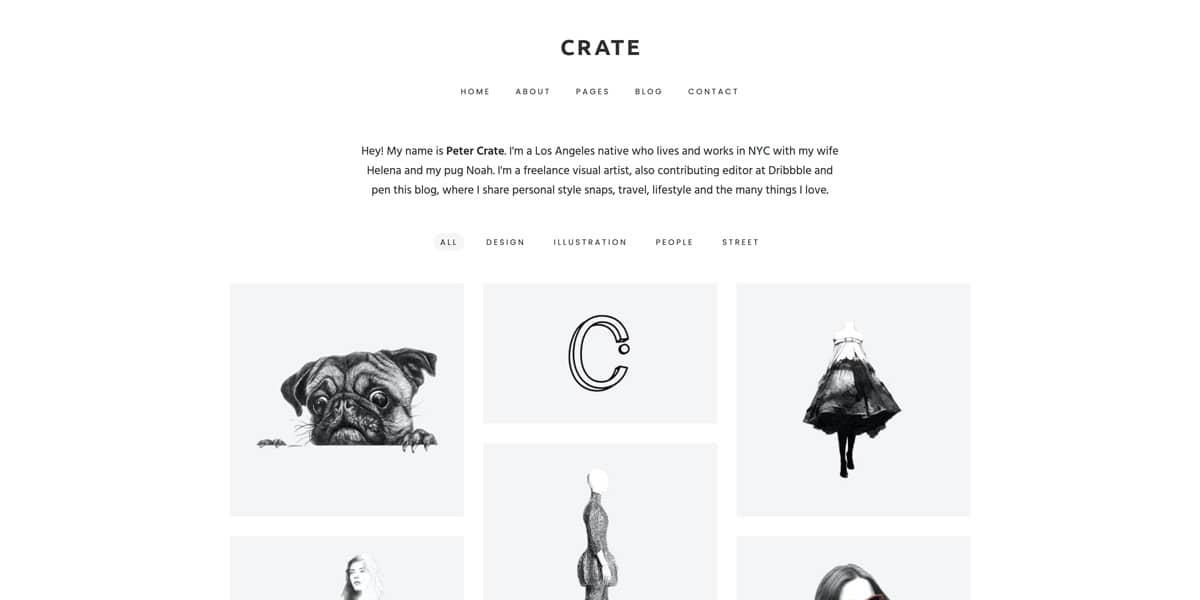 Crate is one of the free WordPress Themes that has been designed by the team at Neuronthemes. It's fully responsive and easy to use, with an intuitive live customizer that doesn't require any coding knowledge.
You can import your own demo content in one click or start from scratch with the versatile theme options panel.
The minimalistic design is perfect for showcasing your work without distractions, while supporting up to four different portfolio layouts depending on your needs. With features like lightbox galleries and strong customer support, this theme is great for designers of all levels!
Best free wordpress themes for photographers
Inspiro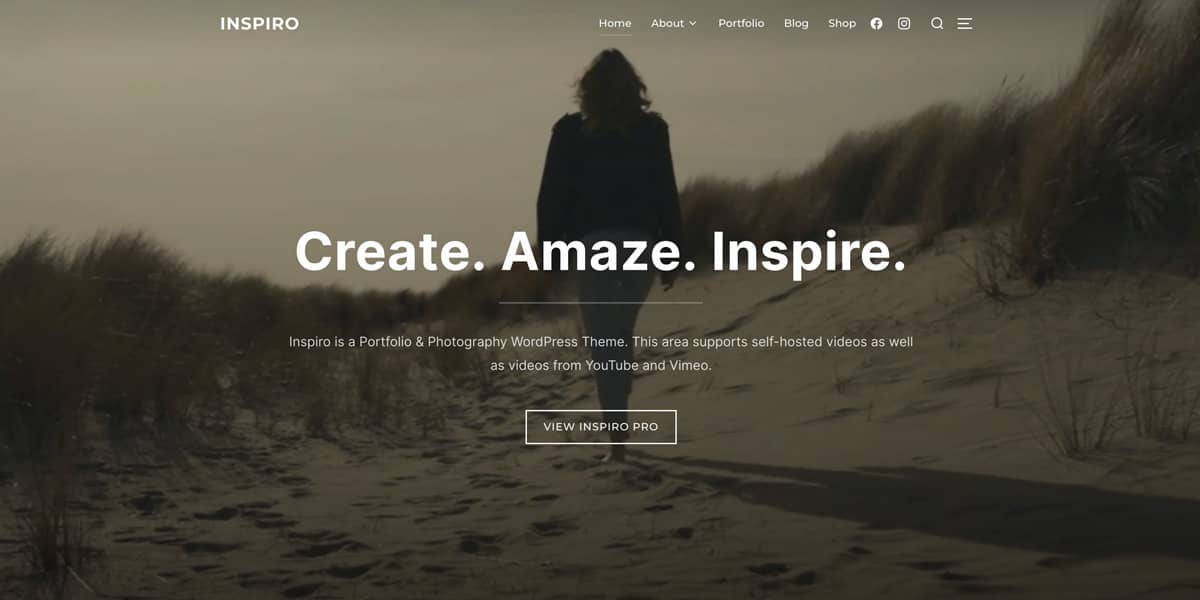 Inspiro is part of the photo and video-focused free WordPress themes and provides you with a clean, modern design. This theme offers fullscreen areas for your video background (compatible with Vimeo, YouTube, or self-hosted videos) and includes Page Builder integration to make it easy for you to create the layout of your choice.
You can also use WooCommerce if needed.
Inspiro makes it easy to show off your photography skills and share them with the world!
Photofocus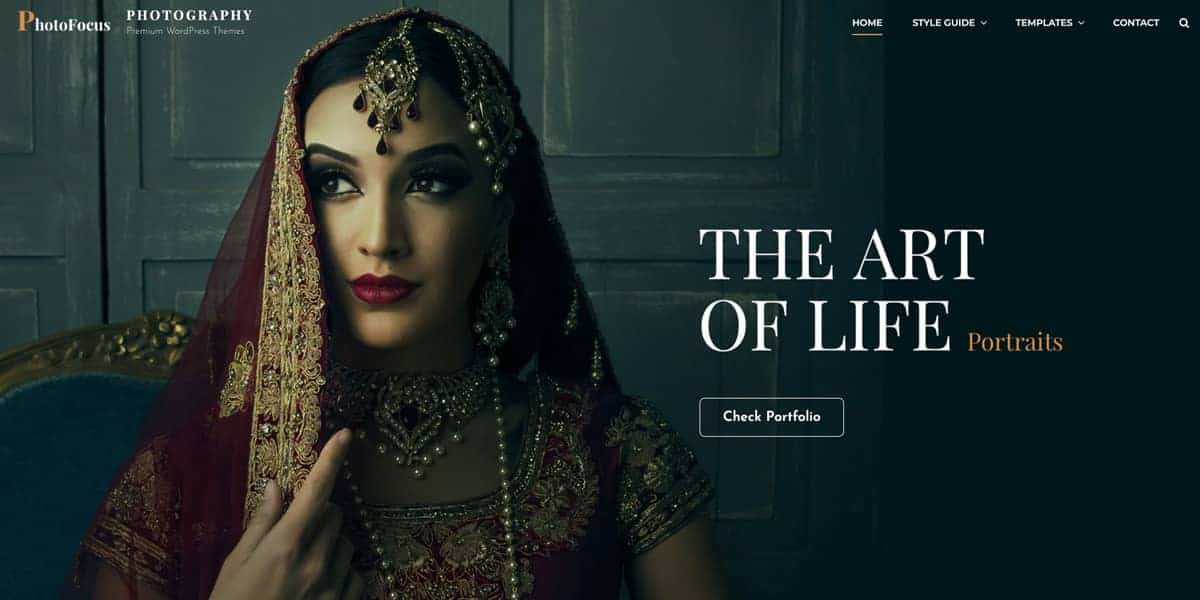 Photographers, if you're looking for a free multipurpose photography WordPress theme to power your website, then look no further. The PhotoFocus WordPress Theme is specially designed for those in the field of photography and comes with all of the features you need to create a beautiful and functional website.
Here are some of its most notable features:
free multipurpose photography WordPress theme for photographers, photo bloggers, freelancers, and other creative photography centric websites;
high functionality;
extremely user-friendly interface with easy navigation;
highly customizable.
It's crafted with a clean layout that allows you to focus on your creativity without any distractions. The theme also comes with a bunch of customization settings that allow you to make changes on various elements of your website including the background, colors, fonts, logo, social networks and more.
You can easily change the color scheme for different websites sections including home page slider background or customize logos for almost all aspects of your site.
Furthermore, every section offers comprehensive documentation so if you ever get stuck, there will surely be a solution available for download for free online.
Free magazine wordpress themes
SuperMag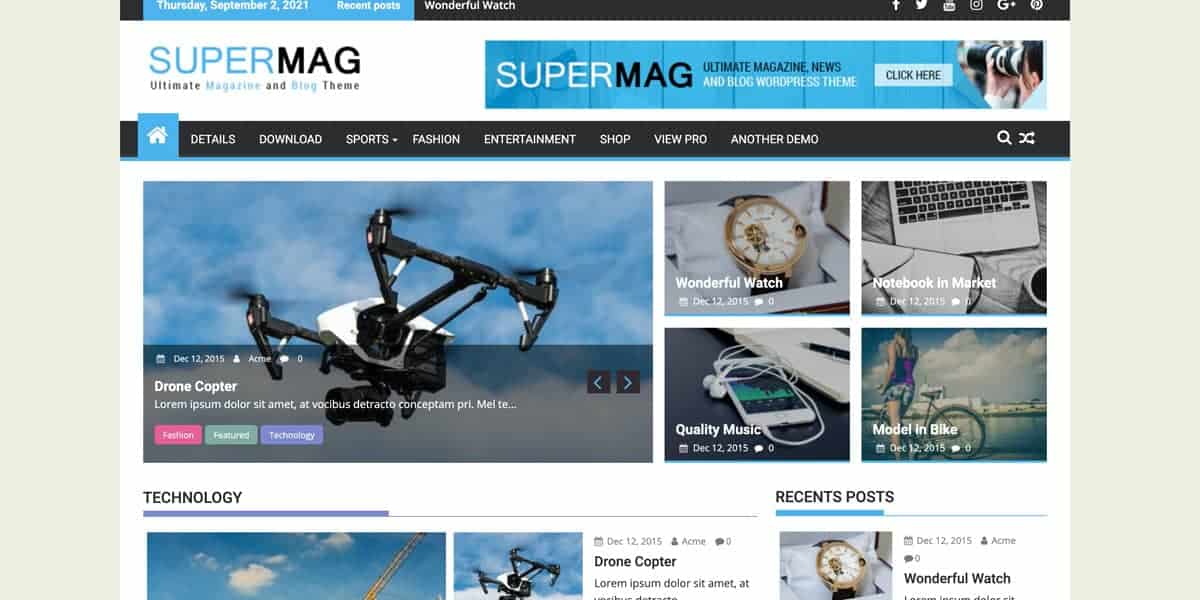 SuperMag is a free WordPress theme designed for news, magazine and blog sites. It's specially designed to be perfect for any magazine-style site that needs more than just the basics. With it you can customize header, footer, sidebar and main homepage sections. This theme also includes an advertisement ready design with WooCommerce and Page Builder support making it easy to make your site come alive!
The site color can be changed with a single click using the color picker and you can upload your own logo with just one more click. All fonts are included up to 3 different weights and styles (bold, regular & light). SuperMag also includes several custom widgets like subscription forms, ads widgets or customized sidebar.
ColorMag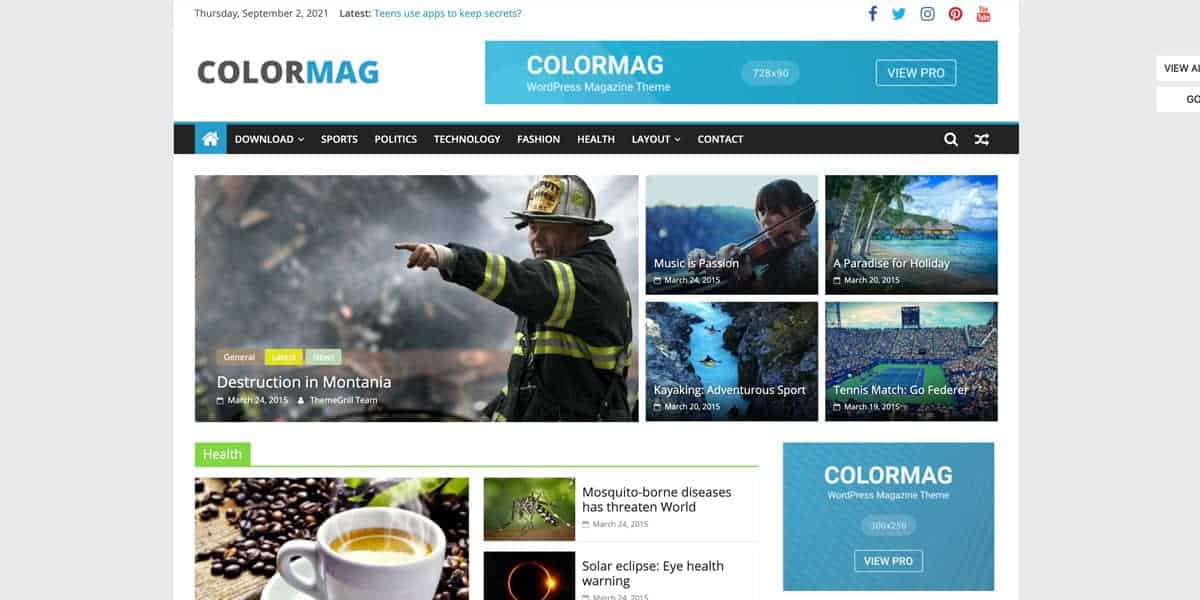 ColorMag is a free WordPress theme from the ThemeGrill team. It's perfect for anyone who wants to make a magazine style site, or create any kind of website with a professional look and feel. It comes in three colors: white, dark blue and dark green.
The theme has many features including responsive design so your site will look great on mobile devices as well as desktop computers. The theme also includes several different page layouts that you can use right out of the box or customize to suit your needs; this makes it easy to build just about any kind of website without having to write HTML code by hand.
Is there a difference between free WordPress themes and premium themes?
You probably already know that there are free WordPress themes and premium WordPress themes. The question is: what's the difference? And which one should you choose?
The answer to these questions is not always clear cut, but it can help to understand a little about how each type of theme works.
Free WordPress themes are usually built on a framework like Bootstrap or Understrap and use plugins for some functionality.
Premium WordPress themes generally have more features and include things like custom widgets, sliders, page builders, etc., out-of-the-box. However, their price tag reflects this as well – with most being priced at around $50-$70 dollars.
So if you want something more customized or advanced than your average free WordPress theme, then you'll need to pay for it.
The benefits of free WordPress themes include being quick and easy to set up, and a large choice of designs if you are on a budget. They are also more likely to be up-to-date with the latest coding standards of WordPress. A number also have features that help them remain compatible with the most popular plugins.
The most frequently asked questions about free themes
Where can I find free themes?
The best place to go for free WordPress themes is the WordPress theme directory at wordpress.org/themes. More than 8,700 themes are currently available for free download there.
What is the best free WordPress theme?
One of the best free WordPress themes currently available is GeneratePress. No other theme comes close to GeneratePress in terms of loading times and features.
Is it worth paying for a theme?
That is the question many people are asking. The answer is not so simple, but there are definitely benefits to purchasing one.
The main benefit of buying a WordPress theme is that you will be able to customize your site in any way you want. You can change colors and fonts or add new features with just a few clicks of the mouse. This means that if you have an idea for how your site should look, then you won't have to wait around until someone makes it available as a free download because all this customization can be done by yourself without hiring anyone else!
Another great thing about purchasing a WordPress theme is convenience. When you purchase the right template, then updating your website will be quick and easy.
Are the themes in the repository completely free?
All themes hosted on wordpress.org are 100% GPL licensed. However, some third-party sites don't follow these guidelines and will sell you themes that aren't compatible with WordPress or contain malware. So it pays to be careful when downloading from other sources online.
Are there any free themes on Themeforest?
Yes, you can find free WordPress themes on Themeforest as well. Most of the themes on the site are commercial, but you can still find some free themes there.