If you're looking for top WordPress themes that don't break the bank, you've come to the right place. In this blog post, we will showcase some of the best themes that are available for under 20 bucks! These WordPress themes are high-quality and have a ton of features that will help you create a beautiful website. So without further ado, let's get started!
So what are the best WordPress themes for under 20$? Here's a list of our top picks:
1. GeneratePress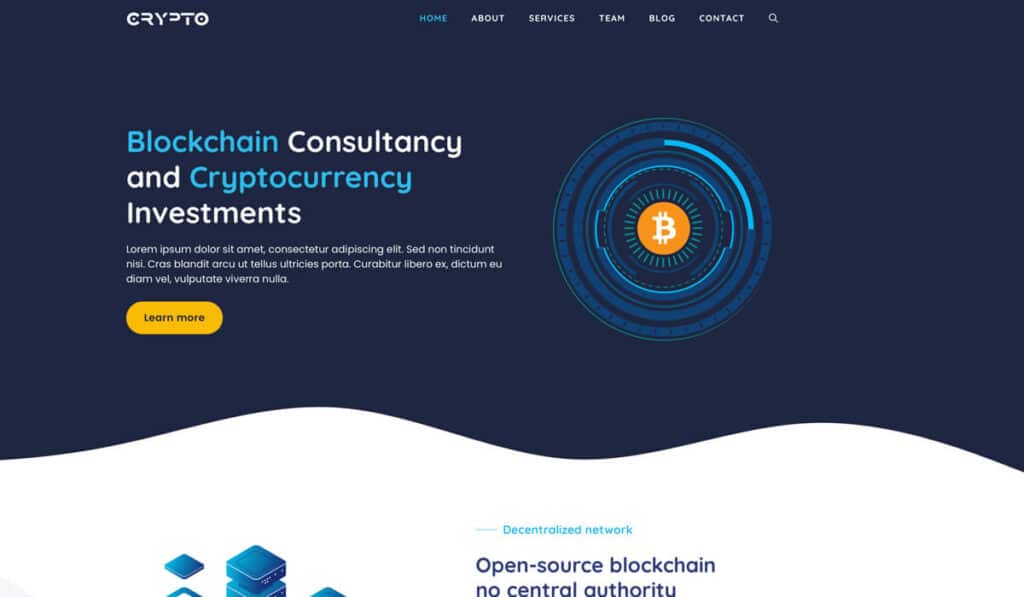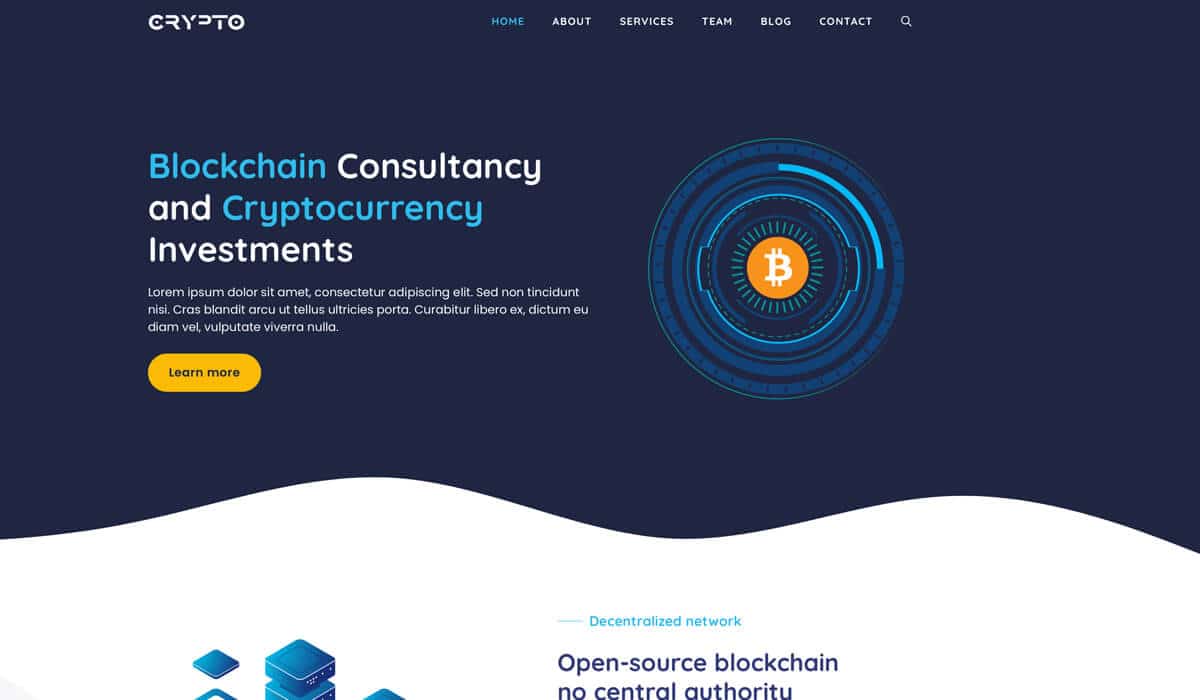 We just mention GeneratePress in this list of the best WordPress themes for under 20$ because it is one of the best themes out there. It's lightweight, fast, and very customizable. You can use it for any type of website, from a simple blog to a complex eCommerce store.
And the best thing is, that it doesn't cost 20$ or less – it's completely free!
There is a pro version you could buy, but it's not necessary and the free version is more than enough for most people.
2. Imroz Theme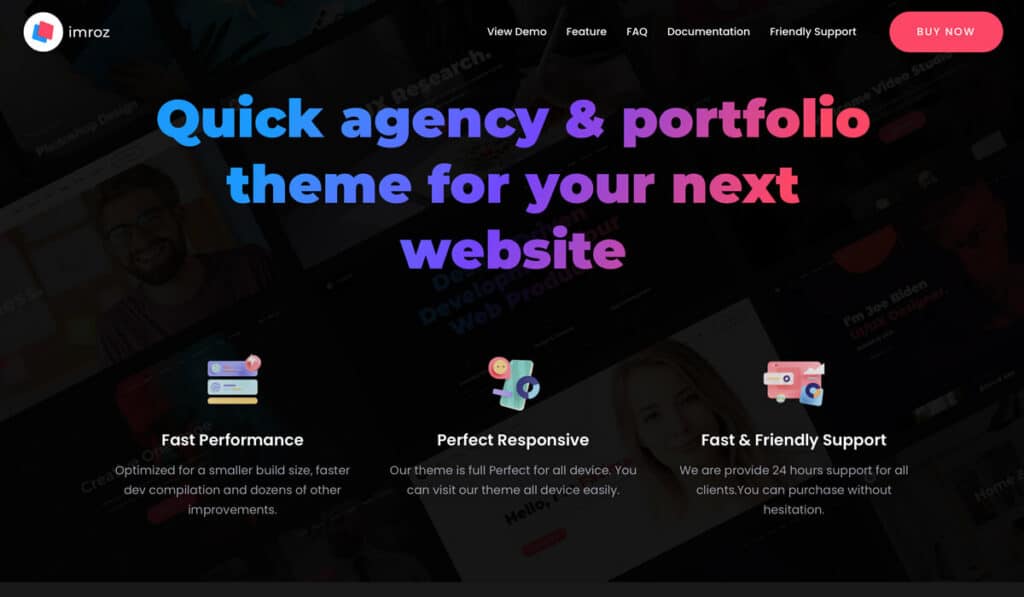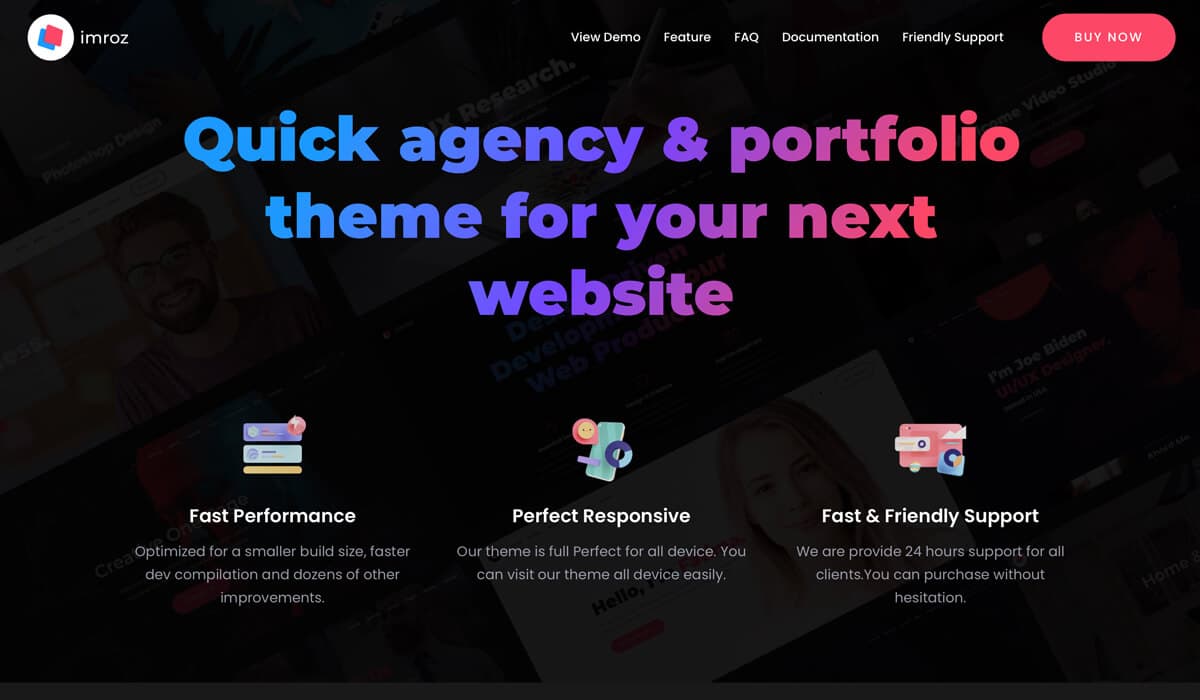 A super cheap theme with lots of features
Imroz is a beautiful WordPress theme that is perfect for any creative agency or portfolio. It is clean, minimal, and has a digital agency & portfolio layout.
Additionally, it comes with the Elementor Page Builder, which makes creating pages a breeze. You can also import demo content with just one click, making setup a breeze.
Plus, the Elementor Page Builder is fully drag and drop, so you can create pages exactly how you want them. And finally, the theme options are powerful and allow you to customize your website to perfection.
Overall, the Imroz theme is an excellent choice for anyone looking for a high-quality WordPress theme for under 20 bucks on Themeforest!
3. Nika Theme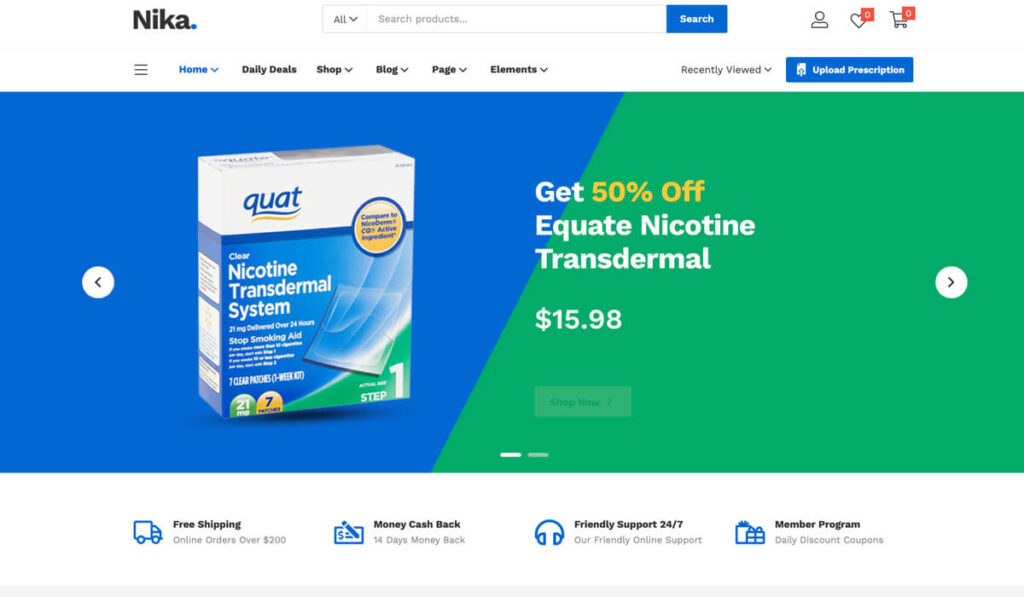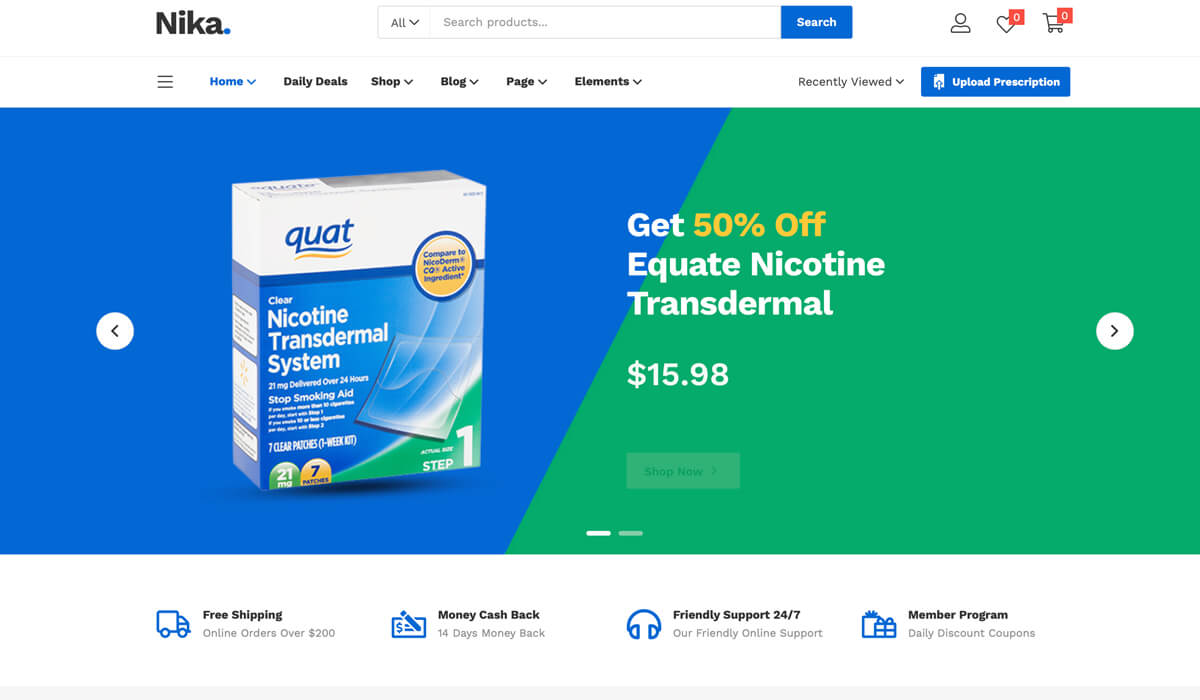 One of the best WooCommerce themes for under 20$
If you're looking for a WordPress theme that is perfect for pharmacies and medical websites, the Nika theme is an excellent choice. It comes with a ton of features, including a header & footer builder with Elementor, optimized mobile WooCommerce support, and a modern minimalist design. Plus, the mega main menu makes it easy for your visitors to find the information they need on your website. And finally, the one click demo installation makes setup a breeze.
With only 19$ on the price tag, the Nika theme is a great choice for anyone looking for a high-quality WordPress theme for under 20 bucks!
4. Bajaar WordPress Theme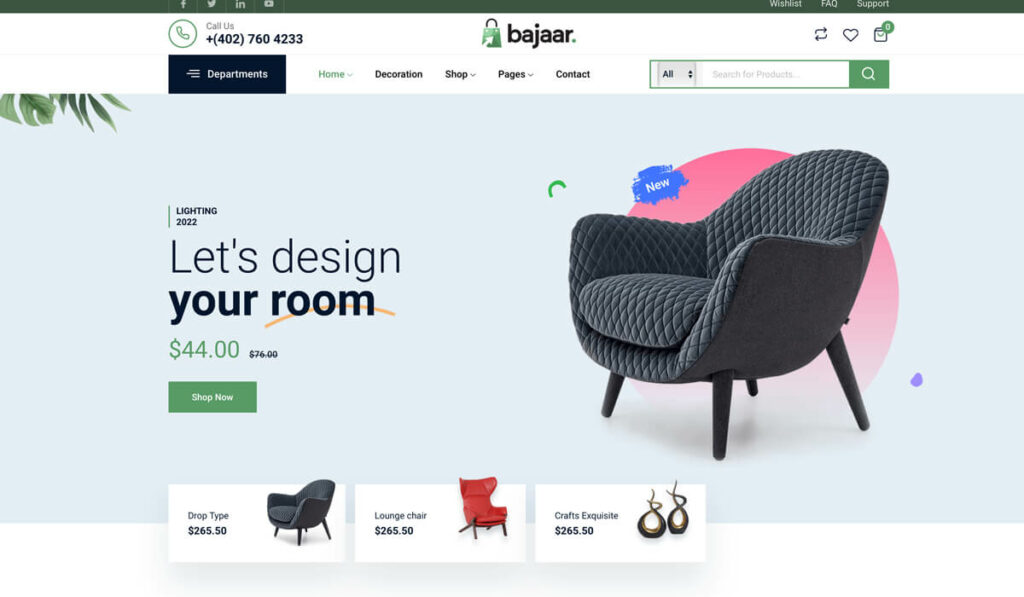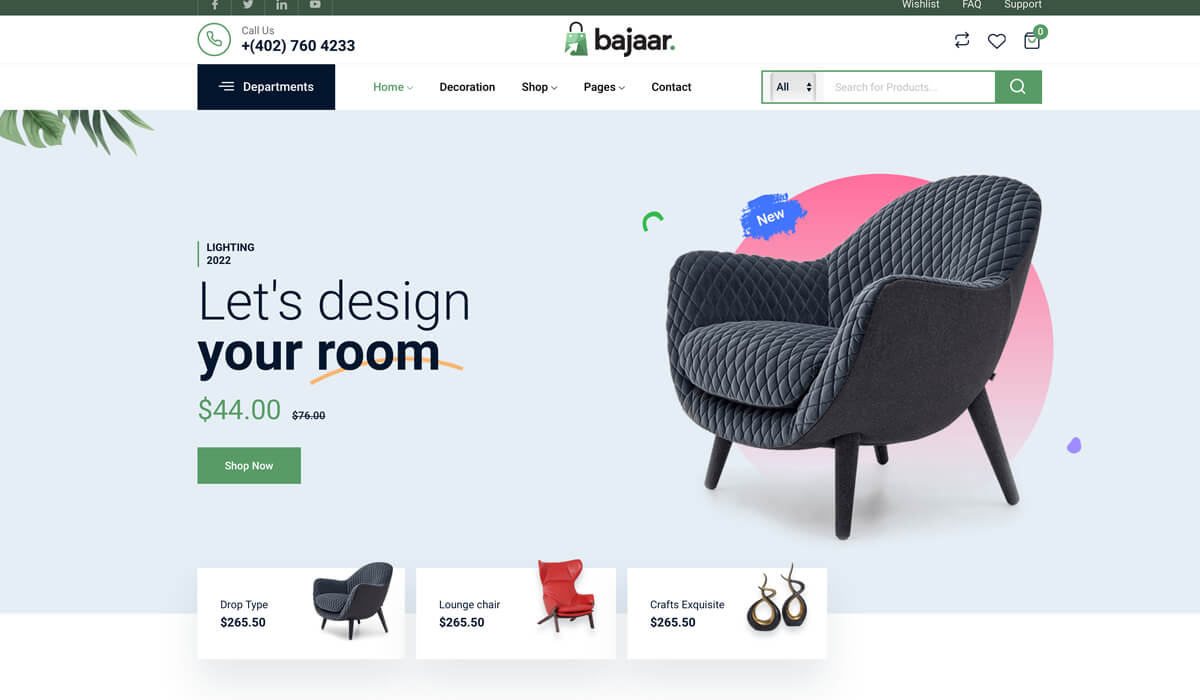 Bajaar is a WordPress theme that is ideal for online stores, especially those that deal in fashion. The theme is easy to customize and has a fully responsive layout that makes it perfect for viewing on any device. Additionally, Bajaar comes with Google fonts and Font Awesome icons, so you can easily add personality to your website. Plus, the theme is built with Elementor, so you can easily create custom pages without any coding required.
If you're looking for a stylish and versatile WordPress theme that won't break the bank, Bajaar is definitely worth considering.
5. Bascart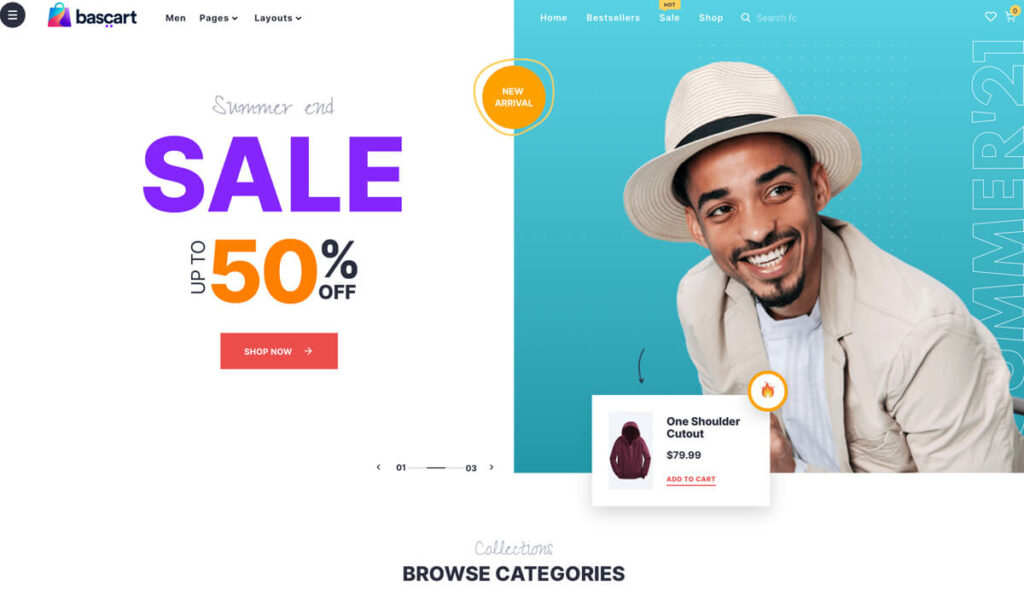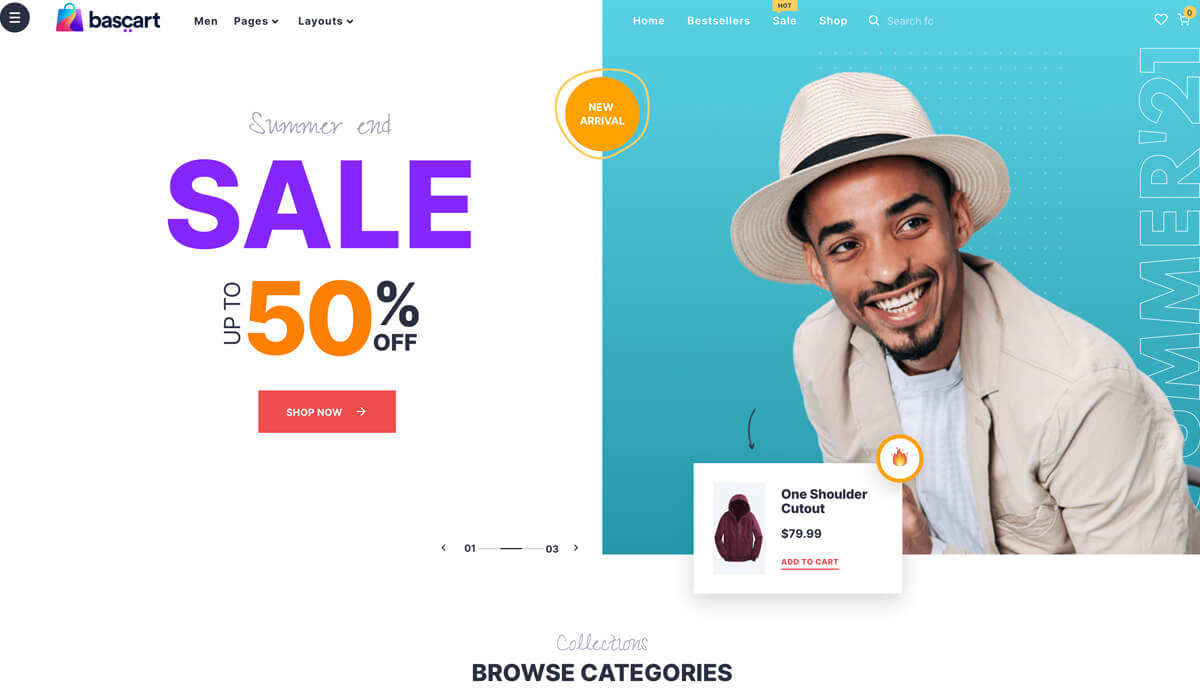 The Bascart theme is a great option for those looking for a multipurpose WordPress theme that also includes WooCommerce support. The theme comes with a built-in WooCommerce builder, which makes it easy to create and manage your online store. Additionally, the theme also includes several niche home variations, so you can easily create a website that matches your specific needs. Plus, the live customizer makes it easy to make changes to your website's design without having to edit any code.
For only 17$ you can get this amazing theme with a lot of features that will make your work easier and faster.
6. Adhira Portfolio Theme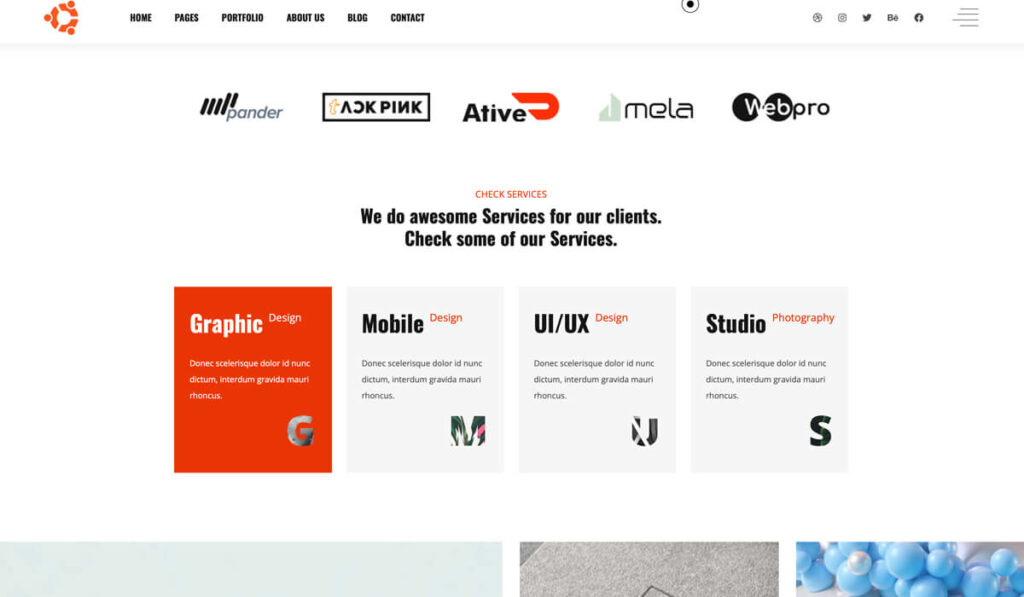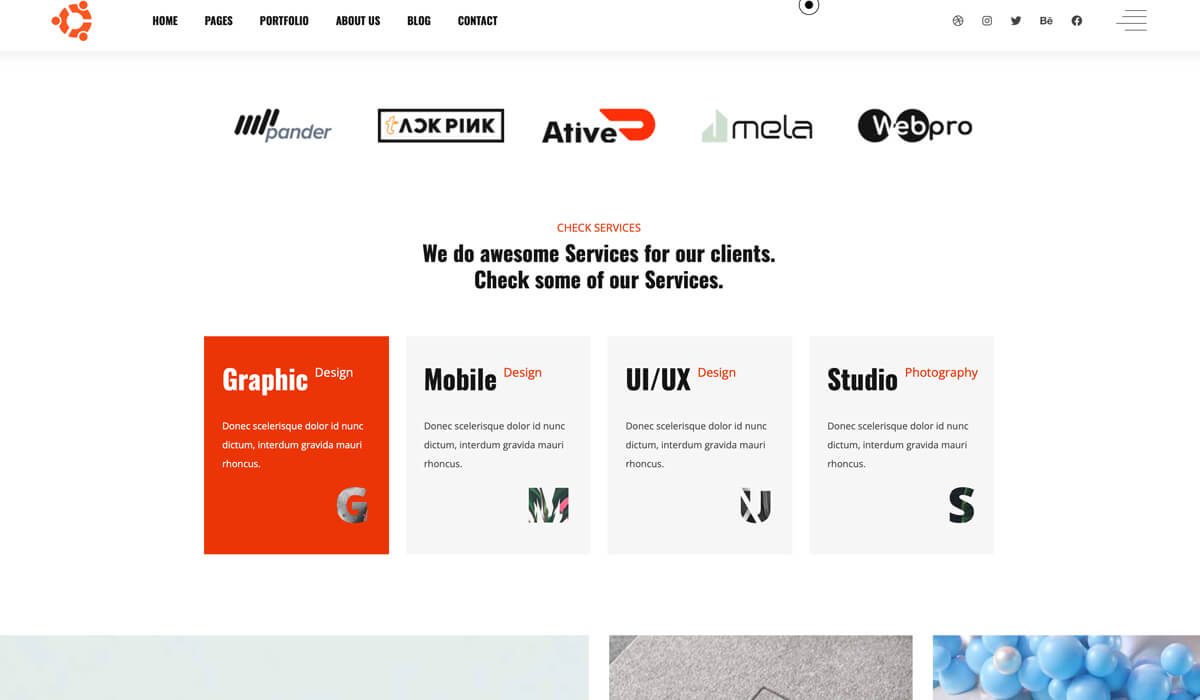 The Adhira Portfolio theme is a great option for those looking for a creative agency or CV resume WordPress theme. It features 16+ creative, trendy and unique pages, as well as two blog and single post page layouts. Additionally, the WP Bakery Page Builder is included, making it easy to create custom pages and posts. Finally, the theme is fully responsive, ensuring that your site looks great on any device.
7. Logiciel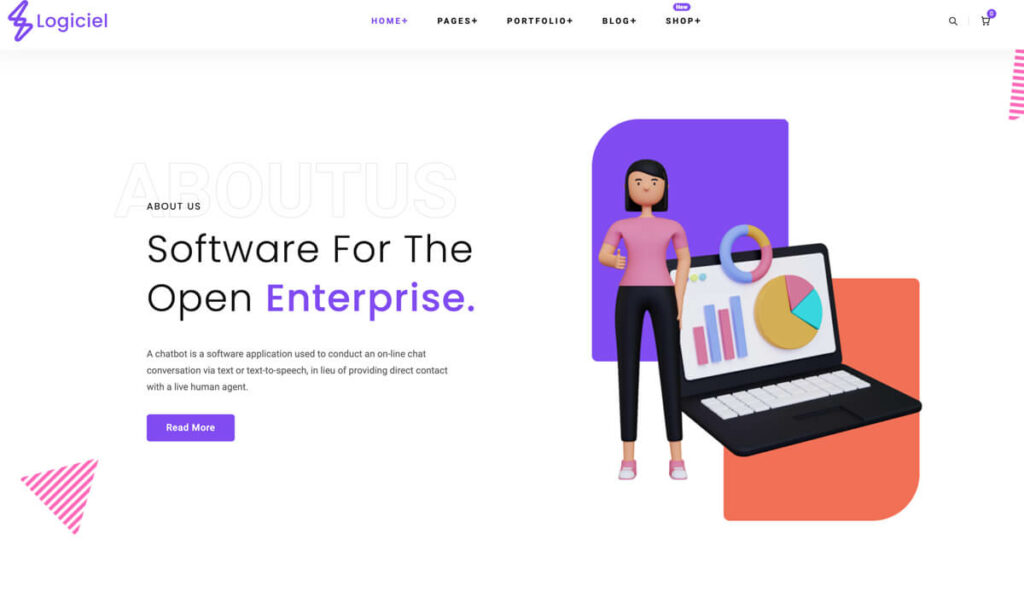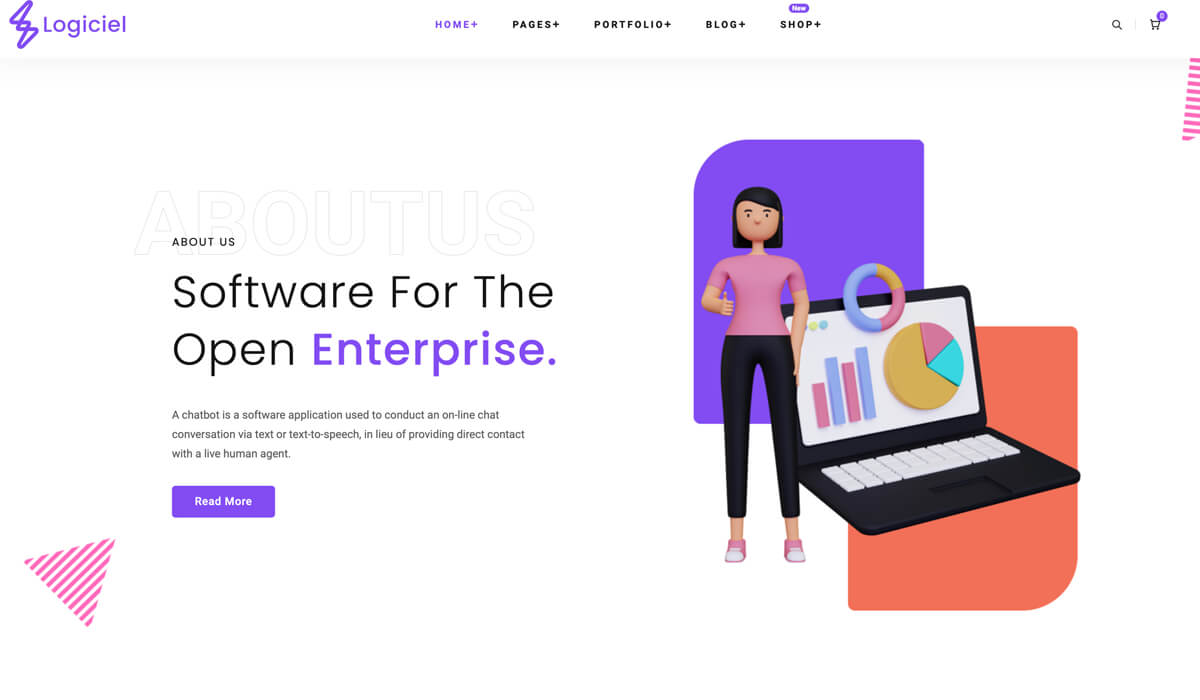 Logiciel theme is a great WordPress theme for under $20 because it includes powerful features like a one-click demo import, Elementor page builder, and retina ready design. You can also customize this theme to fit your own branding. Plus, there are 800+ Google fonts to choose from.
This theme is a good choice for anyone in need of Technology & Software Service WordPress Landing Pages. But as a real multipurpose theme it can easily be adapted to any kind of website, no matter the business.
8. Siberia theme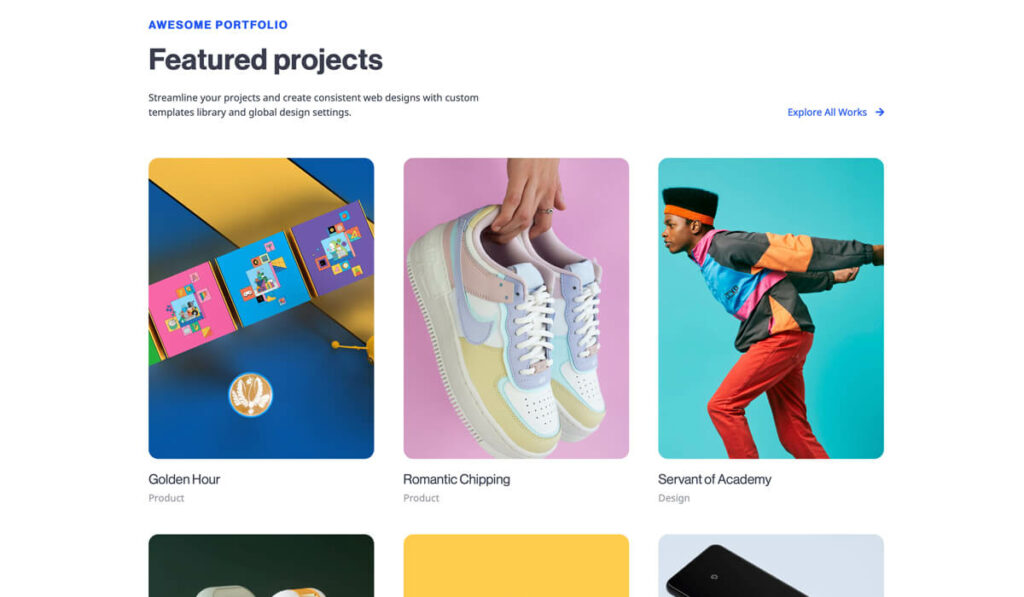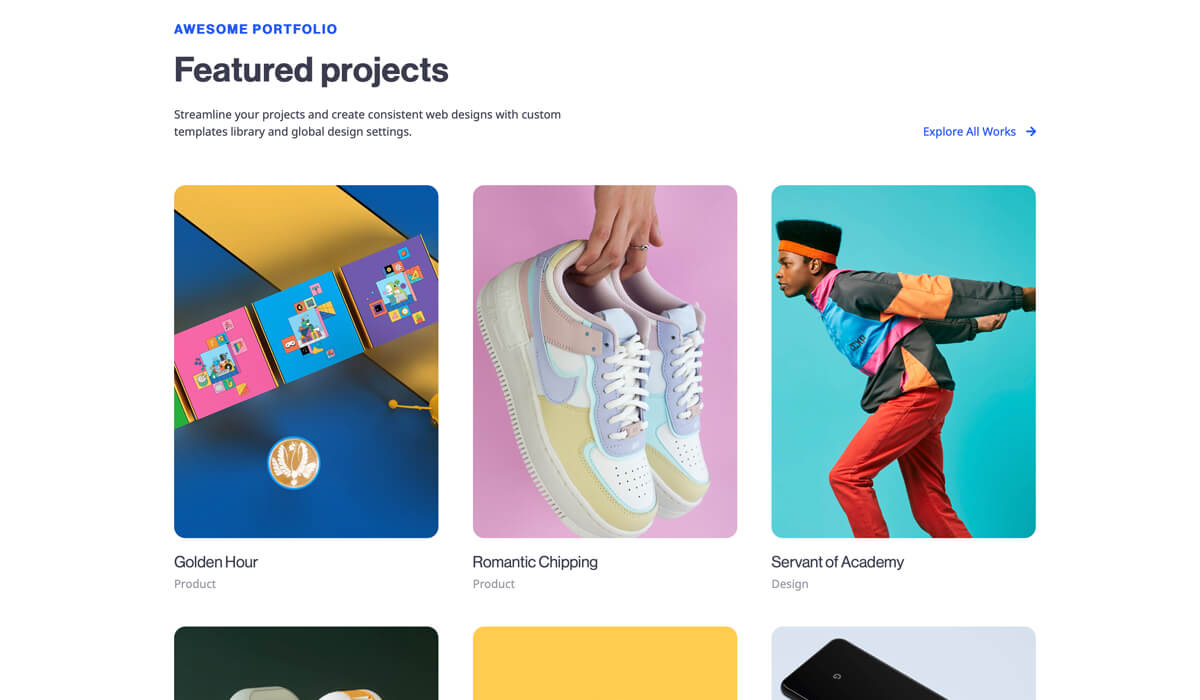 The Siberia WordPress theme is perfect for creative agencies and photography portfolios. The parallax images and interactive animations give your website a modern and sophisticated look. The Elementor page builder allows you to create custom pages without any coding required. You can also choose from over 700 Google/Typekit fonts. The theme is mobile & retina friendly, and comes with a visual page builder and advanced dashboard.
Siberia is SEO optimized, so are higher your website will rank high in search engine results pages.
Are cheap WordPress themes bad?
The price alone doesn't determine the quality of a theme. In fact, there are plenty of high-quality themes out there that are available for a low price. Themes that cost more money usually have more features and options, but that doesn't mean they're necessarily better.
If you decide to buy a cheap theme, you can still get a great design for your website. With so many themes available, there's sure to be one that fits your needs and budget.
Would I recommend a super cheap theme?
To be honest: no.
If you pay a decent price for a theme, you can expect regular updates, good customer support, and a theme that's been well-coded and is also SEO friendly.
When you go for the very cheapest themes, you're usually getting a theme that has little to no support, is poorly coded, and isn't SEO friendly.
For most people, the website is an important asset and it's worth investing in a good theme. You'll be thankful you did!