Complete Overview
The best WordPress Themes & Templates
In this category, you will find the best WordPress themes, templates, and designs for your next website project. No matter if you are looking for free themes, premium themes, or a design for a very specific purpose.
We put several weeks of research and over 15 years of professional WordPress experience as developers into this list for you. To help you find the best WordPress theme for your project.
A bunch of information for you
The Best Themes out There
The best WordPress Themes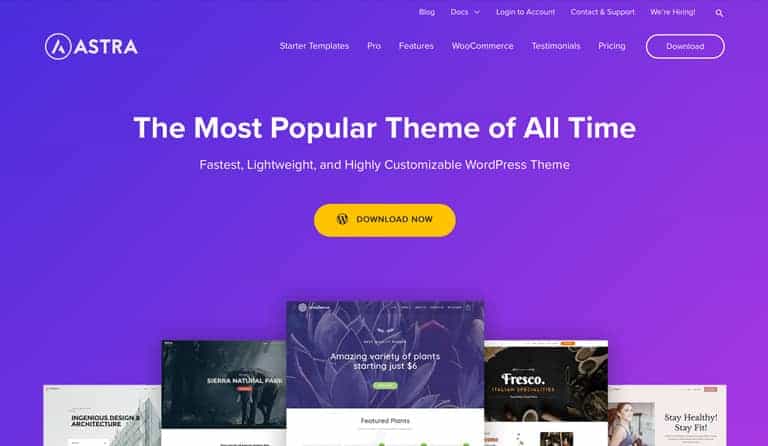 1. Astra Theme
Astra boasts that it has created the most popular theme of all time.
Although I doubt it, Astra is one of the most popular themes on the market. Highlights include loading time optimization and the ability to create any kind of website with the theme.
Super customizable and most importantly very lean in terms of file sizes.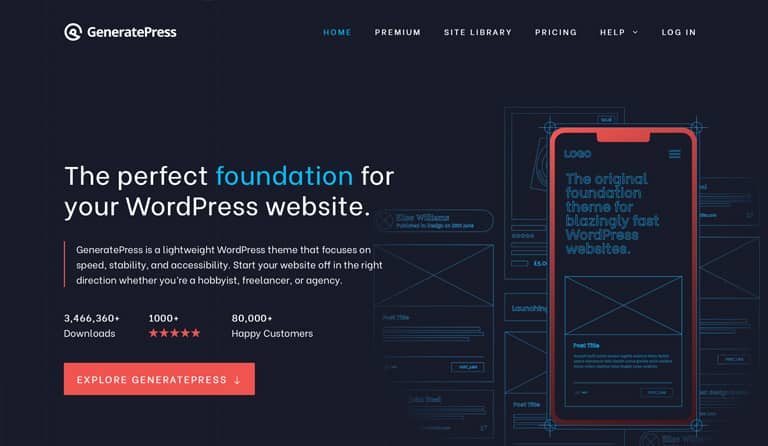 2. GeneratePress
With almost 3.5 million downloads, GeneratePress is one of the most popular themes in the world.
The developer's focus is very much on loading times, stability and accessibility.
With only 7.5kb page size and only 2 HTTP requests per page load, the free theme offers a perfect foundation for your website.
By the way, if you want to have more features, you can always switch to the Pro version.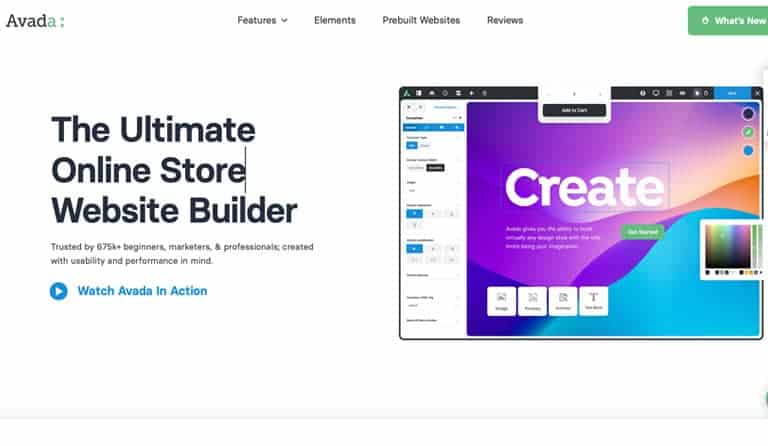 3. Avada
Avada is actually less of a theme and more of a complete website builder.
Included are the base theme and an integrated page builder. This leaves nothing to be desired.
With Avada, you can very quickly build a website including a Woocommerce online store.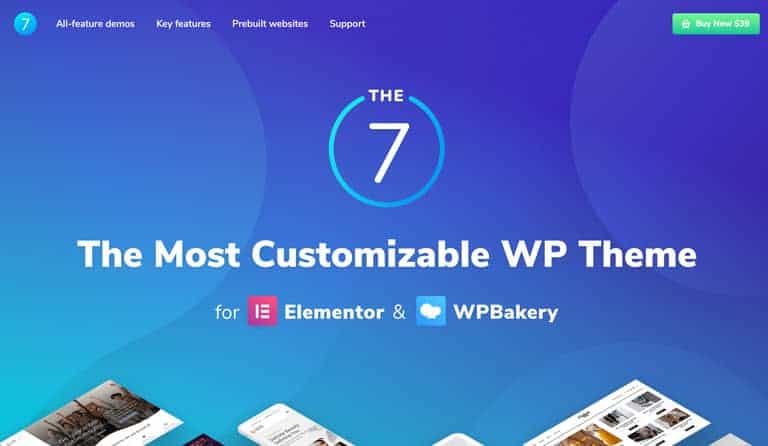 4. The7
The7 would not have been a recommendation in the best themes list for a long time in my eyes. Too clumsy, bad loading times, and totally overloaded.
That has changed in the meantime. Thanks to the Fast Velocity Minify feature, The7 has become very fast.
In addition, there is full compatibility with Elementor and Woocommerce.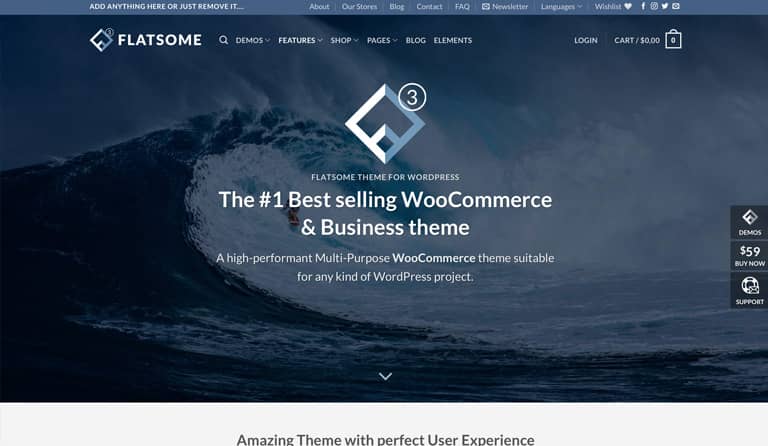 5. Flatsome Theme
Flatsome is by far the best theme we have come across for online stores with Woocommerce. We have been using the template for our own online store projects for many years. And without any problems during setup.
The presentation of WordPress Woocommerce stores is top. And the customizability of the theme is also optimal for beginners.
6. Bridge Theme
Bridge by Qode has actually won quite a few awards. This theme is extremely versatile and will help you get any web project you can think of off the ground.
Elementor and WP Bakery Page Builder are included with this theme.
Besides, Bridge supports Woocommerce stores.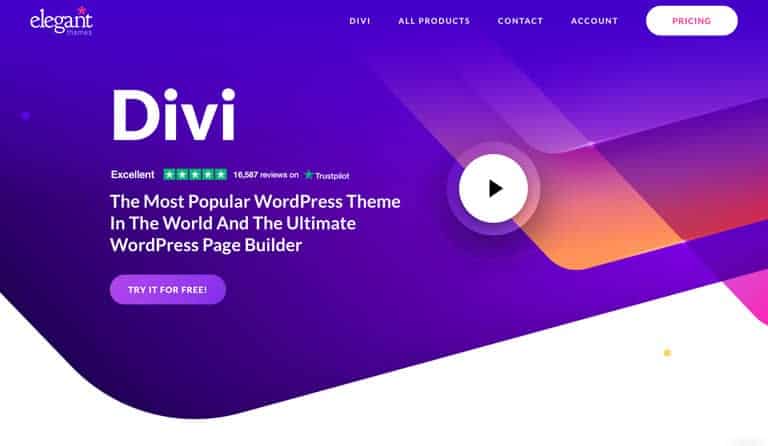 7. Divi
There is no theme that has risen to the top of WordPress templates as quickly as Divi.
With the Divi theme by Elegant Themes comes a drag and drop page builder at the same time. With this, even non-professionals can create beautiful WordPress websites.
Another bonus is the 100+ ready-made layouts and designs that you can freely use for your project.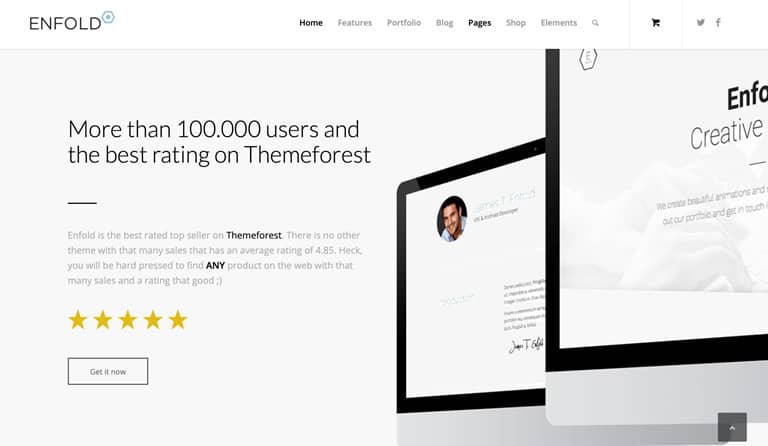 8. Enfold Theme
We are happy to recommend Enfold Theme from the Austrian Kriesi Team. We have already implemented numerous customer projects with this WordPress theme and have never been disappointed.
We are happy to recommend Enfold Theme from the Austrian Kriesi Team. We have already implemented numerous customer projects with this WordPress theme and have never been disappointed.
Enfold is not without reason one of the best WordPress themes in the world. Extremely customizable with many settings options and an excellent support team.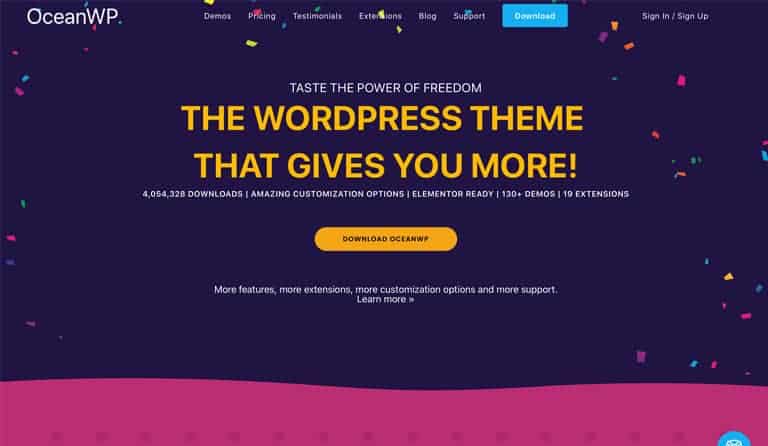 9. OceanWP
OceanWP is a free multipurpose theme. Multipurpose in this case means nothing else than that the design is suitable for pretty much any use case.
The free version of OceanWP already offers you a lot of features and design options. If that's not enough, you can buy paid extensions.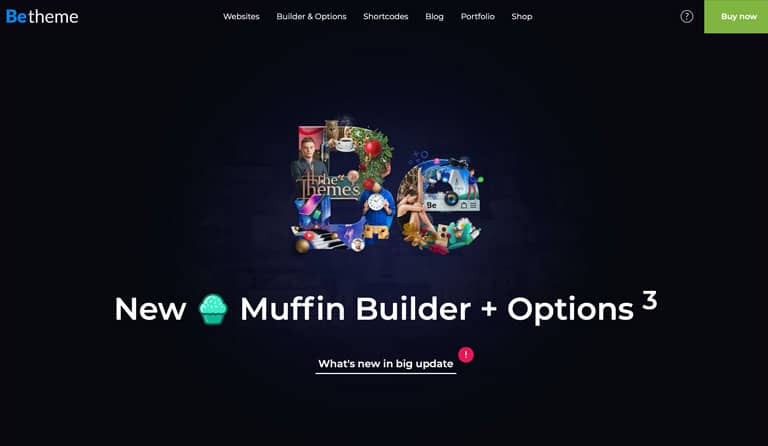 10. Betheme
Betheme has now sold no less than 230,000 times. So it is one of the most popular WordPress templates on the market.
The theme is customizable for any project and additionally offers you its own Muffin Page Builder.
If you already use Elementor, Betheme is also a good choice for you. In the latest version, the WordPress theme is fully compatible with Elementor.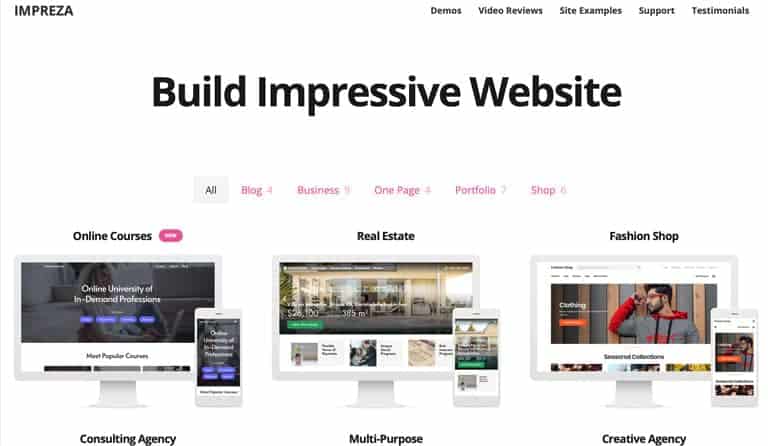 11. Impreza Theme
Impreza convinces me, especially by its simplicity. A perfect WordPress theme for beginners that makes your life easier on several levels:
You can import demos with one click.
You can select and use over 250 ready-made designs.
Impreza has its own drag & drop page builder.
The theme is not as well known as Divi, Astra or Avada. But it is still a recommendation from me.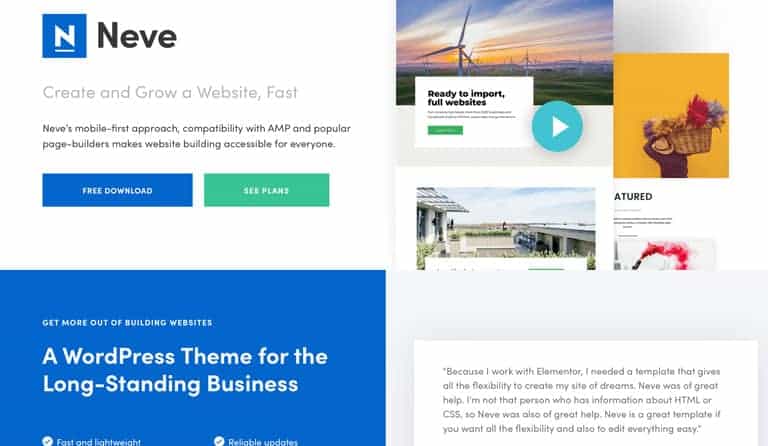 12. Neve
If time is important for you, Neve might be the right choice.
The Neve WordPress theme lacks unnecessary bells and whistles and helps you get a super responsive website up and running in record time.
This is also reflected in the loading times. Since Neve is kept very slim, loading times and performance are absolutely top.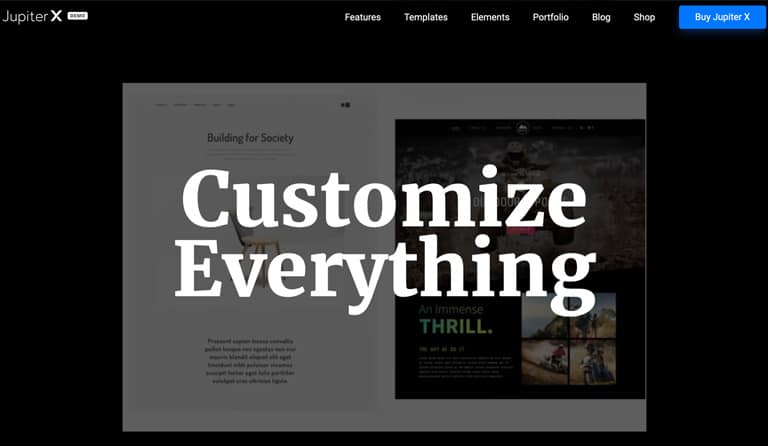 13. Jupiter
Fully focused on Elementor and over 450 ready-to-use templates you can use right out of the box.
There's no better way to sum up the Jupiter theme.
With Jupiter, you can make every aspect of your website look the way you want it to. And that even if you want to use the theme for your online store.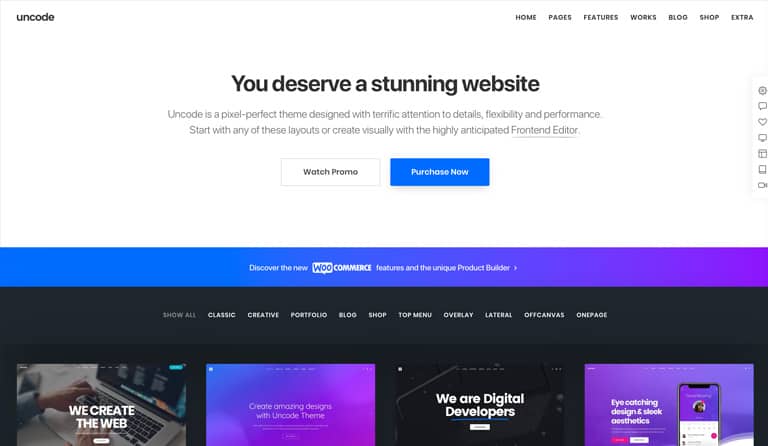 14. Uncode
With the Uncode theme, the name says it all.
If you want to quickly create very appealing designs without programming, Uncode could be the right choice for you.
With an integrated drag & drop layout builder and over 400 ready-made designs for many purposes, your website will be up and running in no time.
Also suitable for Woocommerce stores.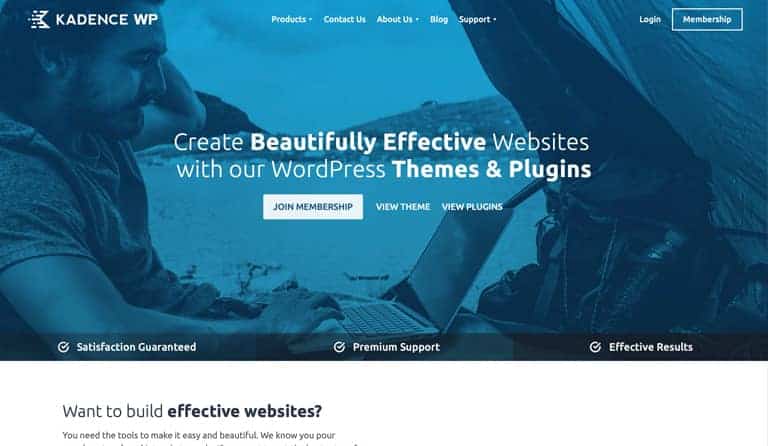 15. Kadence Theme
Kadence is actually a bit unjustly so far down on this list.
I've been using the theme myself for many years for smaller projects and I'm always satisfied.
Kadence offers you a free version to try out and a premium version with much more features.
It comes with its own page builder, with which you can even build your complete online store via drag & drop.
reviews & Community votings
The best WordPress themes to achieve your personal goals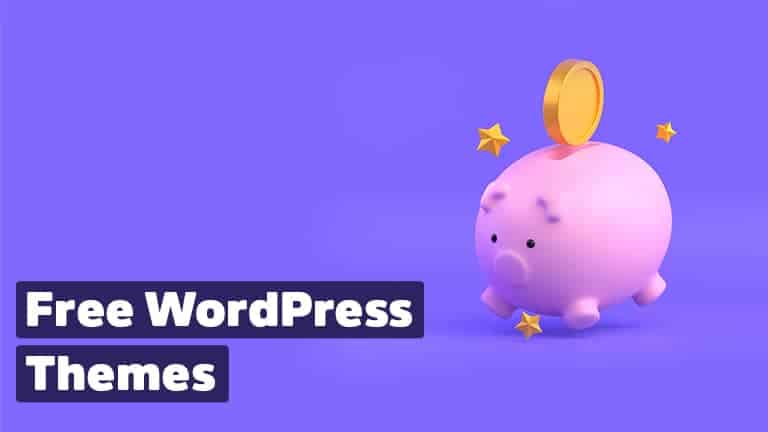 Free WordPress Themes
WordPress offers a wealth of free themes. Especially for beginners, free WordPress themes and templates are a great way to get your feet wet. To get used to a little and to understand the work with a theme.
We have listed the best WordPress themes "for free".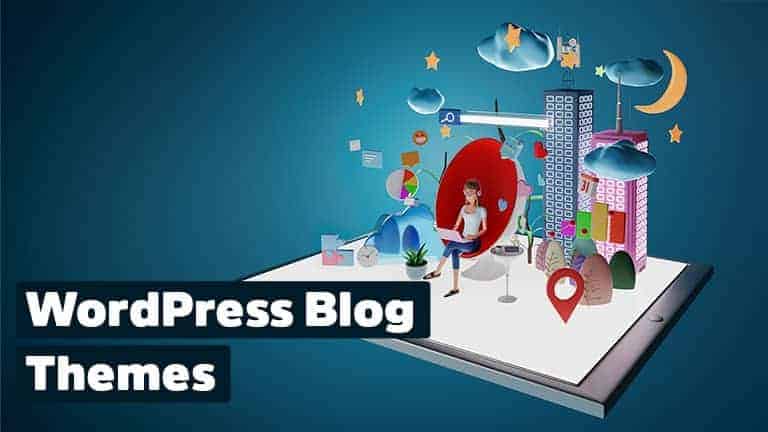 Best WordPress themes for blogs
If you are looking for a WordPress theme for a blog, there are a few things to consider:
Loading times are even more important here because your readers switch from blogpost to blogpost and don't feel like waiting.
The structure plays an extreme role. You'll want to make it as easy as possible for your visitors to find your best blog posts.
Lead magnets and forms should be easy to insert so you can quickly build your email list.
As a longtime blogger, I took exactly these criteria and picked out the best WordPress blog themes for you.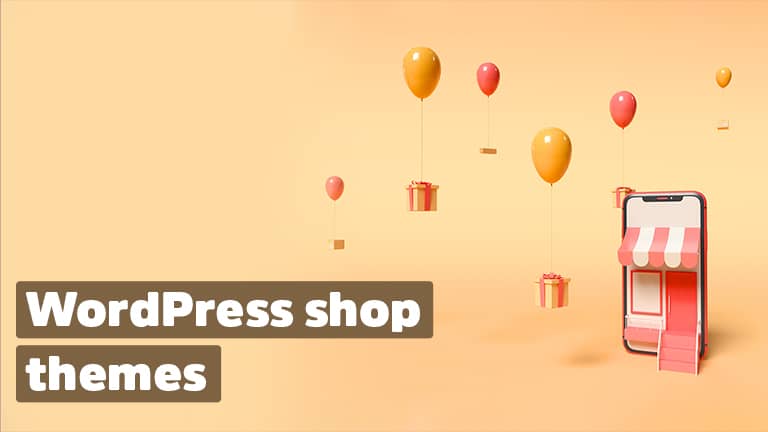 WordPress eCommerce Themes
The best WordPress eCommerce themes and templates for online stores should always do 3 things especially well:
Clear presentation of the products.
Fast loading times.
Clean programming to avoid security holes in your store.
With these 3 factors in mind, we've put WordPress themes for online stores under the microscope for you especially well. Our list of WordPress eCommerce themes gives you confidence and the good feeling to make a perfect choice.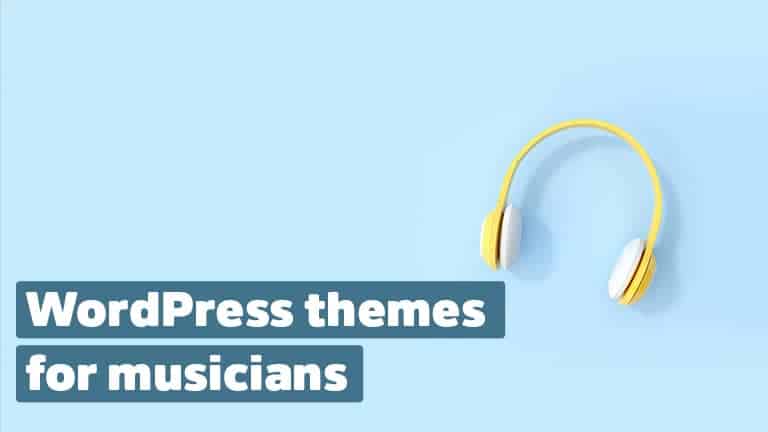 WordPress themes for musicians
Musicians and websites that revolve around music have very special requirements for their WordPress themes:
The musician/artist should be represented in an optimal personal way.
Gigs and tour dates should be able to be entered as events.
The connection to social networks should be perfect.
The possibility to put tracks or whole jam sessions on the website should also be given.
As an old bass player, I know the requirements and have picked out the best WordPress themes for music and musicians.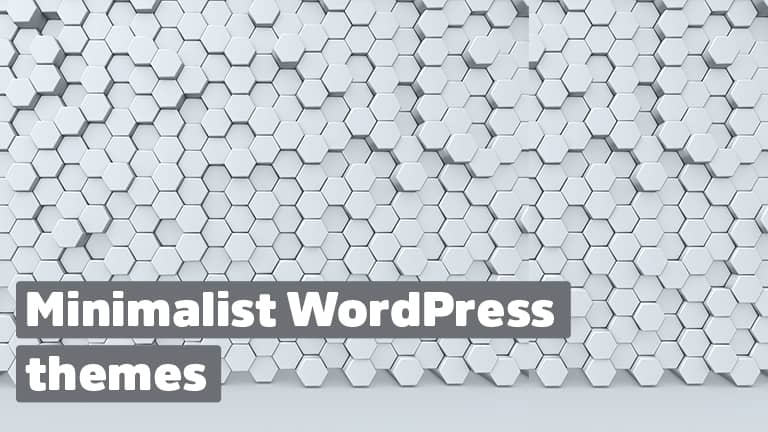 Minimalist WordPress themes
Sometimes you just don't need that much fluff but want to focus your design on the essentials.
Minimalism isn't just a trend, it helps your visitors discover your content quickly and easily.
If you're not into cluttered designs, we've rounded up the best minimalist WordPress themes for you.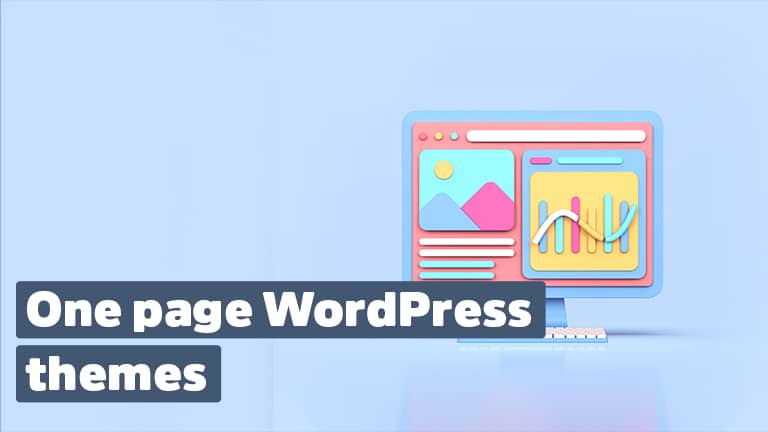 One page WordPress themes
There are numerous occasions when a simple one-pager website is easy enough. Mostly, just to get started.
Of course, you can also use most WordPress templates as One Pager, but you will overload your website completely.
That's why I picked out the fastest and best One Page WordPress themes to support you.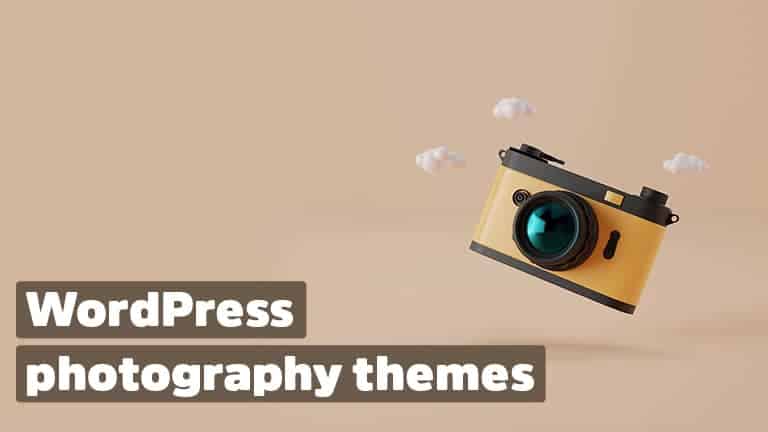 WordPress Photographer Themes
My wife is a passionate photographer herself with her own website. Therefore I know a little bit about it.
Special WordPress photography themes offer photographers a few advantages that are important for you:
The display of photos and images is possible in a gallery.
The photos are compressed as little as possible and still displayed in acceptable loading time.
The photographer should be able to present himself well. Services such as photography sell mainly through sympathy with the person behind the camera.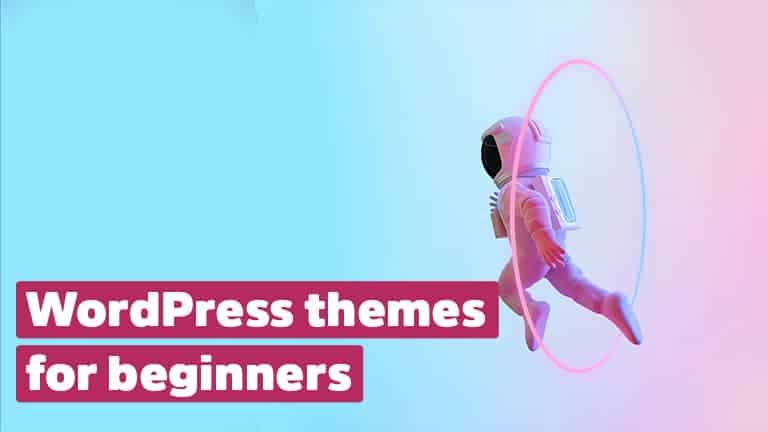 WordPress Themes for Beginners
Everyone starts small. This is also true for beginners who have just started their journey of discovery through the WordPress world.
WordPress themes for beginners should always be easy to use. This also means that the most important settings can already be done via the dashboard, i.e. the administration area.
For beginners, I have listed the best WordPress themes in a separate guide.
A short introduction to themes
What is a WordPress Theme?
A WordPress theme is a ready-made design template for the WordPress content management system. The theme centrally controls the appearance of the entire site, such as fonts, sizes, colors, and other visual functions.
The short and sweet answer. Read more if you want to have even more basic knowledge about WordPress designs and templates 😉.
How do WordPress Themes work?
In the past, the life of a web designer was super complicated. A website consisted of numerous individual pages. If you wanted to change the font size of the headings, for example, you had to do it manually on every single subpage.
With the introduction of content management systems, this has changed fundamentally.
A theme is stored in WordPress CMS, which contains a whole set of files that centrally change the look of your website. The most important files are:
Style.css
The most important file when it comes to the pure look of the website. Within the style.css you define which fonts you use in which sizes, or which colors certain elements of your page should have.
Functions.php
In the functions.php already more code is used. Whenever you want to add javascripts or custom functions to your website, you do that via functions.php.
Single.php
This file is where you design the look of your individual blogposts. For example, if you want to have a large header image at the top and the headline below it, you can restructure that in this file.
Archive.php
With Archive.php (sometimes also with category.php) you control the appearance of your category pages. That is, the pages that list your blogposts on a particular topic.
Header.php
As the name suggests, the header.php controls everything at the top of your page. Mostly the basic structure of your menu and general elements.
Footer.php
Sure, where there is a header, there is also a footer. With the help of footer.php you adjust everything that should appear in the lower area of your website.
The best Theme Shops out there
Where to buy WordPress Themes?
WordPress theme creators are now a dime a dozen. Countless freelancers have built up a small additional business through their own templates.
This quickly becomes confusing.
That's why we have picked out several sources for the best WordPress premium themes for you. All of them are providers with whom we have had good experiences ourselves and who really offer you something for your money.
How to choose the right theme
Choosing your theme is a very basic part of your website planning. Each theme has its own specifics that you will use to build your individual pages.
That's why it's important to choose a WP theme you like and will be happy with for a while.
Redesigning an existing site with a new theme sometime later is a huge amount of work that you'd like to save yourself. Trust us, we know what it's like 😉.
A few tips for choosing your WordPress templates
If you're wondering which WordPress theme is right for you, it's best to ask yourself the following questions:
Does the theme work with a lot of custom shortcodes?
Divi or Elementor Basic do that, for example. If you change the theme later, your website will look completely shot because the new theme doesn't recognize the elements of your old site.
Does the theme offer me fast loading times?
They all advertise it, but only very few stick to it. Loading times are THE decisive factor in this day and age. Mobile display is becoming more and more important and so are the lancets. And we are not talking about perceived, but measured loading times.
How does the theme do on a mobile device?
Almost every theme seller also offers a demo page. Tip: Don't look at this page on your desktop, but with your smartphone and/or tablet. Looks good? Bonus point for the theme.
Is it optimized for search engines?
The most beautiful website is of no use at all if it can't be found. That's why I check all themes for the optimization possibilities for the search engine.
How is the theme's plugin compatibility?
This is not always possible with every plug-in. But this should be the case for the big and well-known plug-ins.
Does it offer great design out of the box?
Great design is a must. Your visitors must feel comfortable so that they stay. A theme should always create a good base for the design that you can then customize according to your wishes.
Frequently asked questions
Can I modify WordPress themes?
I know this from myself. At the very beginning, you like the design of the website quite a bit and you are satisfied. Then you sleep on it a few times and you notice little things that you would like to adjust.
The call-to-action buttons could have a different color. The font is somehow not so readable and the logo could be bigger.
If you feel the same way, I have good news for you: WordPress themes are always customizable. You can change them completely according to your wishes.
There are usually two ways to do this:
Via the theme's settings.
Via CSS and adjustments to the individual theme files
If your theme offers settings in the administration area, you are on the safe side even as a beginner. Mostly you can find the settings in the so-called Customizer.
If you go over the CSS and theme files, you will need a basic knowledge of CSS and PHP.
Are WordPress themes free?
Of all content management systems, WordPress probably offers the largest number of free themes, designs, and templates. Currently, you can find over 8,000 themes in the international theme directory, which you can download for free.
The free templates usually offer a kind of basic version, with which you can already build quite decent websites.
Especially with WordPress, free is not always bad.
All free themes in the WordPress directory are double-checked before they are released:
Once by an automated system that detects common errors and then additionally by an independent professional who checks the theme.
This makes WordPress themes from the free directory safe and less error-prone.
Whenever you want more features or a better design, you can switch to one of the many premium themes that are available on the market.
What is a WordPress template?
A template is a PHP file in the WordPress content management system that controls the appearance and functionality of a single page in the CMS. The template is part of a so-called theme, which controls the appearance of the entire website.
Templates and designs are called themes in WordPress. WordPress offers you two main areas that allow you to customize your website the way you like it.
Plugins
Plugins are extensions that help you to increase the functionality of your website. With plugins like WooCommerce, you can integrate an online store into your WordPress, or build contact forms.
Themes
Themes are responsible for everything that concerns the appearance of your website in WordPress. With the help of a theme, you control
the complete look of your site incl. colors, fonts, and font sizes
the visual structure of all main pages
the look of your header and footer
Such a theme consists of a whole set of files, which are necessary for the respective purposes. All these files can be found via FTP under "wp-content -> themes -> your chosen theme".