Right after you have installed WordPress, it's time to configure your new website. Besides setting the language, setting the timezone is important to work with the correct date and time from the beginning.
This is how you set the WordPress time zone:
Log into your website's admin dashboard and click on "Settings".
Select "General" in the settings menu.
Set your current time zone in the "Time zone" section and, if possible, use one of the default cities.
Save the settings.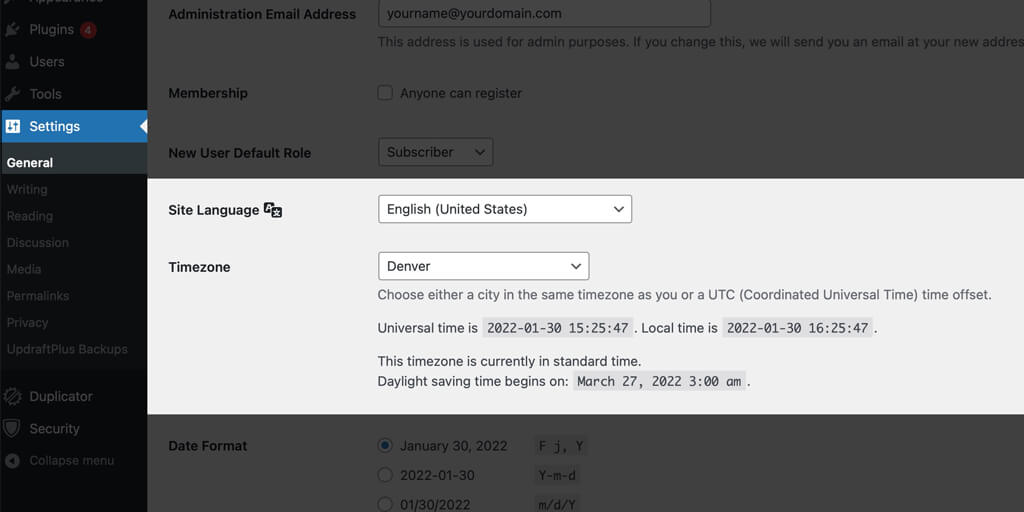 Why you should choose a city as time zone and not UTC
WordPress offers you several options to choose your time zone. For example, you can also set the zone via UTC. UTC is the abbreviation for Universal Time Coordinated, a "coordinated world time", which is the reference time for the whole world.
For UTC, however, you would need to find out how many hours you are from core time. For example, Germany would be UTC +1 during winter time and UTC +2 during summer time.
You realize that yourself, don't you? That would mean that every time the clock is set to winter or summertime, you would have to change the time zone of your website.
But if you choose a city like Berlin, the CMS automatically sets itself to the respective time.
Set the date and time format correctly
While you're at it, you can also set the date format and time format directly on the same page. These settings do not affect the actual functionality of your website. They are only used when a date or time is displayed to your visitors on the website.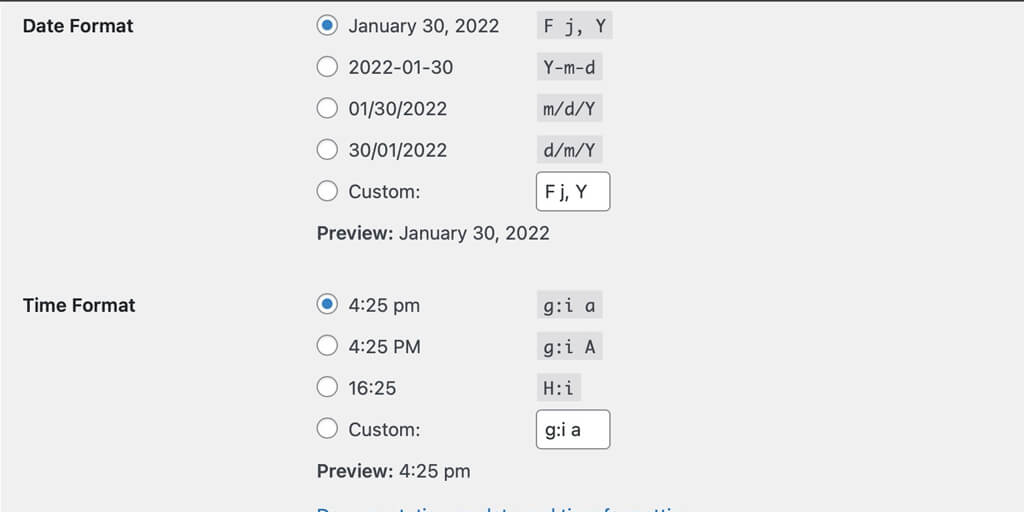 For the date format, you have the following options using January 29, 2022 as an example:
January 30, 2022
 2022-01-30
 01/30/2022
 30/01/2022
Additionally, you could also choose a completely custom display if you want to. But my recommendation is the first option in the list above.
The same applies to the time format. In this case, WordPress offers you the following display options:
Why setting the time zone is important
WordPress has a few features that will only work properly if you have the time zone set correctly.
This includes, for example, the scheduling of new posts and pages. You can publish your posts not only immediately, but also on freely selectable days and times.
This makes sense, for example, if you want to schedule several posts before a vacation, which are then published piece by piece.