A dental practice must convey a positive image on its website. After all, dental care isn't something most people are thrilled about and it takes uplifting and comforting dental web templates to keep potential patients on the page.
Inspiring dental theme templates abound but you also need one that catches people's attention and makes them interested in your dental office. For that, you can look to our list of the best WordPress themes for dentists.
These are the best WordPress themes for dentists and dental clinics:
1. GeneratePress
A free dentist WordPress theme.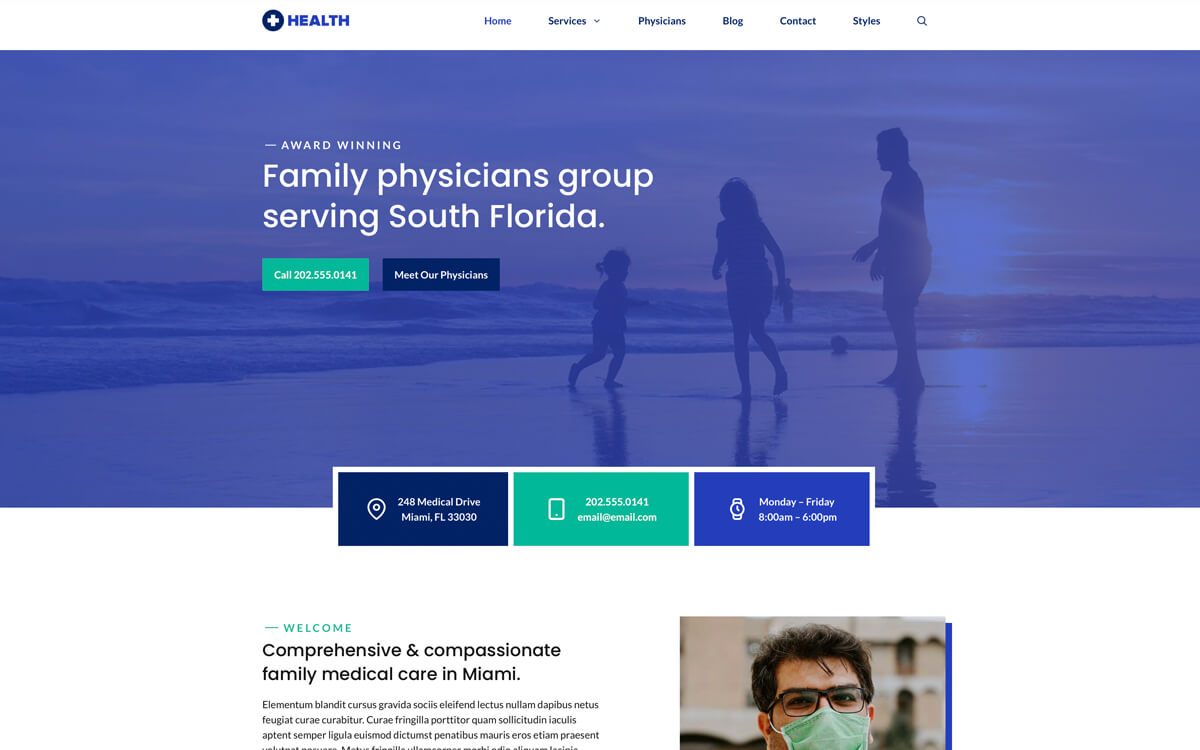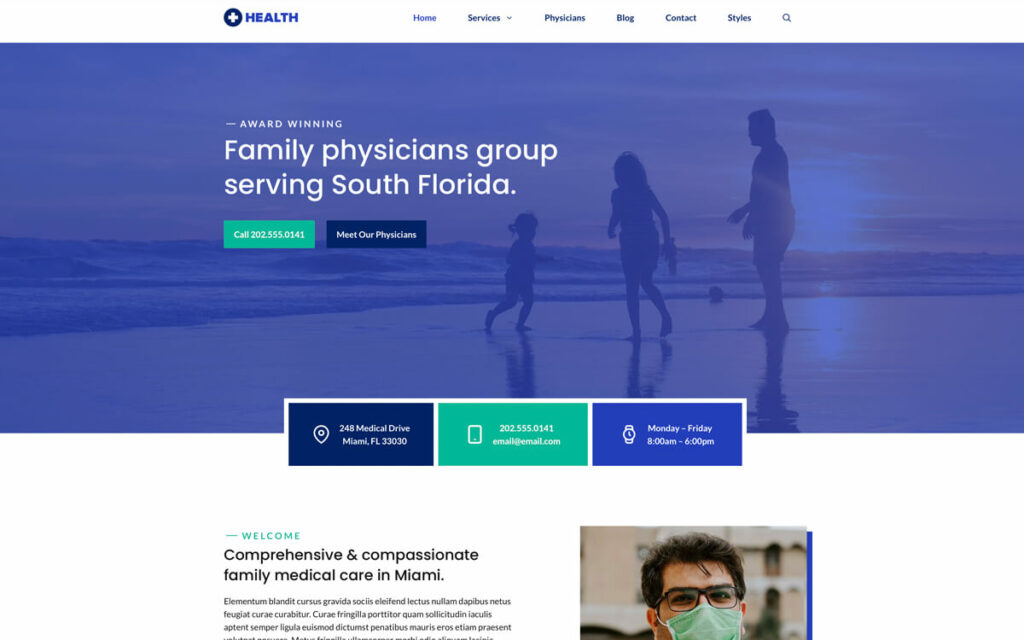 This is an easy-to-use theme that most beginning website builders can install. It's a good one to use if you or someone in the office is building your dentist website. It's a block-based builder so you can control every aspect of your site.
One of the advantages of using GeneratePress is it comes in both free and premium versions. Other positives of using the healthcare theme from GeneratePress is that even the free version is fast to upload, highly usable, and incredibly accessible.
Another great reason to use themes from this company is it has great customer support with 98% of requests answered the same day requested. Plus, it's affordable at $59 a year or a one-time payment of $249 for lifetime use.
2. Dental Clinic
A specialized dental theme with lots of features.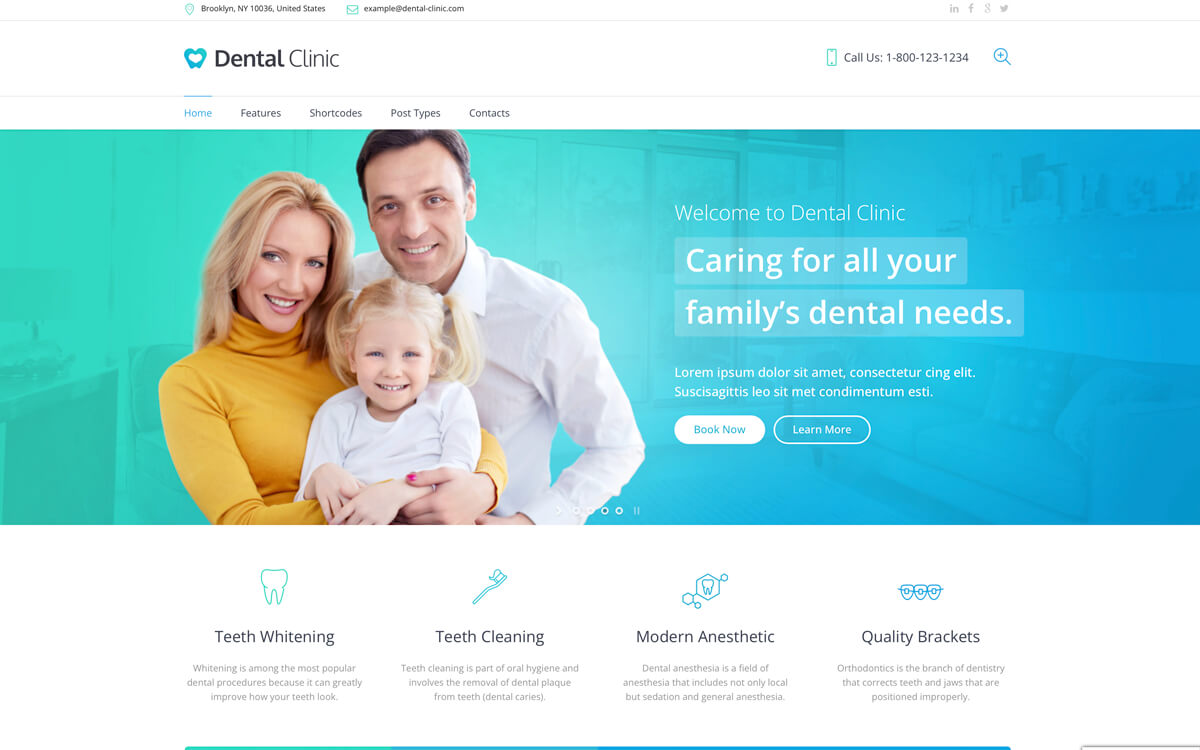 Dental Clinic is an affordable dental theme at just $49 for a regular license on Themeforest. It is unique from other dentist WordPress themes because it allows many types of customized medical content that can be done easily by using custom shortcodes.
You can create both multipage and one-page dental websites and is plugin-friendly so you can do a lot with it. For instance, you can display and sell dental care products as well as sell dental clinic services.
Some advantages of Dental Clinic are free slider plugins built into your dental web templates. It's SEO optimized and is highly responsive to all types of devices, including mobile devices. You can save your content as templates to use on other dental websites.
3. iDent
A multipurpose theme for clinics and dental conferences.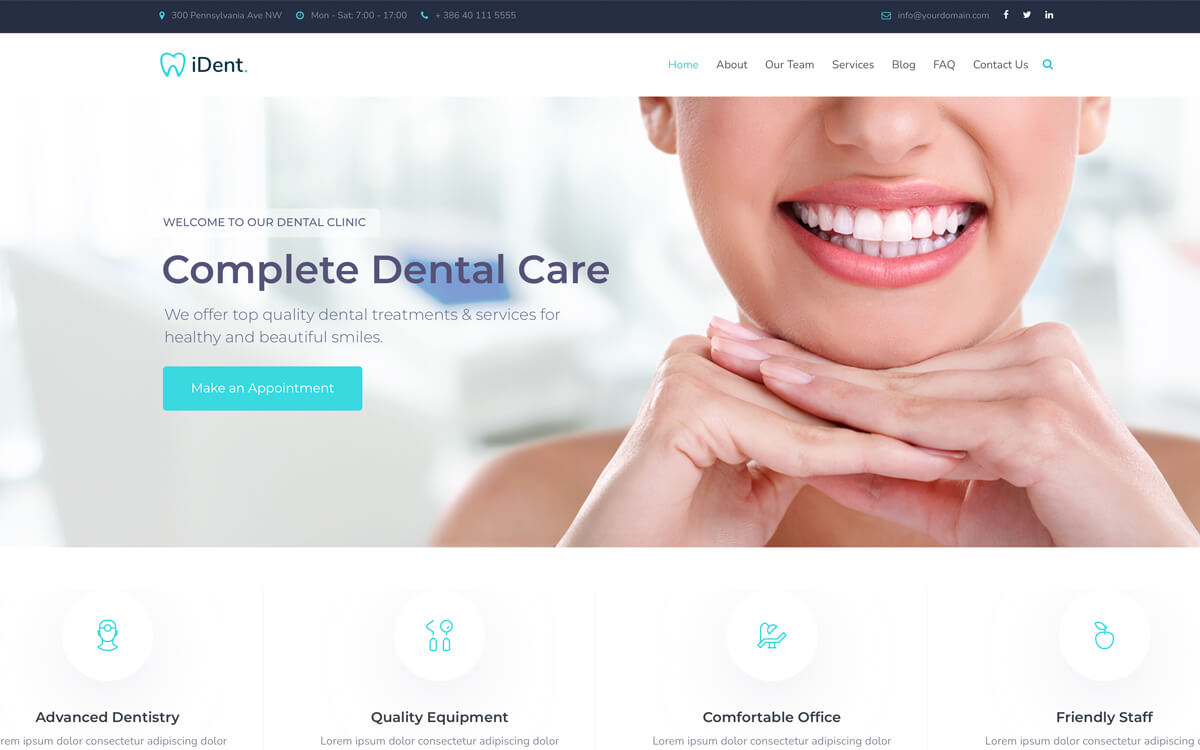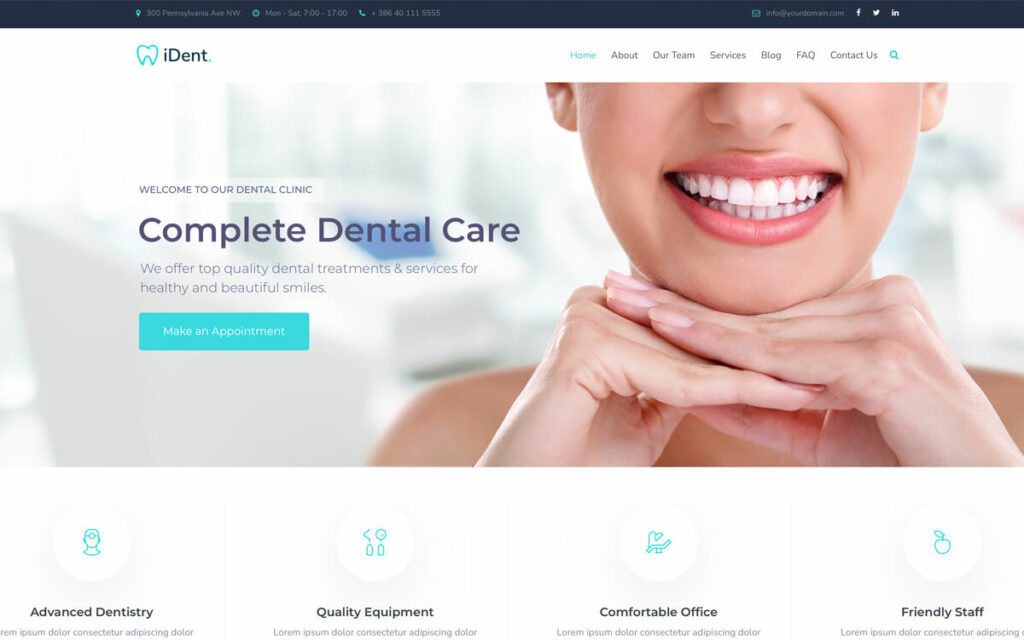 iDent is a dental theme that is packed with advanced features including unlimited colors and unlimited layouts. This theme also has incredible support so you can get the help you need when you need it. 
This dentistry theme includes things like Revolution slider, WPBakery Page (formerly known as Visual Composer), and an advanced administrator panel. It also includes a WooCommerce page.
Other features are colored buttons and easy import, making getting your dental website up quickly.
4. SmilePure
Show off your whole dentist portfolio with one template.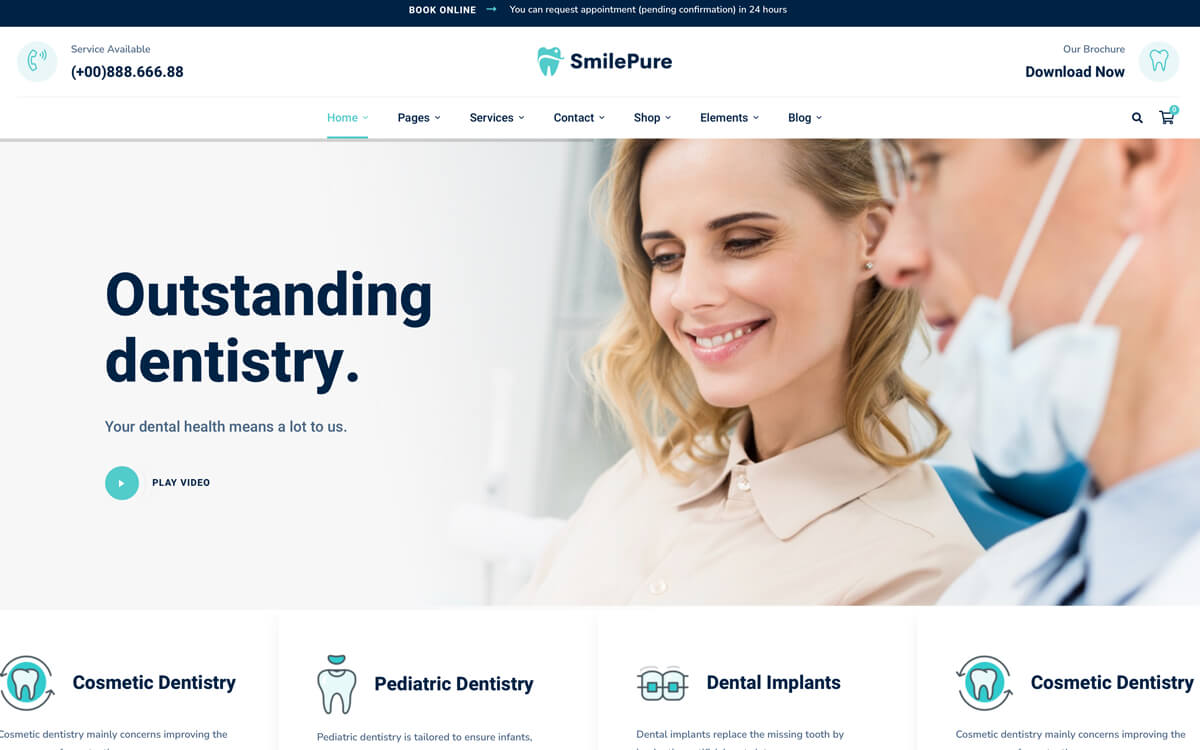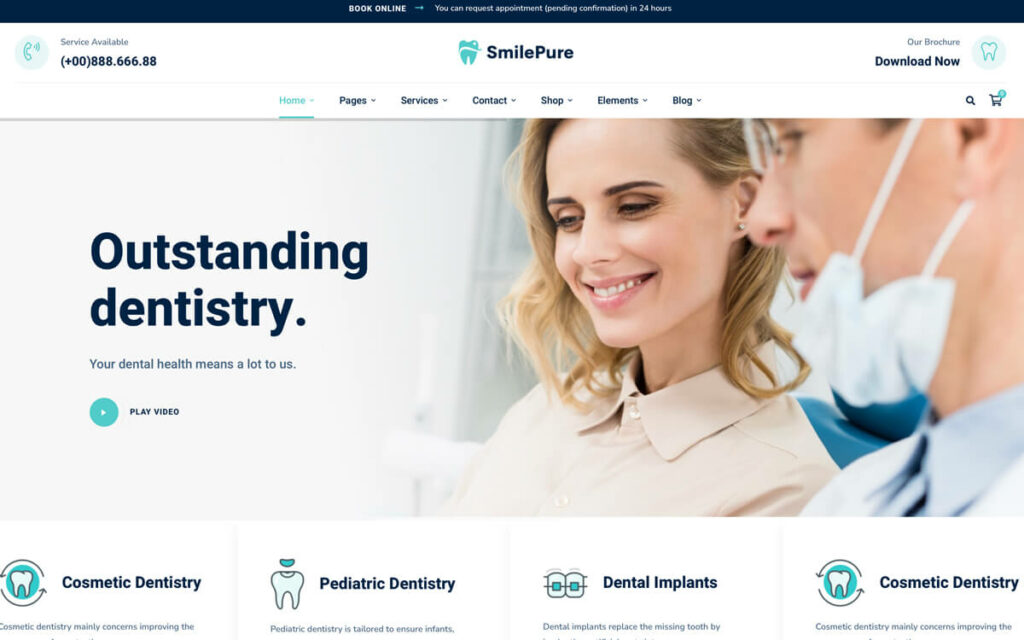 Smile Pure has everything dental clinics want on a website. It has many medical elements that showcase services from tooth repair to specialized care.
This theme is unique from other dental web templates because it features online appointment booking forms, dentist team presentations, a timetable, and a gallery.
It also has more than 17 blog layouts, slide creator, MailChimp, SEO optimization, and social media sharing buttons. It also has a one-click installation.
5. Astra
A multipurpose theme with impressive dental website templates.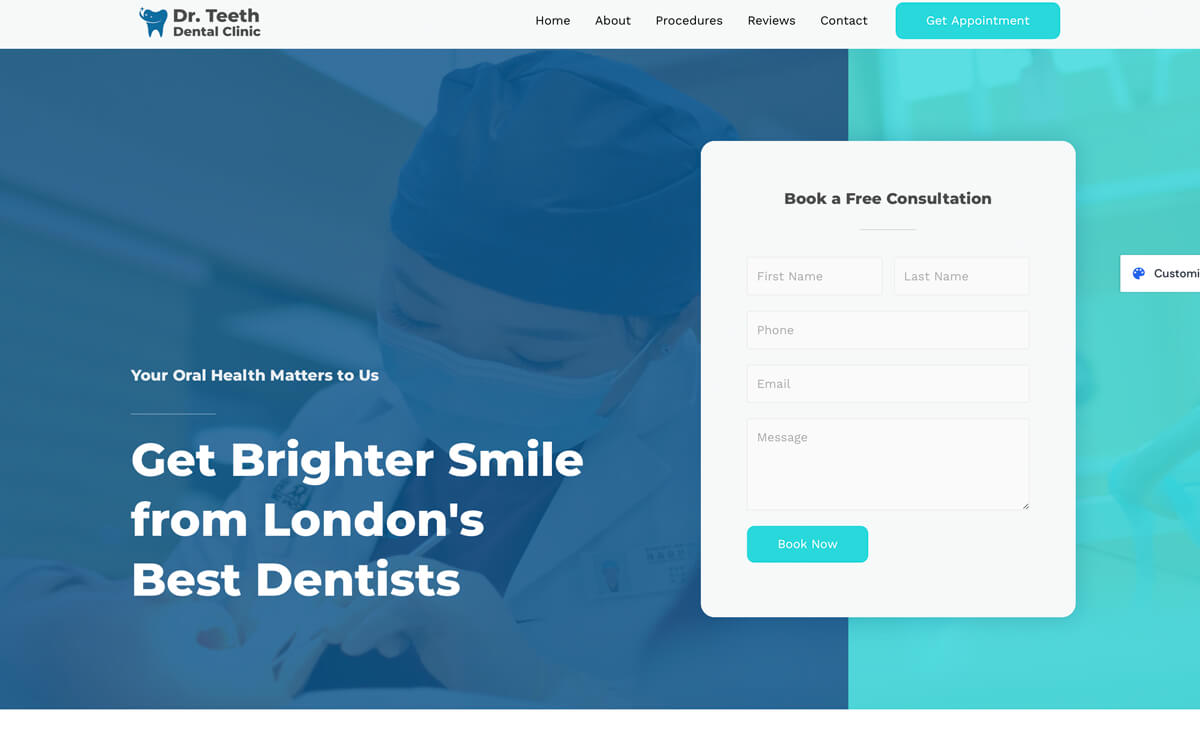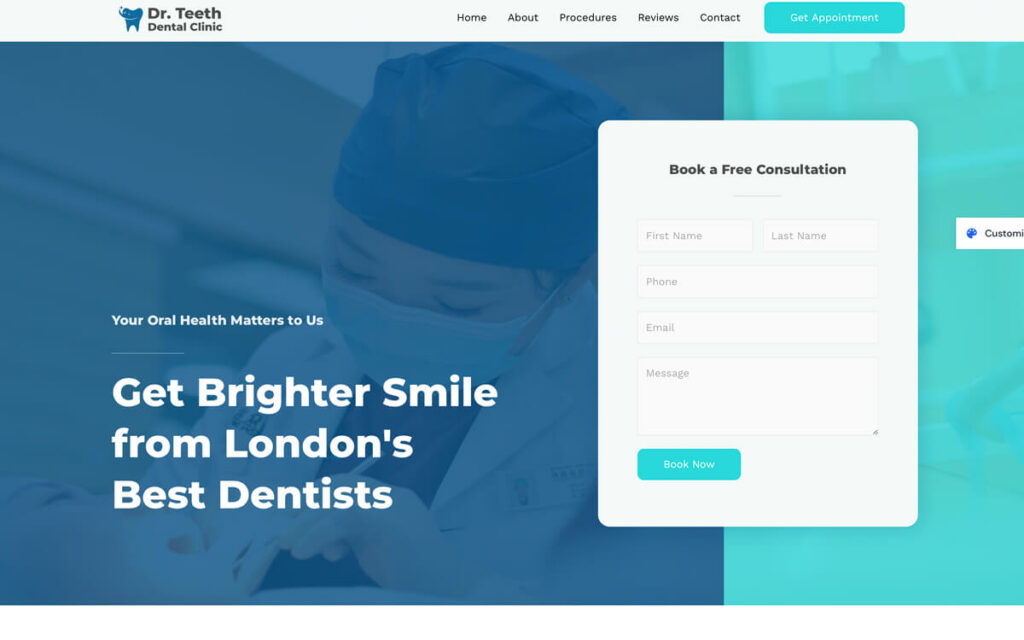 This lightweight, highly-customizable dentistry theme is fast. It has more than 1400 reviews that land it with five-star quality. More than 1.6 million websites use Astra and that is a good reason to consider it for your dentist website.
Advantages of using Astra include easily managing layouts, blogs, pages, posts, archives and, footer and sidebar in one area.
These dental WordPress themes are Gutenberg compatible and have a large library of free starter Gutenberg templates.
6. Dental Insight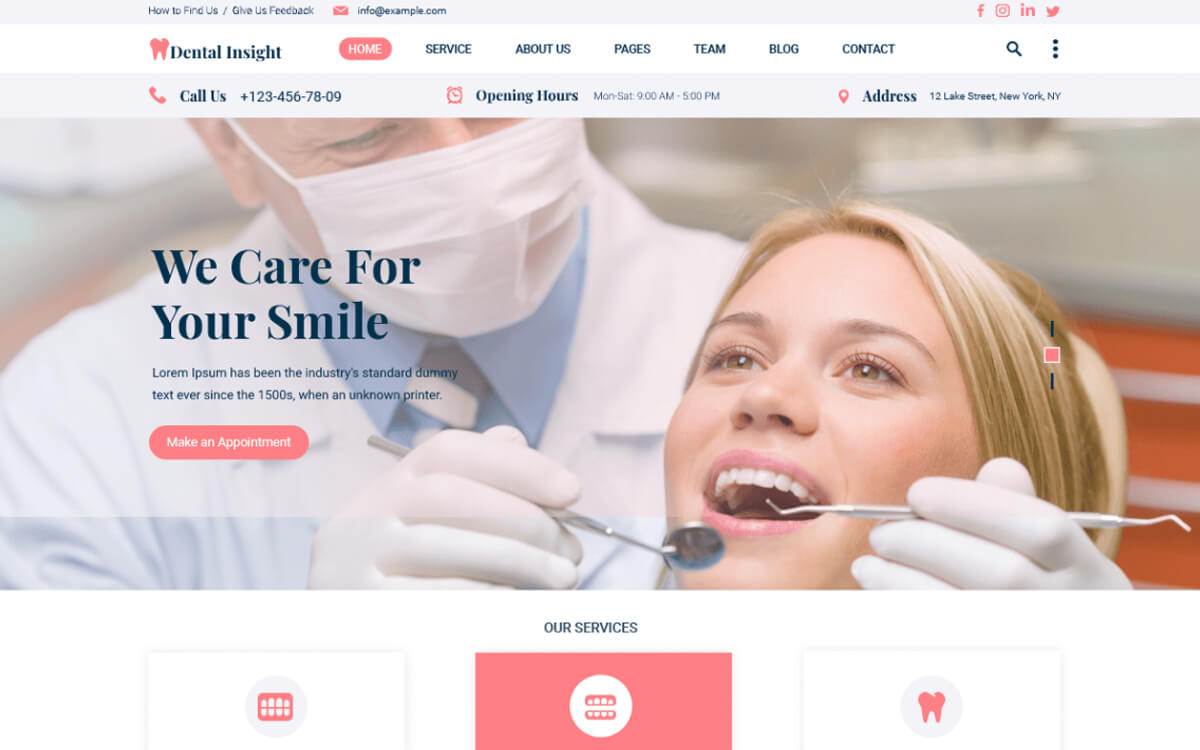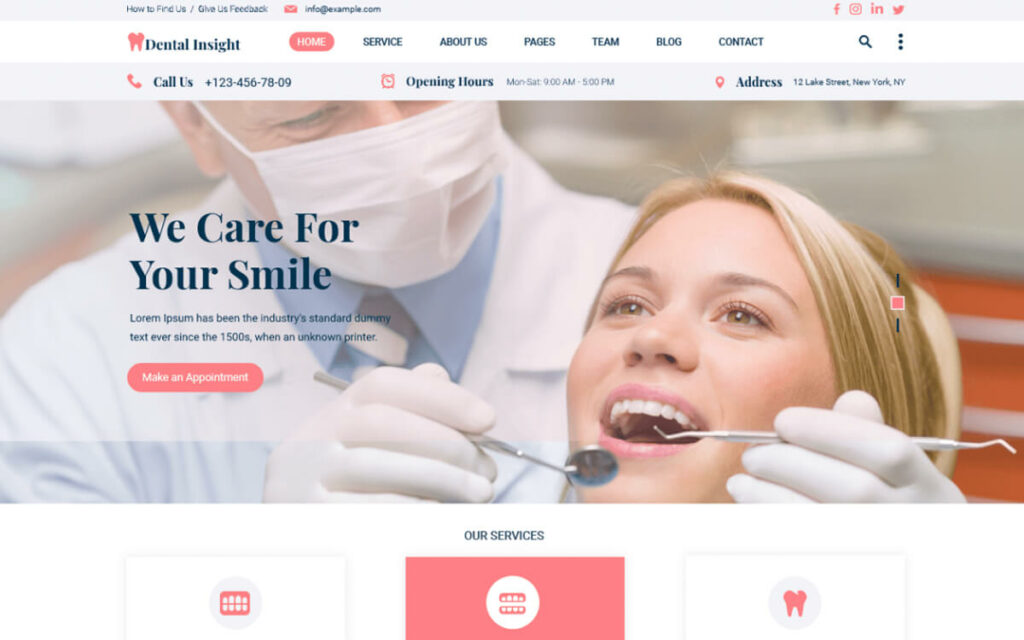 Dental Insight, another German-based medical use theme, is both eye-catching and rich in clean features. It is a contemporary theme that is filled with features for showcasing a dental practice.
An advantage of using this dentistry theme is that it's SEO-friendly ensuring that you attract more pages to your dental care office.
It also has social media integration and a call to action button.
7. VW Dentist Theme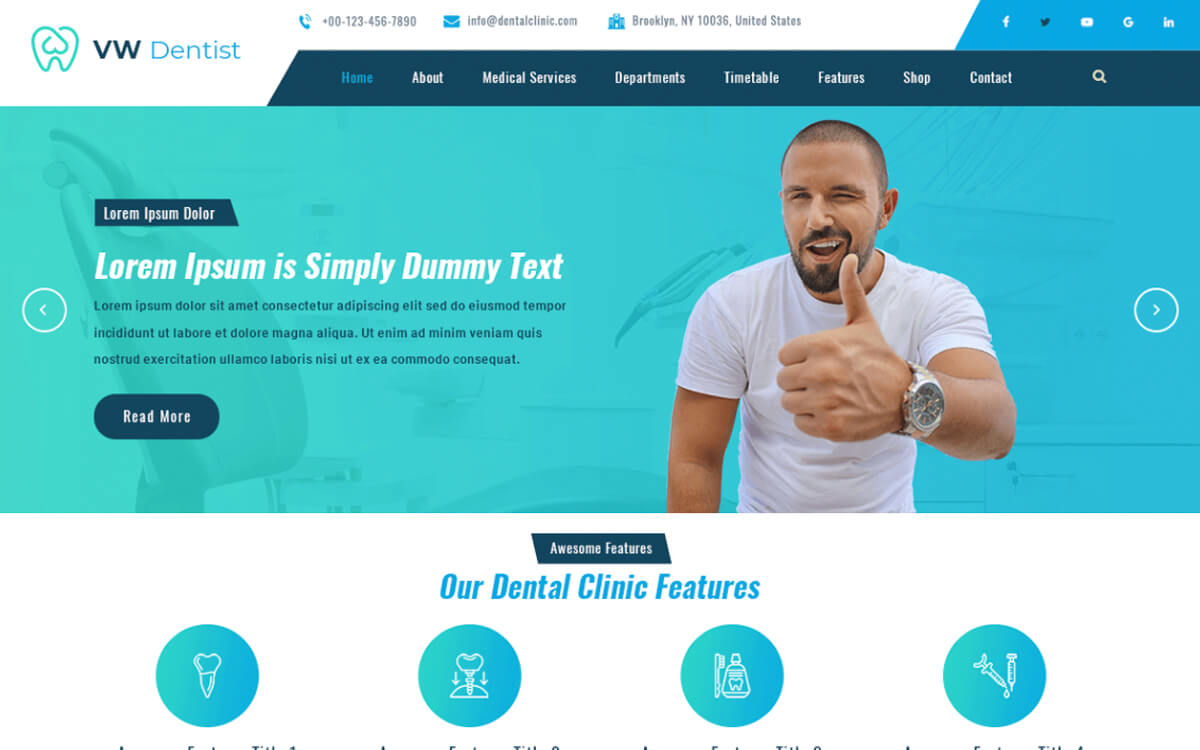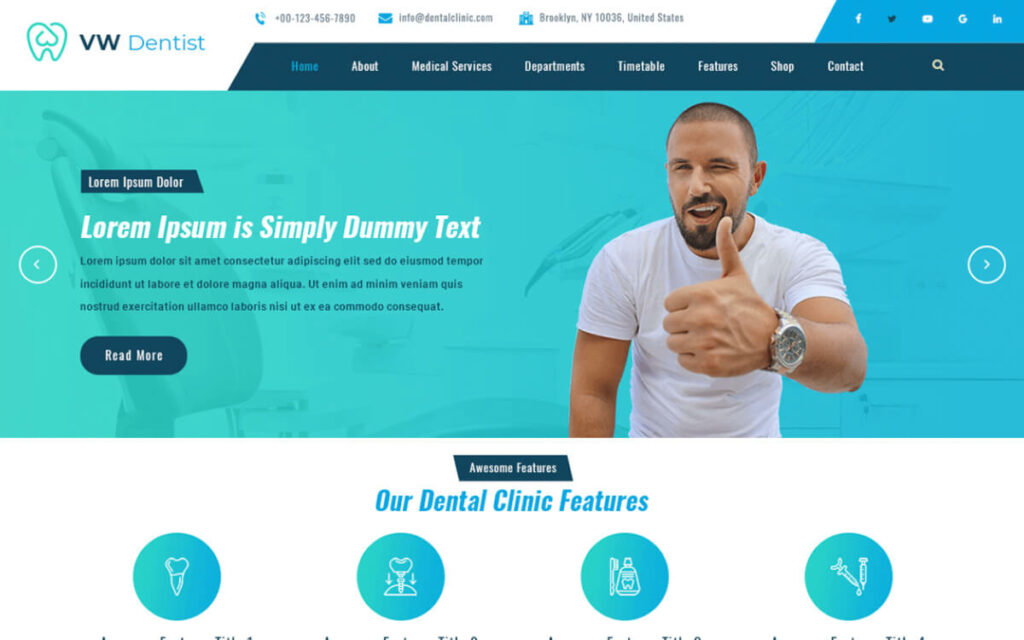 VW Dentist Theme, a German-created theme, has dentistry themes designed specifically for the industry. Its designs are responsive mobile-ready medical templates that work on any screen of any size.
These clinic themes are highly functional with many strong features like editor style, custom colors, sticky posts, and featured images. An advantage of the VW Dentist Theme is you can customize the theme for your dental practice with a few clicks.
8. Enfold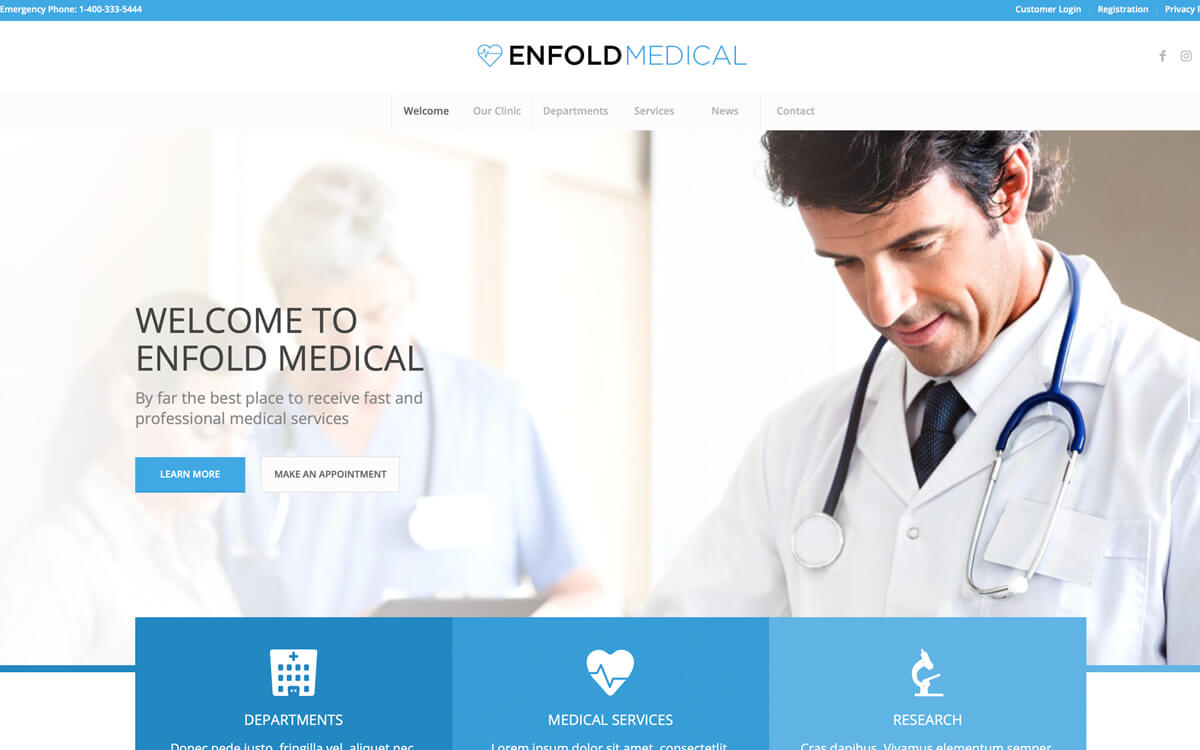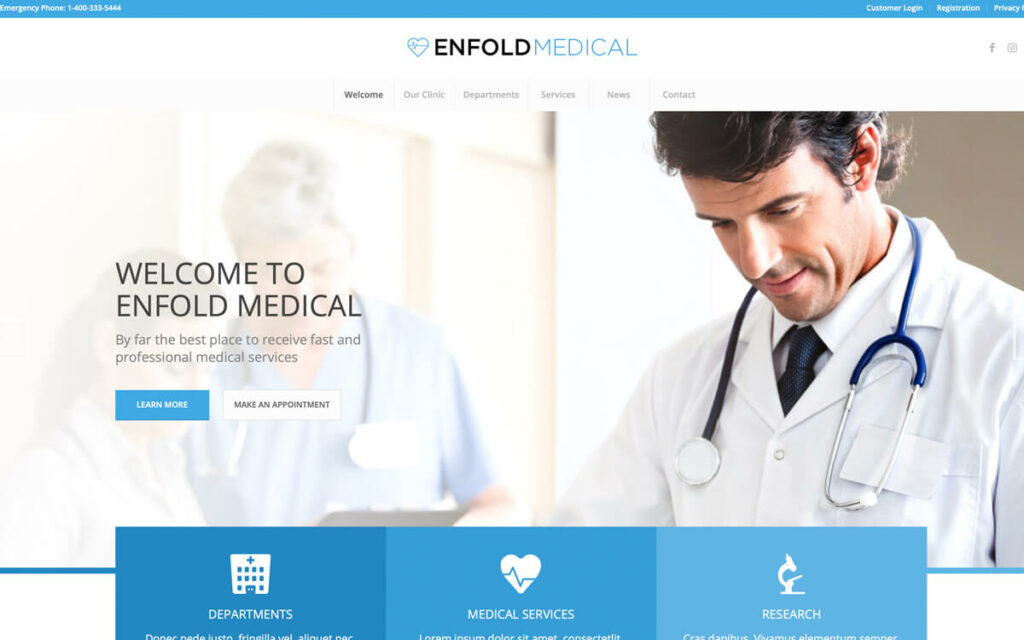 Enfold is a multi-purpose theme but is flexible, responsive, and clean so it makes for a good choice for dental websites. It has neat portfolio options, which makes for a good why for dentists to showcase cosmetic work.
This dental theme is constructed on top of the Avia Framework. Support is there with the WPML multi-language plugin.
There are a host of layout, colors, styling, and font options that allow you to either use one of 19 pre-set skins or build your own. Both are accessible from the WordPress Administrative Panel.
Other features include drag-and-drop, WooCommerce Bookings, and Retina Ready options so it looks great on both tablets and smartphones.
9. DentiCare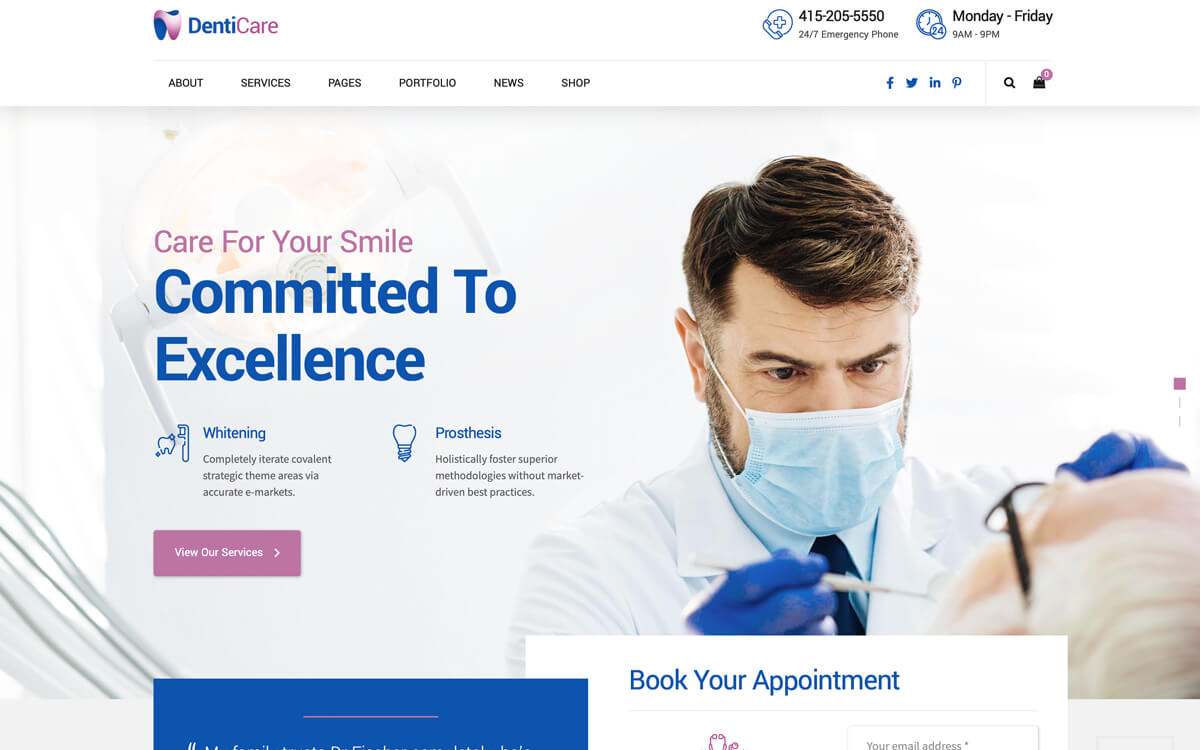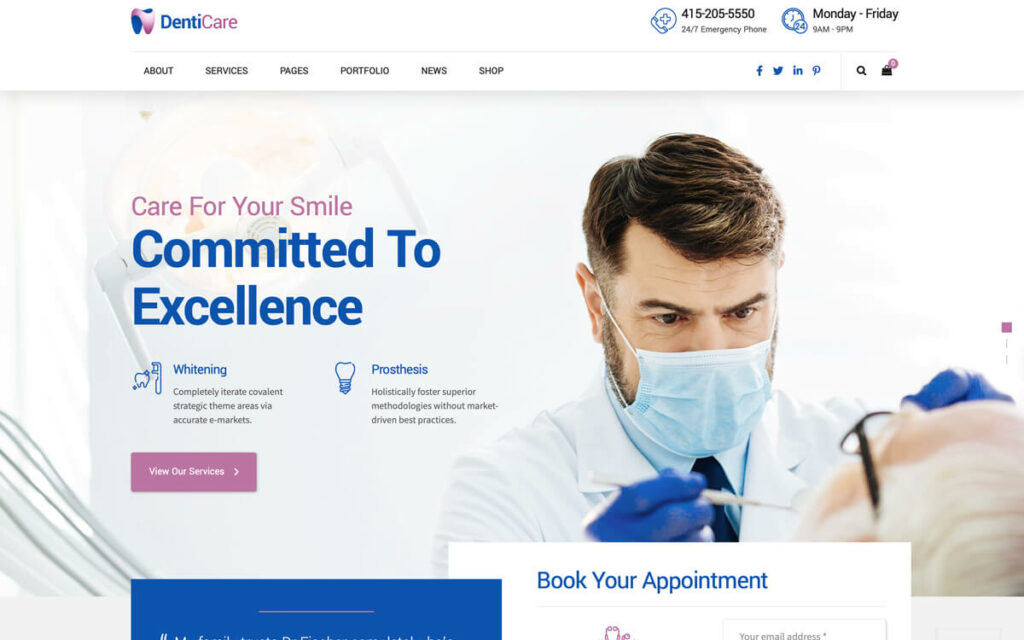 DentiCare is one dentistry theme that has everything ready-made with dental offices as its focus. Its inner pages are also carefully crafted to keep those on your website.
Some of DentiCare includes distinctive typography that attracts attention and a cost calculator plugin that is highly customizable so potential patients can figure up costs ahead of time. It also has a bold timeline that includes free, drag-and-drop page building.
It includes booking forms and post-sales support as well.
10. Healthcare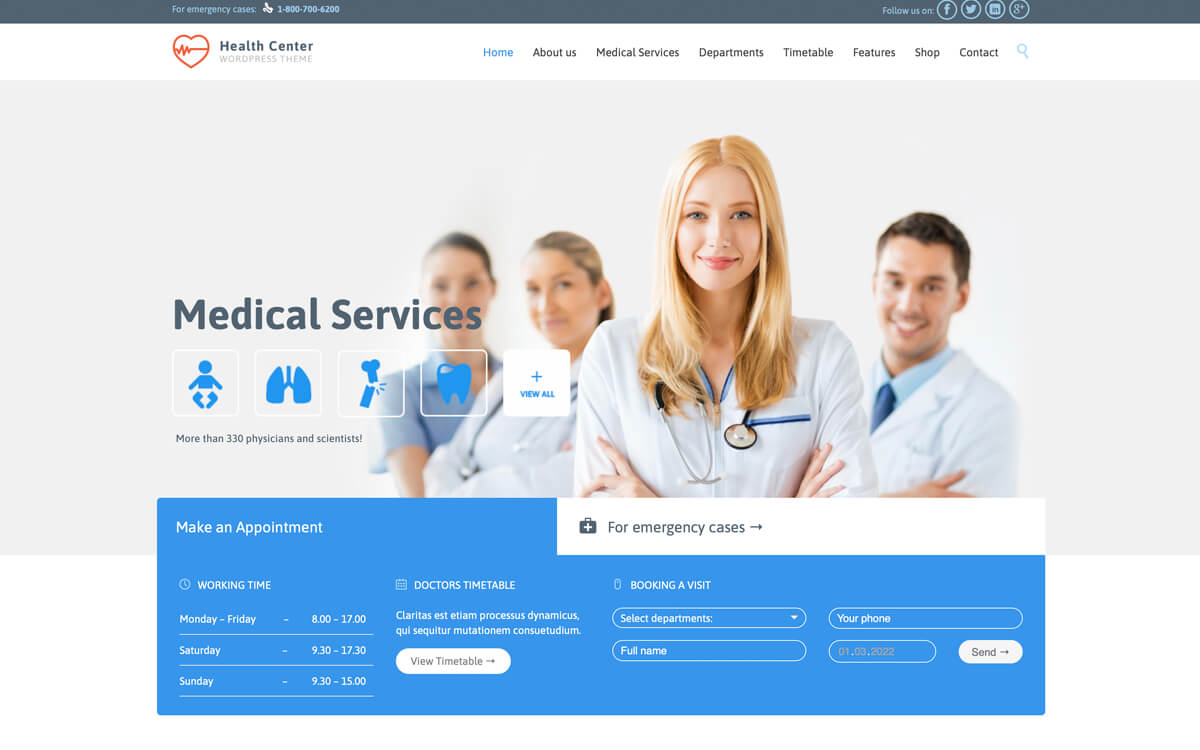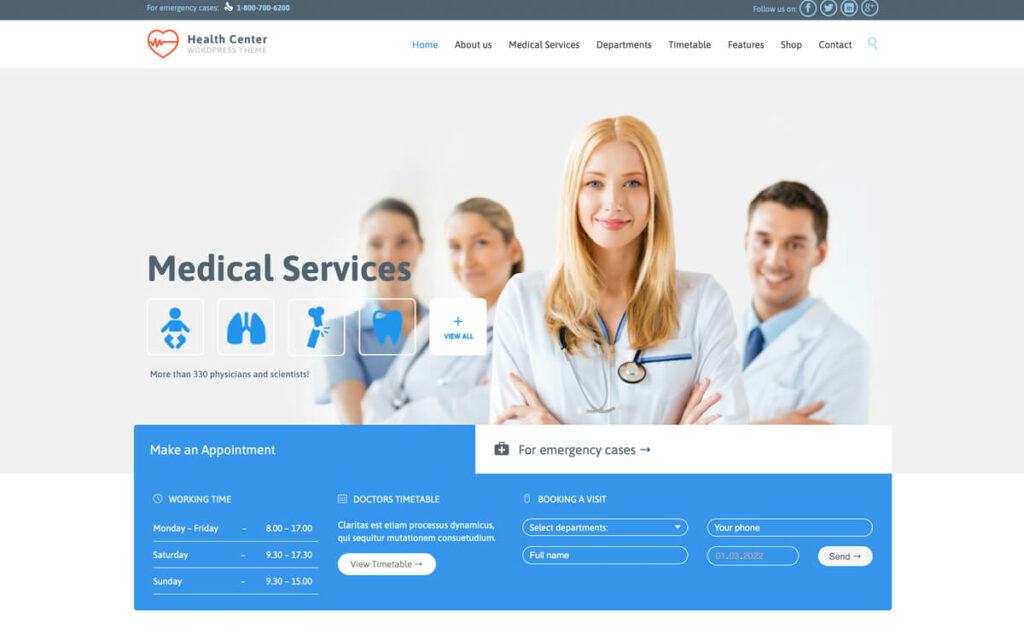 This is a medical them that a dental clinic can use well since it comes with a booking or appointment form, lists opening hours, has a timetable, and department management.
Beginners, as well as advanced website developers, love this theme as you can use it with zero programming knowledge or with advanced knowledge looking to have creative options. It also has 24/7 support.
The dentist WordPress themes offer drag-and-drop and premium slider revolution integrated.
11. Dentalia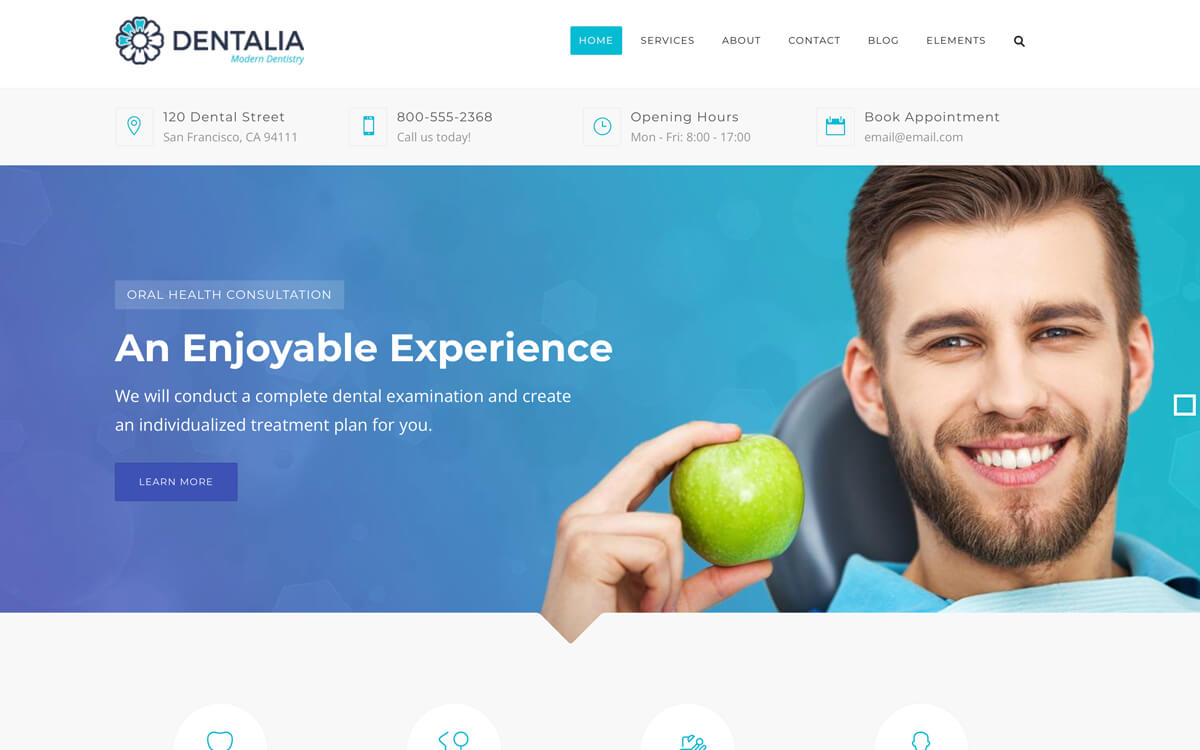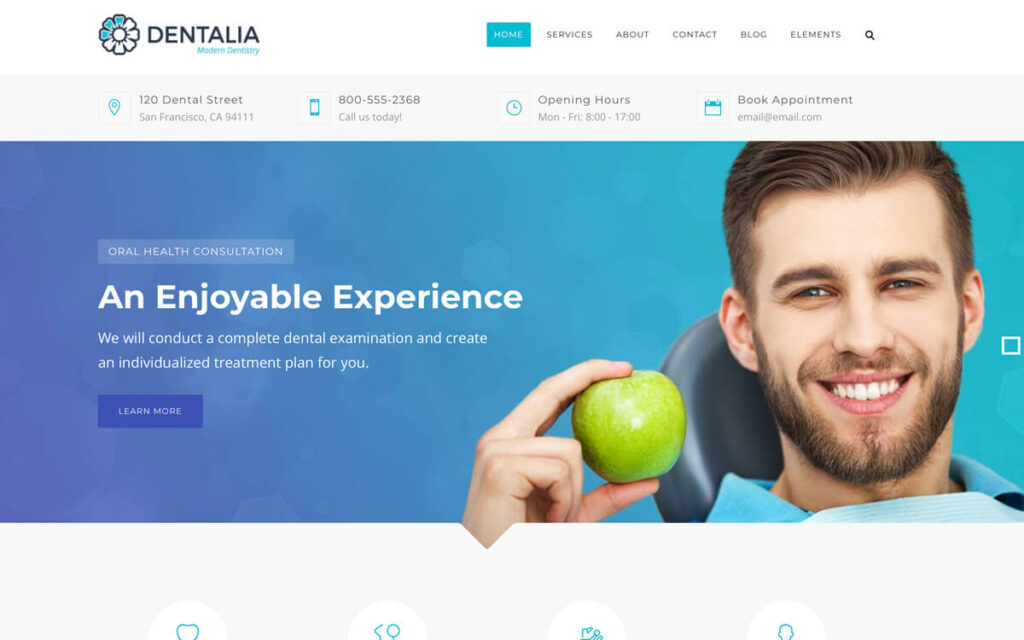 Dentalia is a clean, modern, responsive dental theme that is also extremely customizable, making it a great option for any clinic or dental office.
Advantages of using Dentalia are its one-click demo import, visual page builder, and intuitive theme options that make building dental websites easy and functional.
It includes the Revolution slider plugin for free, background overlays, two sets of dental font icon packs, and a before and after slider that makes it easy for potential customers to see your work.
There are a ton of widgets that help you do document downloads, pricelists, opening hours, and even testimonials.
12. Dentalux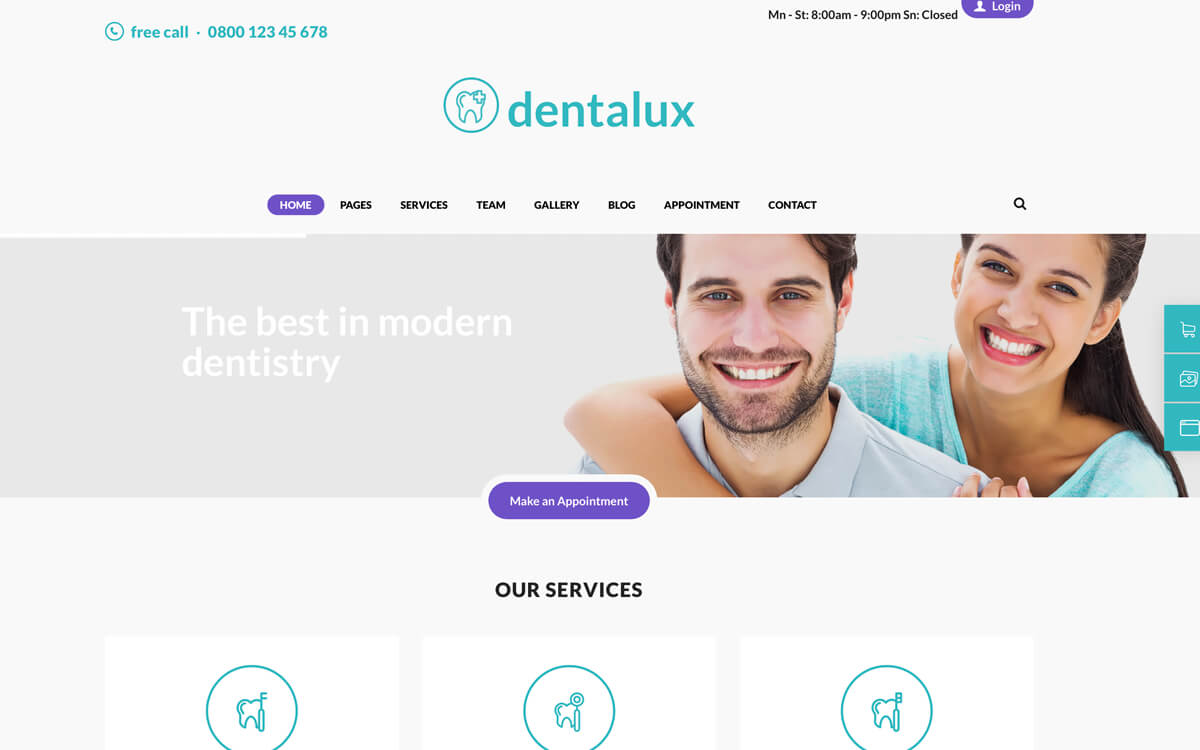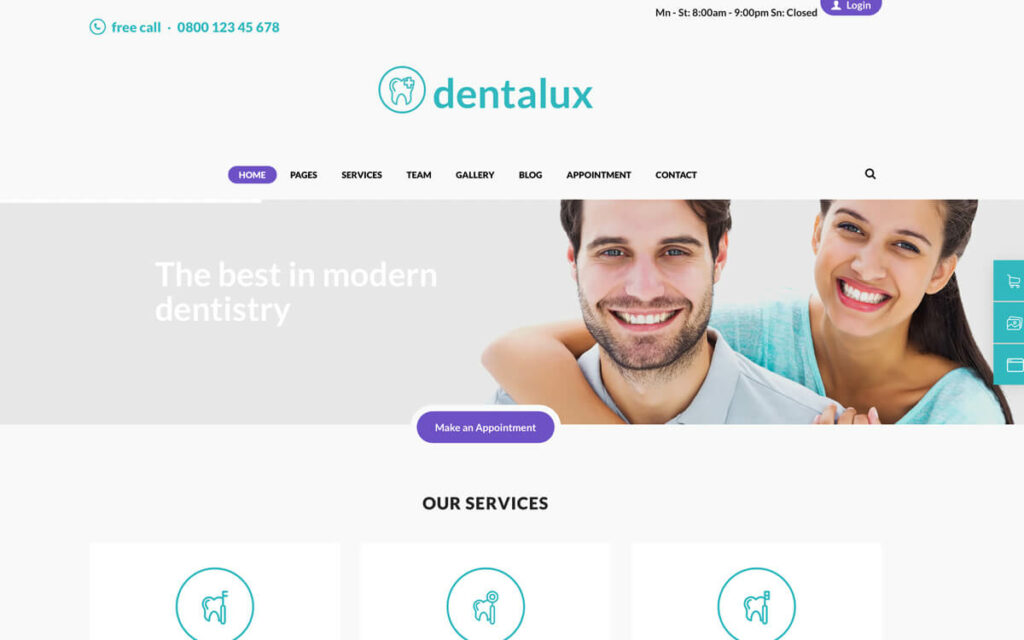 Dentists looking for a fresh, clean dental theme can look to Dentalux. This is among dentist WordPress themes that are perfect for things like tooth treatment and smile repair.
The design of Dentalux comes in shades and colors that help calm as well as promote confidence in your dental office. It also comes with single pages for the clinic team and doctors, dozens of galleries and shortcodes, and pre-made content for dental practices and services.
Two of Dentalux's most important features are appointments management and online booking appointments. It has swipe effects on scrolled sections, with mobile sliders Revolution and Swiper included its fully responsive layout.
How to choose the right WordPress theme for your dental clinic's website
Choosing the right theme for your dental clinic's website is essential for creating a professional and trustworthy online presence. When it comes to themes for dentists, there are plenty of options available, but not all of them are created equal. So how do you choose the right theme? Here are a few tips:
Choose a theme that is designed specifically for clinics or health professionals. This will ensure that your website looks professional and trustworthy.
Make sure the theme is responsive, which means it will look good on all devices, from desktop computers to mobile phones.
Check out the reviews of the theme before you purchase it. This will help you see what other users think of the theme and whether it is right for you.
Think about what you will need to have on your website to make it successful.
When you are choosing a theme for your dental clinic's website, it is important to think about what you will need to have on there to make it successful. Some of the things you may want to consider include:
A portfolio of your work – this can be helpful in attracting new patients.
An online booking system – this will make it easy for patients to book appointments with you.
A payment system – this will allow patients to pay for their appointments online.
A patient database – this will help you keep track of all your patients' information in one place.
By considering these things, you can choose a theme that will help you achieve your website goals.
How a good looking WordPress website helps you as a dentist
Having a good-looking website will have a direct impact on how many new patients you attract. A well-designed website will make you look professional and trustworthy, which is essential when it comes to attracting new patients.
In addition, a good-looking website can also help improve your online reputation. People are more likely to trust a business that has an attractive website, so if you want to stand out from the competition, you need to make sure your website looks good.
How WordPress can help increase revenue for a dental clinic
In addition to helping attract new patients, WordPress can also be used to increase revenue for a dental clinic. There are many plugins and themes available that are specifically designed for dentists and clinics, which means you can use WordPress to create an online booking system, accept payments for appointments, and even manage your patients' records. By using WordPress to streamline your operations, you can free up more time to see patients and focus on running your business.
Tips for setting up a WordPress website for a dental clinic
If you are planning to use WordPress for your dental clinic, here are a few tips to help you get started:
Choose the right theme: When it comes to themes for dentists, there are plenty of options available. Make sure you choose a theme that is designed specifically for clinics or health professionals. This will ensure that your website looks professional and trustworthy.
Install the right plugins: There are many plugins available that are specifically designed for dentists and clinics. Make sure you install the right plugins to help you manage your website and clinic operations.
Create a patient database: One of the best things about WordPress is that it can be used to create a patient database. This will allow you to keep track of all your patients' information in one place, which can be very helpful when it comes to managing your practice.
By following these tips, you can set up a WordPress website for your dental clinic that will help you attract new patients and increase revenue. So if you are a dentist or run a clinic, make sure you consider using WordPress to get the most out of your website.