Do you love to travel like me? If so, you may be interested in starting your own travel blog. WordPress is a great platform for creating a blog, and there are many themes available that are perfect for travel bloggers. In this article, I will take a look at some of the best free and premium WordPress themes for travel blogs. I will also give you some tips on how to get started with your own WordPress website for your next adventure.
These are the best WordPress Themes for Travel Blogs: 
1. Blossom Travel
A free WordPress theme for any travel blog.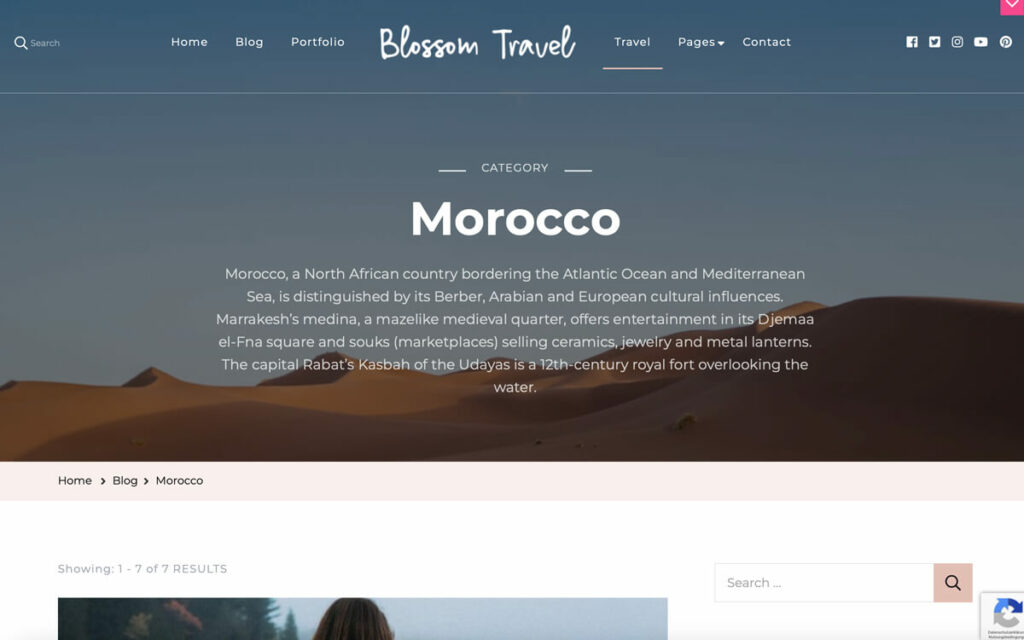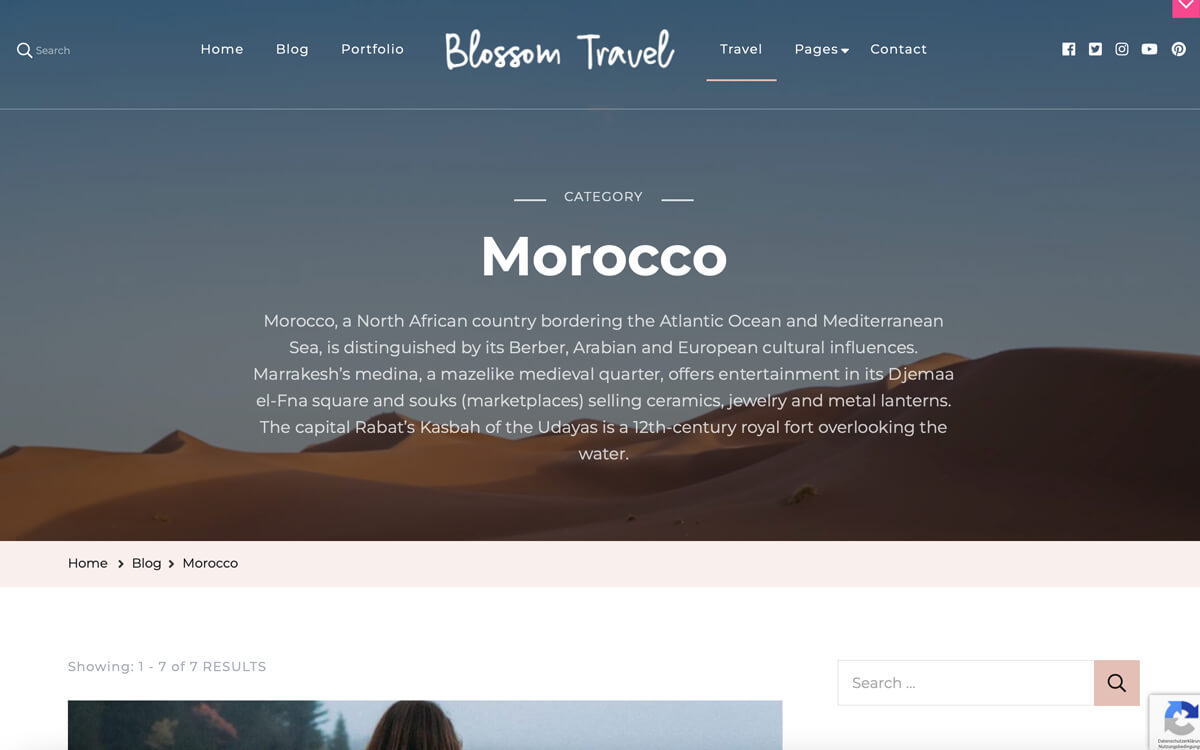 The Blossom WordPress blog theme is far and away one of the best free themes on the market right now. Engineered from top to bottom with travelers and adventurers in mind, this theme showcases both photography and blog posts in perfect harmony.
On top of that, this travel blog theme is filled with search engine optimization, page optimization, and performance tweaks as well. It runs fast and looks fantastic!
2. Travelmatic
A modern WordPress theme for travel blogging.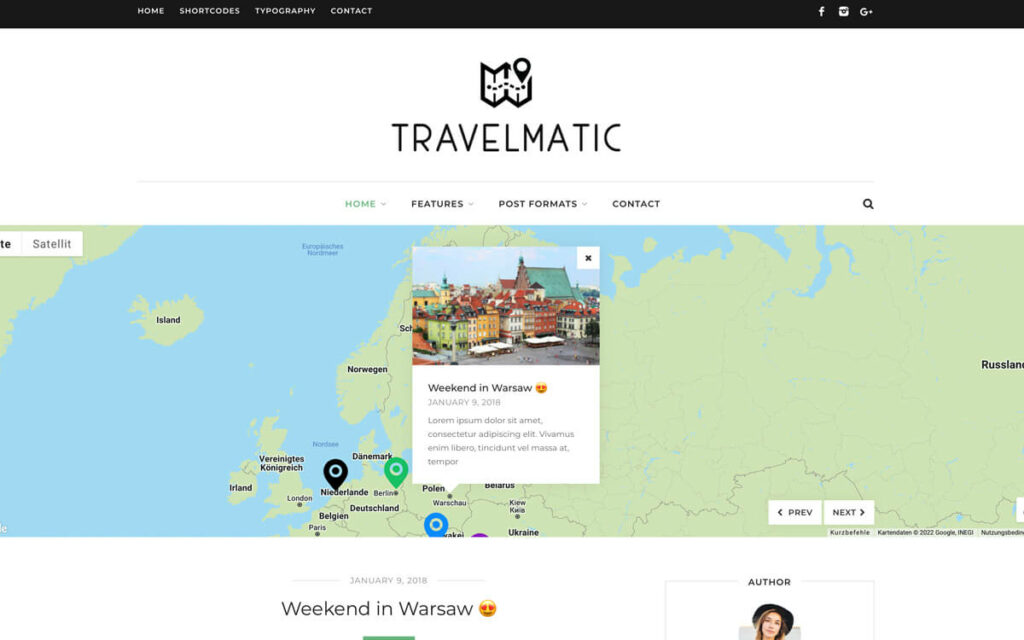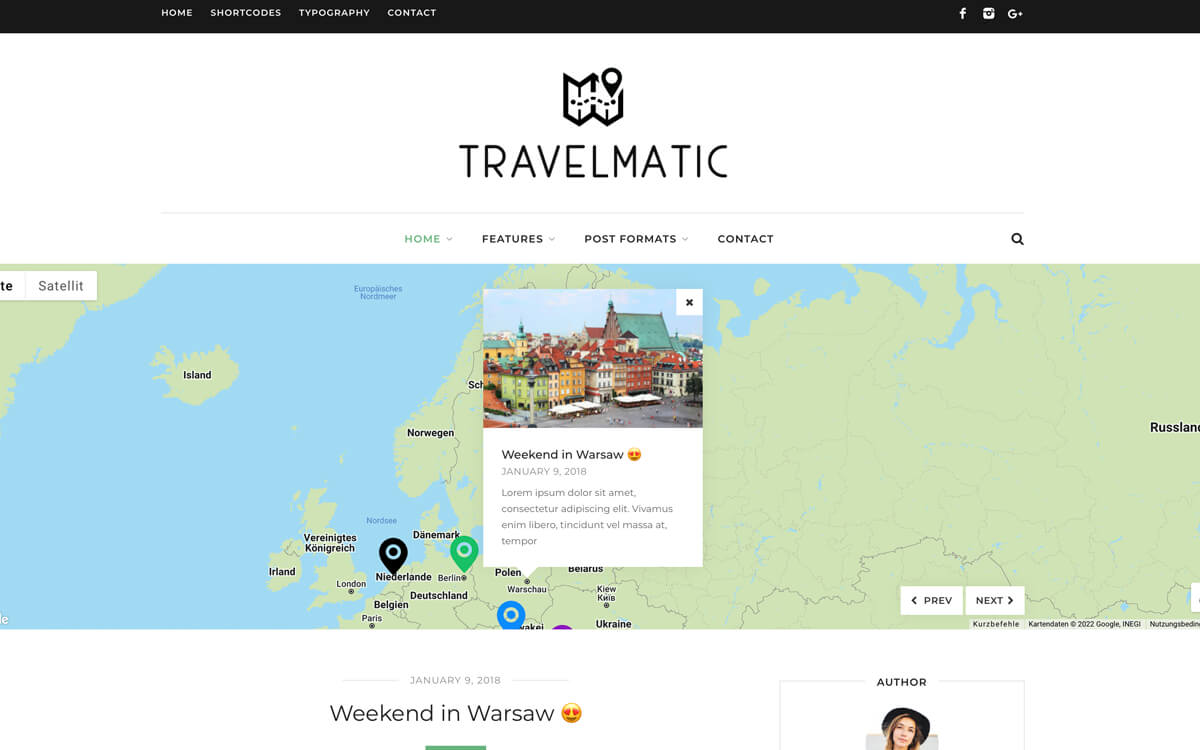 As premium a travel theme as you're going to find in the world of WordPress these days, this Themeforest template is built around a minimalist map focused navigation system. Travelers will be able to build out their blog with rich multimedia, all while enjoying top-notch search engine optimization solutions, too.
Customization is effortless. There are all kinds of power tools "under the hood" of this theme to really build it the way you want it to look and to function. Users aren't going to have to fool around with lots of plug-ins to get this set up the way they want it.
Why I recommend this theme to travel bloggers:
Perfect for travel and tourism websites
Elegant design
Multiple page templates
Drag and Drop builder plugin
Image gallery included
Social Media integration
Lots of customization options
Fully responsive WordPress theme
Font Awesome Icons
Theme demo content included
3. Wanderland
A feature-rich WordPress theme for your personal travel blog.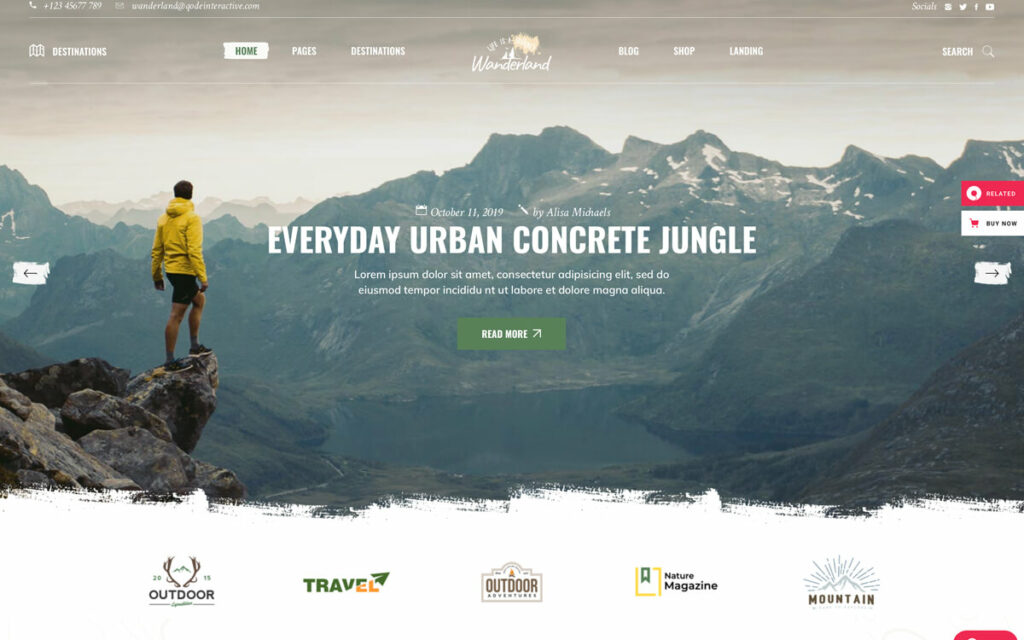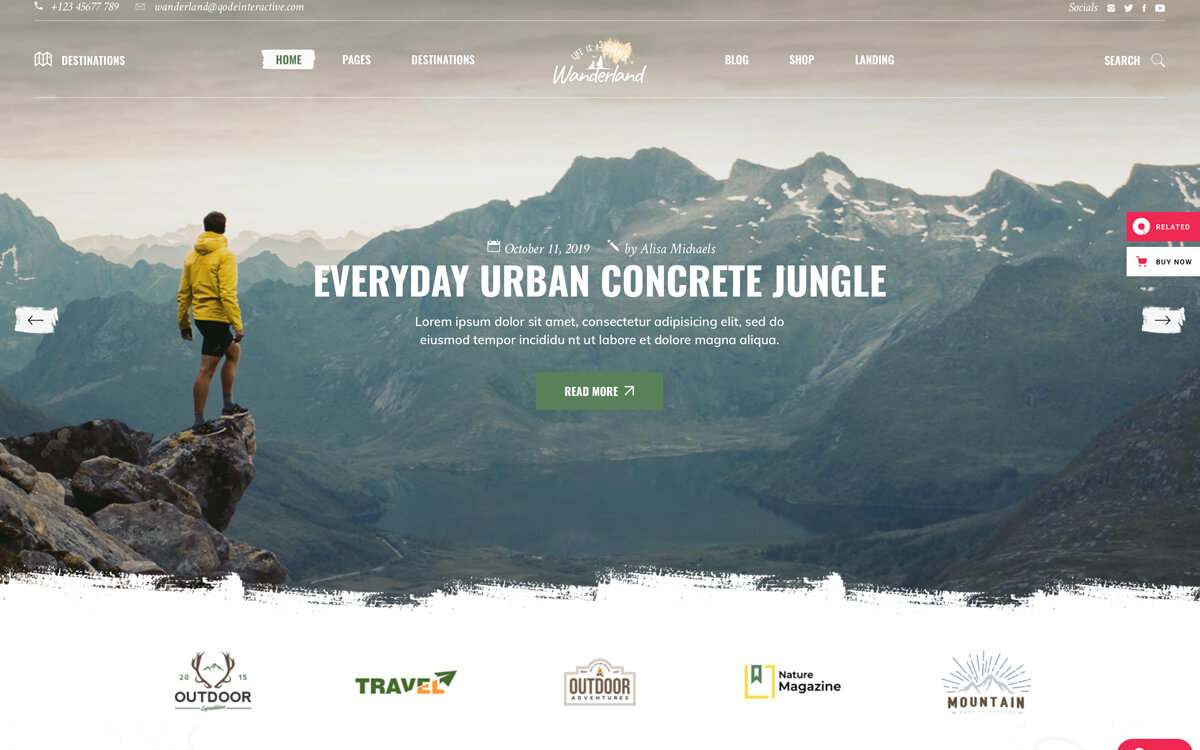 Billing itself as the "perfect place for your stories", the best way to think of this WordPress travel theme is as a digital travel journal. Multimedia elements are a huge part of the design and engineering of this theme, showcasing all of your travel clips, photos, and posts perfectly.
Somehow, though, the theme remains lightweight and lightning fast. You won't have to worry about turning away fellow travel blog lovers due to pages that load slowly here. This theme flies!
Wanderland is a beautiful WordPress theme with lots of theme features and multiple layouts for any travel blog.
Why I recommend this theme for travel bloggers:
Beautiful WordPress theme for personal and meaningful conversation.
Theme options panel
Multiple post formats
Extensive layout options
Google Fonts available
WPbakery page builder plugin included
Social Media Integration with Social Media Icons included
4. Journo
An elegant WordPress blog theme for your travel adventures.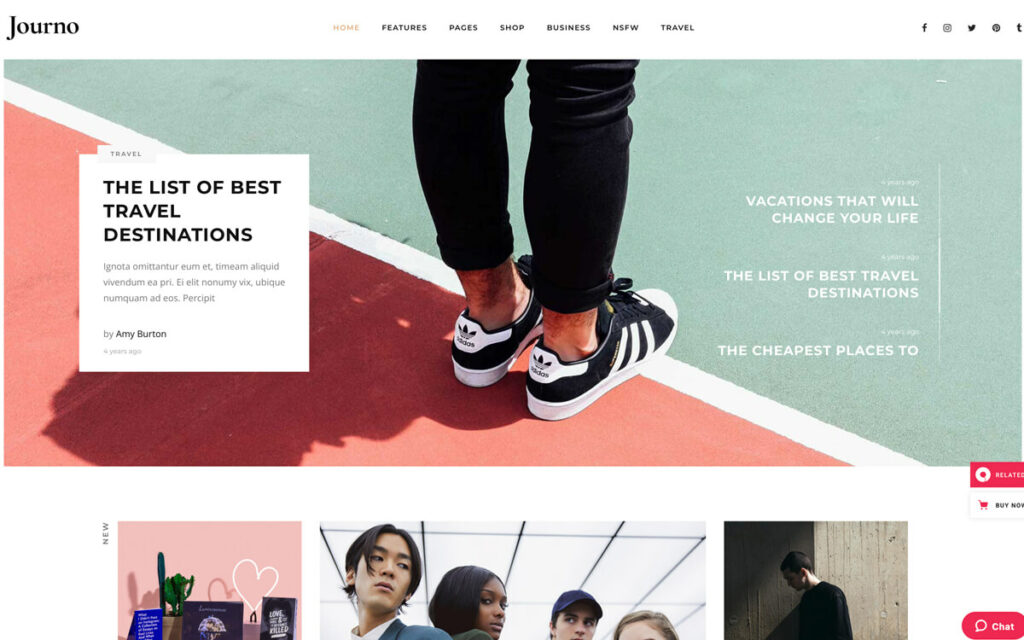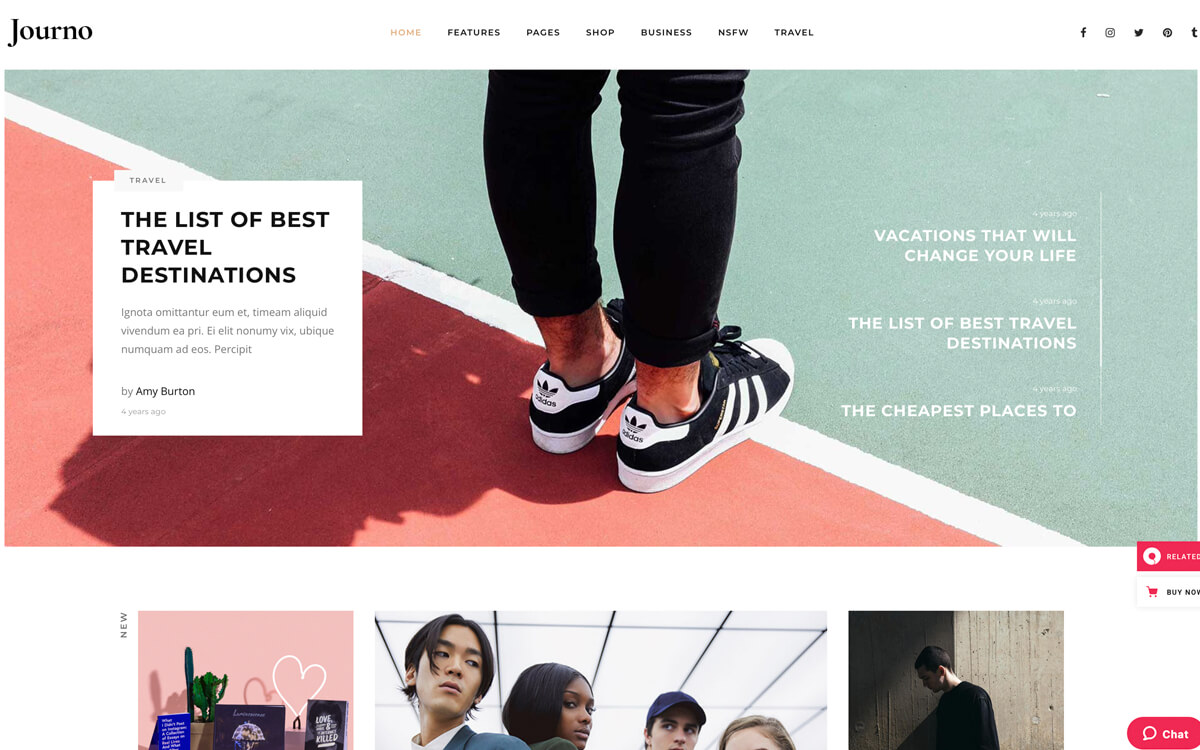 While this theme wasn't built specifically for travelers (more for journalers), it can act as your digital journal and travel scrapbook without a lot of extra optimization.
The magazine like layout lets you pick and choose different things to showcase throughout each of your individual posts and stories. Responsive design elements guarantee that this theme looks fantastic on any sized screen, too. You can even add in e-commerce functionality if you want to sell some of your travel pickups or photos!
Why I recommend this theme:
WPBakery page builder for WordPress included ($46 value) with drag and drop editor
Slider Revolution Responsive WordPress Plugin included ($26 value)
Dynamic homepage builder
Elegant design
Theme options panel
Multiple blog layouts
A nice personal blogging theme for your adventures
5. Backpack Traveler
A perfect theme to show your travel route.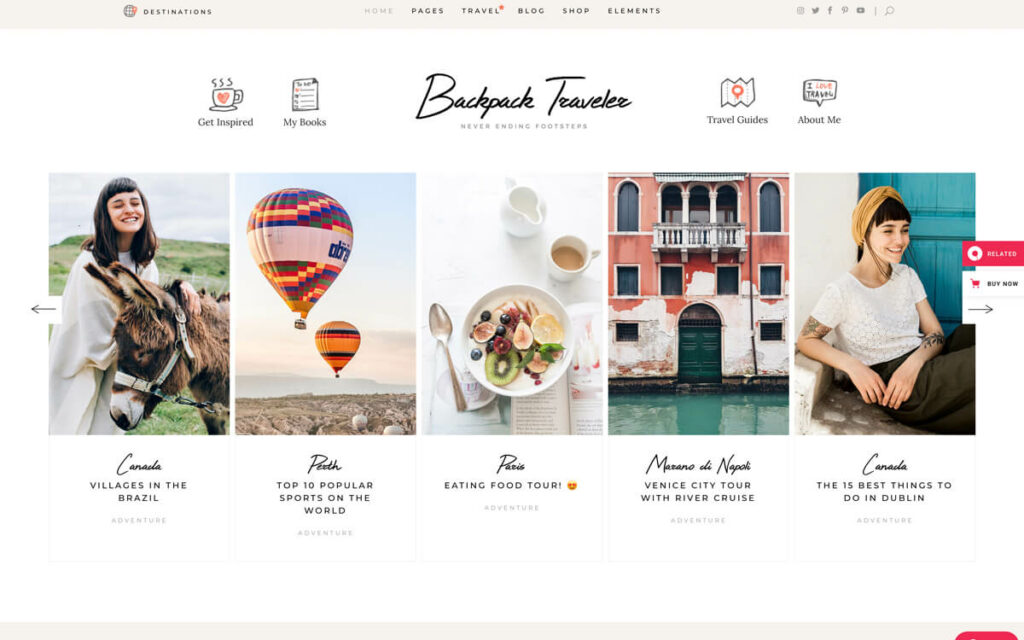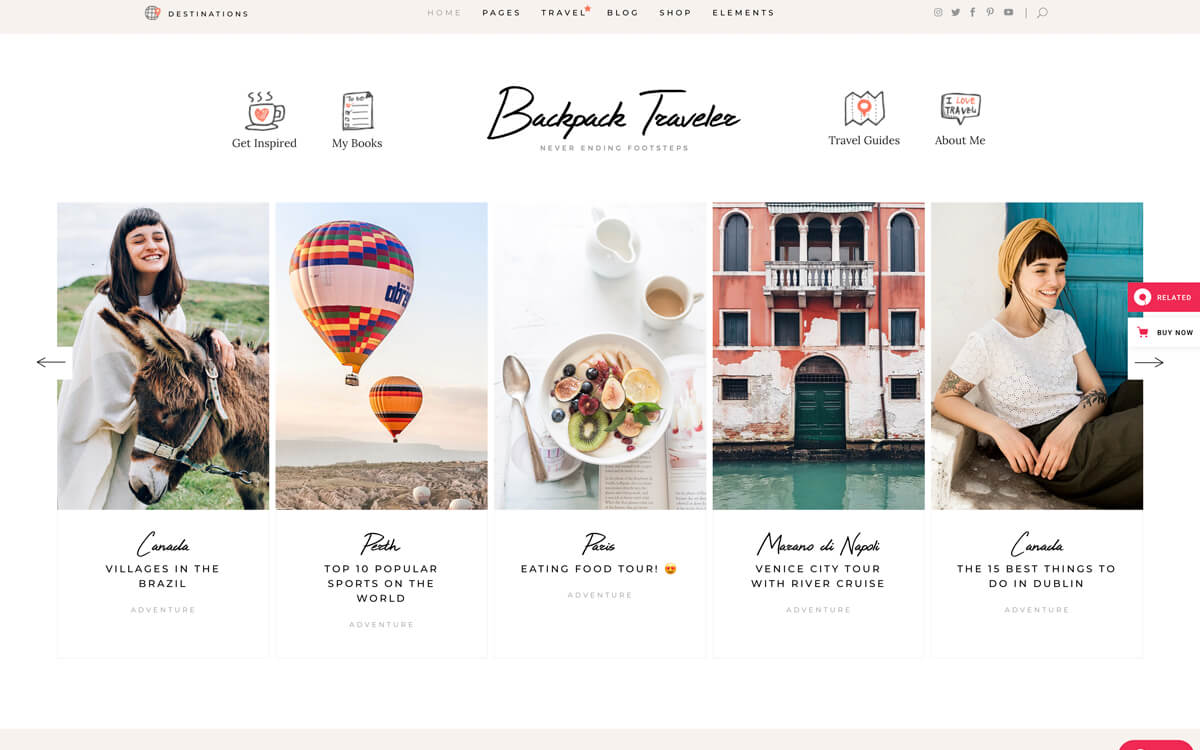 This WordPress theme for travelers offers almost unlimited creative freedom. We are talking about a framework that runs throughout every page that can be tinkered and toyed with, allowing users to create a travel blog that looks and functions exactly the way they want it to.
Everything can be geo-tagged, with a gorgeous Google Maps integration that really acts as the foundation of this theme. It also pares nicely with Woo Themes plug-ins and their e-commerce platform as well.
Why I recommend Backpack Traveler as a WordPress theme for travel blogs:
Default homepage layout and multiple layout variations for a creative homepage design
WordPress block editor and page builder included
Custom widgets
Beautiful presentation of your travel route
6. Trawell
A theme with easy to use Google Maps integration.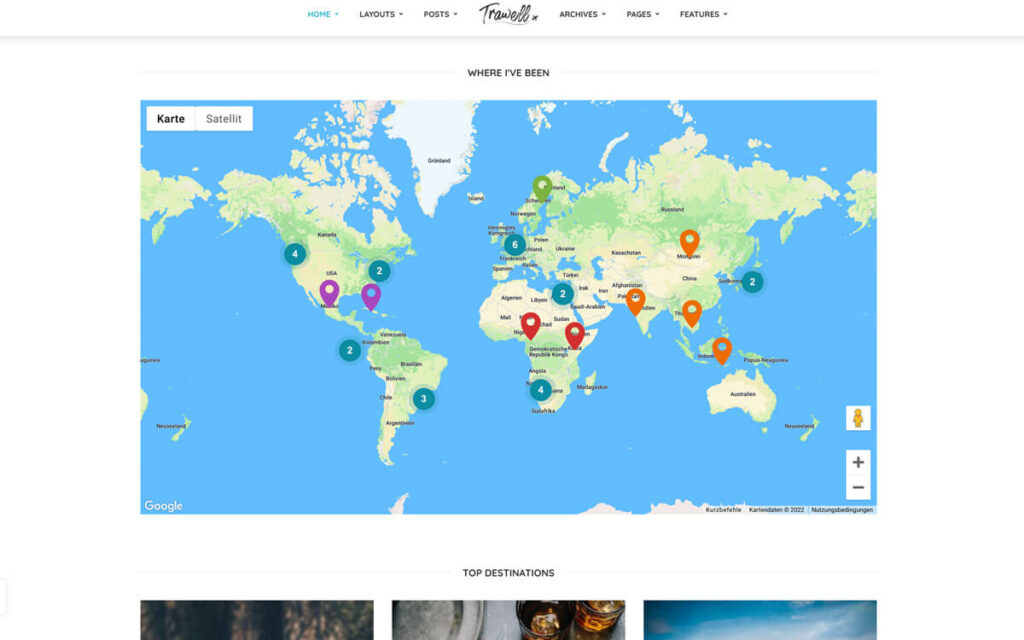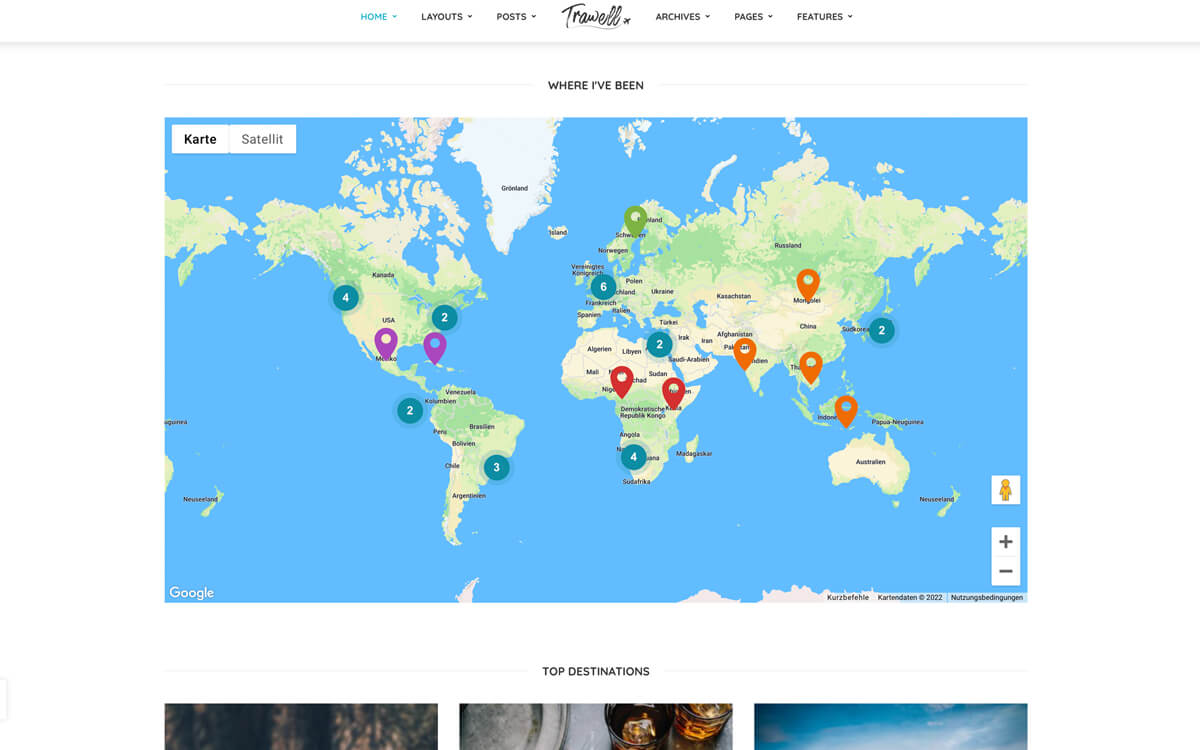 This travel WordPress theme promises that you'll have a gorgeous, professional WordPress travel blog up and running in less than five minutes – and they deliver on that promise, too!
Whether you're looking to showcase your travel stories, want to make your travel photos and videos the star of your blog, or want to have a lot of variation in page layouts across the board you'll be able to pull that off with this theme. Combine that with some gorgeous integrations with Google Maps and this is a perfect travel theme set up.
7. Tripster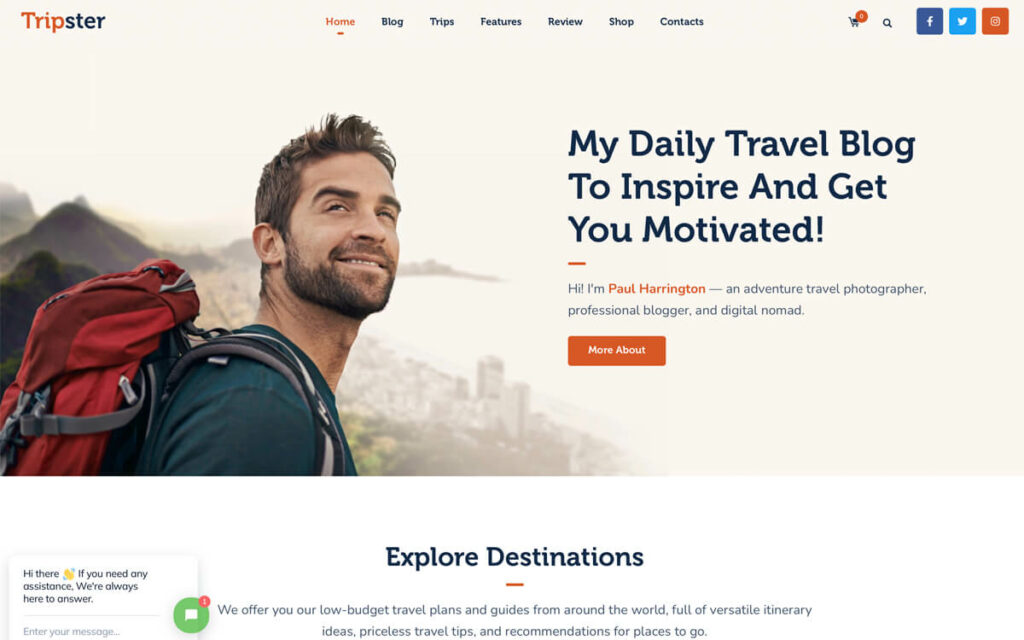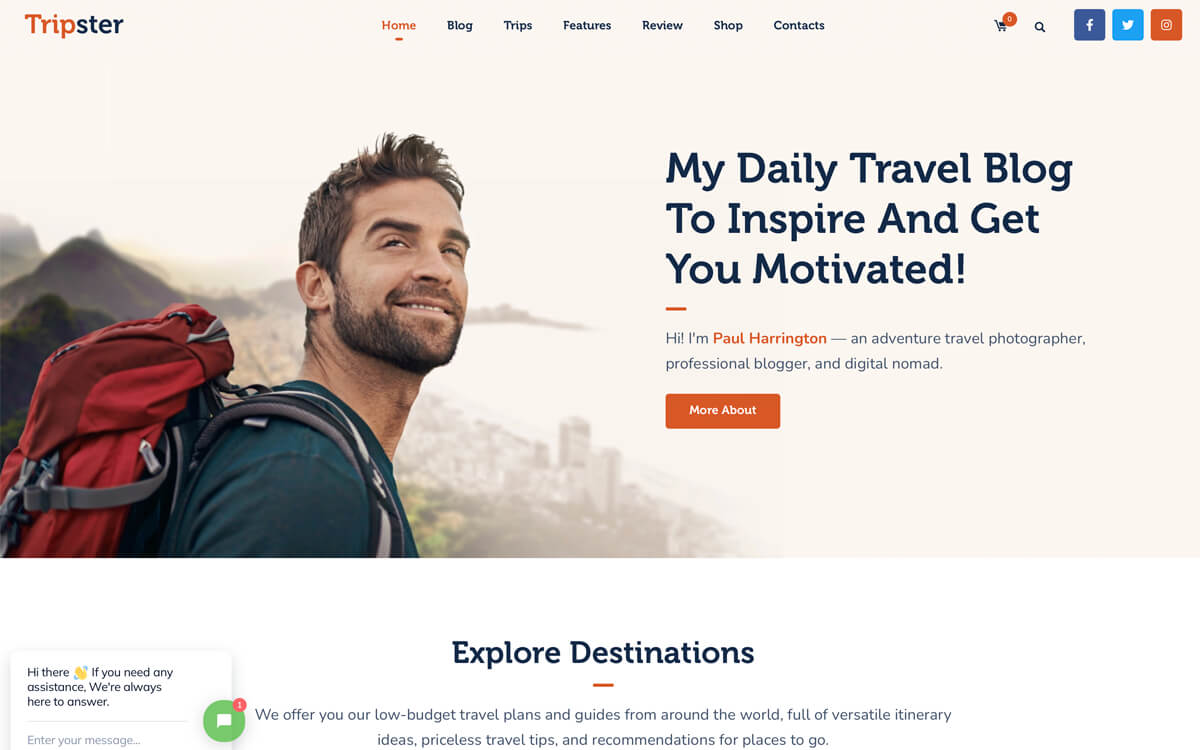 This is very much a clean and minimalist take on a travel blog, giving you a bit of a blank canvas to play around with to create a website that really reflects your journeys and adventures.
Bloggers, photographers, documentary producers, and just regular adventurers can all make good use of this WordPress theme. Highly customizable (with drag and drop options), the framework of this platform can be extended and customized without a lot of headache or hassle at all.
8. Vlogger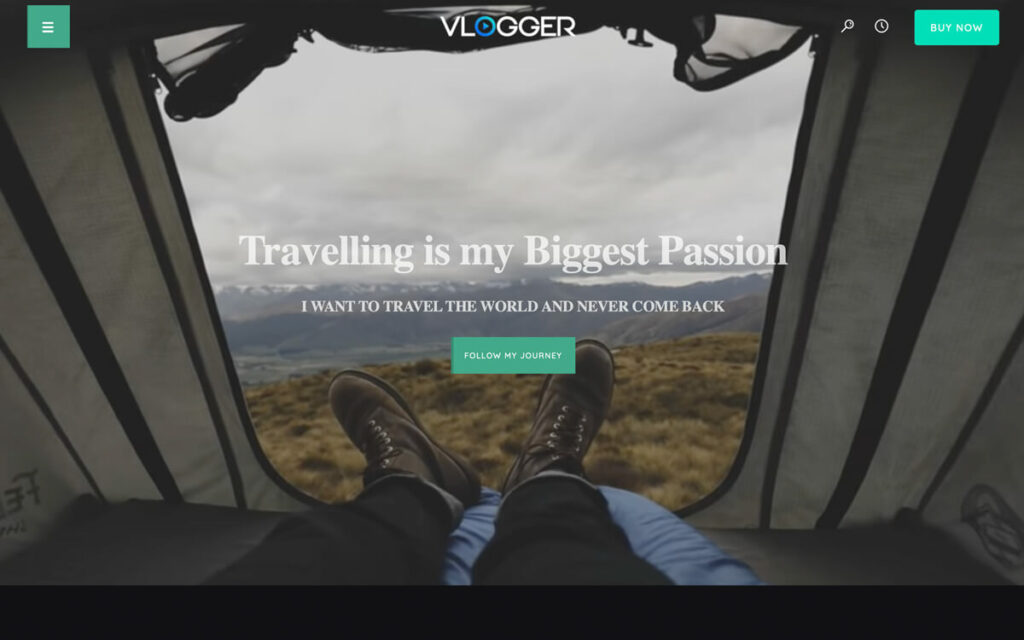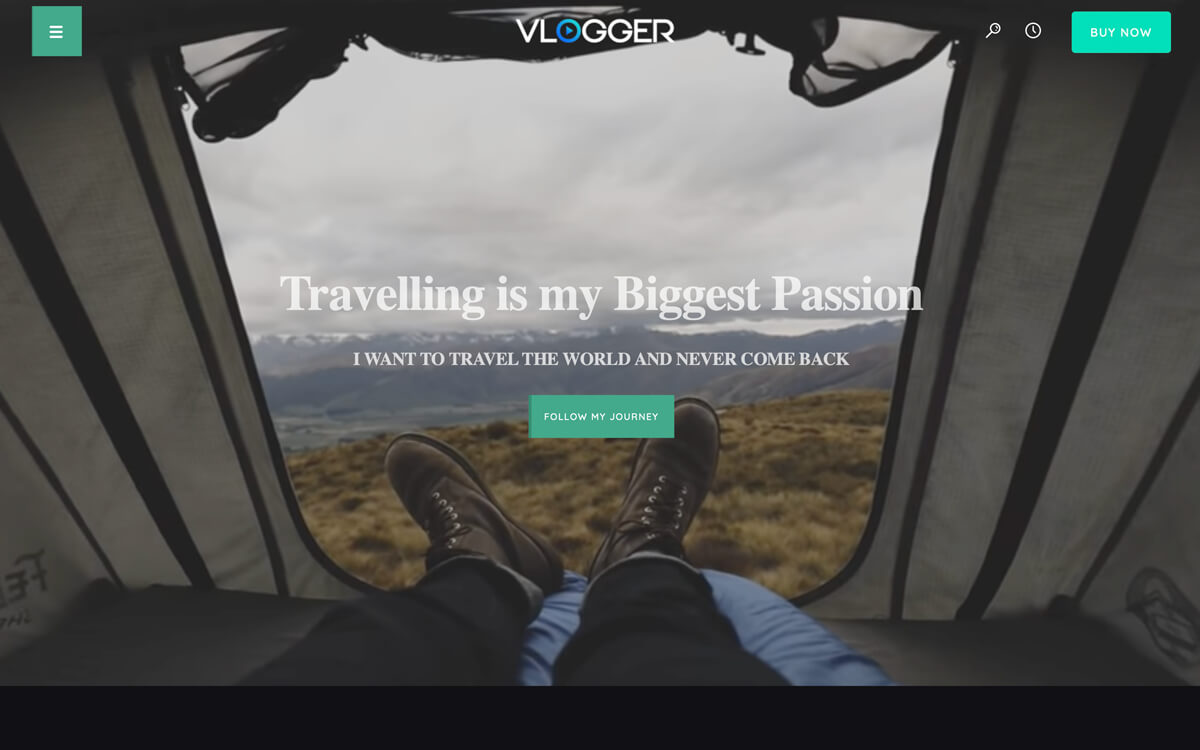 If your travel content is primarily video-based, and you want to make sure that your WordPress install is light and fast without sacrificing design and aesthetic choices, this is the way to go.
A revolutionary new video focused WordPress theme, uploading your travel videos (in 4K, no less) is effortless – and you won't see any WordPress performance issues, either. That's because every bit of code that went into creating this theme has been optimized around video content. Your site will load lightning fast even if it's filled to the brim with HD travel videos!
9. Travelbee Theme
The best free feminine travel blog theme for WordPress.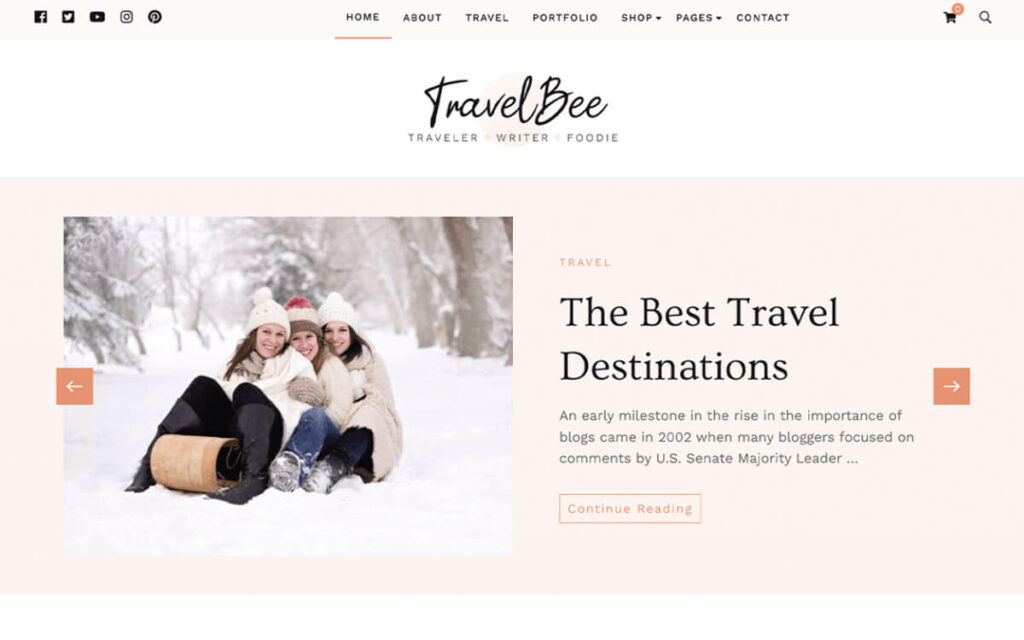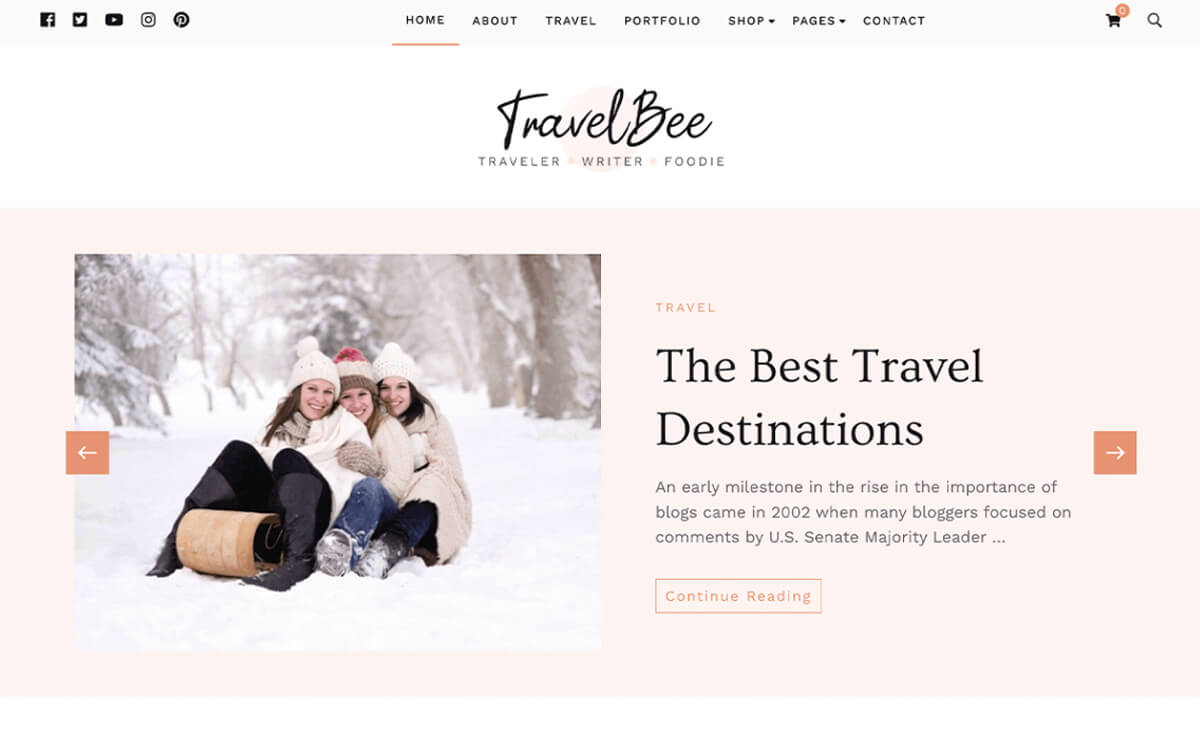 Every pixel of this theme has been carefully considered to combine and create one of the most jaw-dropping travel blog themes on the market. The colors, the design choices, and the ability to customize the look and feel of this blog are second to none. Best of all, editing this theme to your heart's content is almost effortless!
This free WordPress theme is a great choice for female travel bloggers.
10. Wanderic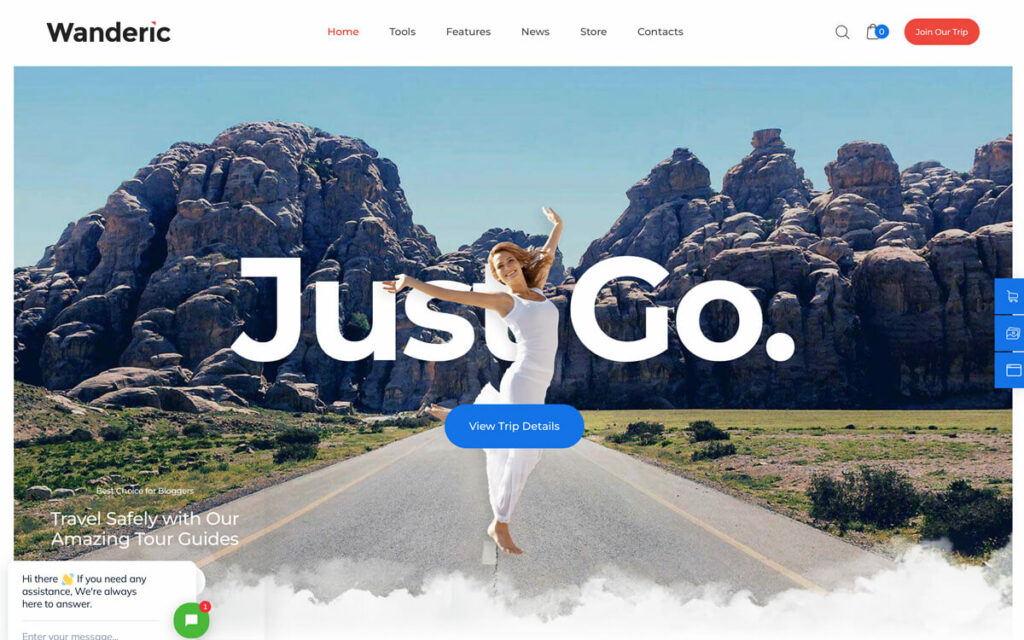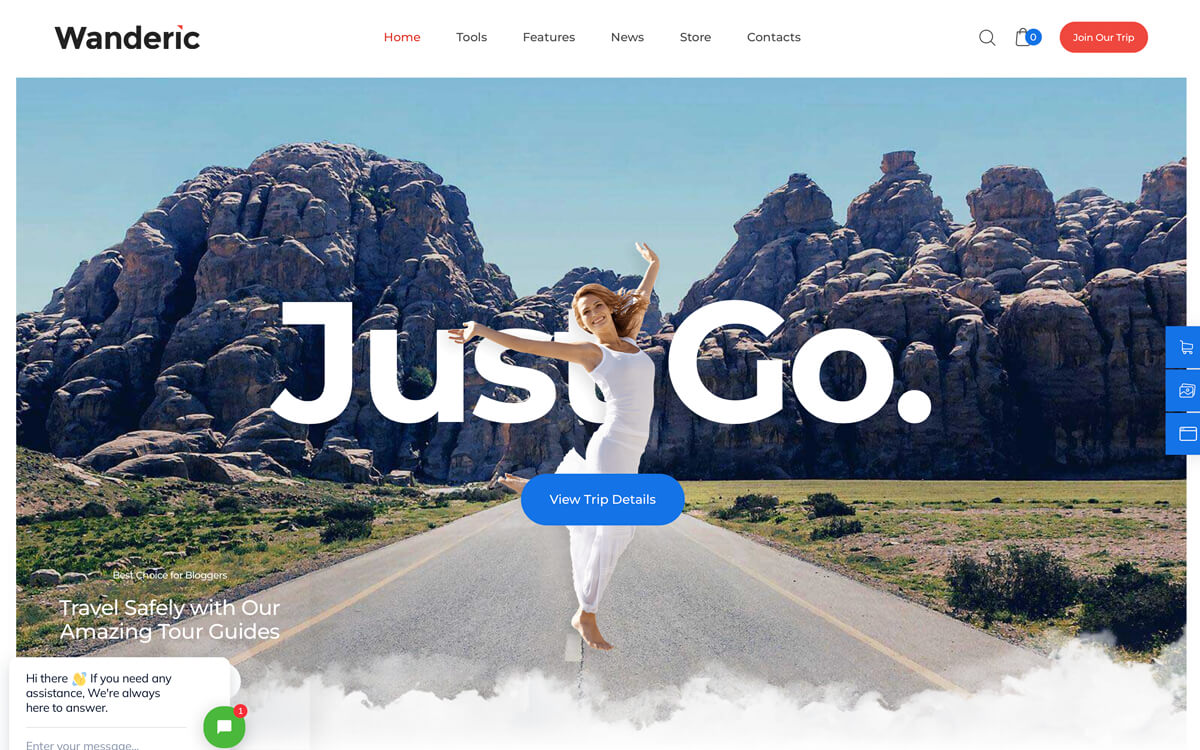 Simplicity is the name of the game with this travel WordPress theme.
A digital magazine style theme, putting together rich blog posts with tons of multimedia – photos, videos, music, and more – is super simple one you're using this theme as a foundation of your travel site. You're also going to be able to use plug-ins from all of the major third-party outfits developing for WordPress right now (including Elementor and WooCommerce) if you'd like to further extend the capabilities of this platform.
11. BonVoyage
A nice theme for travelers and travel agencies alike.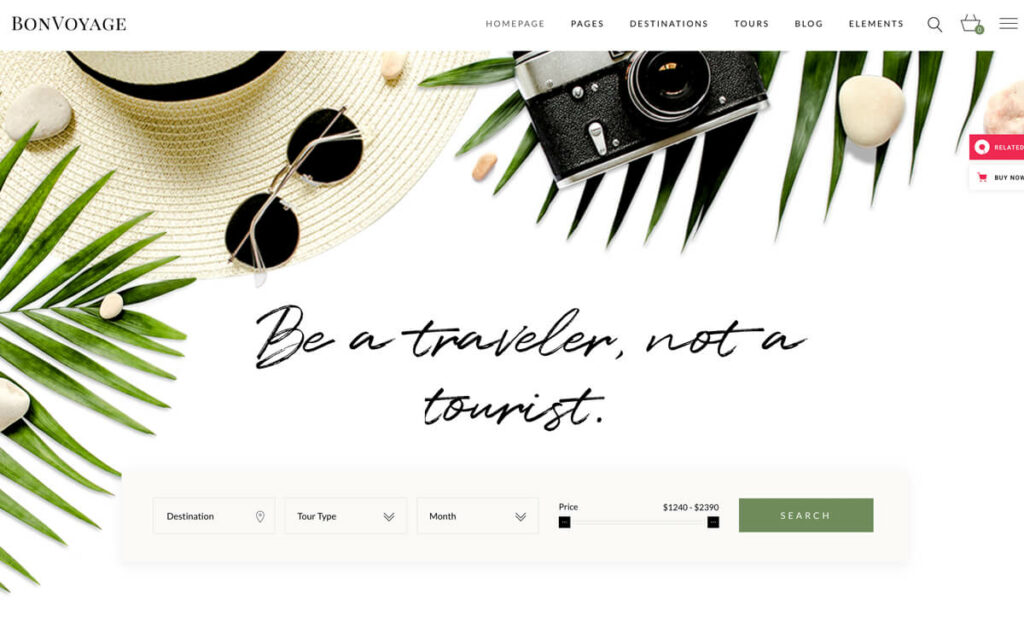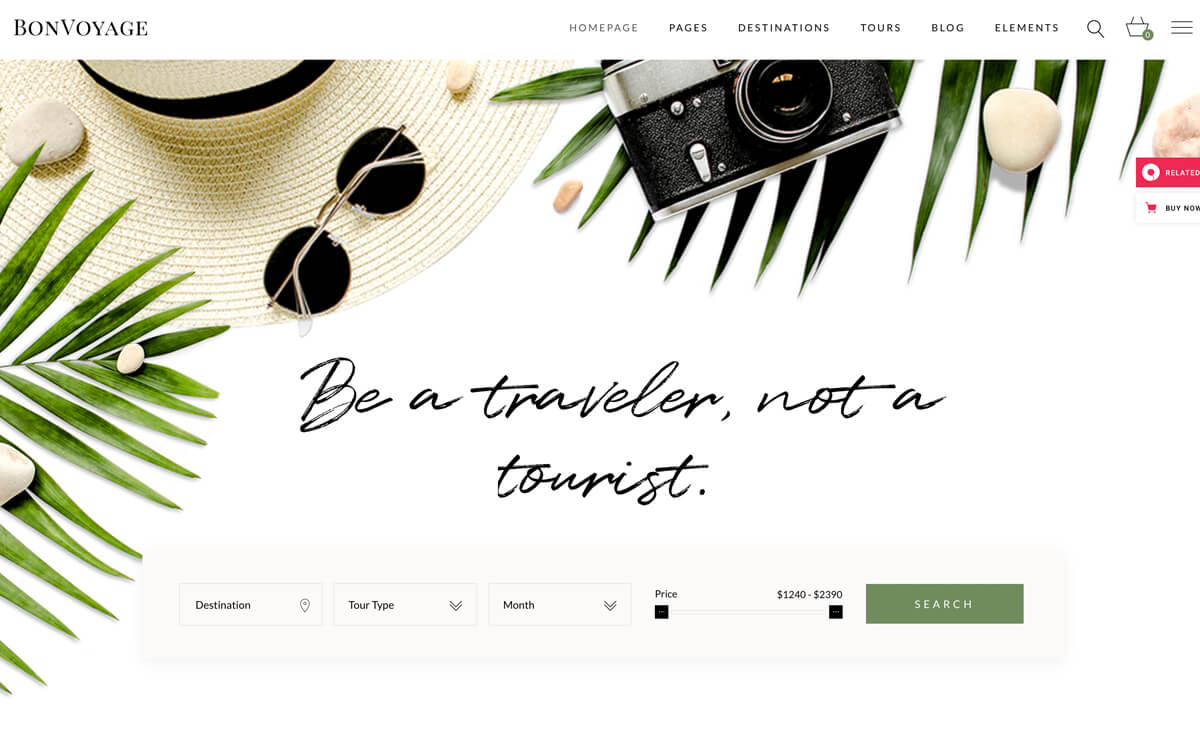 If you want to take your travel WordPress set up beyond just blogging about your travels, and instead developing a full-blown travel review or travel agency style set up, this is the way to go.
Not only is Bon Voyage designed to be a clean and elegant blog for travelers, but it's also built with a booking form, destination layout structures, tour templates, and a user dashboard that is effortless to use, too.
12. Vagabonds
A Personal Travel & Lifestyle Blog WordPress Theme.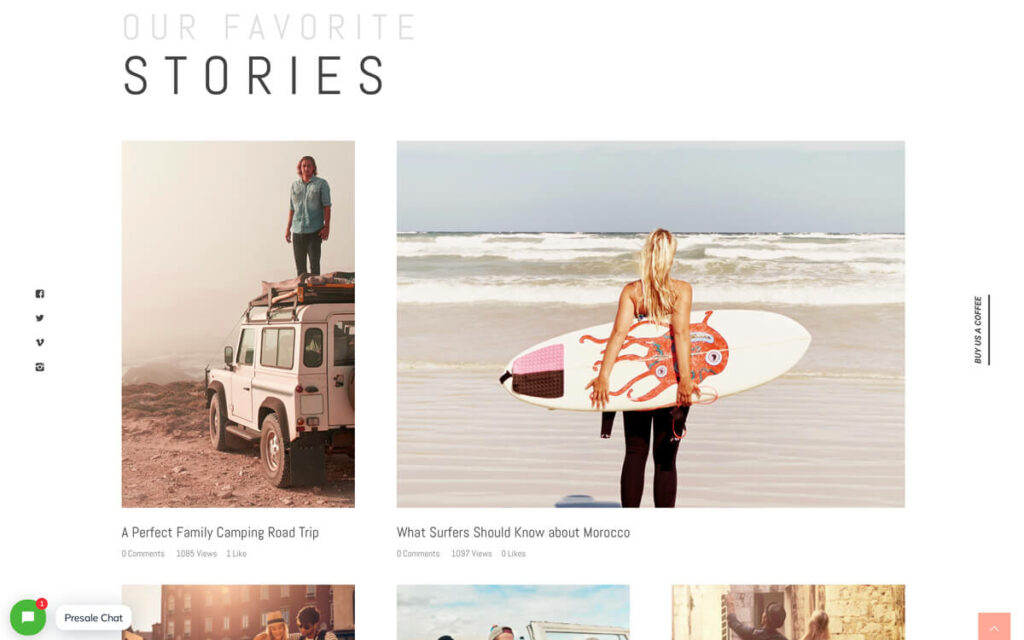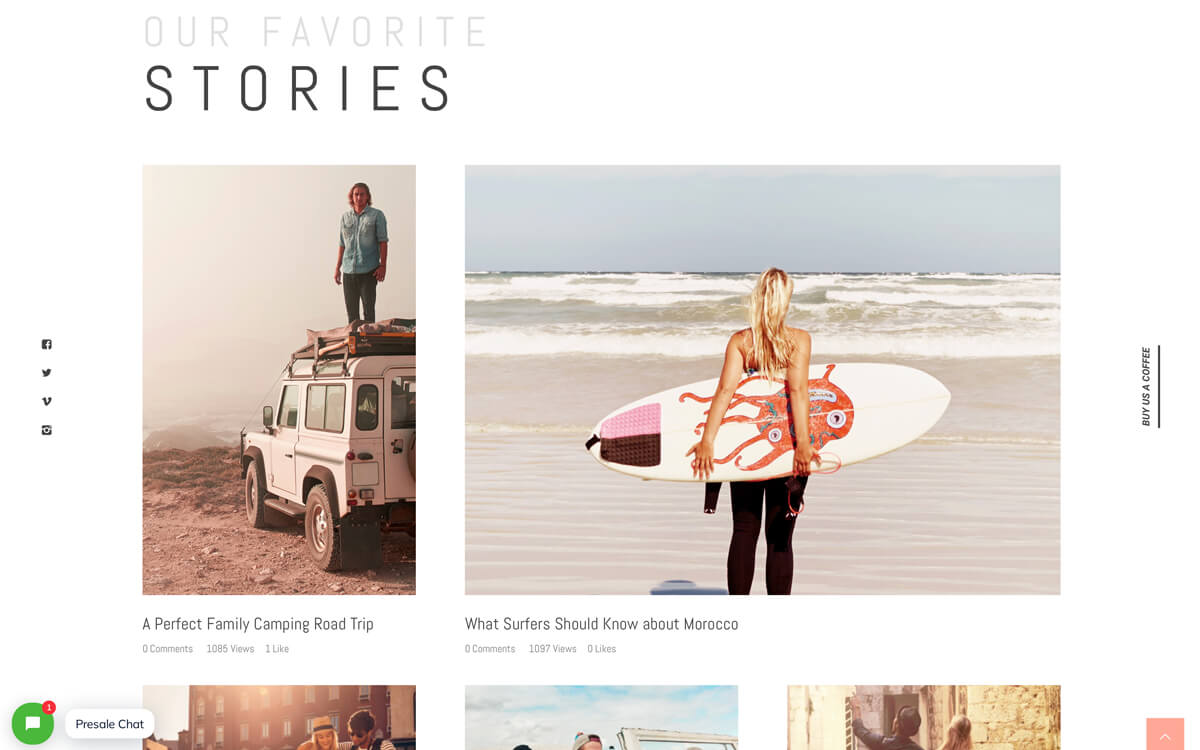 Load times, especially when you have a lot of multimedia on your site (HD pictures and videos in particular), need to be optimized as much as possible if you're going to offer your visitors a great experience.
Vagabonds has been engineered from the ground up to be as lightning fast as possible, even with tons and tons of HD rich media elements on every page. Short codes, modules, and crafty API hooks and plug-in options all make Vagabonds a fantastic travel theme for WordPress users that want to keep their page nice and snappy.
13. Avventure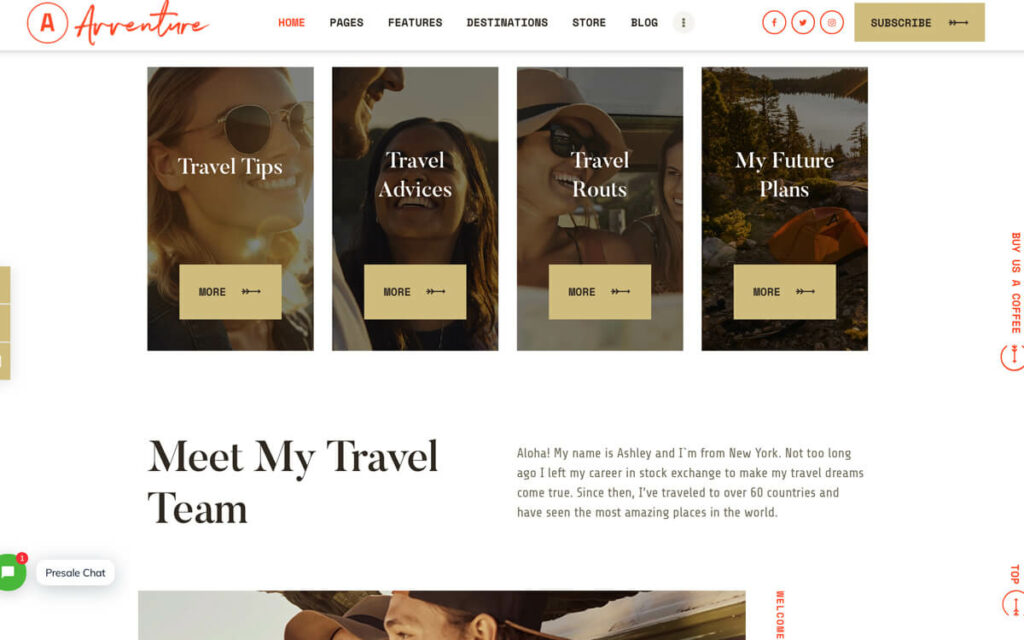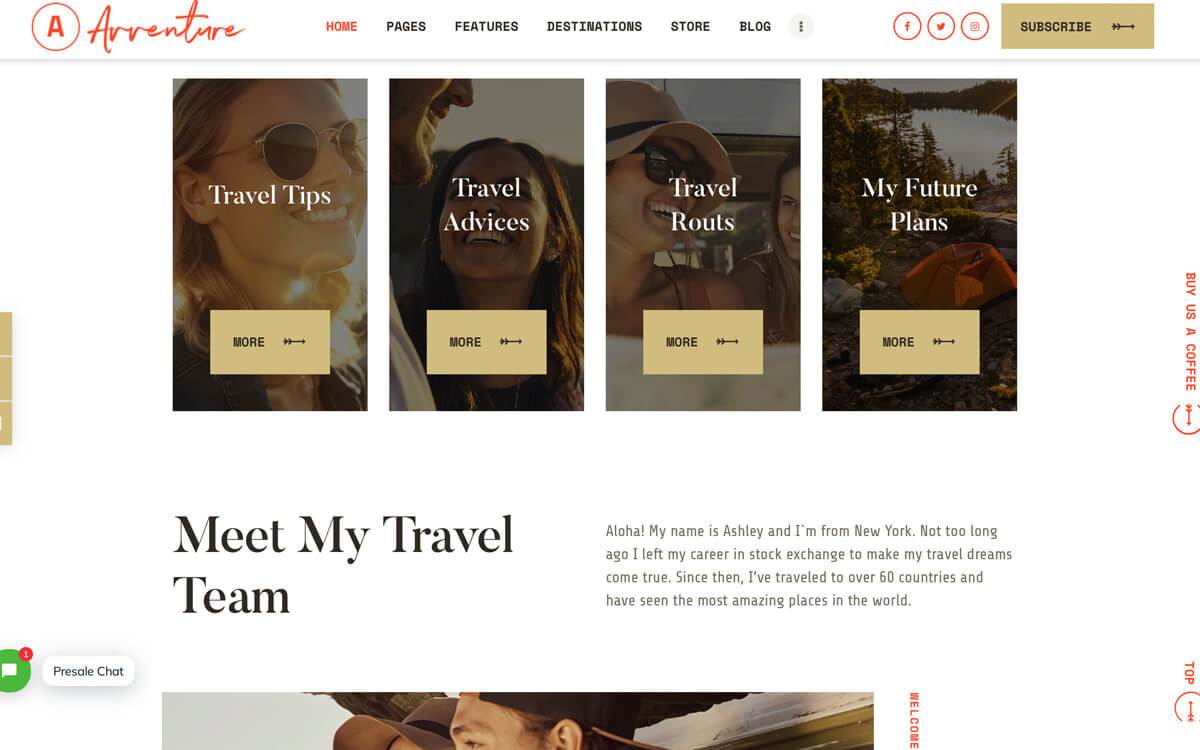 Travel bloggers that want to be able to mix and match different designs, different layouts, and different page elements – all while keeping the same cohesive structure throughout their WordPress blog – will love this theme.
With plenty of premade homepages, modules, and short codes ready to go, the drag and drop editing tools on this theme make creating something really personal effortless. Combine that with fast load times, search engine optimization elements, and tight integration with popular third-party plug-ins and this theme is a bit of a no-brainer.
14. Norway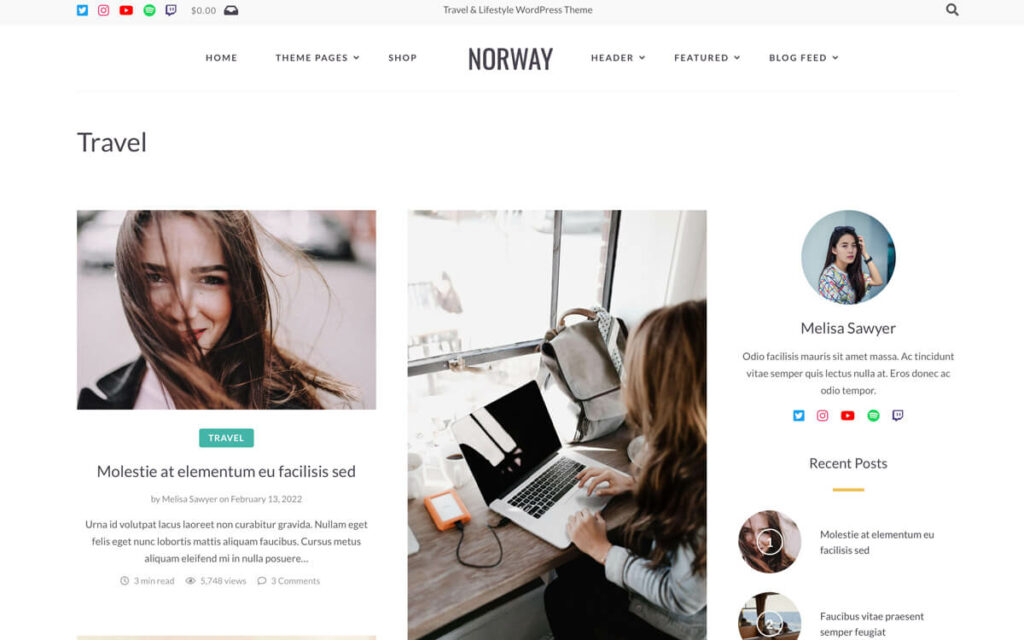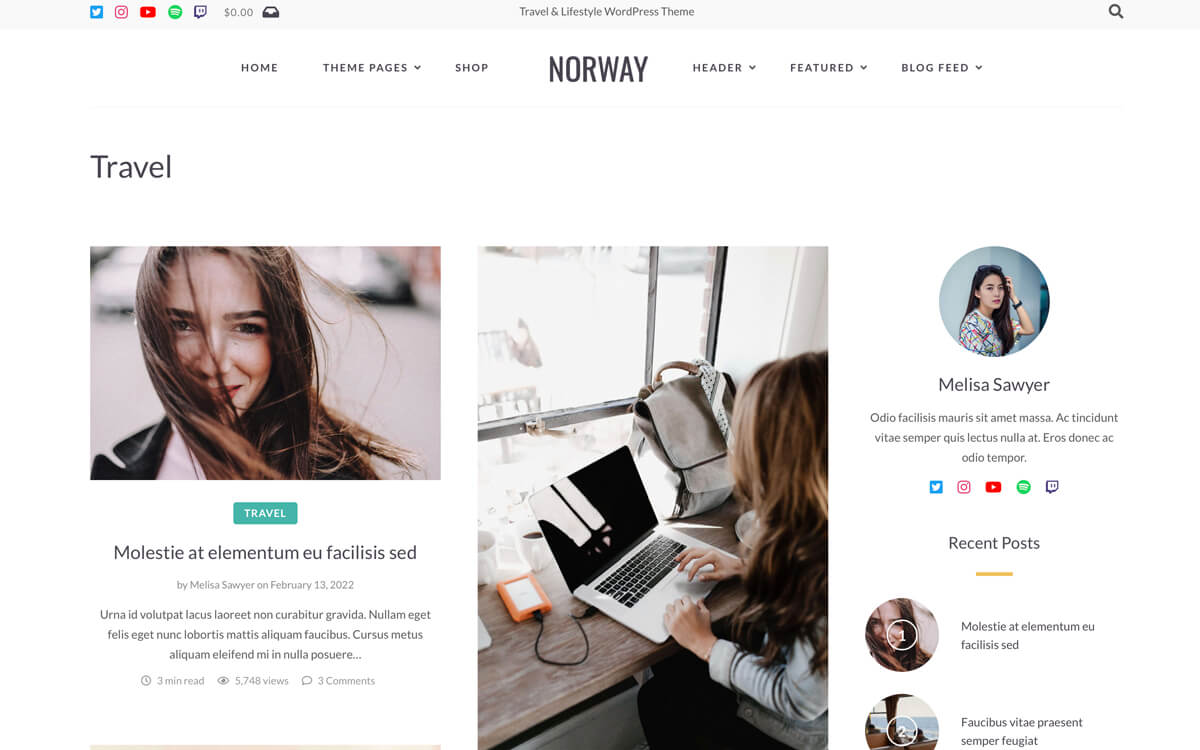 This is a WordPress travel theme that gets out of the way and lets your content shine through. Whether that's your travel writing, your travel photography, or your documentaries that you've shot to chronicle your adventures makes no difference – Norway makes your travel content the star!
Super minimalist, very clean, and optimized as far as fonts, spacing, and overall thematic elements are concerned, you'll still have a lot of creative freedom to make this blog your own.
15. Piemont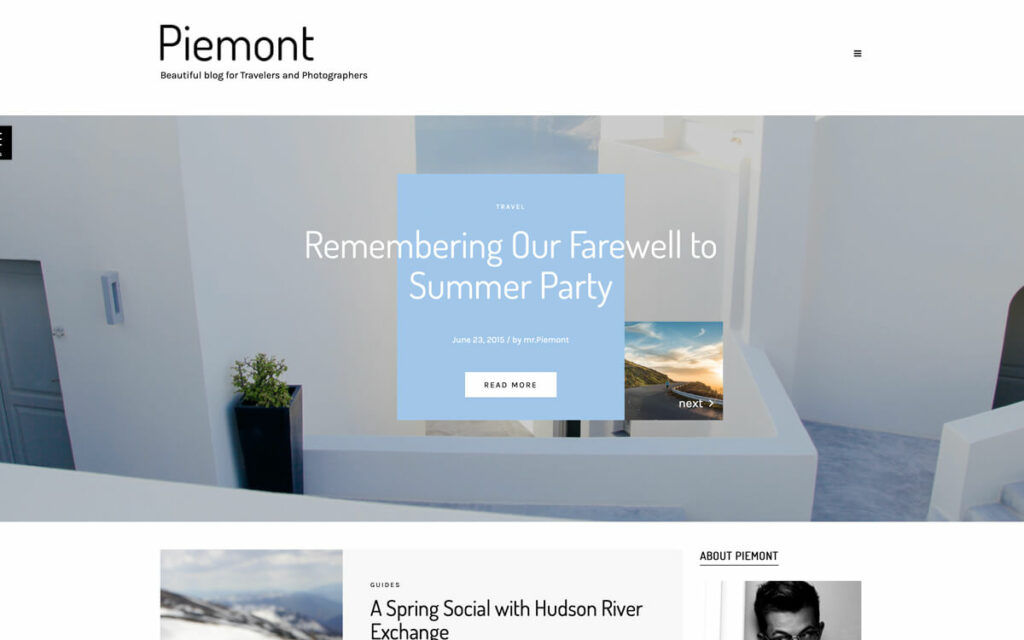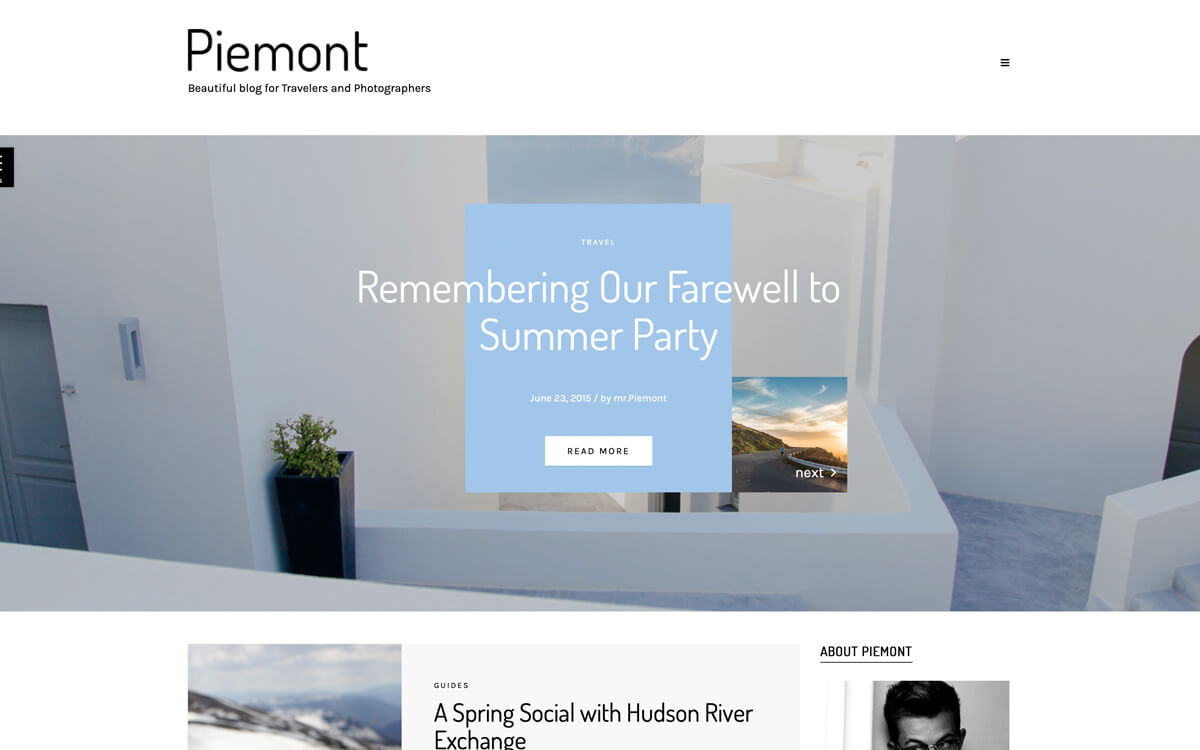 About as close to a "overflowing blank canvas" as you'll find in the world of WordPress today, this theme is really something special.
Sure, you are going to be working with an almost blank slate right from the jump. But with 20 different header styles, five different blog layouts, four feature post sliders, 650+ integrated fonts, dozens of configurable individual options, and 11 completely configurable child themes you'll have all the tools you need to build the travel blog of your dreams!
Is WordPress good for a travel blog?
WordPress is a good choice for a travel blog. It is a content management system (CMS) that enables beginners and advanced users to start their own blog in a very short time.
I personally recommend WordPress to people who want to start their own travel blog because it is very user-friendly, and you can find a lot of free resources online. Also, if you need more features or customization, there are plenty of plugins and themes available for WordPress.
What is the best theme for a travel blog?
The best theme for a travel blog is the Travelmatic theme. It is a free WordPress theme that was designed specifically for travel bloggers. It comes with awesome features, such as a custom-built slider, tour templates, and destination layout structures. You can also use the drag-and-drop editor to create your own unique design. Additionally, the Travelmatic theme is optimized for speed and performance.
How many Travel WordPress themes can be installed on one website?
I know that it is hard to choose between these top themes, but unfortunately you can only install one per website. If you want to use a different theme, you will have to deactivate the first one and install the new one.
Don't get me wrong: You can install as many themes as you like, but you can only have one active theme at a time.
What is the difference between free and premium Travel WordPress themes?
The main difference between free and premium themes is that premium themes usually have more features and options. They are also generally better designed and coded, which can make your travel blog look more professional.
However, free themes can still be a good option if you are on a budget or if you want to try out a theme before you commit to buying it.