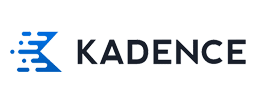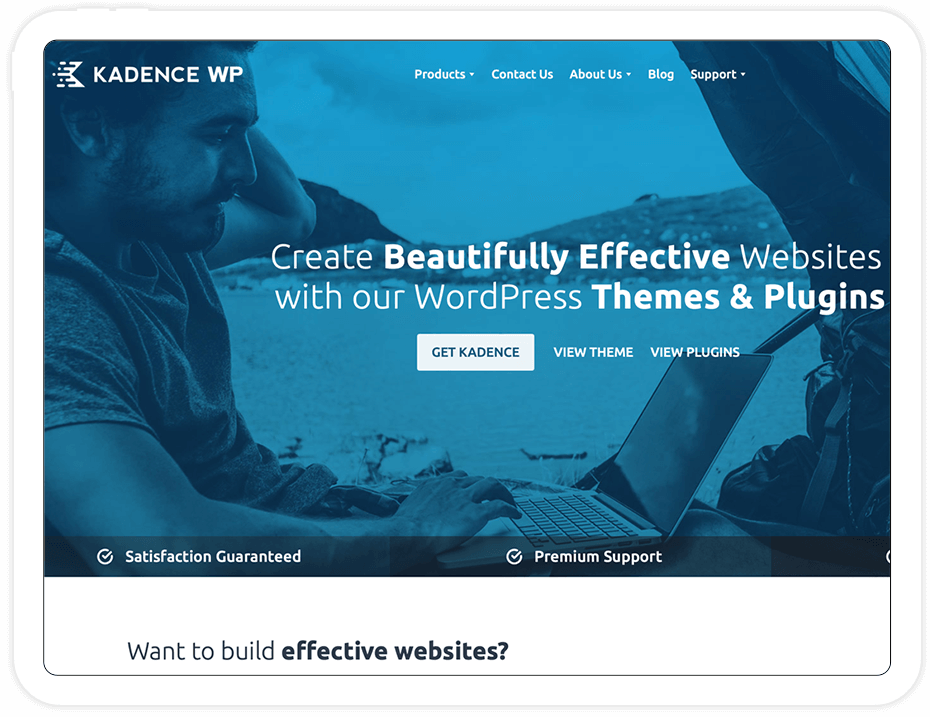 What I like about Kadence
Drag and drop page builder.
Highly customizable.
Over sixty installable templates with one-click installation.
Built-in performance analysis.
Multiple premium plugins included.
What I don't like about Kadence
The theme can be excessive for those looking for a more basic site build.
$60 price tag.
It can be a memory drain with all plugins enabled.
The bottom line
Kadence is one of the top WordPress themes. It's a fast, customizable, and reliable theme that will be more than adequate for most users. It doesn't require a huge amount of tech knowledge to use and is fairly intuitive. It offers a library of customization options in both the free and Pro version, making it a great option no matter what your budget is.
Overall, Kadence can take most sites to the next level and it's definitely worth checking out if you're in the market for a new theme.
What Is Kadence?
Kadence is a WordPress theme that can be used to create fast and accessible websites with ease. It has received high praise for being full of features and comes in a free and pro version.
The theme has over 80,000 downloads and has received an average rating of five stars from users. Kadence is believed to be a glimpse into the future of WordPress themes.
| | | |
| --- | --- | --- |
| Overall rating | | 4.7 |
| Ease of use | | 4.5 |
| Reliability | | 5 |
| SEO performance | | 4.5 |
| Loading times | | 4.2 |
| Learning curve | | 4.3 |
| Price | | 5 |
What Are The Main Features Of Kadence theme?
Kadence comes with an impressive array of features. Let's dive into what they are and what they do.
Customization Options
Kadence is fully customizable, users have control over the layout and all its elements. This allows you to change colors, organize your menus, strategically place social media icons, and tailor the theme to be exactly what you want.
Kadence offers you complete control, so get ready to be creative.
Starter Templates
At present, there are seventeen starter templates in the Kadence package. The company plans to add one or two templates every month, so the catalog is constantly growing. The currently available starter templates include options aimed at freelancers, law firms, web agencies, shopping sites, and online courses, just to name a few.
As the library of available templates continues to expand, there's sure to be an option that's perfect for you.
Page Builder Integration
With Kadence, there's no need to worry about choosing a page builder that's incompatible or having to give up your favorite one. The theme is designed to support all page builders, ensuring you can have exactly what you want.
Users have enjoyed this feature, as it makes it much easier to create and manage their sites.
WooCommerce Integration
WooCommerce is an open-source eCommerce platform with over 39 million downloads. With that kind of popularity, it isn't surprising that Kadence felt the need to be compatible with WooCommerce.
You can easily use the WooCommerce plugin with your Kadence Theme to control how each product page on your site looks, customize the check-out page, and increase your overall sales.
The plugin also comes with top-of-the-line customer support, so there's no need to worry if you're not familiar with the plugin.
Header And Footer Builder
Kadence allows you to create custom headers and footers, instead of having to choose between the standard options of other themes. The builder allows you to drag and drop content so that you can easily move items around and see where they'll best fit.
The builder allows your cart, social media links, menus, and action buttons can be strategically placed to ensure maximum notice. These features are a key part of Kadence's focus on customizability and putting control in the hands of the user.
Other Notable Features
Other Kadence features worth mentioning include:
The typography option lets you easily modify site-wide fonts, headings, buttons, and links.
The scroll to top feature lets you choose where to place an arrow to take you back to the top.
Responsive controls lets you customize differently depending on whether the site is being viewed on desktop or mobile.
Kadence was built with search engine optimization in mind.
These features may not have made the main list, but they're certainly worth noting when you're considering choosing Kadence.
The Kadence Performance Review: How fast or slow is the Kadence theme?
One of the big concerns users have when choosing a theme is speed. It's important that the theme of your site doesn't slow down reaction time, because visitors will click away if they're kept waiting.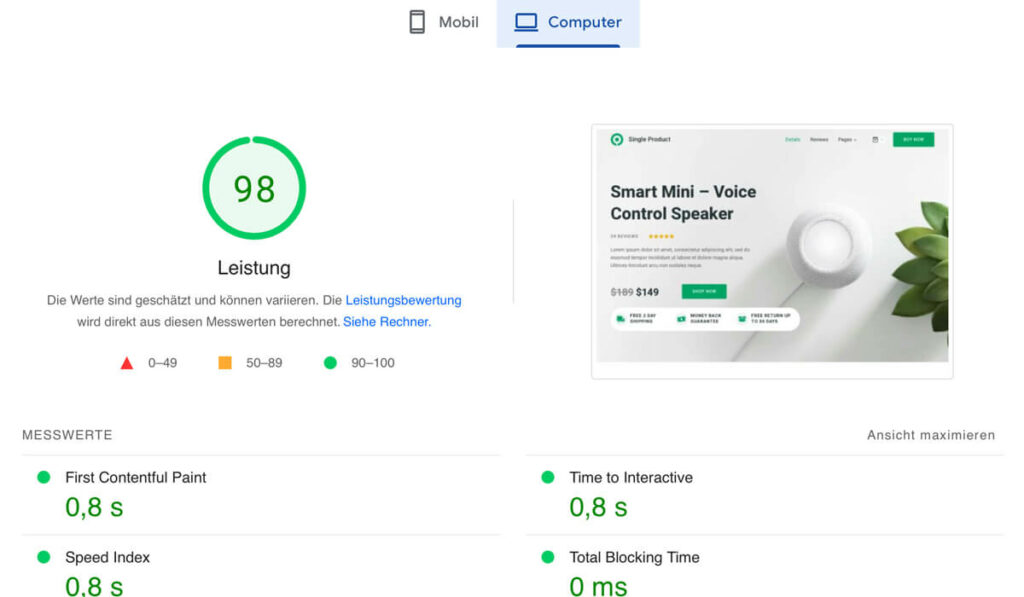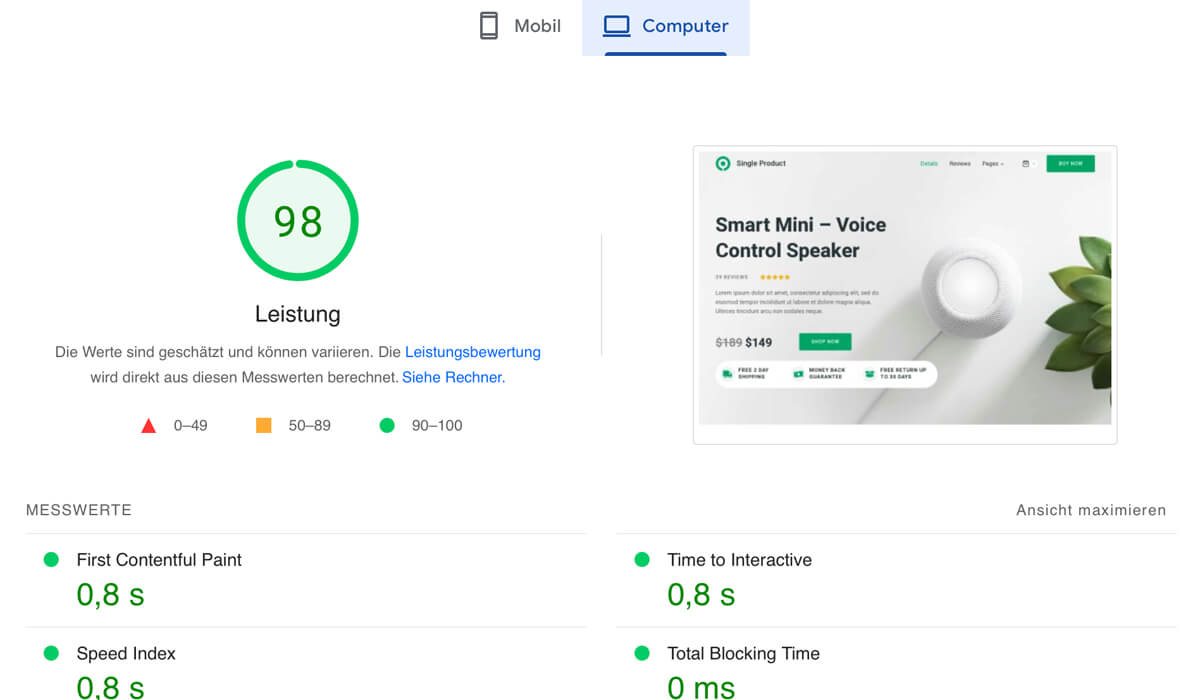 With Kadence, speed is no issue. The average reaction time of Kadence is 1.6 seconds, according to Google Pagespeed. That's faster than many other top-performing themes, and it has been a major selling point for those currently using Kadence.
How Does A Free VS. Pro Theme Work?
Kadence has a free version and a Pro version. We'll be going into the big differences between them shortly so for now let's just address why the company has these two options.
Despite what you may assume, the free version of Kadence is packed with helpful features. Many users will find exactly what they need in this version and never need to move on to Pro. That may seem counterproductive, but it's actually a good business plan.
By letting users access so many features for free, Kadence has assured that thousands of users will download the program. If those users have a good experience, they'll develop loyalty and begin to recommend the program.
Every new user is a potential new Pro customer or a potential source of free promotion. That translates into more sales and popularity for Kadence. The free version also allows people to experience how different Kadence is from other themes, which could lead them to purchase Pro later on.
What Does The Free Version of Kadence Theme Offer You?
If you download the free version of Kadence you'll have access to:
Theme settings.
Global colors.
Typography.
Branding.
Header and footer layouts.
Page layouts.
Starter templates.
Kadence Blocks Plugin.
An assortment of blocks inlcuding row layout, tabs, table of contents, icon lists, testimonials, and more.
What Does The Pro Version Of Kadence Theme Offer You?
The Pro version of Kadence comes with everything that the free version has plus several innovative add ons. Here's a brief list of what you can expect to gain by going Pro.
Header Addons
There are 19 additional elements available in the header builder in the Pro version.
Ultimate & Mega Menus
Pro comes with ultimate and mega menus. The ultimate menu feature allows you to build content in the WordPress block editor. A mega menu is a multicolumn menu, usually at the top of a site page.
In the Pro version, you can create mega menus to make navigation on your site easier. This allows you to create easy-to-access sections for your home area, shopping area, about area, and whatever else lives on your website.
WooCommerce Enhancements
The add ons available for WooCommerce will give you additional customization options, especially regarding shops.
Does Kadence Offer Support To Its Users?
Yes, Kadence offers support to its users in several ways. All you need to do is go to the Kadence website, sign in, and then click on the support section. This section contains the help center, demo content, and a support ticket option.
The help center contains the knowledge base, which can assist you with problems regarding Kadence themes, blocks, or just general issues. This section also contains the theme support ticket and community forums sections.
You can also submit a support ticket if you're using the free version of Kadence. The customer support team will get back to you with answers and solutions, so there's no need to worry about being left in the dark.
Theme price
What can you expect to pay for Kadence Pro? Well, that depends on which version you want.
You can get the standard version of Kadence Pro for $59 a year. That version will include:
The ability to use the theme on an unlimited amount of sites.
One year of support and updates.
A 30 day satisfaction guarantee.
A Kadence Full Membership will cost you $139 a year, and it comes with even more enticing features. Those features include:
All of the features that come with the standard version.
Kadence Blocks Pro.
Kadence Woo Extras.
Kadence AMP.
Access to all of the available themes and plugins from the company.
Guaranteed access to all future themes and plugins.
Which version you should go with will depend on your needs. Take some time to consider what features you'll put to use before you make your decision. Either way, you're sure to get a product you'll enjoy.
Examples: Websites Using Kadence
It's hard to know if you like a theme until you see it in action, so here are a few sites that are currently using Kadence.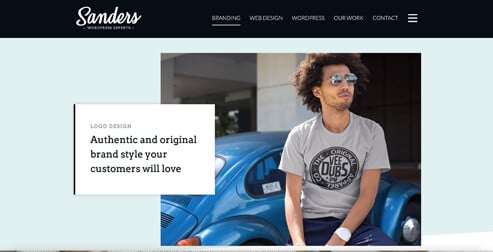 Sanders Design, a graphic and web design company.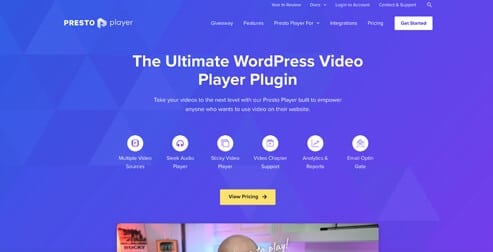 Presto Player, a WordPress video player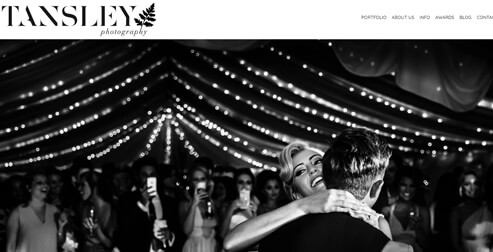 Tansley Photography
Taking a look at these sites will give you a better understanding of what Kadence looks like in action. You might even find inspiration for your own project.
Kadence Theme Alternatives
GeneratePress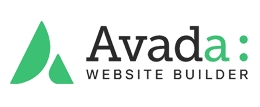 Avada
Enfold
GeneratePress is one of the most flexible WordPress themes I know. The loading times of the theme are far faster than most other premium themes on the market. GeneratePress is my first choice when it comes to a theme for a fast, SEO-friendly website.
Astra is by far one of the most popular WordPress themes on the market. The biggest advantage of the Astra theme is its fast customizability and its user-friendliness.
Enfold has been on the market as a theme for a very long time and is continuously developed by the Austrian team around the developer Kriesi.
Enfold also comes with its own page builder, which is not as extensive as Elementor and Co. but offers all the important functions.
Kadence Theme Demos
Kadence Theme is one of the most popular free WordPress themes. It is a versatile multipurpose theme that can be used for any type of website, including a travel blog. That's why there are a lot of demos for this theme, each with a different design and purpose. You can use the demos as a starting point for your own website.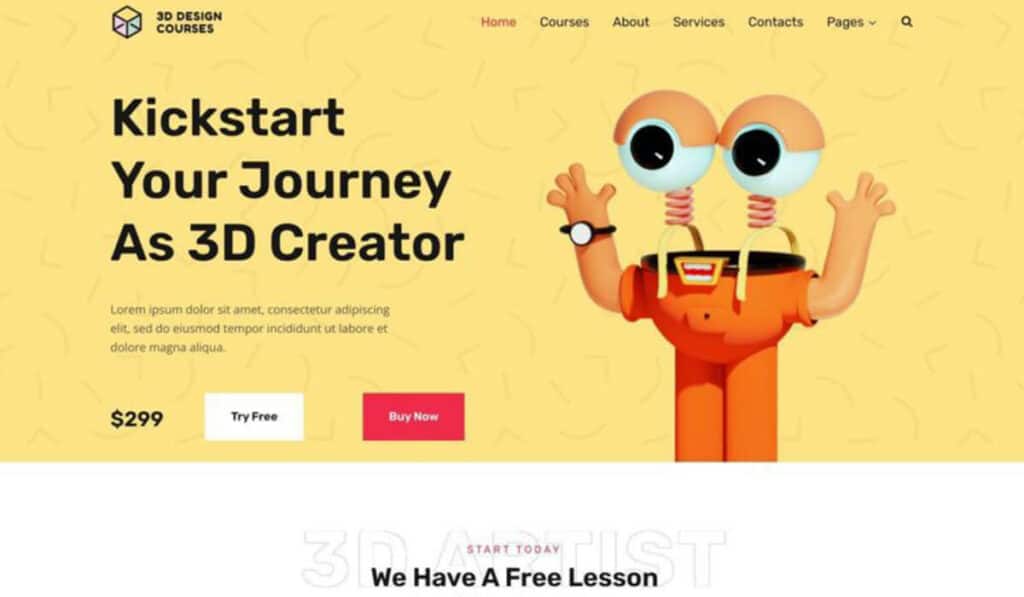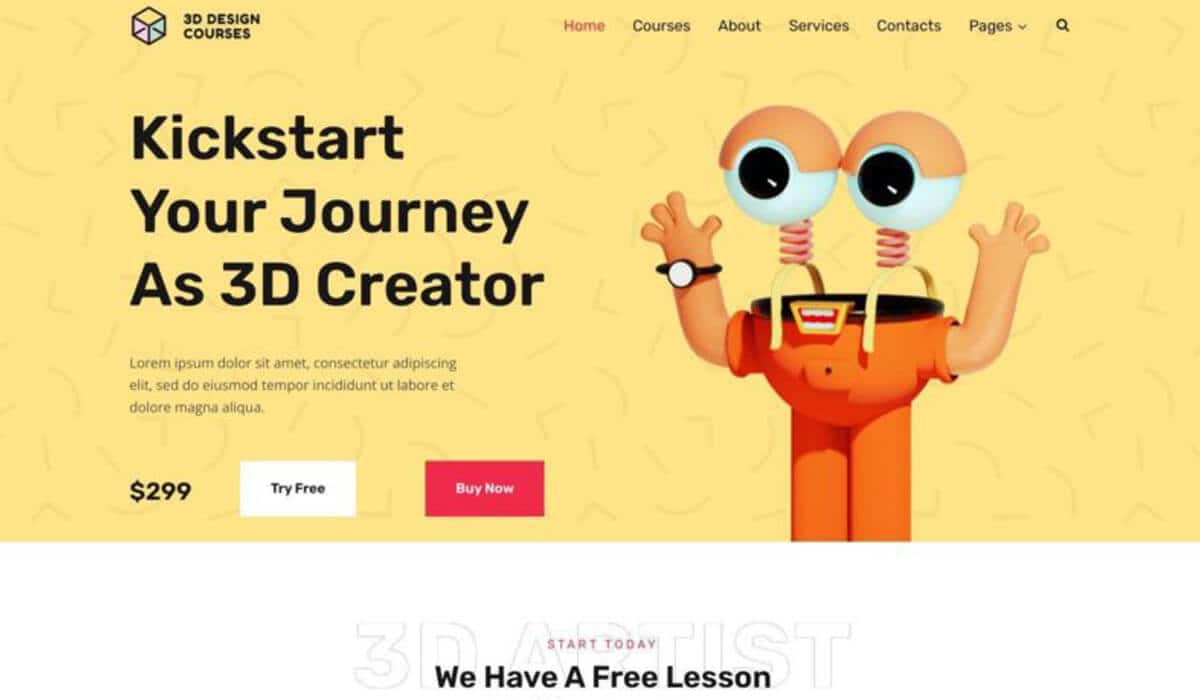 ---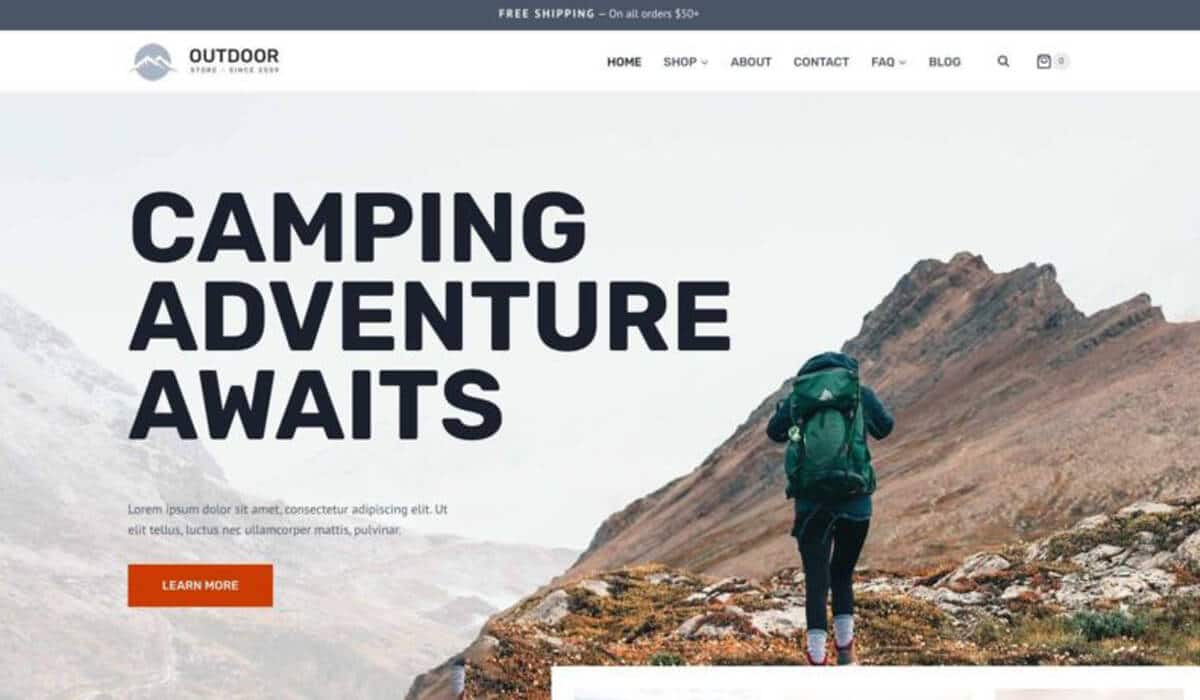 ---