My wife Karo is a passionate photographer. That's why she was looking for the best WordPress photography themes for her new website. And anyone who knows her as long as I do, knows that she is demanding when it comes to designs and templates. 😉
Since she has a WordPress expert at her side, I sat down with her and determined the requirements of a photographer for the best WordPress themes.
See the results of my investigation further below.
Can WordPress be used for photography?
Let's first clarify an important question: is WordPress usable for presenting your photographs?
A clear "YES"!
Photographers and photo studios all over the world have fallen in love with WordPress when it's time to build their own websites.
For starters, WordPress is available 100% free of charge – with no strings attached!
That's a big deal for photographers just getting started. Not having to spend a small fortune on a custom design and developers is a big bonus.
On top of that, WordPress is easy to download, easy to install and easy to use. That's a big part of why WordPress powers more than 30% of all websites on the internet today.
This platform completely levels the playing field. Eliminating the need for specialized technical knowledge to get a website up and running. As well as for updating it and customizing it, too.
We shouldn't overlook the almost infinite customization options available with WordPress, either.
Being able to turn a standard blog website into a full-blown, feature-rich photo gallery style platform that really showcases your work brilliantly is easier than ever before thanks to everything WordPress makes possible.
This is definitely the platform you'll want to build your photo focused website on moving forward!
What makes a WordPress theme a great photography theme?
Of course, finding the right WordPress theme is hugely important for getting your photo site to look and feel exactly the way you want it to, all without having to spend a mountain of money on custom designers and programmers to build you something from scratch.
Here are a couple of things that all great WordPress photography themes have in common!

1. Has a good looking portfolio category
The portfolio section of your website is where your photos are going to "live" online. Sometimes your portfolio is going to be the only interaction that your visitors (and potential clients) have with your work, too.
All of the best WordPress photography themes really well-designed, optimized, and gorgeous portfolio options you'll be able to customize and fill with your photos.


2. Is simple to work with
WordPress photography themes you are considering also need to be very simple and straightforward to use.
You should be able to get your themes installed and customized in just a few minutes, your plug-ins and add-ons ready to go in a few more, and should never have to worry about headaches or hassles when working with your WordPress platform.
Today's well optimized WordPress themes (especially those for photographers) are easier to use than ever before. There's no reason to pick a theme that's going to cause frustration!



3. Is responsive

Almost every new WordPress theme designed with photography in mind (and most WordPress themes in general, really) is built from the ground up with responsive design principles buried in the foundation.
People today interact with the web differently than ever before. They are using their phones and tablets more and more each day – spending less time on computers and laptops.
Responsive WordPress themes for photographers are going to scale all of your content (and the design of your platform) to look just as good on those smaller, mobile devices as it would on much larger screens.
Responsive design at this point should be nearly universal. But it's still worth confirming from the WordPress themes you are considering all the same.


4. Has a gallery function included
Gallery functionality is just as important as the portfolio components highlighted a moment ago. If not even more important.
Gallery functions (and the ability to utilize gallery add-ons and plug-ins built for WordPress, too) allow you a lot more freedom to display your photos and your work anyway you'd like to.


5. Is compatible with WooCommerce

If you're going to be selling your photography art online you'll need to leverage an e-commerce component for your WordPress site, and there's no better suite of e-commerce solutions than the one from WooCommerce.
Make sure that your WordPress theme is "WooCommerce Ready" right out of the box. It'll help you hit the ground running as soon as you're ready to start selling photos and prints.
But without further ado let me show you the best WordPress photography themes.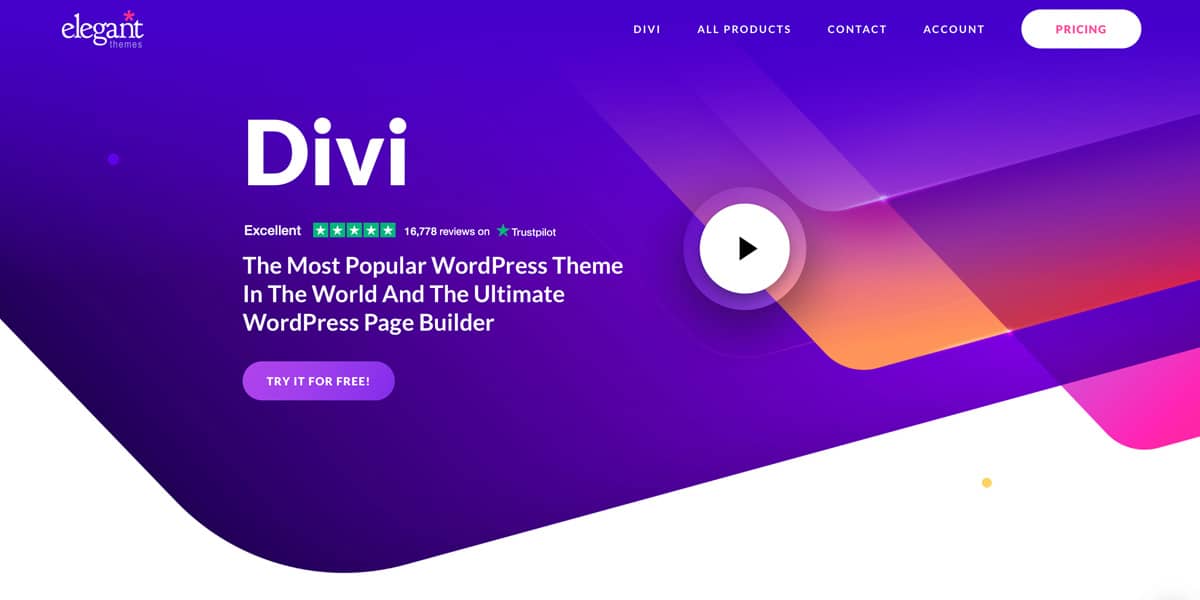 Divi: One of the best WordPress photography themes
One of the most complete WordPress themes on the planet today. The beautiful thing about Divi is that it can be customized and configured in an almost unlimited amount of ways.
At the same time, though, Divi is effortless to install, design, and optimize for your photography as well.
The drag and drop design tools make using this theme very straightforward, and the ability to extend the functionality of Divi with
different add-ons,
plug-ins,
and other core components
without much trouble is a big bonus, too.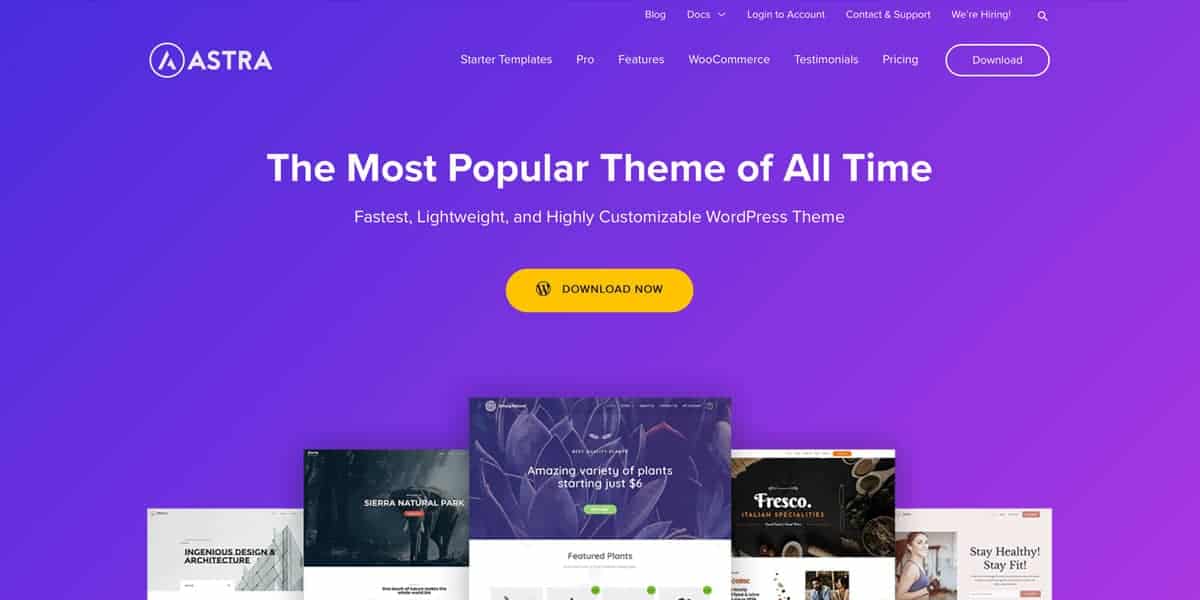 Astra: A good choice as a WordPress photoblog theme
Though the aesthetics of Astra definitely help to separate it from the rest of the premium WordPress theme pack, it's the way that Astra was built from the ground up that really makes it special – particularly for photographers.
You see, nothing turns people off online more than webpages that load slowly (if they load at all). Not only do human visitors despise slow loading websites, though, so do the major search engines like Google.
Astra is built to be lightweight, flexible, and almost foolishly fast.
Customizing it for your photography is very easy, but knowing that everything is going to load quickly thanks to the lean, mean coding "under the hood" is a game changer.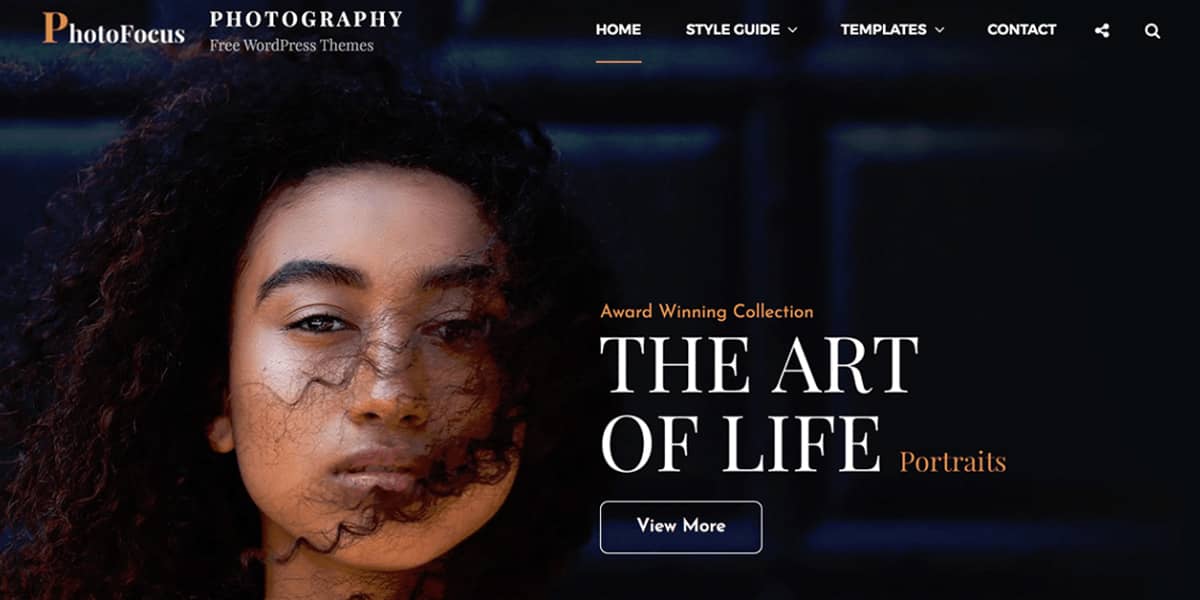 Photofocus: Nice choice for your photography business
Available 100% free of charge, this very photography focused WordPress theme puts your work up front and center and really makes it the star of the show.
Giving photographers an ability to show their work in ways that other WordPress themes won't allow, there's no confusing what this theme was built for. The whole thing is basically a gallery for your photos!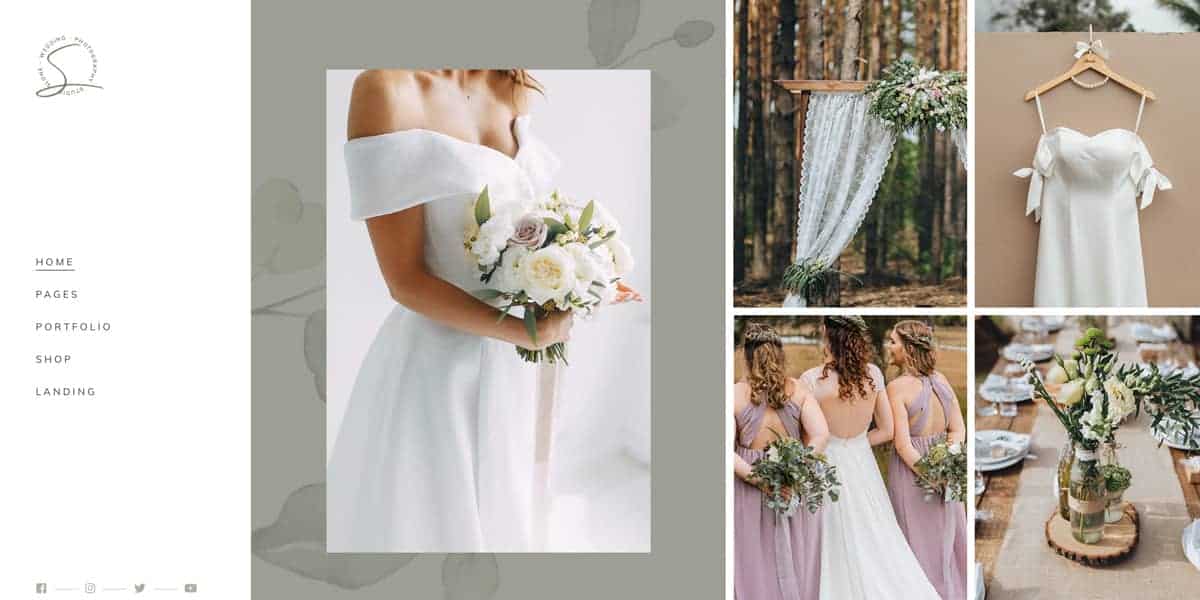 Solene: If you are in the wedding photography business
Photographers and studios specializing in wedding work will want to strongly consider this WordPress theme to display their portfolio.
Everything about this website is engineered around showcasing great wedding photography in the best possible light. At the same time, though, the ability to customize this site – while maintaining that unique aesthetic perfect for wedding photography – is really neat, too.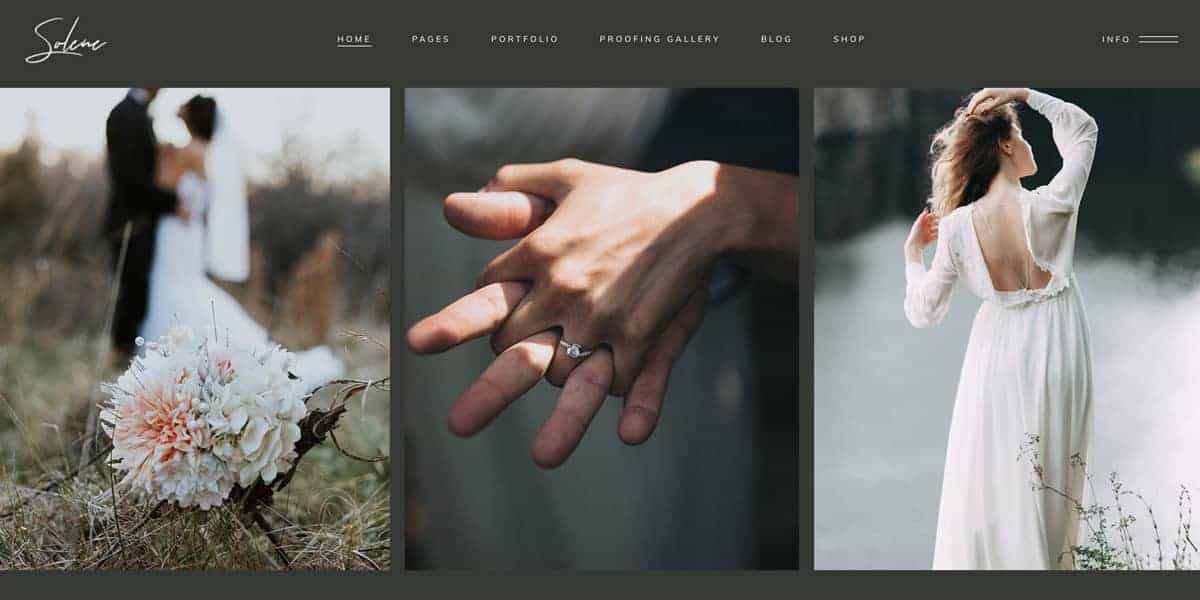 A couple of different layouts give photographers a lot of freedom to tinker with the structure of this WordPress theme without having to know anything about online technology. If you can send an email, you can customize this WordPress theme.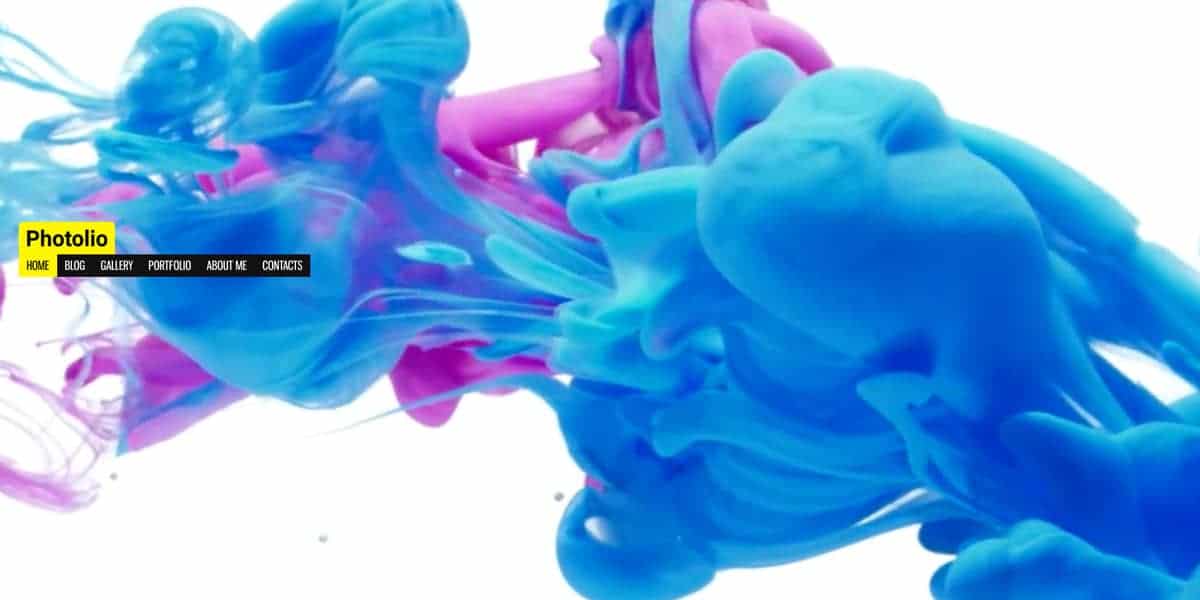 Photolio: Responsive and retina ready
Photographers that have dreamed of showcasing their work in stunning high definition online, even if it means a slight performance hit, are going to want to jump on this theme ASAP.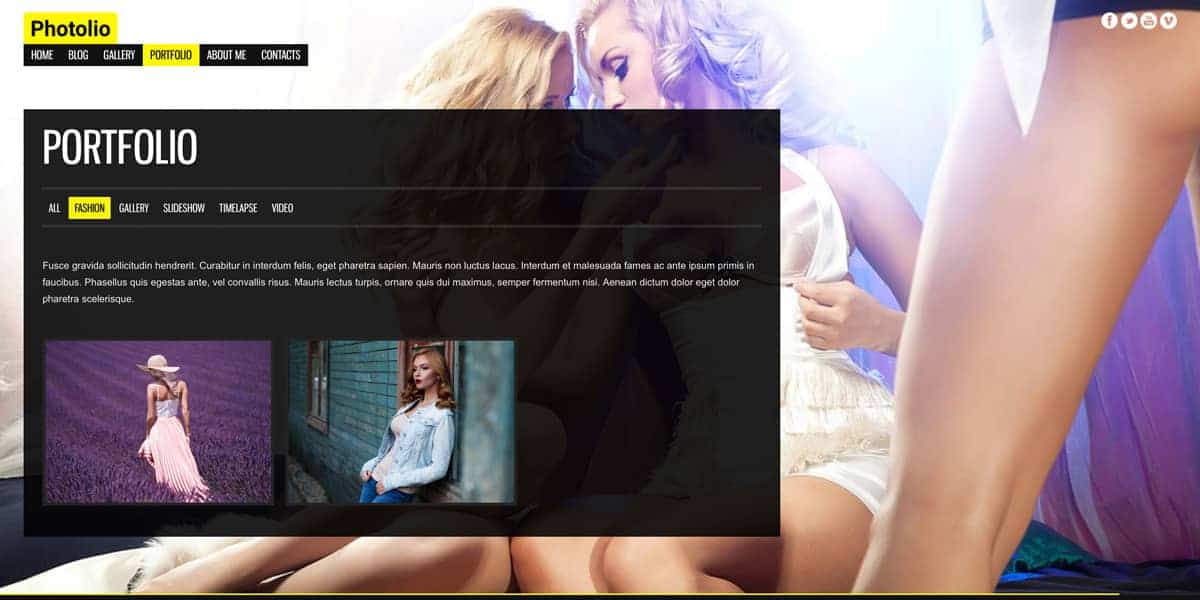 The visuals of this responsive and retina resolution ready WordPress theme are jaw-dropping. If you want potential clients or visitors to your site to see your work in all its glory, this is the route to take.
Soho: Great for photo studios and freelance photographers
A very modern theme that takes a super minimalist approach to design. Your work is going to be very much up front and center with Soho as well.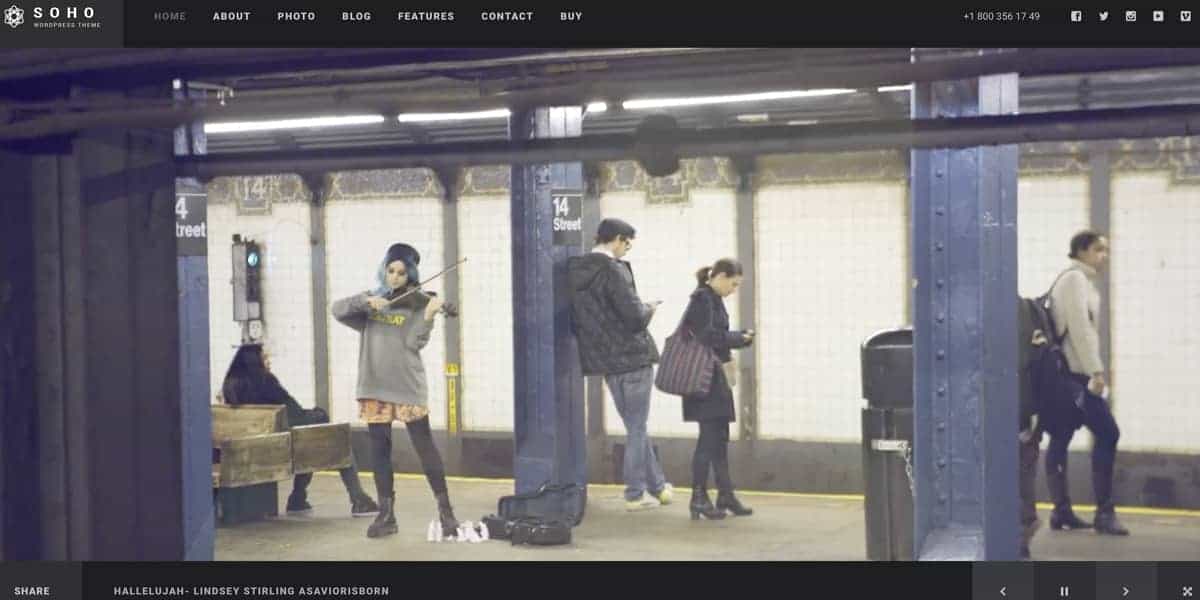 The typography is clean and minimalist as well. Helping everything except for your photos to sort of fade into the background. Lightweight, fast, and easy to customize. This is a theme with a lot of growing potential for freelancers just getting started.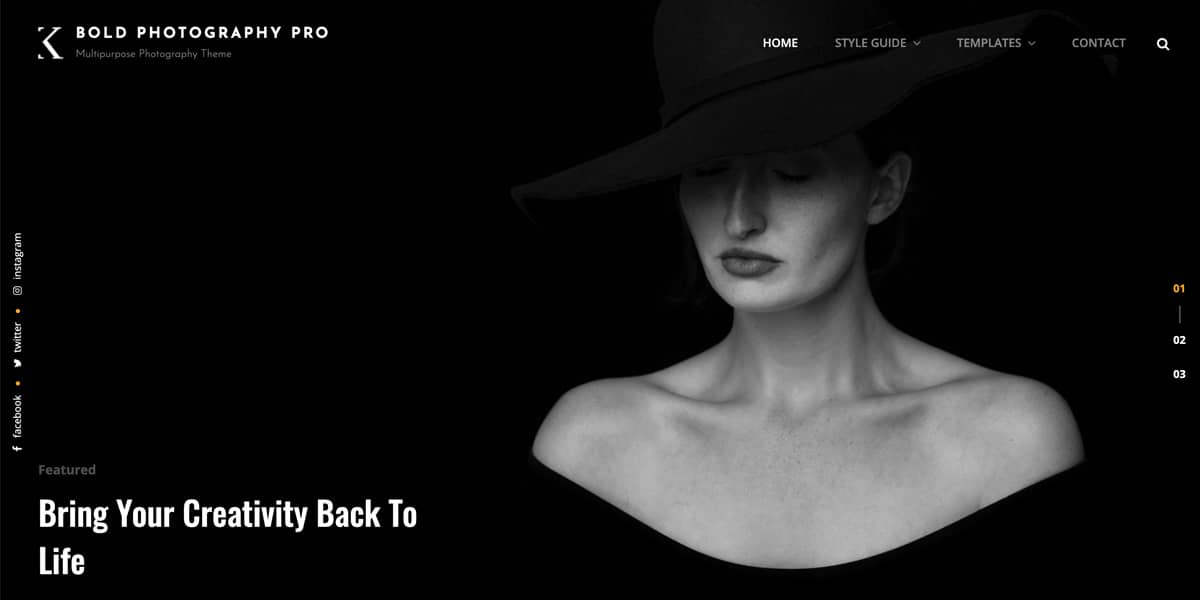 Bold Photography: One of the best free WordPress photography themes with full screen options
Built with responsive design principles in mind, this WordPress theme lives up to its name. It's very bold with how it displays your photos right on your website.
The portfolio and gallery tools are effortless to navigate and use. The theme can be configured in both a Light and Dark design language. And this set up plays nicely with add-ons and plug-ins from third-party developers to make this a dream photo WordPress set up for sure.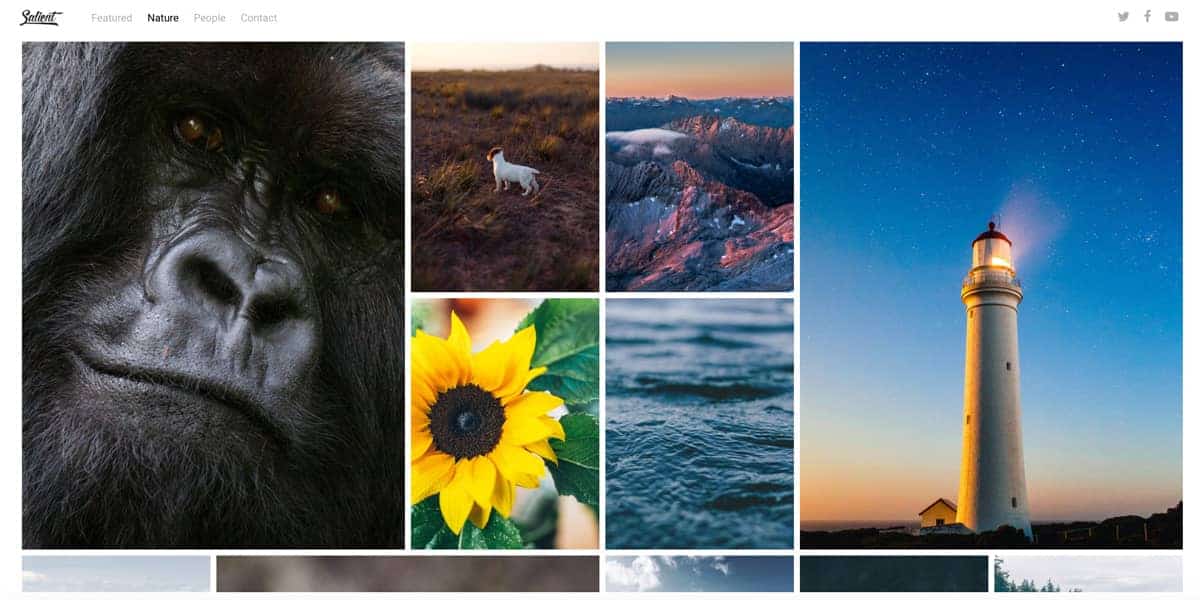 Salient: A multipurpose premium theme
Though not quite as feature-rich when it comes to the sheer number of design tools and capabilities available as Divi, Salient isn't very far behind.
More than 350+ professionally designed "mini templates" can be used on any of your pages. Right inside the page builder tool.
To help you turn this blank canvas of a WordPress theme into something that perfectly reflects your photography.
Gorgeous topography, lightweight coding, and responsive design principles around out this amazing WordPress theme for photography.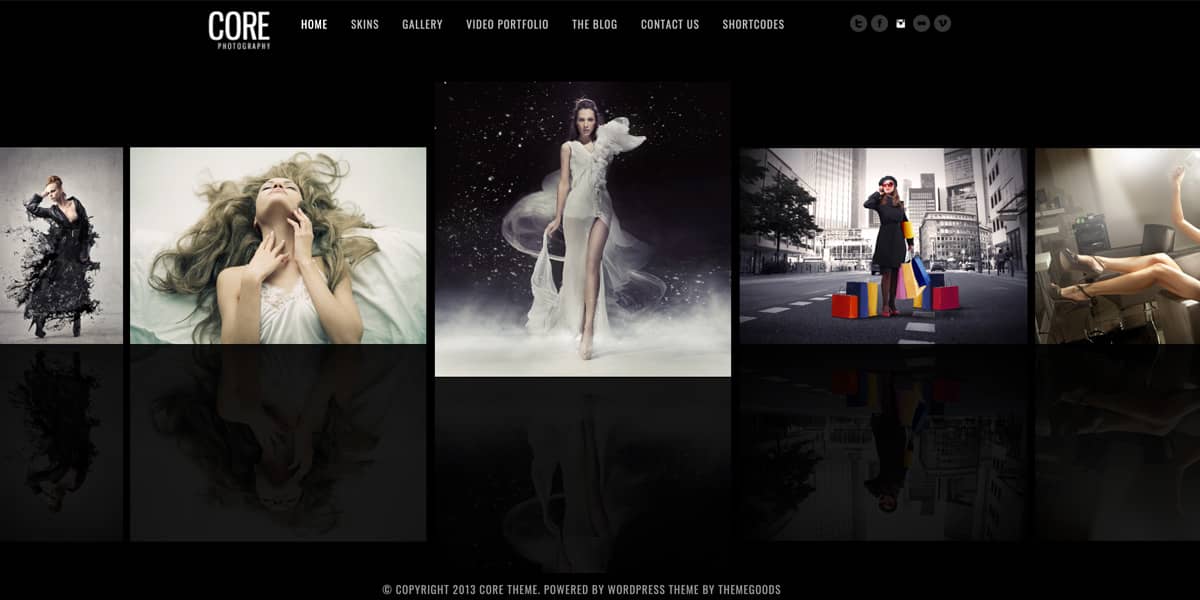 Core Theme: Photo gallery included
There are a handful of things that make the Core theme so special for photographers in particular.
For starters, the responsive design language and six individual gallery templates allow photographers to really find a look for their site that is uniquely their own. Even though they are using a template from legendary WordPress designers with more than 110,000+ customers.
Secondly, the proprietary and 100% unique "flow gallery" with this template is reason enough alone to jump on board. Gorgeous, with slick transitions from one photo to the next that never bogged down the performance of your page. This is an exceptionally well-designed WordPress theme (even if just from a technical side of things).
Round that out with fantastic fullscreen slideshow capabilities, easy e-commerce integration, and everything else that WordPress brings to the table when building a website and this is a bit of a no-brainer choice.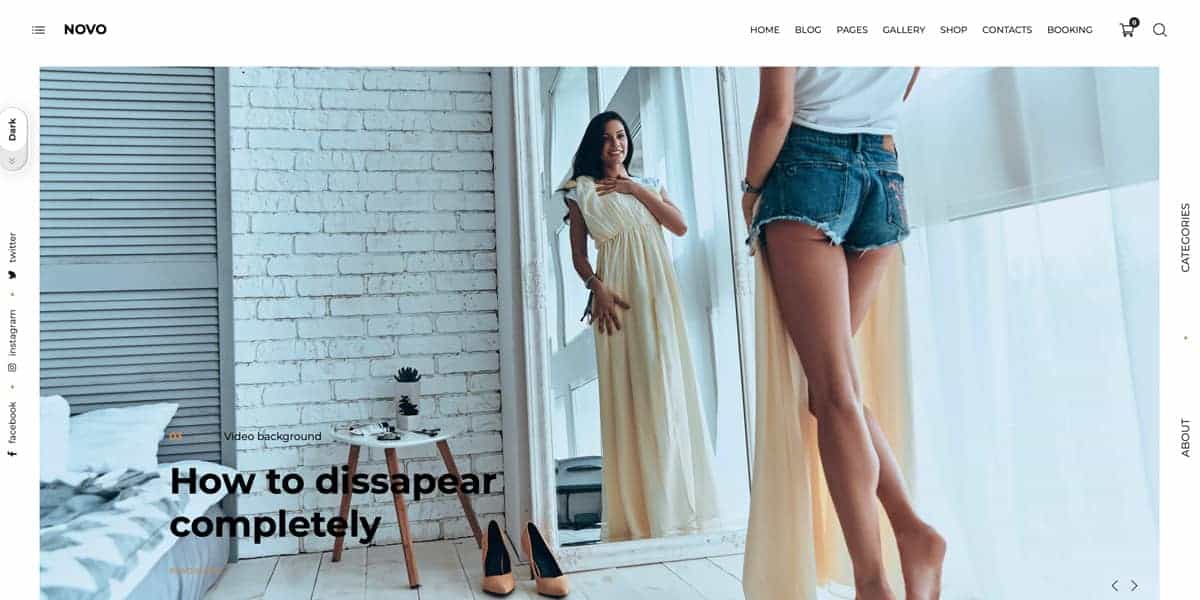 Novo: WordPress photography theme with password protection
Similar to Salient (especially when it comes to page builder tools that are true "drag-and-drop" options), photographers that also like to shoot video will love this WordPress theme.
Offering 180+ customizable components, new unique features, and a totally overhauled theme "core" for 2021, Novo – already one of the best WordPress photography themes on the planet, and a runaway bestseller – has only gotten even better.
Amazing photo protection tools, great e-commerce support, lightning fast speed, and some of the best gallery and portfolio options you'll find anywhere, Novo is well worth your careful consideration.
Under the bottom line
With this list of the best WordPress photography themes, I hope I made not only my wife happy, but you too.
Karo has chosen Divi as the solution for her website. That's why this theme is on top of the list.
Which theme did you choose? Let us all know below in the comments.