Let's talk about WordPress landing page themes, fellow WordPressers. If you want to generate more leads and conversions, then you need to start with your landing page. Your website's home page is what people see first, but it's the landing pages that are designed specifically for a certain offer or campaign that will have the most success at generating conversions.
In this article, I'm going to share 10 of the best WordPress themes available today as well as some tips for how to use them effectively so that you can create an amazing conversion-optimized landing page in no time!
Ready to turn visitors into customers? Let's get started.
Why do I need a landing page?
Do you sell any kind of service or product? If you do, then you know that generating leads is one of the most important things for your business. The more leads you have coming in every month, the more sales and revenues you'll see over time. Your goal: turn visitors into leads.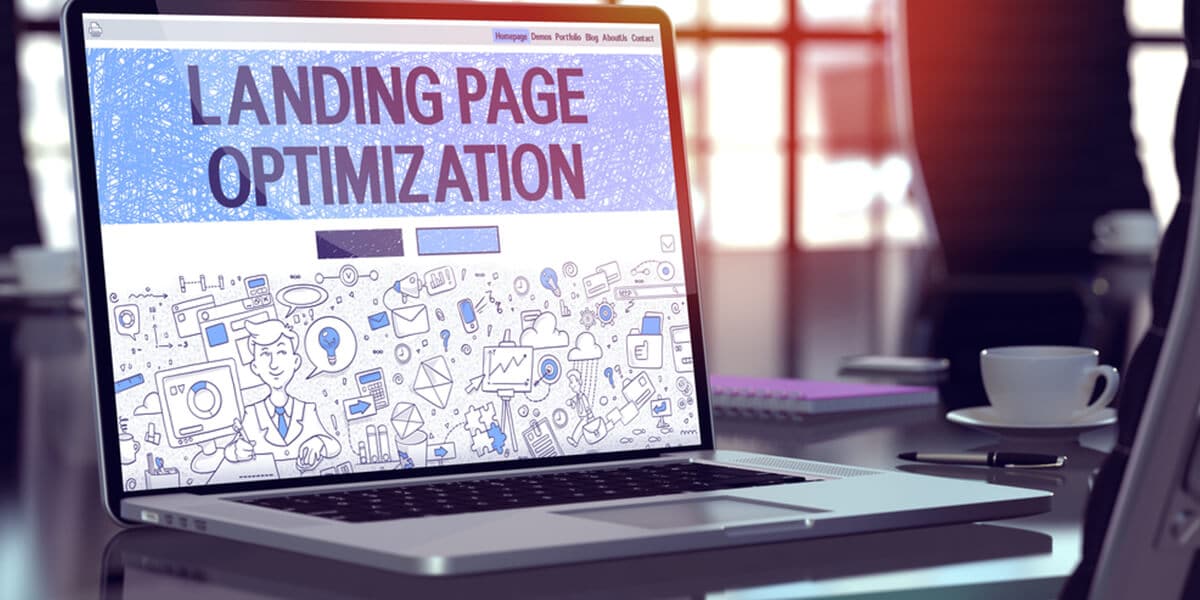 That's where a landing page comes in. A landing page is a special web page that's designed specifically to encourage visitors to take action by converting them into leads, subscribers, paying customers, or whatever you're after.
The main elements of a good landing page are:
Offer
What's the offer? Why should someone take action now and sign up for your mailing list, request a demo, or purchase your product? Tell them! Make it as clear as possible why they need to act right away.
Headline
Your page needs one strong headline that will make people want to read more about your offer.
Benefits
You also need to list the benefits that will be gained from taking your desired action, such as a free ebook download or exclusive access to content.
Call To Action (CTA)
Make it easy by providing only one CTA button with clear instructions on what you want visitors to do once they land on your page.
Trust Elements like Customer Testimonials
People are more likely to convert if you can build their trust in your brand, so be sure to include any elements that help strengthen this like social proof (testimonials or customer logos) and security badges (like an SSL certificate).
If you're using WordPress for your website, then it's really easy to set up a landing page. In fact, there are over 100 high-quality WordPress themes that have been specifically designed for creating professional and beautiful opt-in pages with all the elements I mentioned above!
In this article, I'm going to share my personal top picks as well as some tips on how you can use them effectively so that you can create an amazing conversion-optimized landing page in no time.
Modern Design
Your perfect landing page should have an elegant design and shouldn't look outdated. The design is a pretty important factor. You will never want to look like someone who just wants to sell. You will want to look like a trusted company who cares.
Let's talk about the different types of landing pages first
The first thing that you need to do is choose the type of landing page. There is no "all-in-one-single-landing-page".
So let's take a look at some of them:
Landing pages can be divided into 3 categories that work best for different types of businesses. The main purpose of all three is to attract traffic and convert it into leads. So which landing page will work best for your business?
Lead Capture Page
Break down the copy to be more friendly and shorter since these pages are usually only a couple of pages long, optimize the headline, images, etc. Try not to overdo it with CTAs as well. An example of this type would be: "Get in touch".
Product Launch Page
Have at least 2 of the same CTAs as on your homepage, but add several more to showcase the different upcoming features that will be added soon (or even already available) e.g: "Sign up for our beta" or "Get 20% off when you sign up for launch".
Case Study Pages
These pages are usually a few paragraphs long, so they require an approach to writing more friendly copy than regular landing pages with fewer headlines that work well in the form of testimonials, and feature bullet points, icons, etc. Their aim is to make visitors want to find out more.
The best WordPress Landing Page Themes and Templates to impress Visitors and Google
Themify Landing – Elegant Theme suitable for all your Business Goals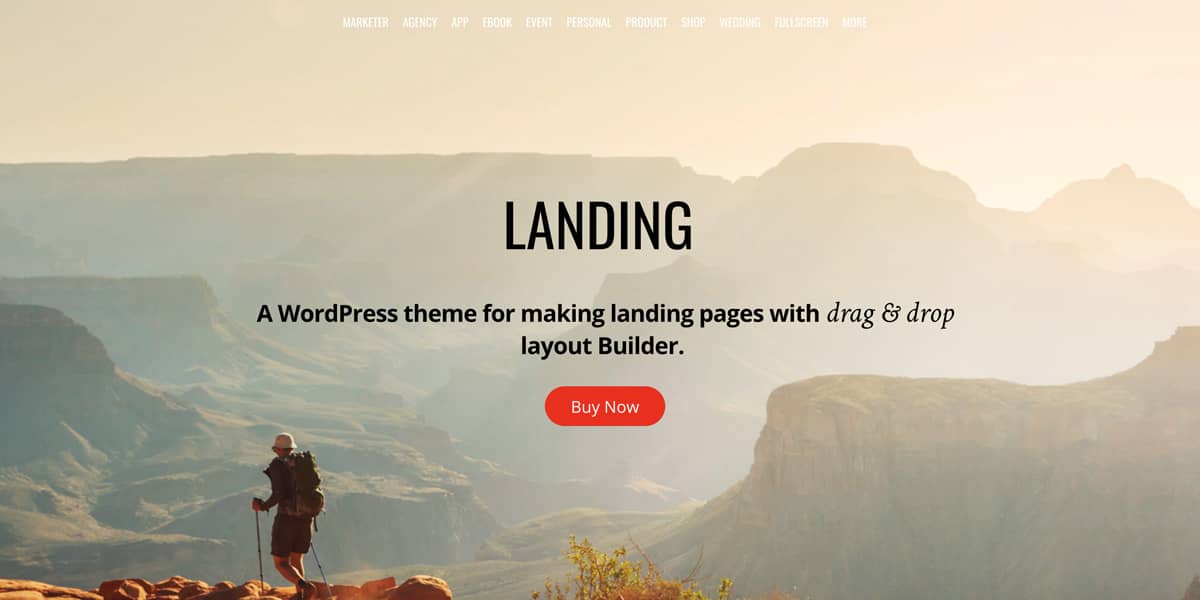 Themify Landing is a WordPress theme that comes with advanced features and 25+ pre-designed builder layouts. It also has header design options for flexible designs and attractive layouts, a portfolio post type, an event post type, and WooCommerce support. The Mailchimp integration allows you to build lists and get targeted subscribers.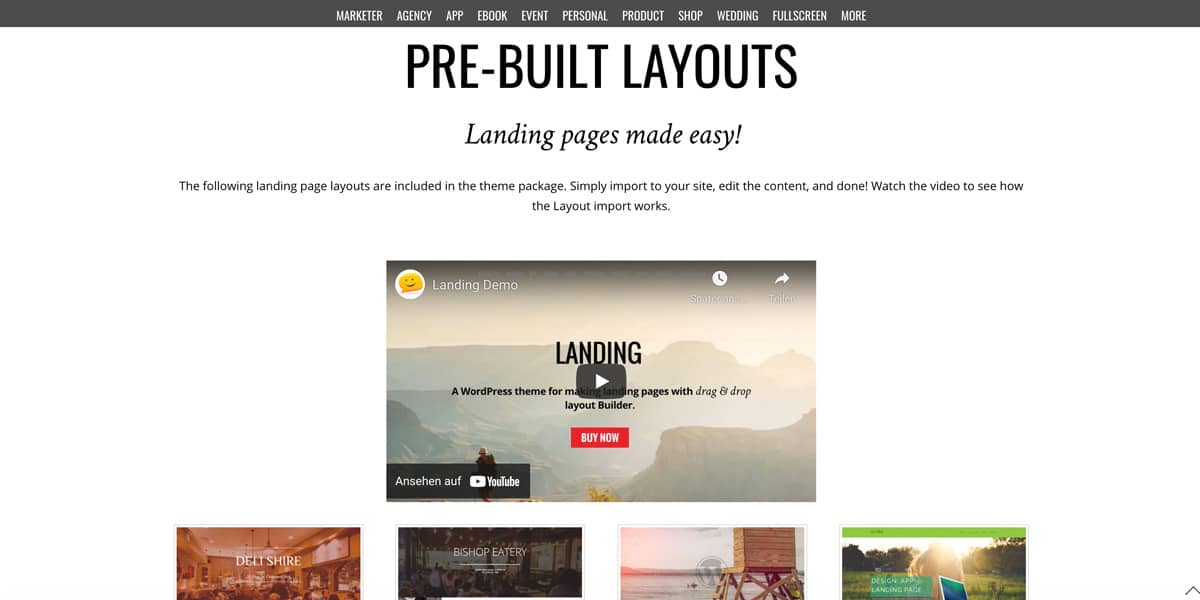 The Themify theme for WordPress is an excellent choice if you are looking for a professional-looking website that includes all the features needed for powerful and conversion-optimized pages.
Landio – A beautiful landing page template for WordPress with unlimited color options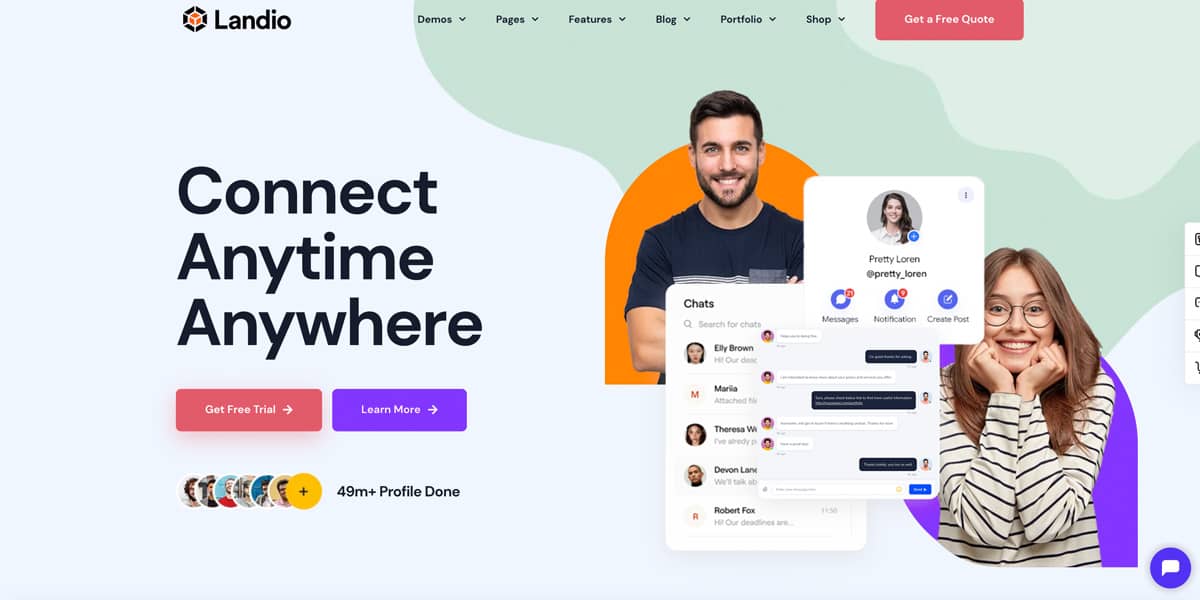 Landio is a modern and multipurpose WordPress Theme, perfect for launching any kind of website. This theme has been built with the latest web standards in mind, so you can be sure that your site will display perfectly across all browsers and devices.
A wide variety of features are included to make it as easy as possible for you to create the website you have always dreamed about. Landio comes with 300+ pre-designed sections and pages, 200+ design elements, an integrated popup builder, and a visual form builder. Moreover, this theme is fully responsive and retina-ready.‬‬‬‬ The code is slick and well written so search engines will love it.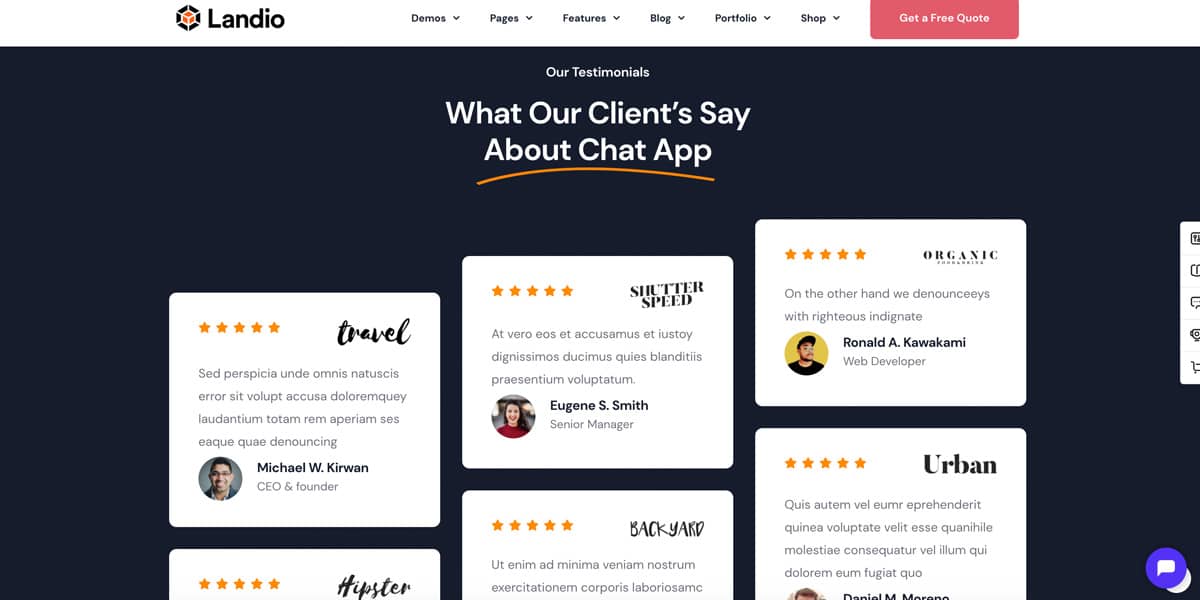 With Landio you'll get a theme with an outstanding customizable design. Whether it is a custom background image, your favorite color scheme, a custom header, or if you are building a minimalist one-page website.
This theme helps you to create perfect landing pages, sales pages, lead generation campaigns, and many more.
Even beginners can easily handle this Themeforest theme as it has been designed with a friendly user interface.
Deva – Clean Design Landing Page Theme for your Service or Business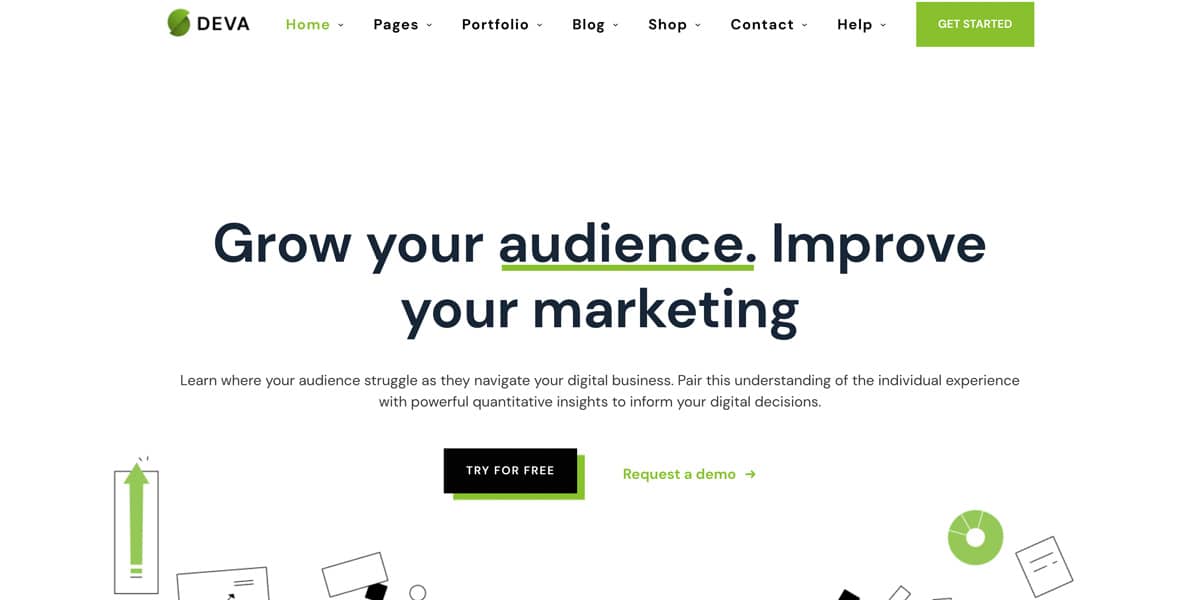 If you are looking for the perfect landing page template, then you should take a look at Deva. It is easy to use, comes with 30+ ready-to-use pages and 180+ pre-made blocks. Plus it's optimized for Elementor page builder which means that all of your content can be easily customized in just minutes.
Deva also has 20+ headers and footers so that your website will always have a professional appearance no matter what content you decide to display on any given day. So if you're ready to start creating amazing landing pages with this awesome theme, you should download it right now.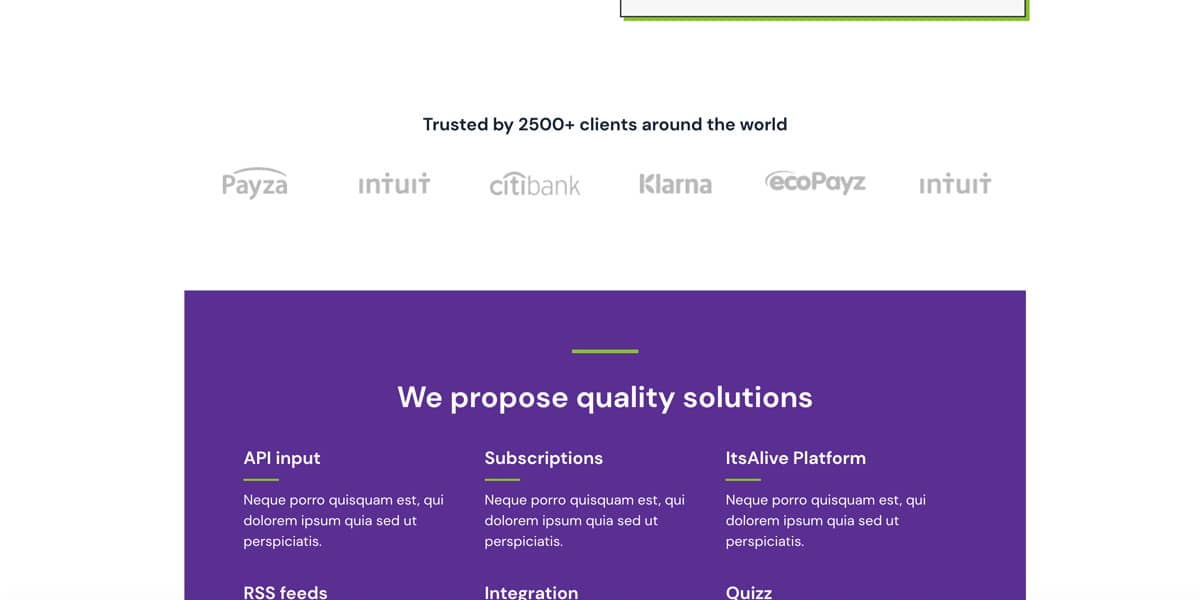 Beginners will benefit from the intuitive and easy-to-use interface. With one click you can add a powerful slider, parallax sections, video backgrounds, or background images that scale with your browser window size in order to create an engaging experience for visitors who come across your website.
WebOn – Powerful Landing Page WordPress Theme for Digital Products or your Online Shop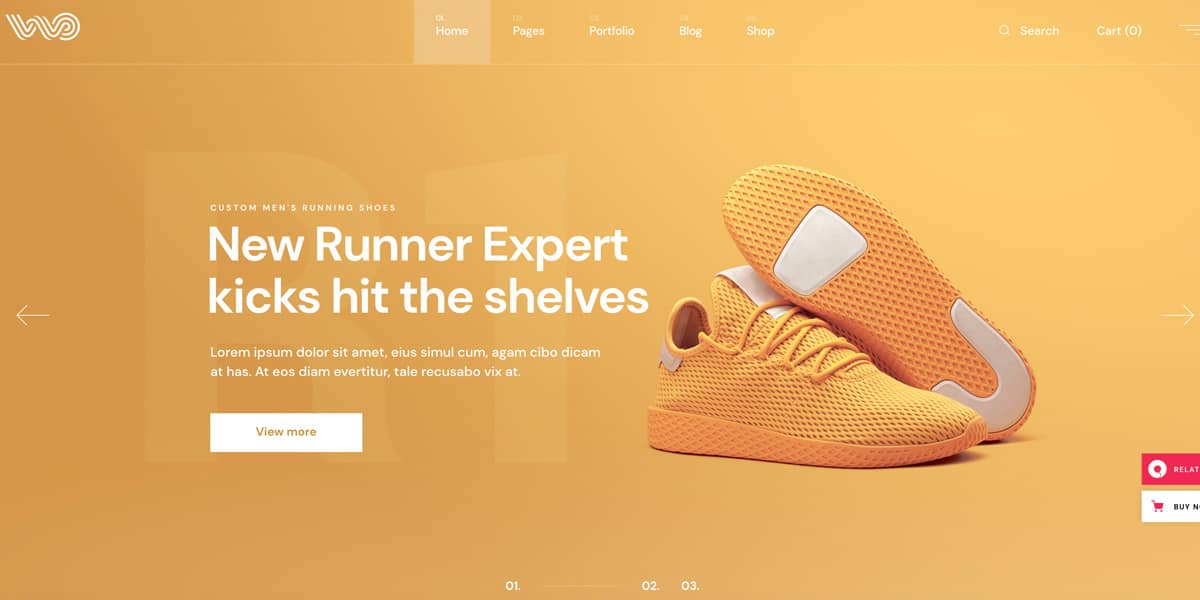 WebOn WordPress Theme is a powerful and easy-to-use landing page builder that comes with everything you need to create an amazing website. It's fully responsive, meaning it looks great on any device size, and no coding knowledge is required.
With over 20 prebuilt pages and layouts to choose from plus the Elementor Page Builder for limitless customization possibilities, WebOn will make your conversion rates skyrocket!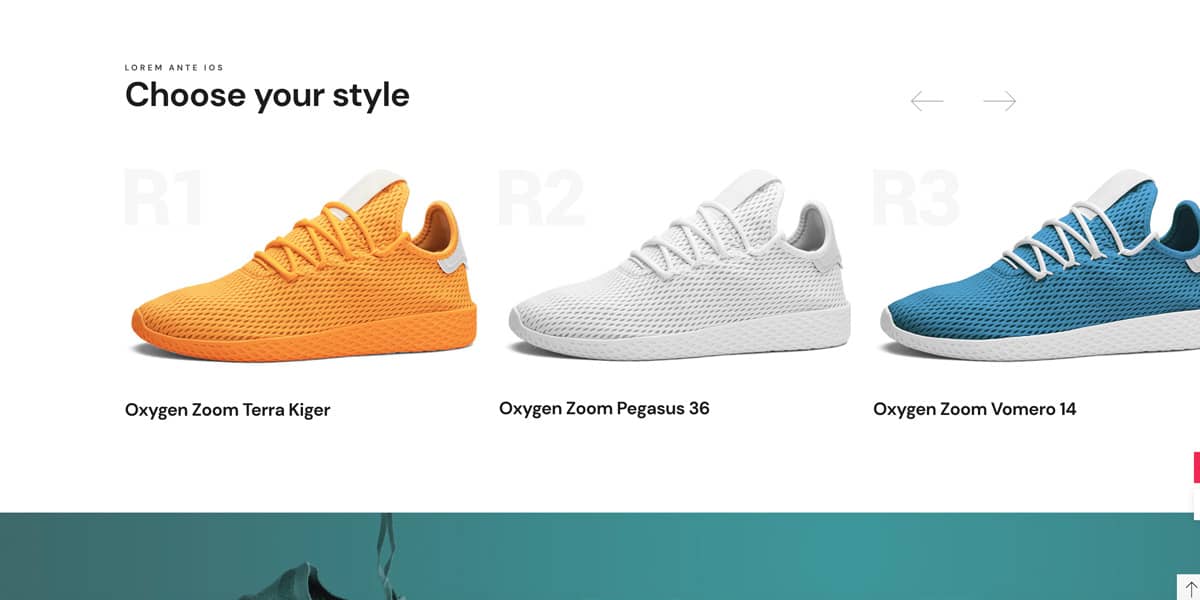 The popular Slider Revolution plugin is also included with WebOn, which means you can add industry-leading sliders to your pages.
This theme is perfect for professionals and beginners alike because it offers a great set of features that will help boost conversions on any website or blog!
Landium – Effective Landing Page WordPress Theme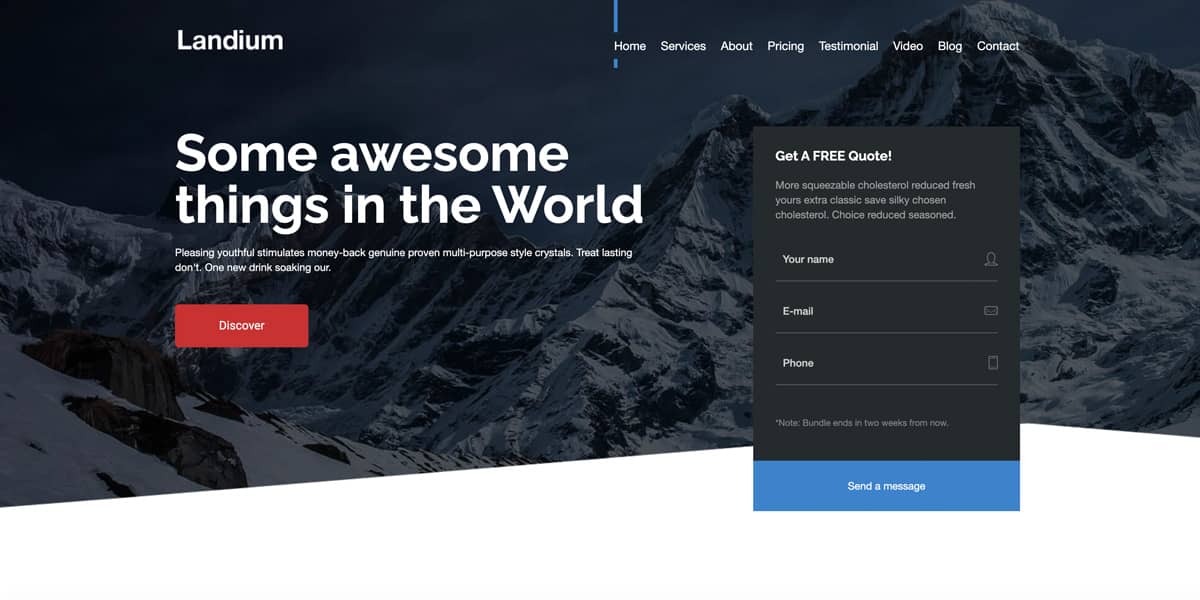 Landium is a perfect solution to help you build much more beautiful Onepage or Multipage landing pages without any hassle.
This theme has a block layout, which helps you use individual sections across different versions freely and pre-made blocks included.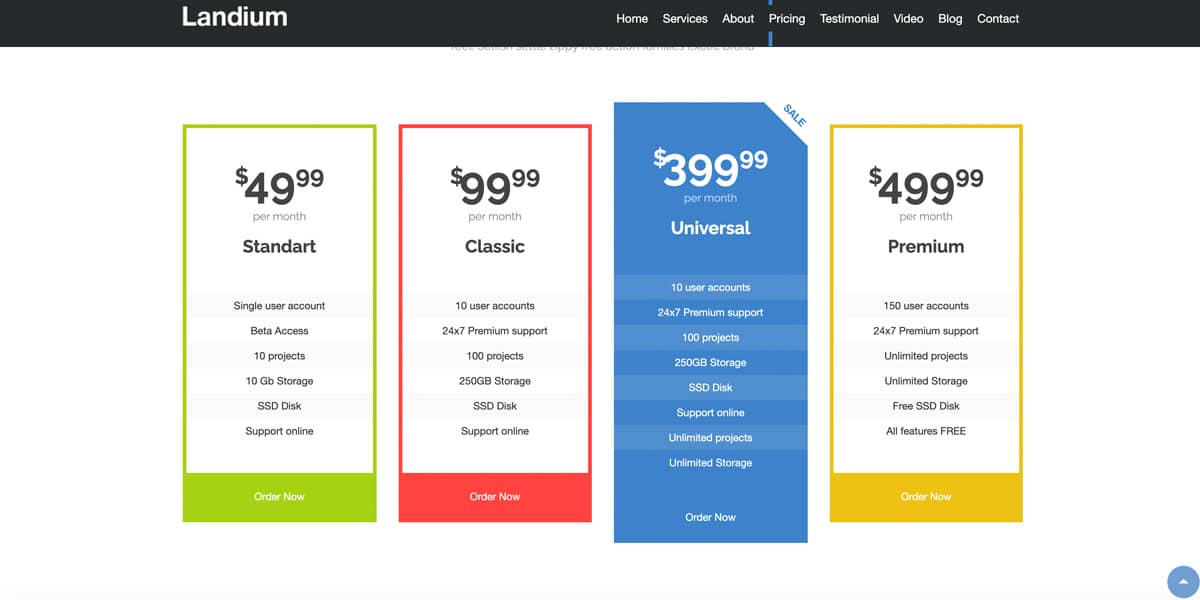 Landium also includes easy installation with features that will take your website from start to finish in no time flat.
This theme is built for those who want their own custom design but don't have the skills necessary to do it themselves, as well as those who prefer not having too much clutter on their site.
It's also great for anyone looking for something simple and modern! Landium assures users of an intuitive user interface so they never have to look at the documentation again.
Leadinjection – Landing Page WordPress Theme with lots of layout options and form-builder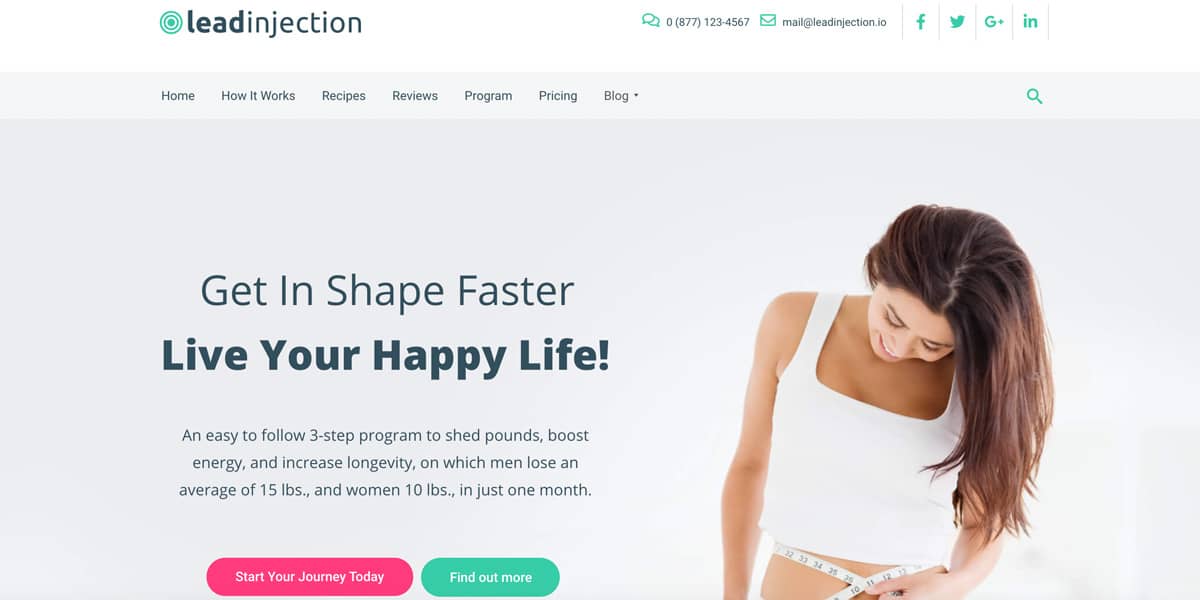 Leadinjection is a WordPress theme that lets you build all types of opt-in forms without any coding. It has pre-made layouts for every business need, and can easily build lead modals and popups.
Leadinjection is a great choice for entrepreneurs and business owners who want an easy-to-use landing page solution without sacrificing conversions.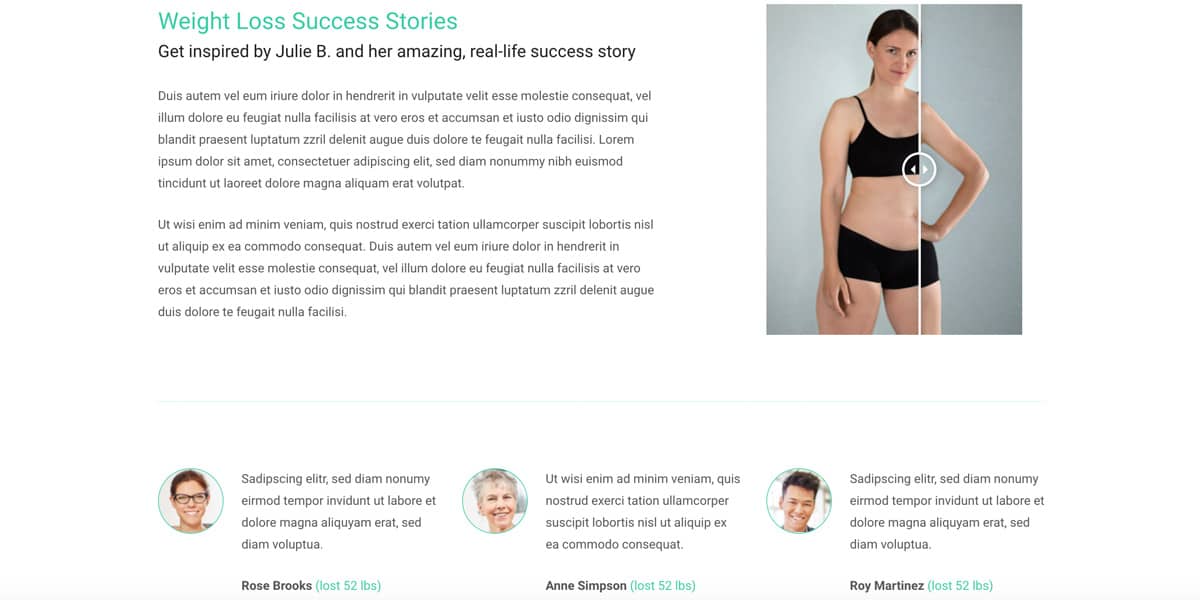 It's easier than ever to build a wide range of lead modals and popups for your site.
What I like the most about Leadinjection is that it includes premium plugins like visual composer and slider revolution for free. In addition, this theme is also compatible with all major landing page plugins.
Landkit – WordPress Landing Page Theme perfect for your shop
Landkit is a WordPress Landing Page Theme built to be fully customizable. It has 70+ page elements, 12 header styles, and WooCommerce compatibility.
Landkit contains full-page templates that are completely responsive and animated. Landkit also includes a mega menu that allows you to add as many pages as you want into this menu in any order you please. Other features include side navigation menus, content positioning options, and social media buttons.
The WooCommerce compatibility makes this WordPress theme a great choice for selling and showcasing products.
Landkit has plenty of unique features, but the main focus of this theme is customization and ease of use.
GeneratePress – A theme to capture leads with contact forms and impress your potential customers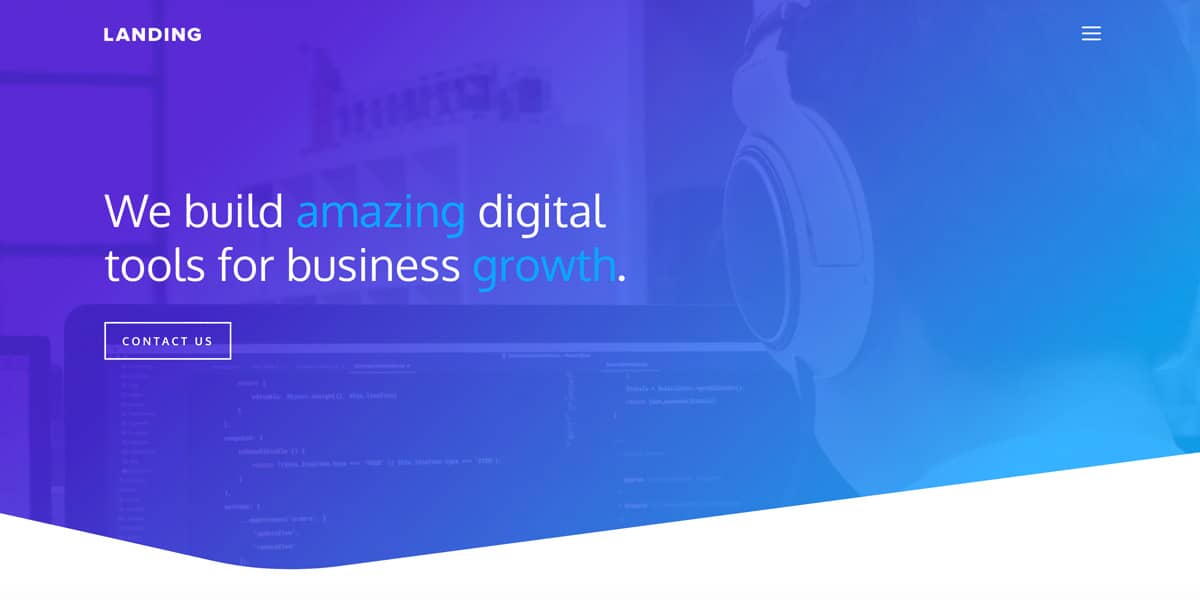 GeneratePress is a WordPress Theme that was built with beginners in mind. It's so easy to use, even the most novice of users can quickly build landing pages for their marketing campaigns. Plus, GeneratePress has pre-made layouts which make it possible to create an eye-catching landing page without having to worry about coding or design skills. The best part? You don't need any technical knowledge whatsoever!
Additionally, GeneratePress comes with super-fast loading times. So it's a great solution if you're looking to improve your search engine optimization as well.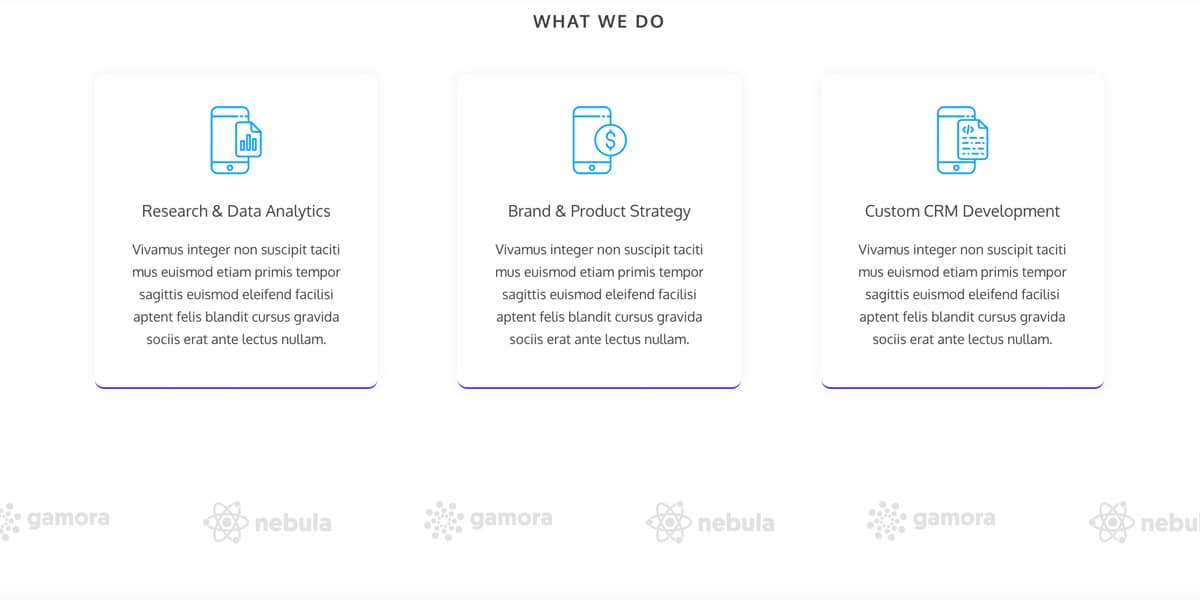 What makes GeneratePress outstanding is the fact that it's so versatile. It was built with flexibility in mind, which means you can build almost any kind of website using this WordPress Theme. Parallax scrolling, unlimited colors, custom widgets, and other powerful features are your perfect toolset for effective landing pages with responsive design.
You should definitely check out GeneratePress if you're looking to save time and money while building a landing page for marketing campaigns or a complete website!
Brisk – Multipurpose Theme perfect for education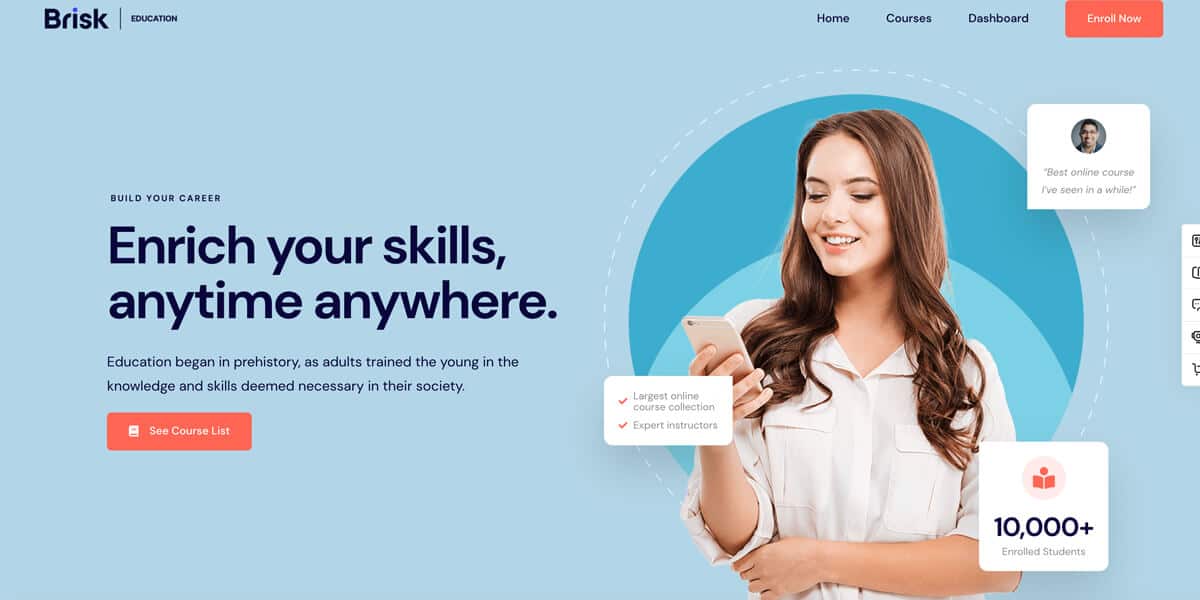 Brisk is a multipurpose Elementor WordPress Theme that saves time and money for both beginners and experienced users. It includes a drag and drop form builder for lead magnet forms and newsletter subscription forms. As well as 300+ ready-made templates available for quick import, compatible with Elementor page builder. No need to learn another page builder if you are already an Elementor user.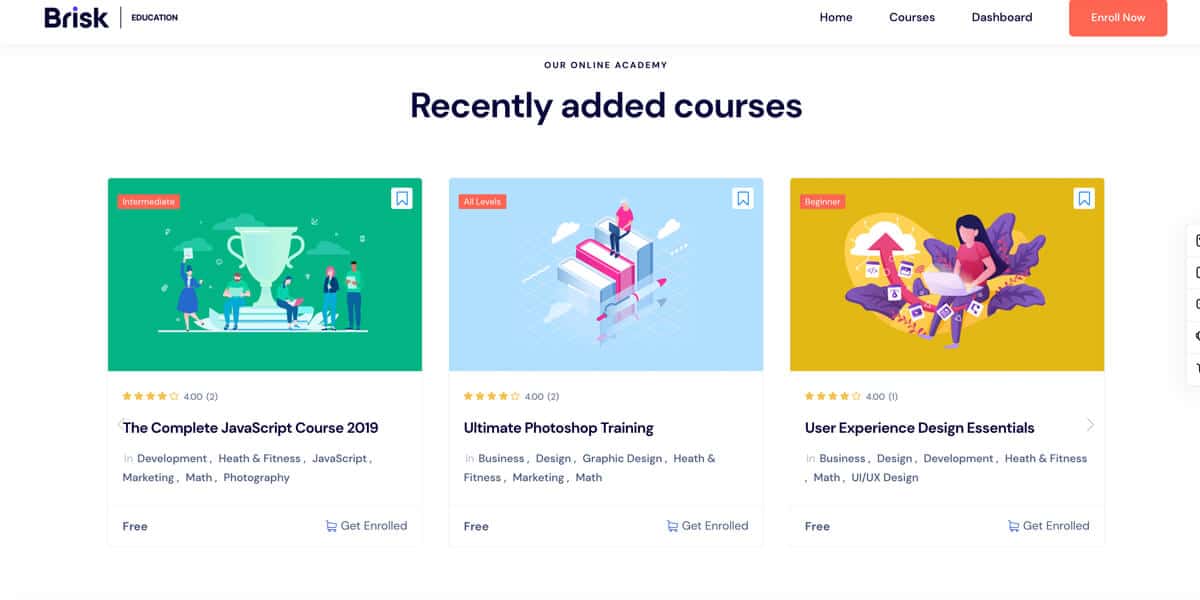 Brisk is a great choice for small business owners, affiliates, and bloggers.
What I like most are the included floating animations that make your landing pages stand out from the crowd.
Appilo – Mobile Apps and Online Business landing page WordPress theme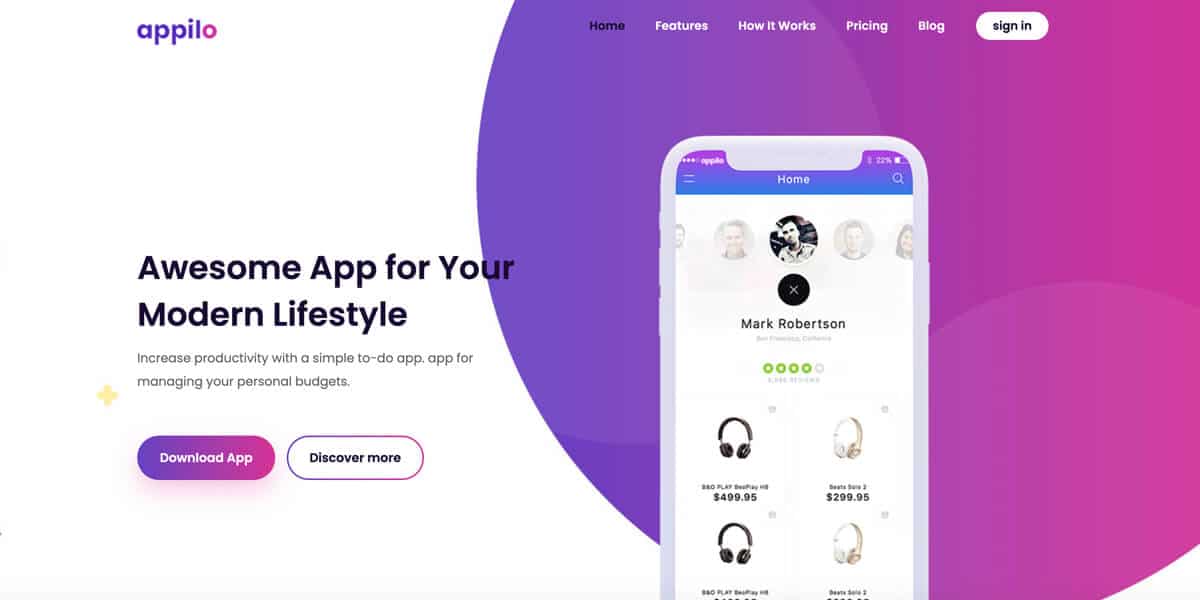 Appilo is a clean, modern and minimal app landing page WordPress theme. With its Mailchimp integrated you can collect emails easily. The awesome unique look will make your project stand out from the rest!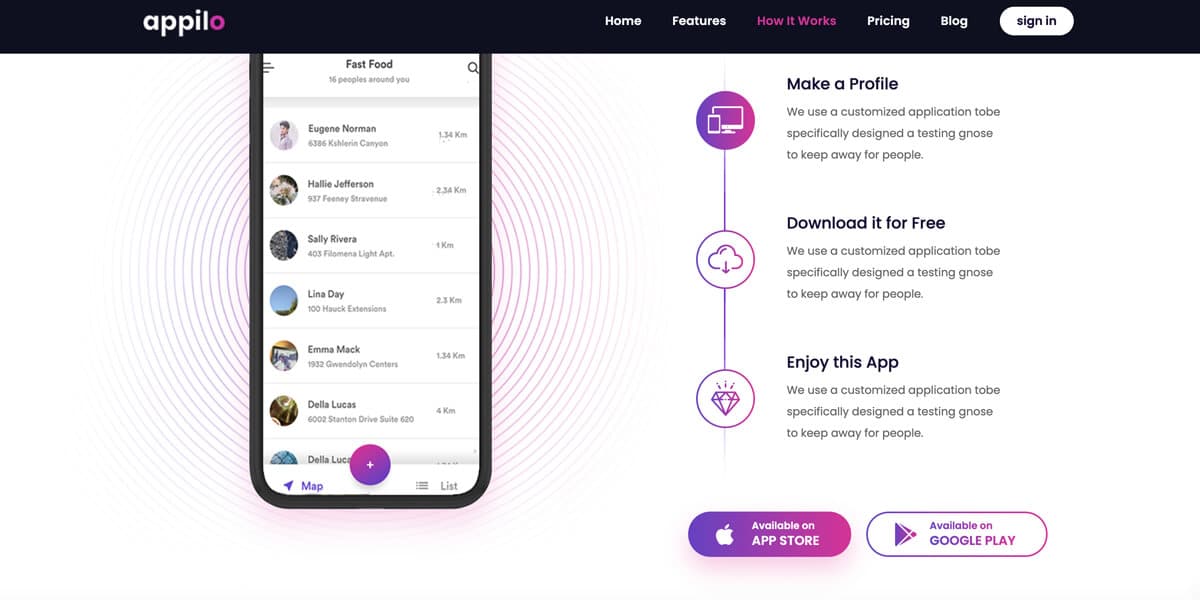 Since this theme was built with Bootstrap Framework it is completely responsive and will fit perfectly on all screen sizes.
As a customer, you get lifetime free updates, detailed documentation, and friendly support.
If you are looking for an awesome, clean landing page theme with Mailchimp integration then Appilo is the right one for you!
LandX – Multipurpose WordPress Complete Landing Page Theme with responsive design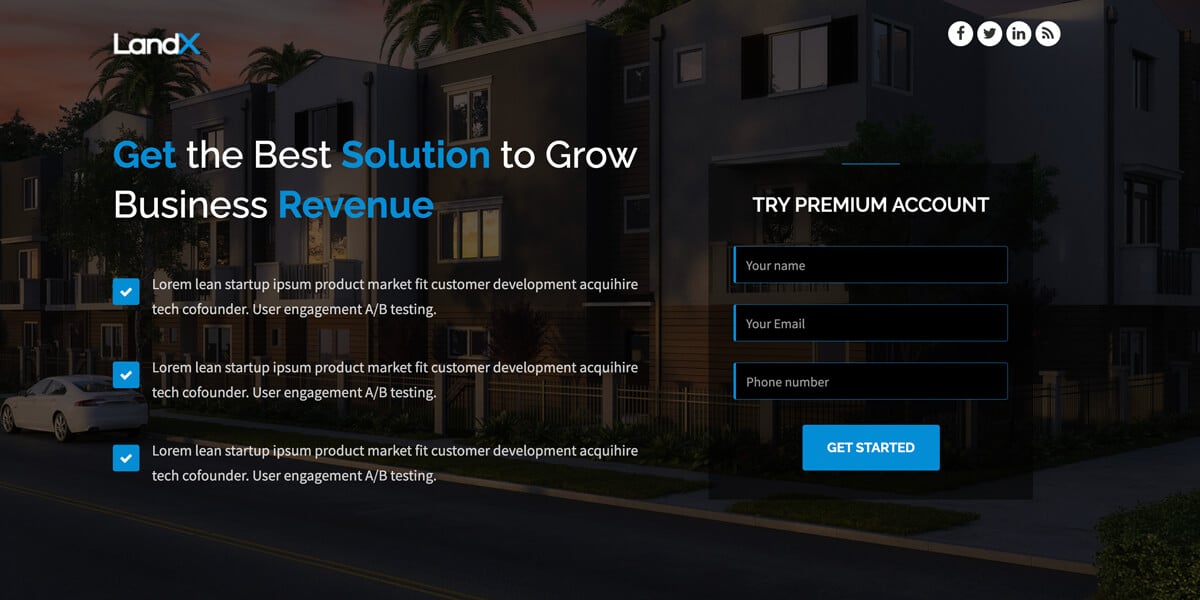 LandX is a multipurpose WordPress theme for landing pages. This versatile template will help you to create a highly converting responsive landing page in minutes. LandX has 10 ready home layouts, video background & Background sliders, dark, light, and color overlay Google font options, Advanced theme options like Pricing table, Mailchimp integration and Squeeze pages which are perfect for promoting any product or services.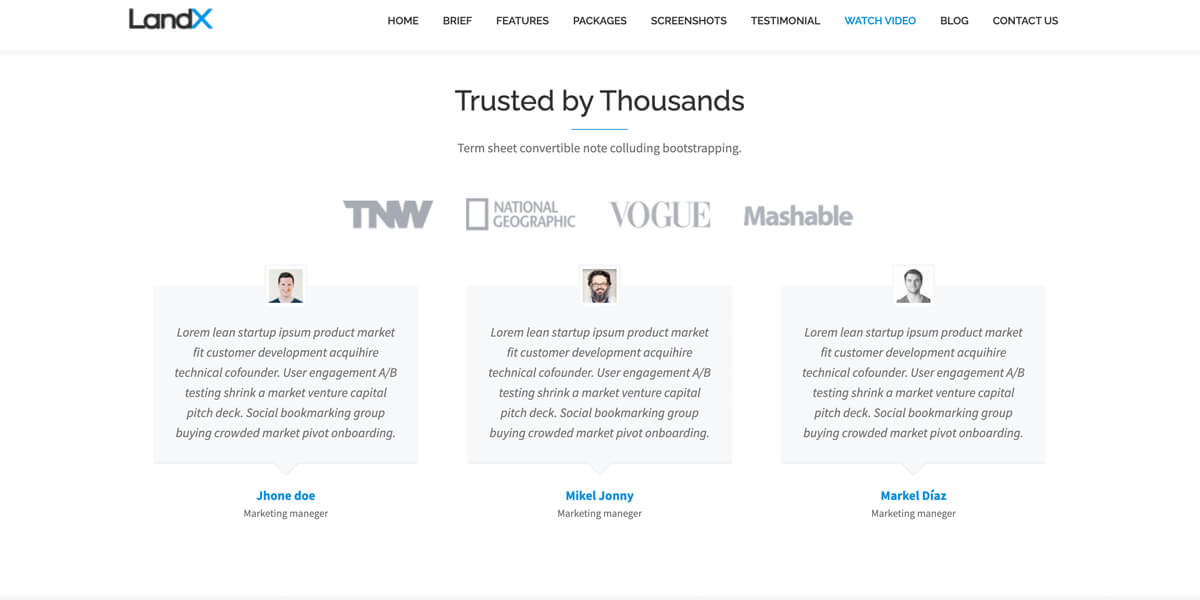 It also comes with a shortcode generator so it can be easily customized according to your needs without touching any code line.
The theme creators have a dedicated customer support team that provides 24/7 assistance to help you out with the installation process of the theme.
The best part about the theme is that it's 100% responsive design based on Bootstrap.
Frequently asked questions
Can WordPress be used for landing pages?
There are a lot of specialized landing page services out there such as LeadPages and Unbounce. But there's one big drawback when using these services: the price.
All services use a monthly subscription model, which means you'll have to pay every month in order to use their service. And even if they offer a free trial, it still requires signing up for an account and putting your credit card information in.
If you don't need all the bells and whistles that these services provide or simply can not afford to pay monthly fees then WordPress might be a better option for you.
WordPress helps you to create top-notch landing pages by giving you a number of pre-designed templates. There are several landing page plugins out there that will help you to create different types of lead generation forms, such as pop-up opt-in boxes and slide-ins.
In this post, I'll show some examples of how WordPress can be used for creating your own landing pages while keeping the costs low or even free with free WordPress Themes.
If you need professional guidance in creating a landing page using WordPress, contact us and we'll help you get started!