Choosing the right theme for your real estate business is crucial, and choosing a premium WordPress theme can save you time and money in the long run. With so many themes to choose from, it may be difficult to know where to start. We've narrowed it down by giving you 4 important tips to keep in mind when choosing a real estate WordPress theme.
On top of that we will show you our community and editor's pick of the 10 best real estate WordPress themes. All designed to help real estate agents in particular get off to the best possible start with the new website. Through design tailored to you and possible interfaces such as IDX Broker to facilitate your work.
So let's start with the tips that will help you find a great theme for your real estate website:
Helpful tips when choosing a WordPress theme for your real estate business
1. Make sure that the design of your website matches your brand image
For every real estate website, it's important to find a theme that matches your brand image. Think of the look and feel you want to create for your website, whether it's classic or modern.
Keep in mind that certain features are more relevant when working with real estate websites than others: For example, having an advanced property search functionality is crucial for any real estate website. Think about what features you absolutely need on your site, and make sure the theme has those built-in or available as a plugin.
2. Choose a WordPress theme that will grow with you
The best business websites are constantly evolving to match their business needs. A great premium WordPress theme should be able to adapt along with your business. Make sure that you choose a WordPress theme that is flexible enough for your future needs and has good support to ensure the longevity of your website.
Very important for real estate agents is the integration of a good image gallery and, of course, the possibility to connect IDX Broker to the website via an additional plugin.
3. Know when (and when not) to go premium
Premium themes do have their advantages, but there are also free or cheap options available. In general, it's always better to go with a premium theme because it will save you time and money in the long run. You won't have to deal with any security issues or bad design choices that come from free themes.
4. Choose a responsive design so that people with different devices have an easy browsing experience
You'll want to choose a responsive design for your theme. This way people will be able to browse and view real estate listings on their mobile devices with ease. More than 80% of all website visits in the US are from mobile devices, according to a recent study by Google. This number is only going up every year so it's crucial that your website be responsive!
5. Your search engine optimization should be great
Online Marketers know that creating a website is just the beginning. You will need to make sure that your site can be found by potential clients looking for real estate agents or listings.
Today, search engine optimization (SEO) has become more important than ever because so many people are using it when they look for local businesses online. The best way to ensure you have a great SEO strategy is to work with an expensive agency that can help you get the best results.
However, premium WordPress themes are often built by professional agencies, and they have been optimizing their designs for years already. I think it's always better to choose one of these options instead of creating your own theme from scratch because and get it optimized by an agency. This will save you time and money.
Our list of the best WordPress themes and templates for real estate professionals
1. RealHomes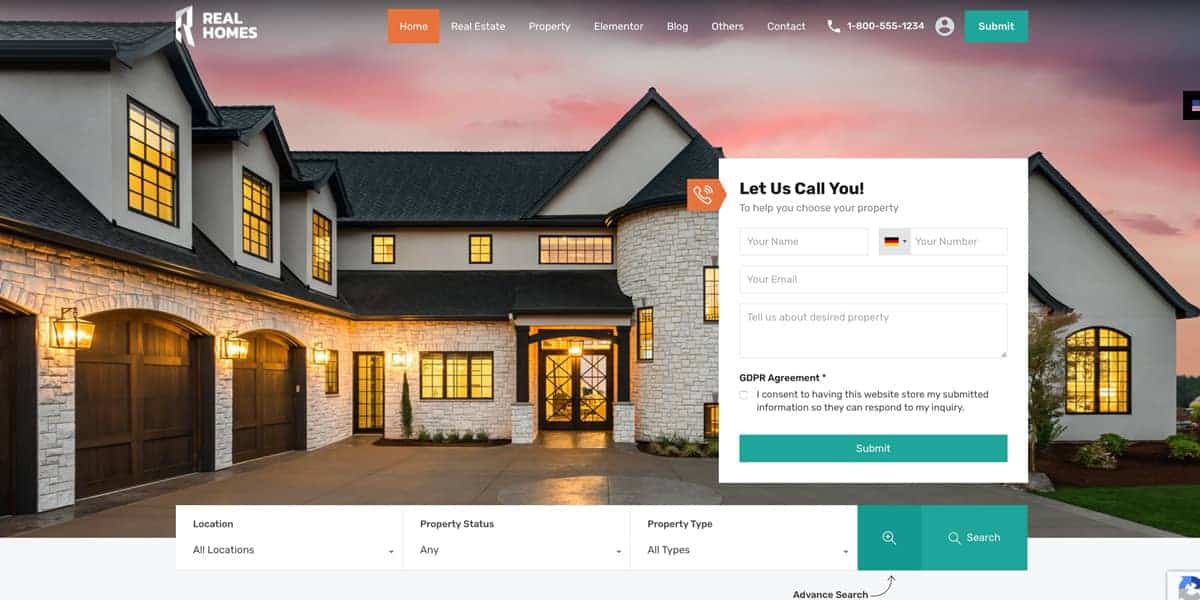 The moment I looked at the RealHomes templates I knew I was looking at a WordPress realtor theme that was built from the ground up by legitimate real estate agent professionals.
The cool thing about this theme (compared to the two above) is that it is very much a real estate theme specific set up, ready to roll right out of the box.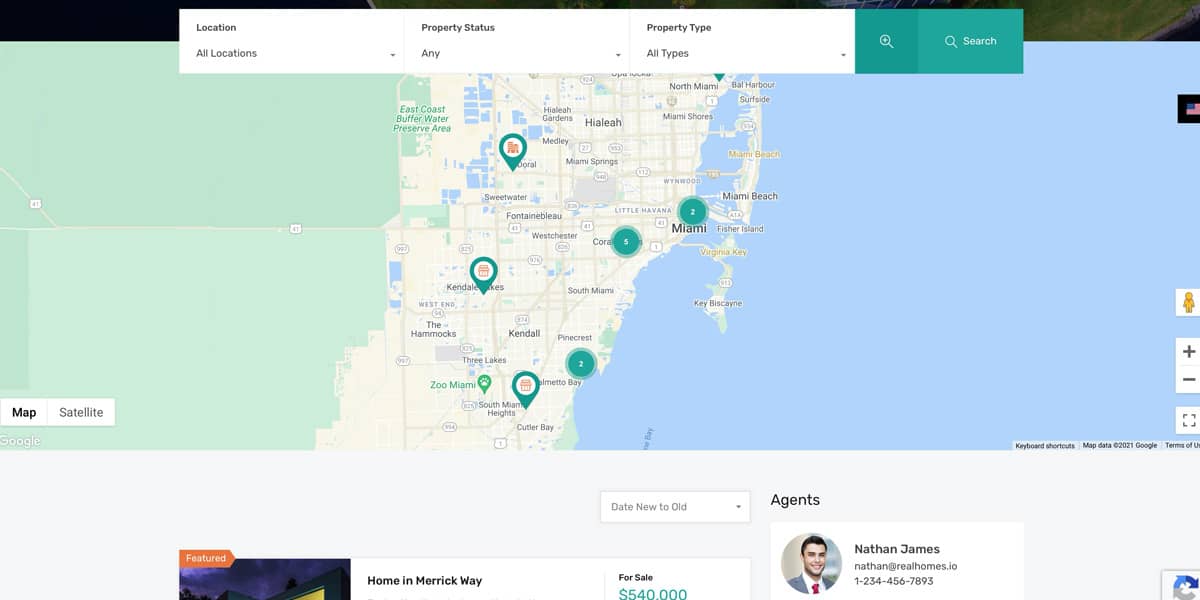 Instead of having to customize every little thing (playing with different designs and different editors/builders) you'll be able to hit the ground running with a real estate theme built with real estate businesses in mind.
On top of that, though, this theme is highly customizable as well – perfect if you do want to roll your sleeves up and get to work customizing it a little more.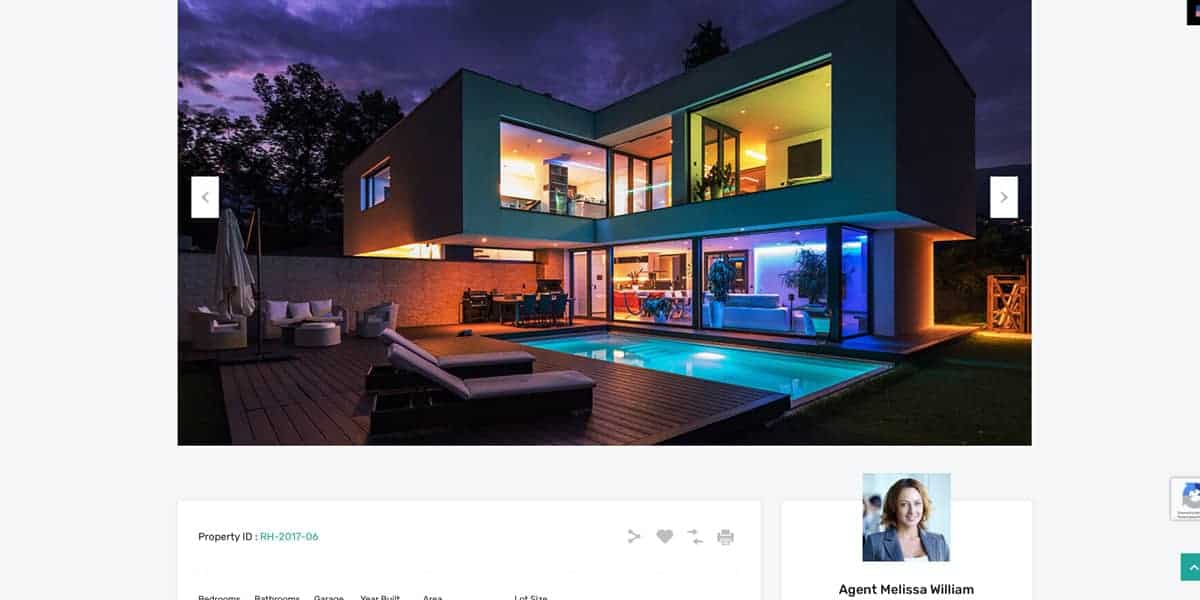 You can tinker and toyed with a slider, colors and color schemes or completely overhaul the designed from top to bottom with the theme's customizer. The choice (and the freedom) is 100% yours with this theme. Also included is the easy implementation of Google Maps to show off your listings and advanced search for better usability.
RealHomes is a premium real estate WordPress theme, but comes with a reasonable pricing.
2. Houzez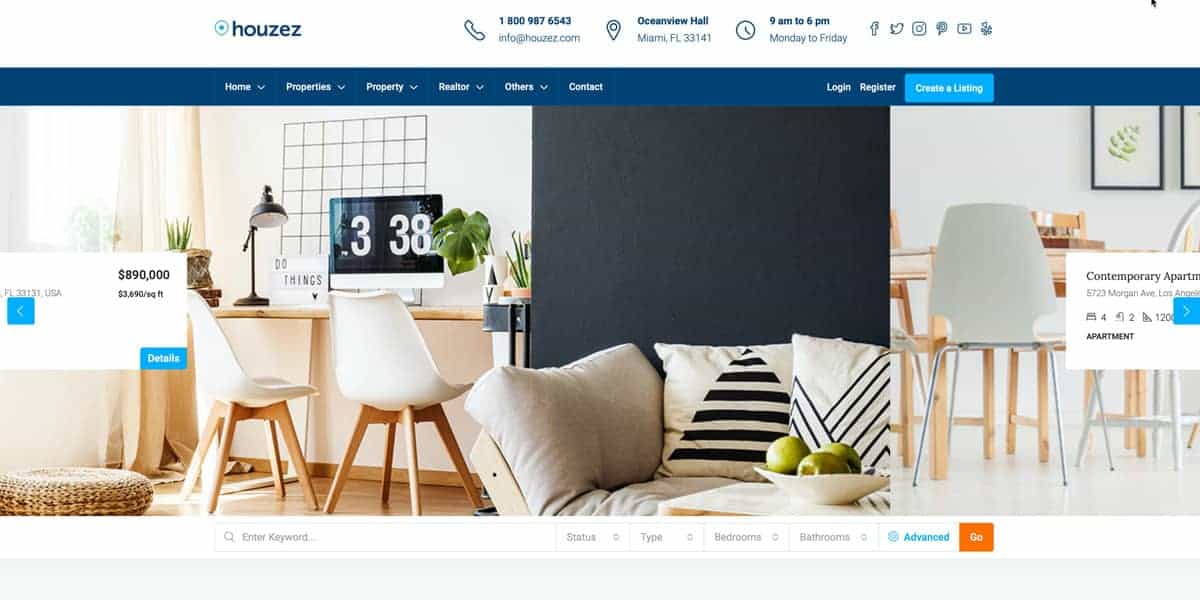 Even though this is one of the most popular WordPress real estate themes on the planet today, it actually took me a little longer to stumble upon this elegant design.
Already used to power more than 25,000 real estate websites around the world, it's not hard to see why this theme is so beloved.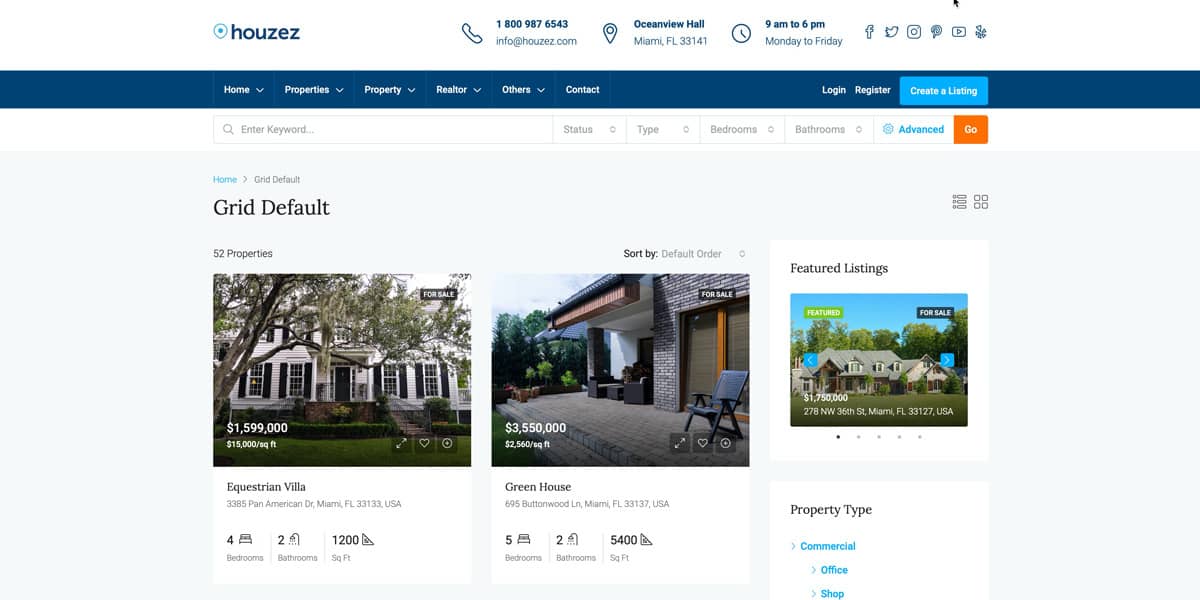 For one thing, the responsive design nature of this theme is fantastically implemented.
The site is slick, clean, and modern with real minimalist but premium touches for your online presence. You're not going to want to do a whole lot of tinkering with the way this design looks right out-of-the-box.
What's really special, though, is the integration of powerful real estate agency WordPress theme components.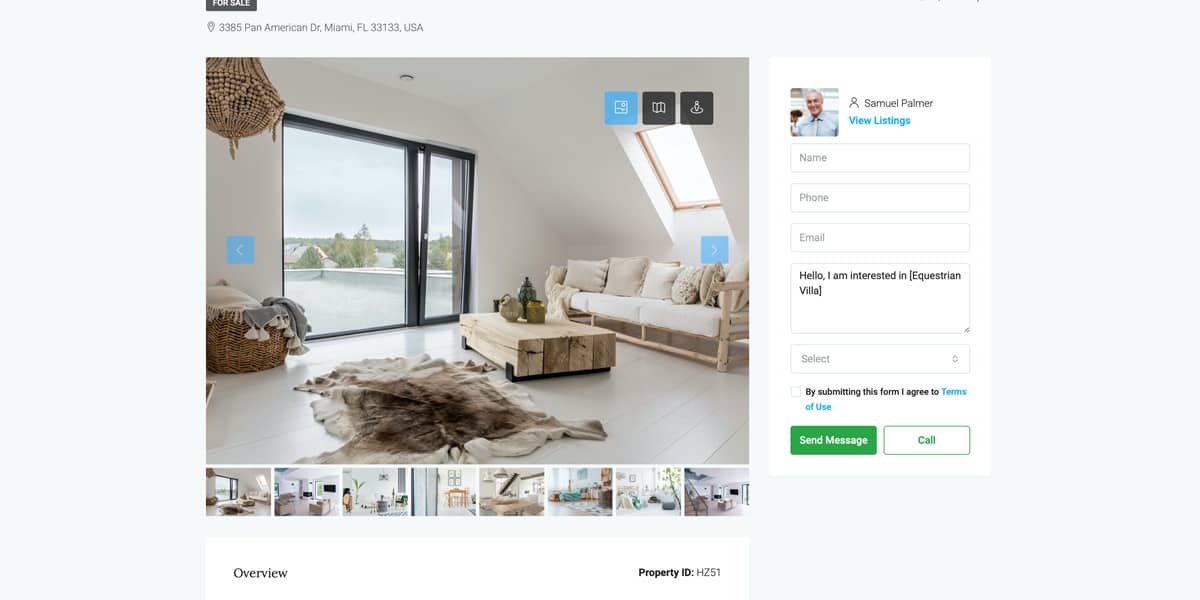 I'm talking about:
Easy tools to manage real estate listings and rentals
Easy media upload and management tools
Easy to use customer facing mortgage calculator and rent calculator solutions
Effortless contact pages, forms, pricing tables and phone setups.
Support of visual builder plugins like Elementor, Beaver Builder, Visual Composer and more.
… And that's just the tip of the iceberg!
This real estate theme looks like it was cooked up by a professional agency that spent tens of thousands of dollars to develop it from the ground up.
You'll have plenty of customization options to play with (if you want to), but the theme is really ready to go right out of the gate.
3. WP Pro Real Estate 7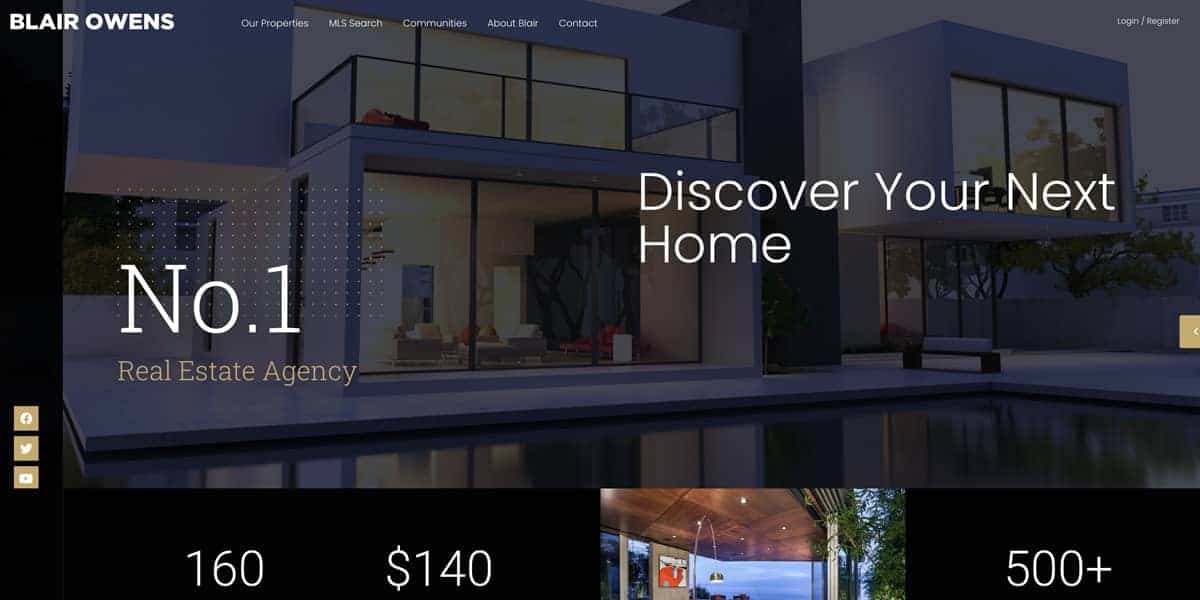 WP Pro Real Estate 7 WordPress Theme is a cleverly designed, 100% responsive and CRM-integrated theme. It's an end-to-end solution for agents, brokerages, apartment managers and developers of residential or commercial properties.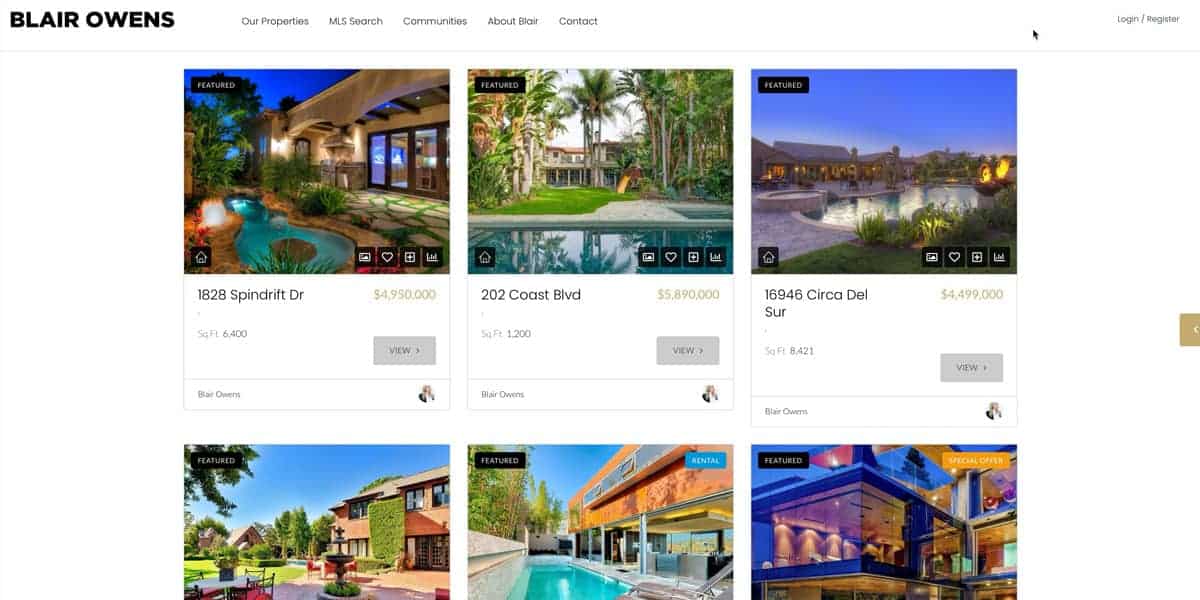 With over 100 elementor blocks and pages it has everything you need to create a unique website that will meet your needs. WP Pro Real Estate is the perfect choice if you're looking for a professional WordPress theme for real estate agents!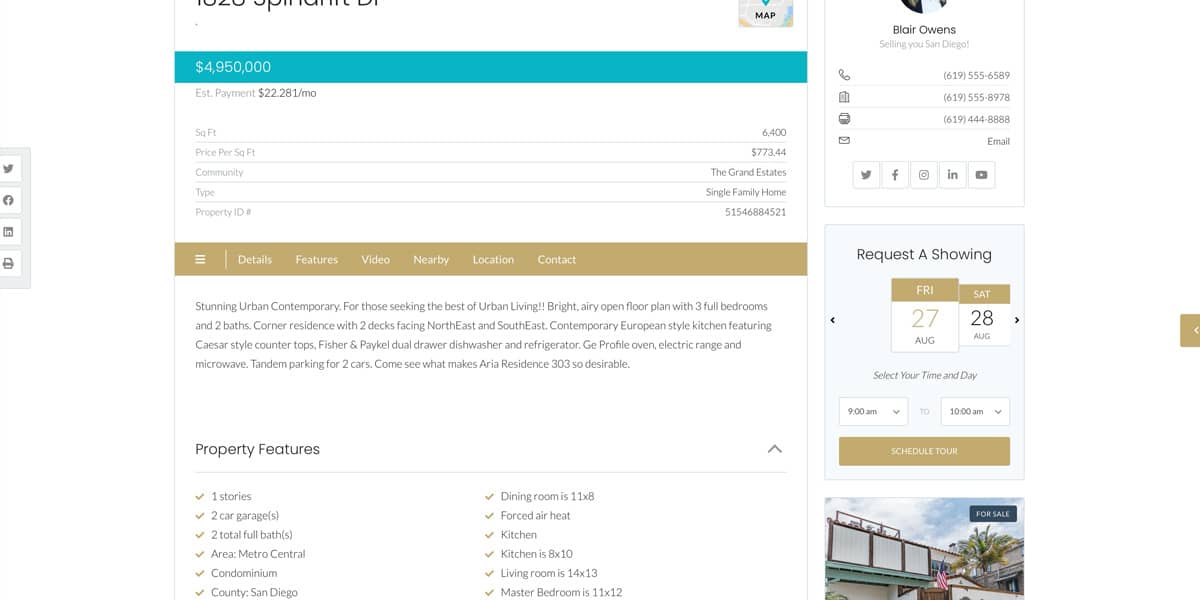 4. GeneratePress
GeneratePress describes itself as the "ultimate foundation" for WordPress websites.
I have to agree!
The number one thing that really separated this WordPress theme from the rest of the pack (for me, anyway) was just how seriously it has been built for online business purposes.
Page loads are ridiculously fast, even with multimedia rich pages. Real estate agents that have lots of pictures for lots of listings and every single property will love how quickly this platform loads.
The "block-based" builder and Elementor integration on this platform is another joy to use. You can visually build every aspect of your website without touching even a single line of code. That produces professional results in the customization department in record time, all with full access to widgets, different layout options for custom post types, and plenty of other premium features, too.
Combine all of the theme options with built-in Google Maps capabilities (perfect for giving directions to property listings and rental properties), advanced search capabilities, and the ability to dial in your SEO without much effort and this WordPress theme is a bit of a no-brainer.
5. Astra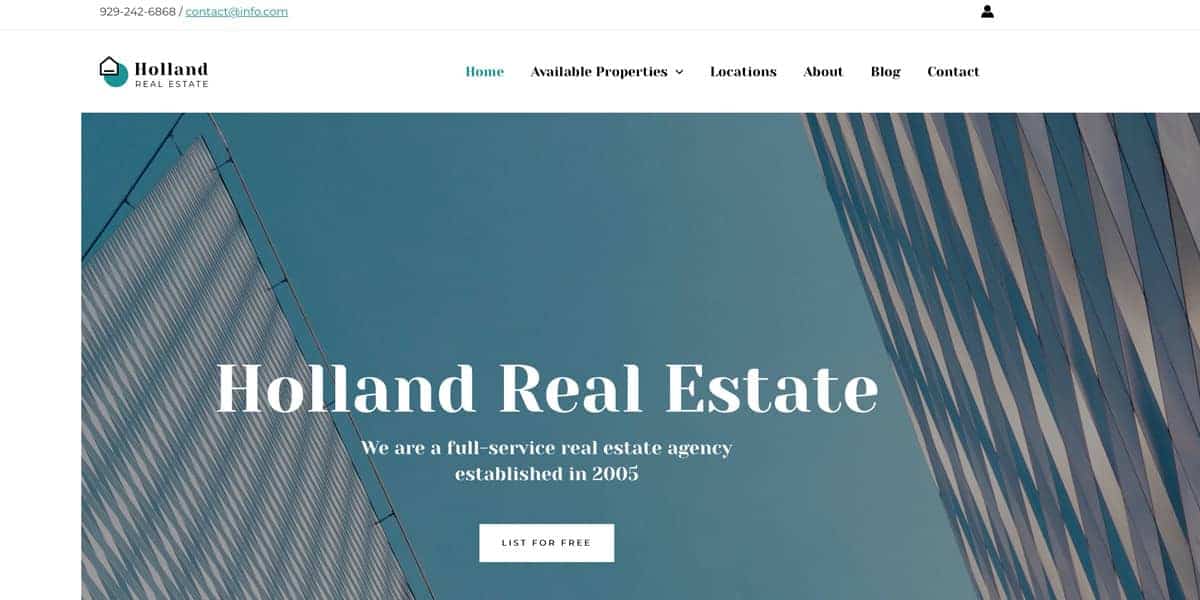 No list of the best WordPress real estate themes would be complete without Astra featuring prominently.
Easily one of the most customizable of all the WordPress themes available today, Astra is right up there at the pinnacle of the premium themes world – especially for real estate agents, realtors, and real estate investors.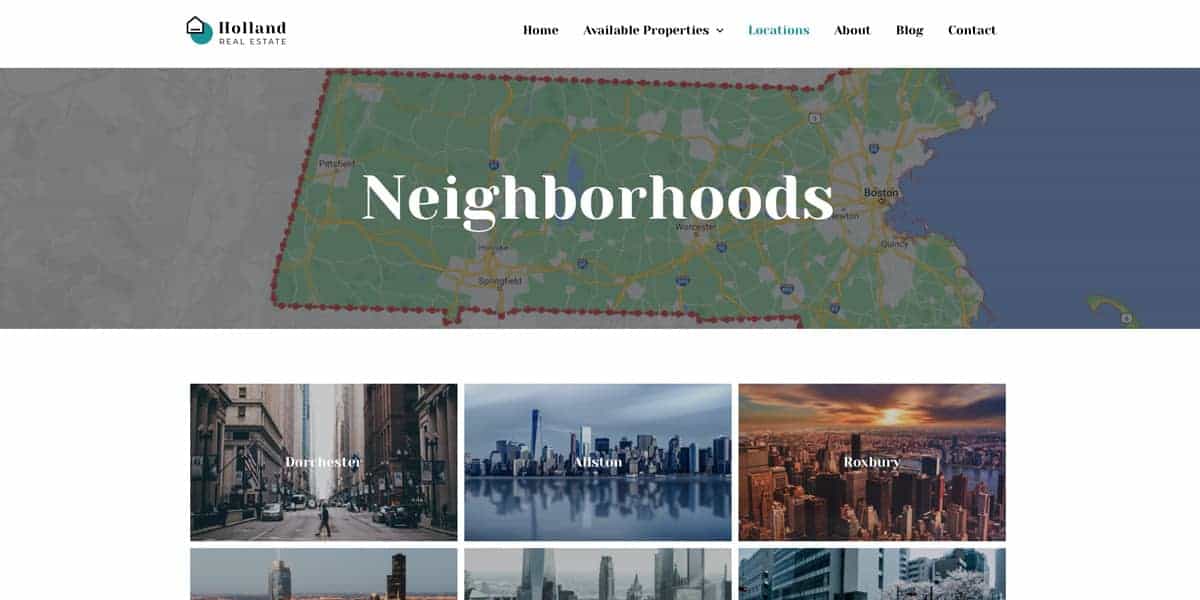 For starters, the theme itself is gorgeous right out-of-the-box – but the builder and the builder elements allow for total customization from top to bottom.
Best of all, you don't have to know any coding or any programming to make these changes. The whole system is designed with a legitimate drag and drop style design system, making it easy for every customer to totally transform the way Astra looks in record time.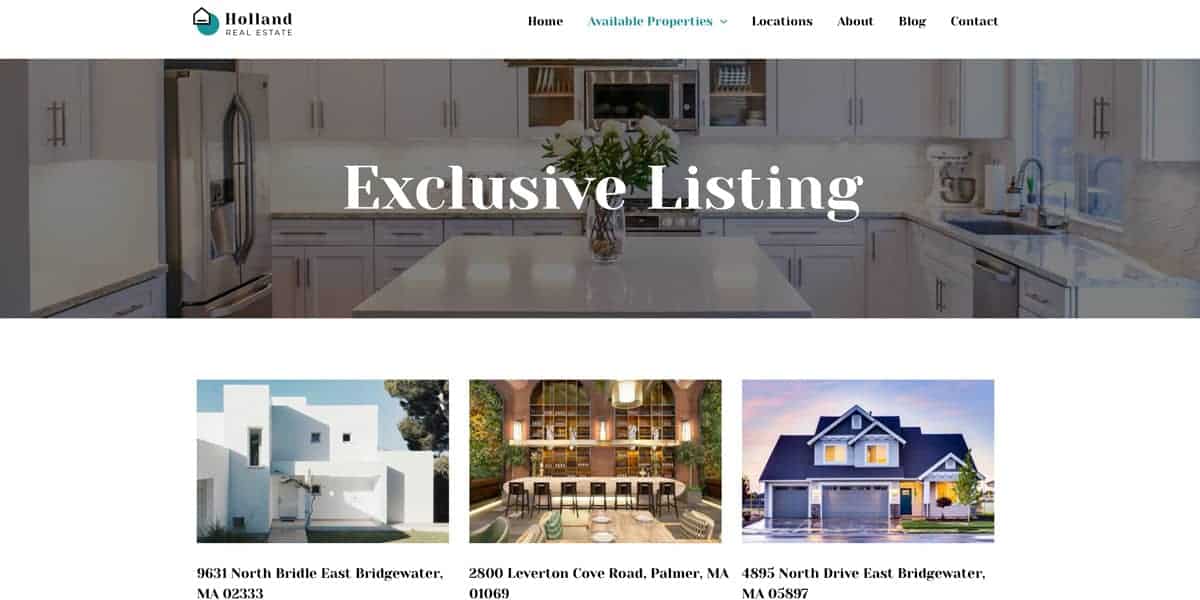 On top of that, the layout settings option make it really easy to use a unified theme across a variety of different pages.
Real estate agents that want to use their WordPress theme to list, share blog posts, and to spread local news (particularly helpful with search engine optimization) are going to be able to do all of that – and more – with Astra.
6. WP Residence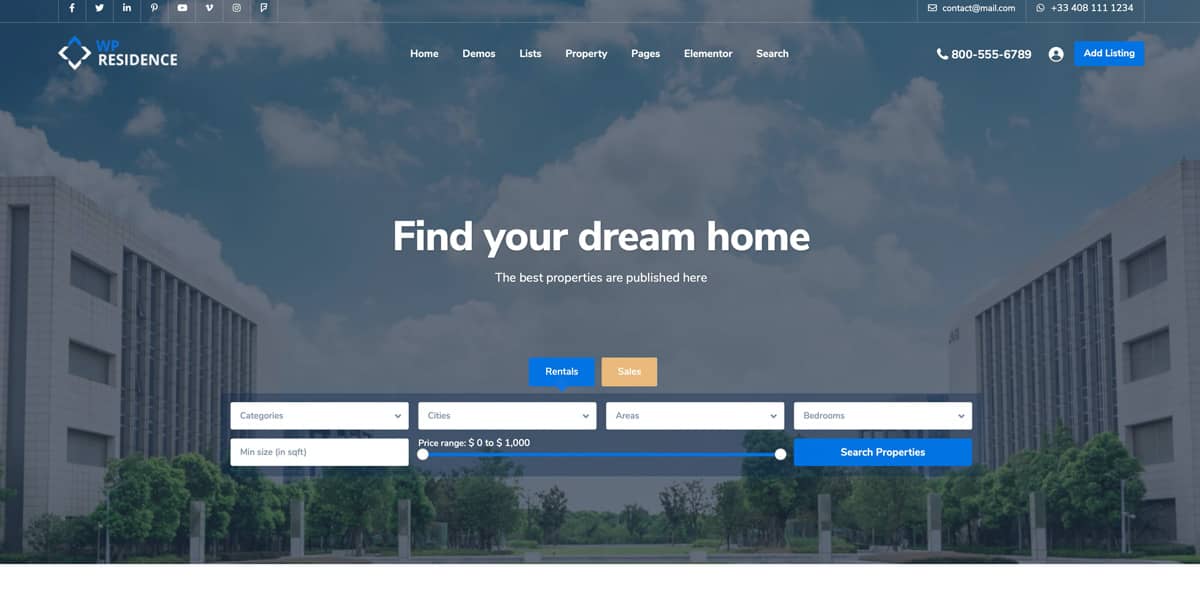 As far as state-of-the-art WordPress real estate themes are concerned, it doesn't get a whole lot more advanced than WP Residence.
For one thing, this theme is built from the ground up with responsive design principles in mind throughout.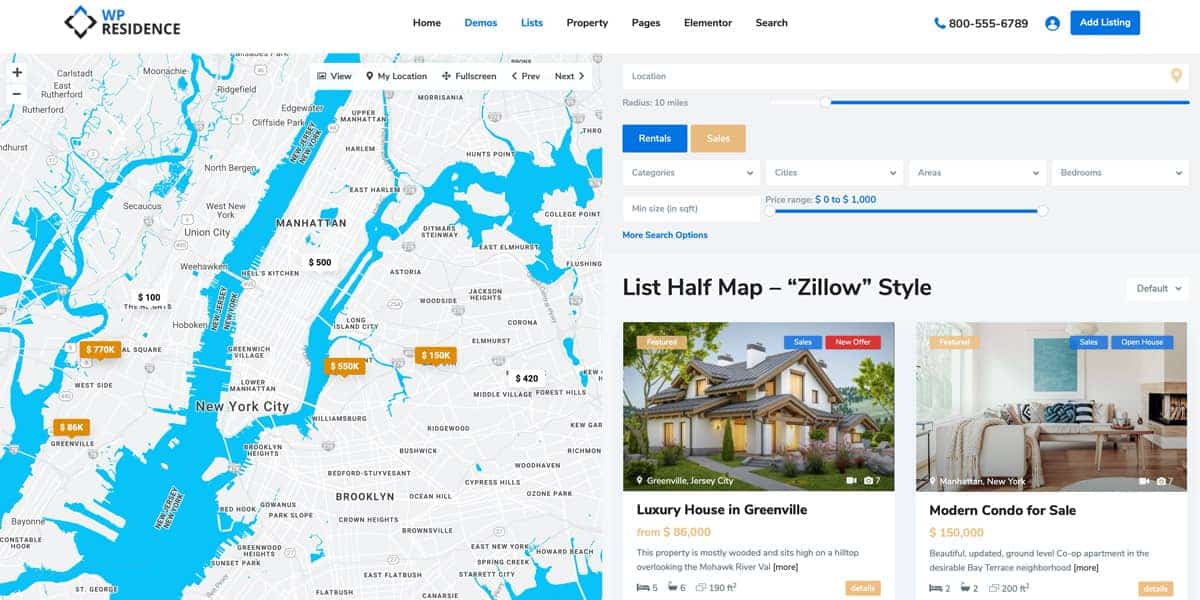 The layout, design, and multimedia on your site will look fantastic regardless of whether or not visitors are checking your platform out on a phone, tablet, or widescreen monitor.
Everything looks clean, well-organized, and easy to navigate – and the platform is definitely built to produce real estate company results!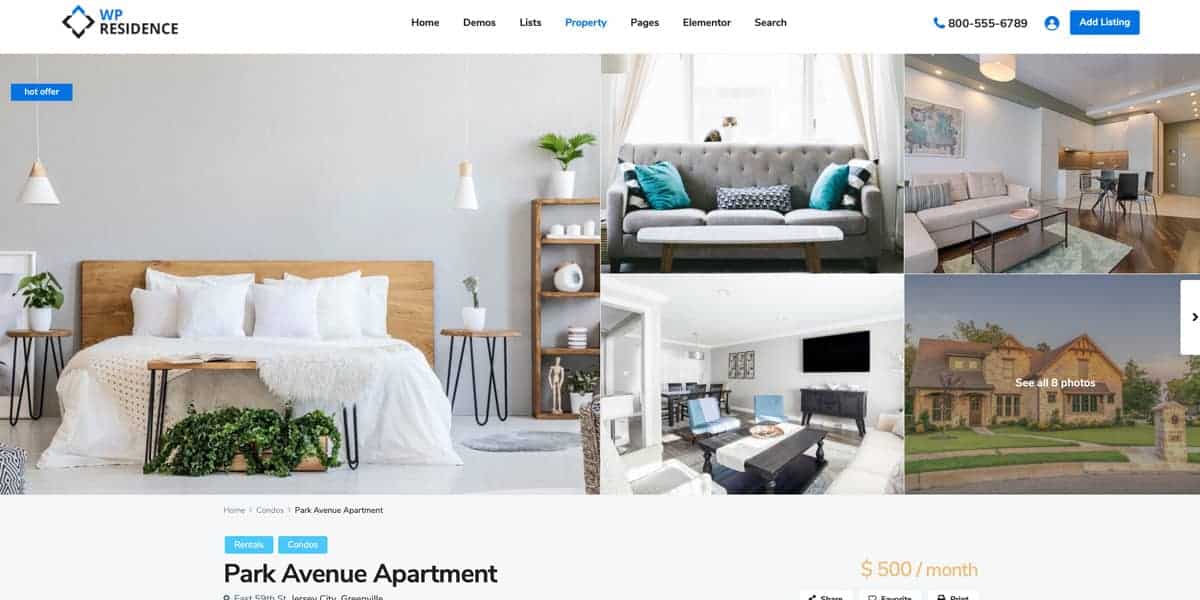 19 premade themes are ready to roll (with one click customization available), but you can also use the visual page builder to totally customize every aspect of the design, too.
Only the Astra WP theme is more flexible than this one!
Modern design elements abound, the essential features you need to run your real estate business are implemented as well, and the whole system "just works" right from the moment you install it on a fresh WordPress set up.
7. HomePress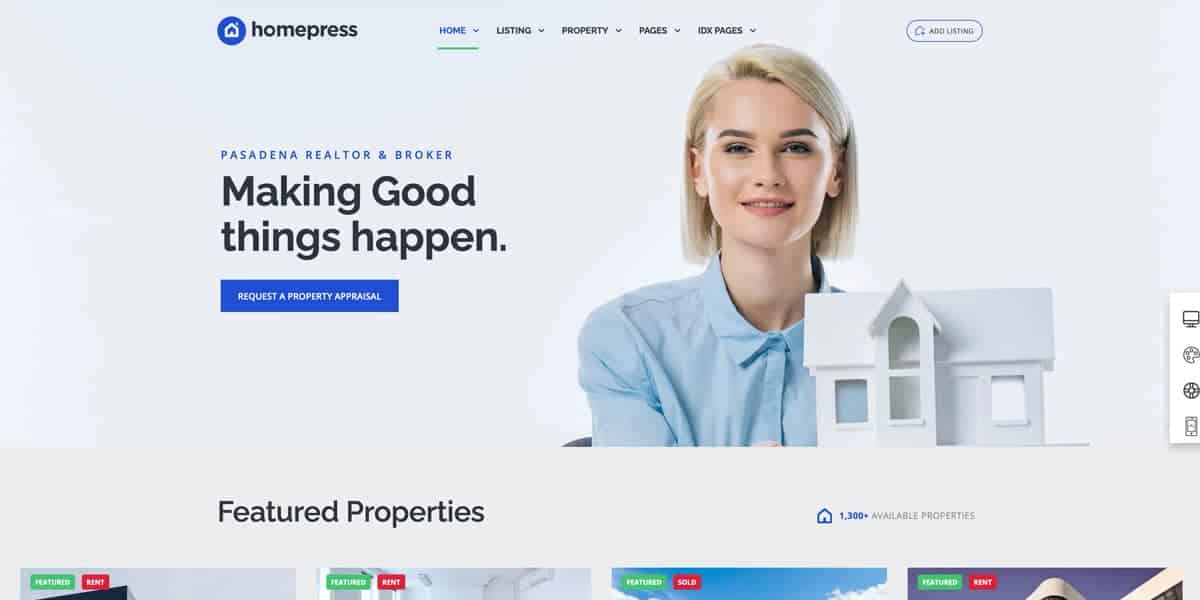 On my hunt for the perfect real estate WordPress theme I looked at hundreds of different options, but I kept coming back to HomePress again and again.
A big part of that is because the folks behind this responsive design theme are always adding new features, new layouts, and new "demo platforms" – 100% free of charge, no less – to an already amazing real estate agency WordPress theme.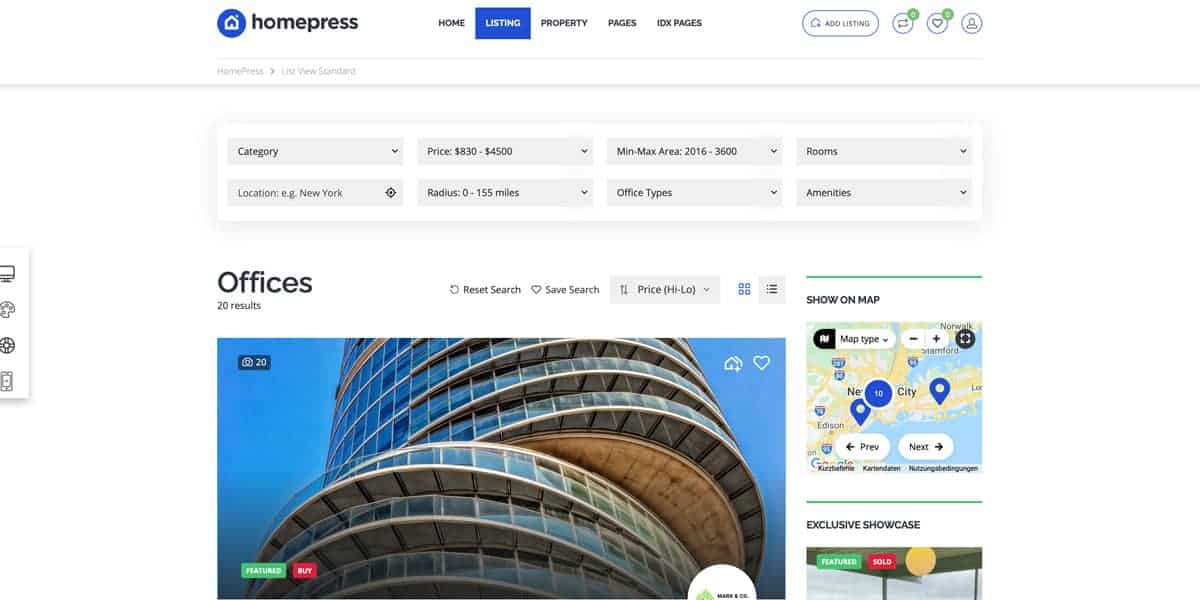 As of right now (late 2021) this theme has 18 pre-designed layouts ready to go. One click installs the whole system completely, getting all the page types ready to roll – all you have to do is add content and you are off to the races.
You can also tinker with custom widgets, dial in different Google SEO settings, and add different premium plug-ins and add-ons as well.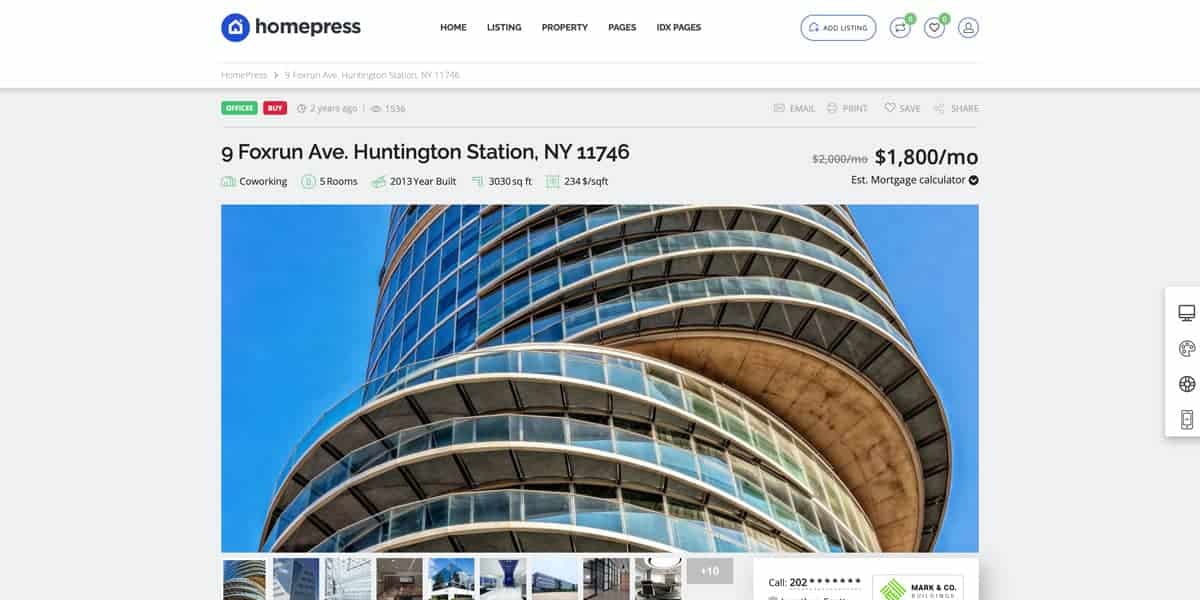 At the end of the day, though, the site is designed to work well in every browser (mobile or traditional) which is a huge boost for those serious about dominating their local real estate industry.
8. HomeID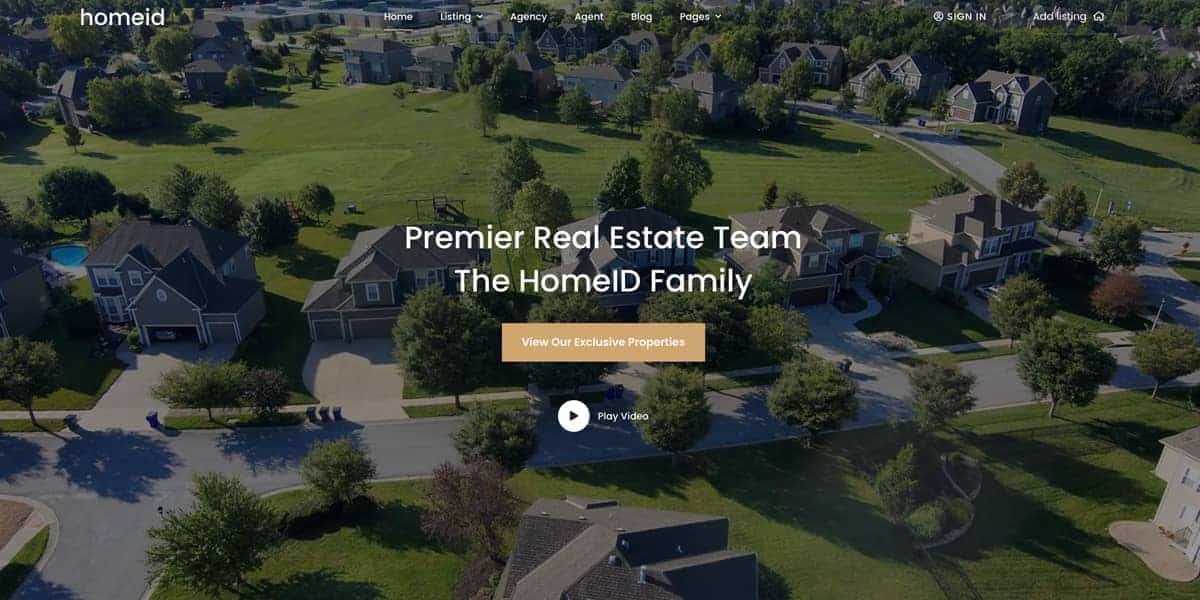 100% responsive (from top to bottom), this real estate agent WordPress theme is another purpose built option for those in the real estate world specifically.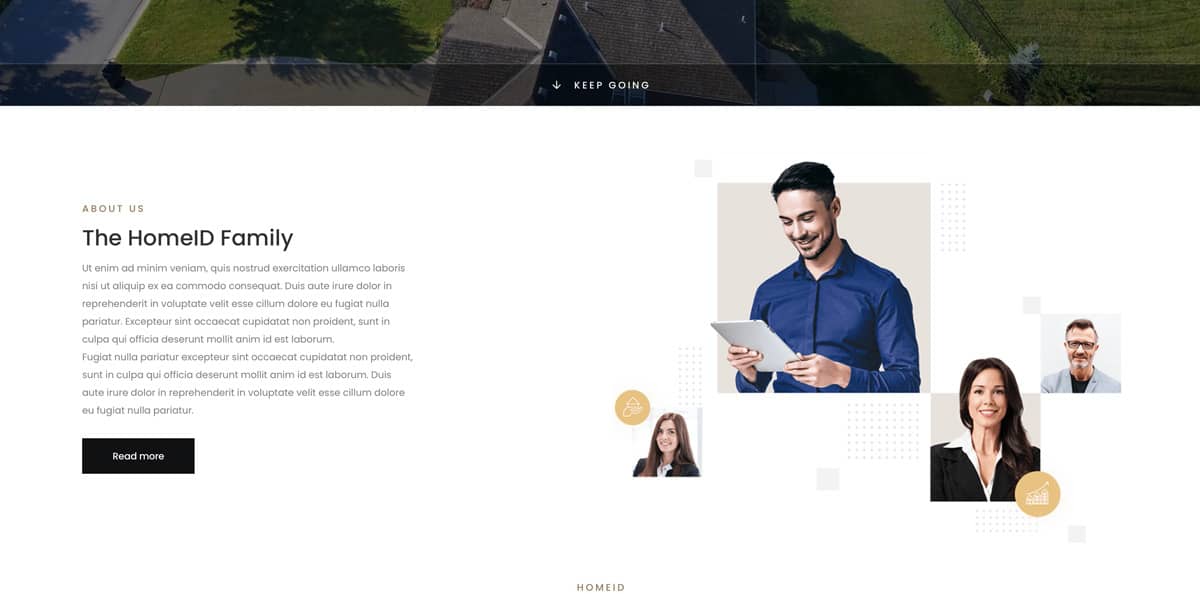 Offering all the tools real estate agencies need to run their business online successfully – including easy listings, a friendly and straightforward mortgage calculator, a detailed search form, and information regarding agency and agent details – it doesn't hurt that this theme is also gorgeous to look at!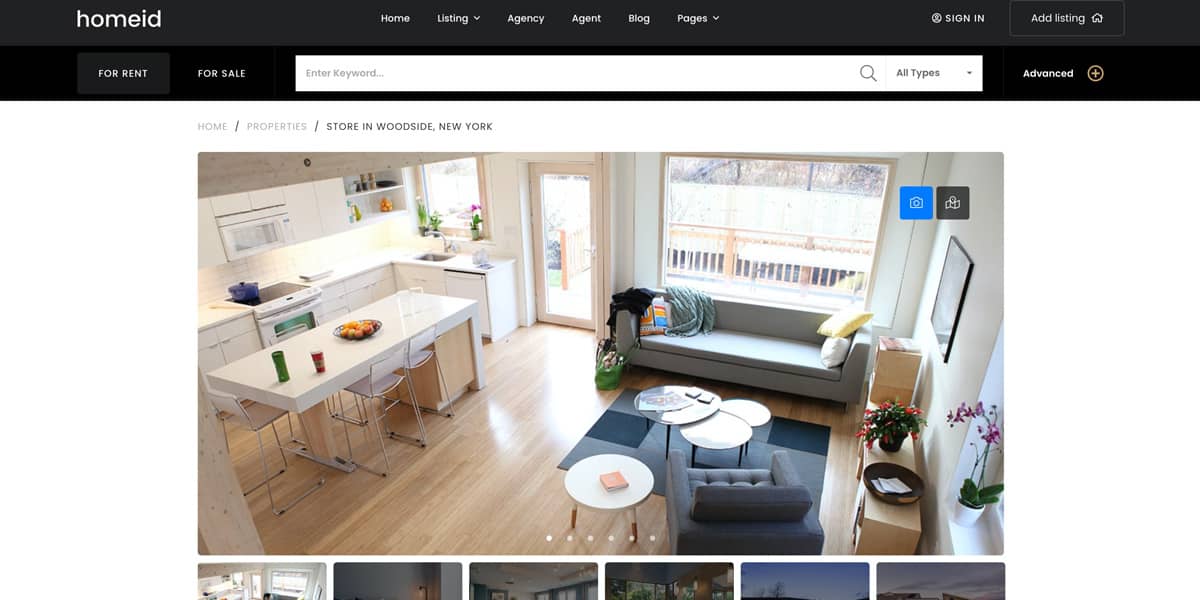 The responsive layout works particularly well with the navigation and the image galleries that are prebuilt for use with this design. Eight individual homepage layouts let you customize the look and feel of your site without having to spend too much time rebuilding everything from the ground up.
At the end of the day, this is a professional solution through and through – a perfect theme for those that want to get a great website up and running and then get back to the business of the real estate world!
9. Realtyspace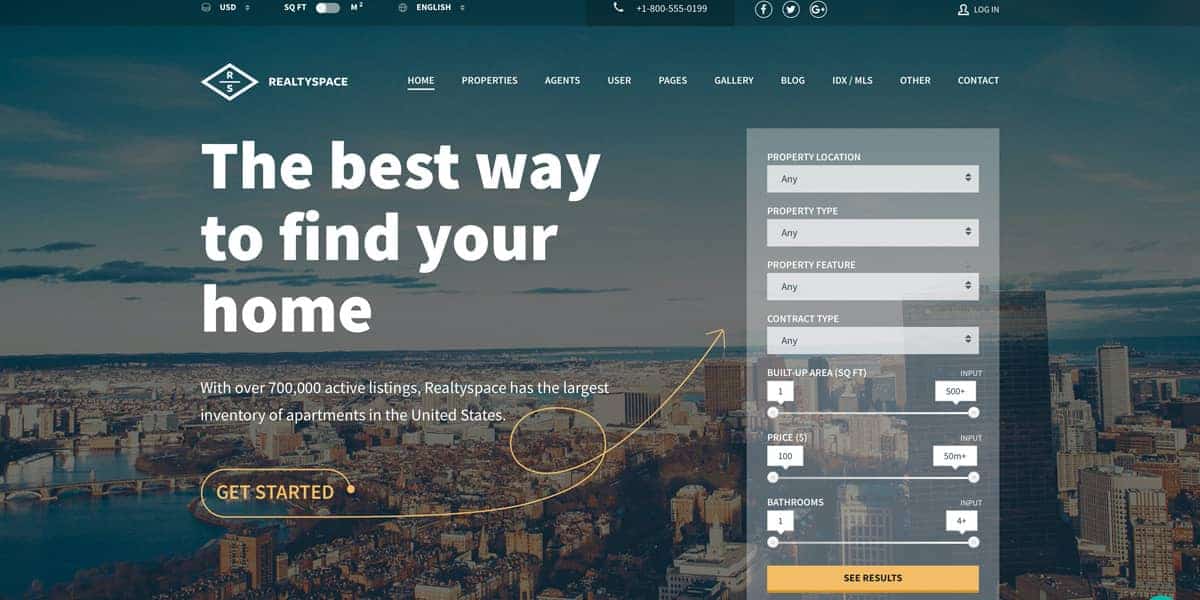 What's not to like about this WordPress theme?
For one thing, the responsive nature of the platform is really well pulled off. That's a testament to the designers and coders of this platform, especially since there are so many advanced (and dropdead gorgeous) elements on almost every page.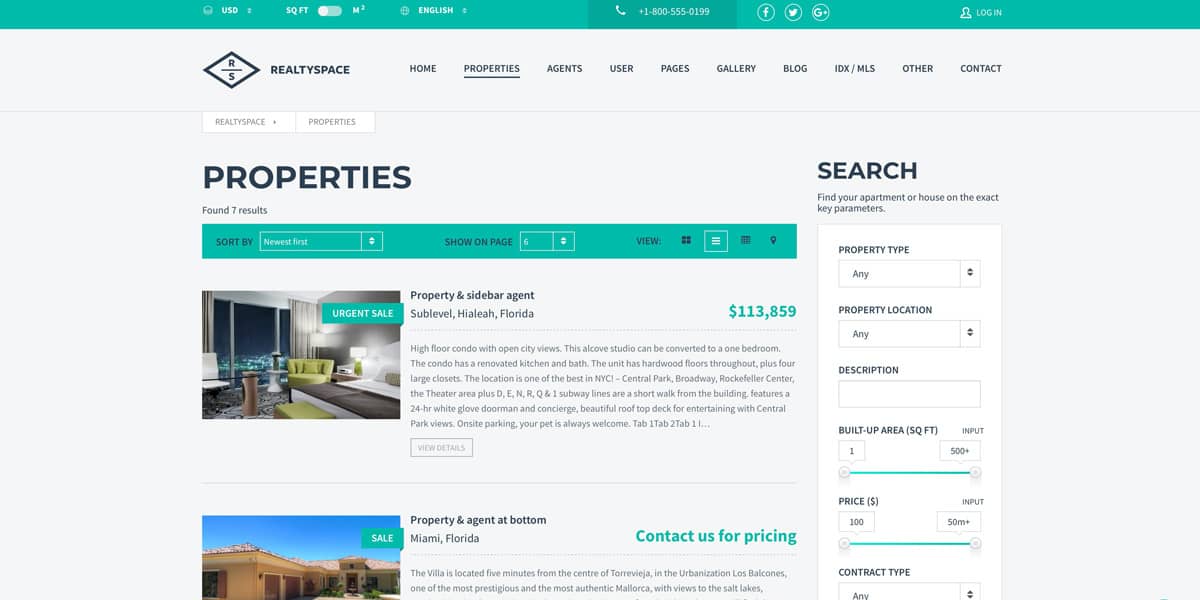 Secondly, though, the drag and drop page builder tools are foolishly easy to use – even if you've never played around with these kinds of tools before.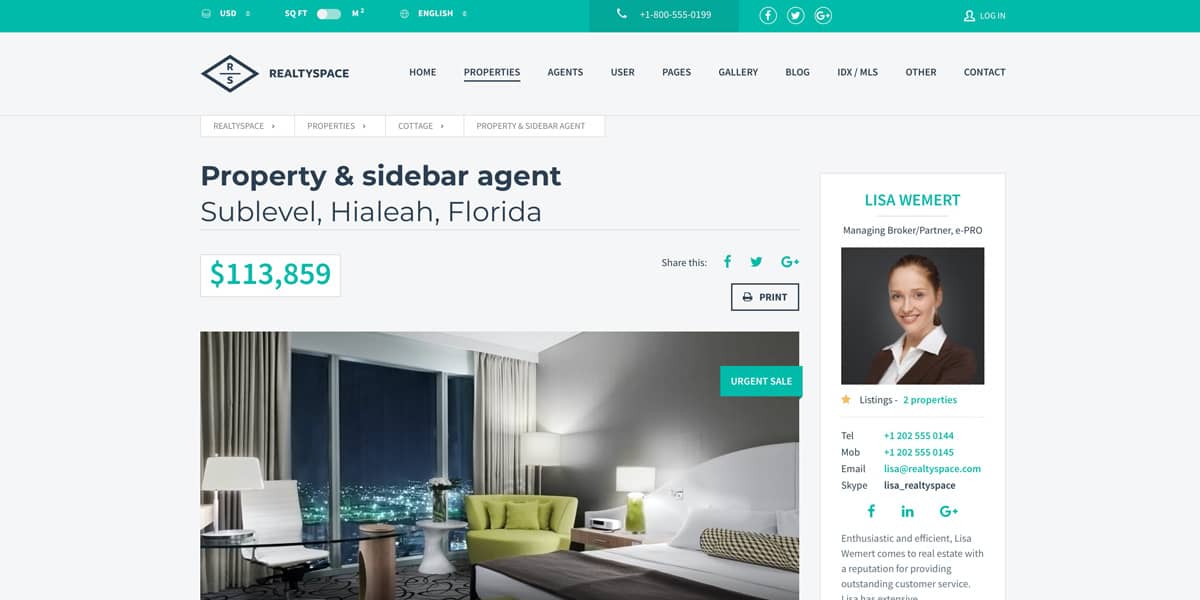 The design of this real estate professional theme is already dialed in, but if you want to play with it a little more (turn and already attractive design into something really special and custom) those drag and drop building tools are what you want to use.
Search engine optimization, page load times, and the safety and security of your user and business information our main priorities with this theme, too.
Frequently asked questions about real estate WordPress themes
Is WordPress Good for Real Estate?
At the end of the day, though, the best WordPress real estate themes in the world won't amount too much if WordPress somehow handicaps real estate professionals from building websites that help them build their business.
I can tell you that WordPress is the only way to go these days, though!
Whether you run a huge real estate firm, a small real estate shop, or are just looking for a website to manage your investment properties and rentals, WordPress has you covered.
This platform is ridiculously feature-rich, has almost unlimited layout options available to pick and choose from, and is filled top to bottom with add-ons, widgets, and other premium – and free – tools to extend the capabilities of your site.
There's a reason why hundreds of millions of websites are built with WordPress already, and why hundreds of millions more will be built on top of the WordPress architecture going forward.
You're in the best of hands when you use WordPress real estate themes to get your site rolling.
Does WordPress Support IDX?
WordPress itself does not natively support IDX, though there are a lot of plug-ins available (some of them free, some of them paid) that let you integrate IDX with your WordPress platform.
You'll want to be careful about the plug-in that you choose (especially since you'll be sharing your MLS information with that plug-in), but a little bit of research and due diligence will point you in the right direction.
The good news is that you'll be able to implement IDX with your WordPress install with little headache or hassle!