Are you looking for the best consulting business WordPress themes? For a good client I recently had to find a selection of the best designs and consulting themes. His requirements: the theme should look professional and be responsive and display perfectly on all devices.
Especially the professional look is very important as a consultant. No client will consult you and your firm if your website looks somehow self-made.
What makes a theme a good consulting theme?
The themes I present here are absolutely user-friendly. No need to hire an expensive agency for your website.
Perfect user experience
For your website, I want your visitors to have a great user experience. First impressions count and a positive user experience sticks in people's minds.
Integrated premium plugins and blocks
All themes in this article offer you an integration of premium plugins and additional blocks for Gutenberg Editor. This makes it even easier for you to create a nice looking website on your own.
And without high additional costs you have to spend for addons later.
Marketing campaigns
You can get traffic in the long run through good content. Or through sophisticated marketing campaigns. All themes in this list make it easy for you to create your own campaigns.
What Are the Best WordPress Themes for Consulting Business?
Let's get to the introduction of each consulting wordpress themes for your business.
The order of the themes in this listing corresponds to the order of my recommendation.
---
1. Astra – The Swiss army knife theme for consultants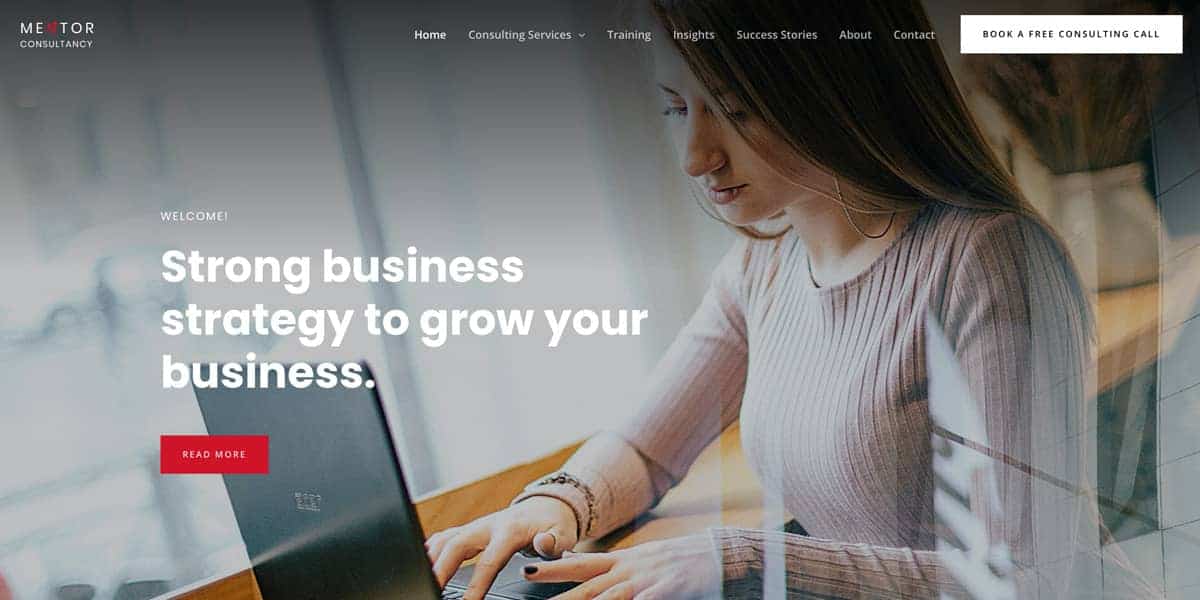 The hunt for the right consulting business WordPress themes was a huge headache.
At least until I came across Astra.
I set out to find a business theme that was:
Stable and reliable
Safe and secure
Modern with a responsive theme layout
And completely customizable. Without me having to spend hours and hours tinkering with code. Or playing with plug-ins and add-ons.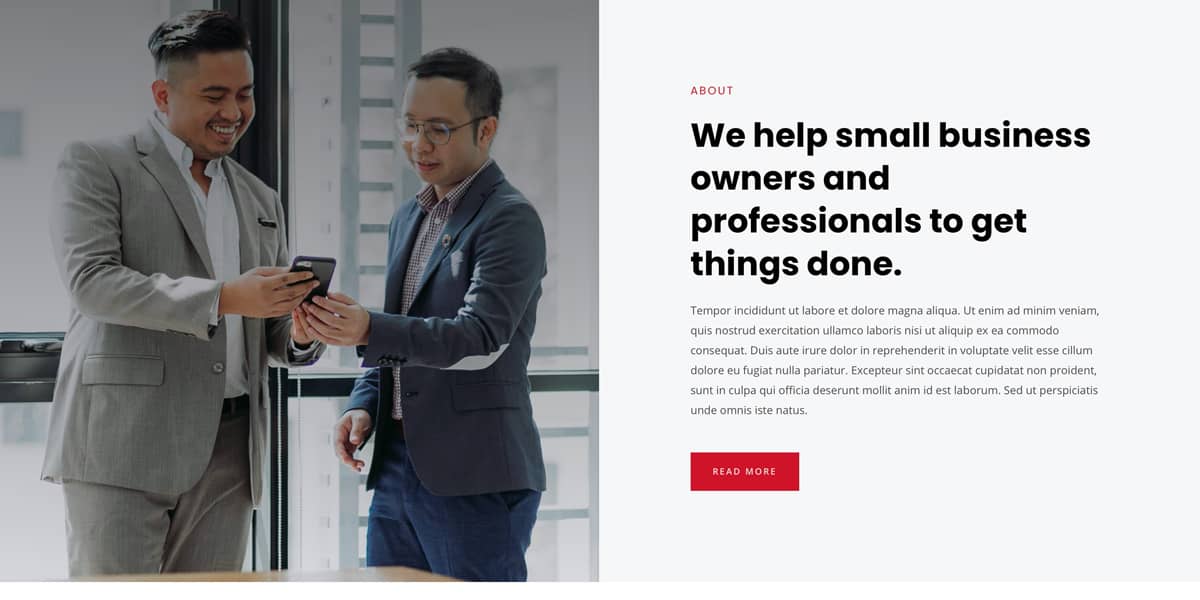 Astra delivered all of that and then some!
One of the best business premium themes I've come across. Especially for my consulting agency.
Everything about this platform was pretty simple and straightforward to get started with.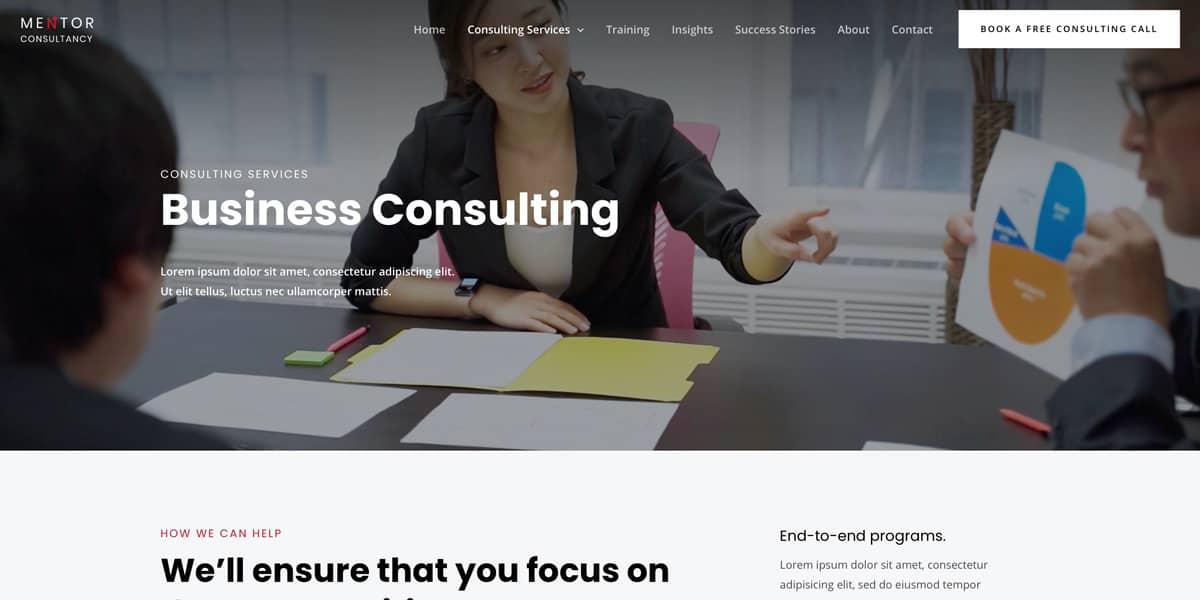 The builder plugin and tools were well laid out and easy to understand. The unlimited sidebar capabilities were a nice bonus, and the inclusion of Google Fonts and sliders was pretty cool, too.
At the end of the day, though, the search engine optimization and business building bonuses of Astra made a bigger impact than the unlimited colors and easy background customizer panel.
This is one of my favorite consulting website WordPress templates on the market today.
---
2. Avada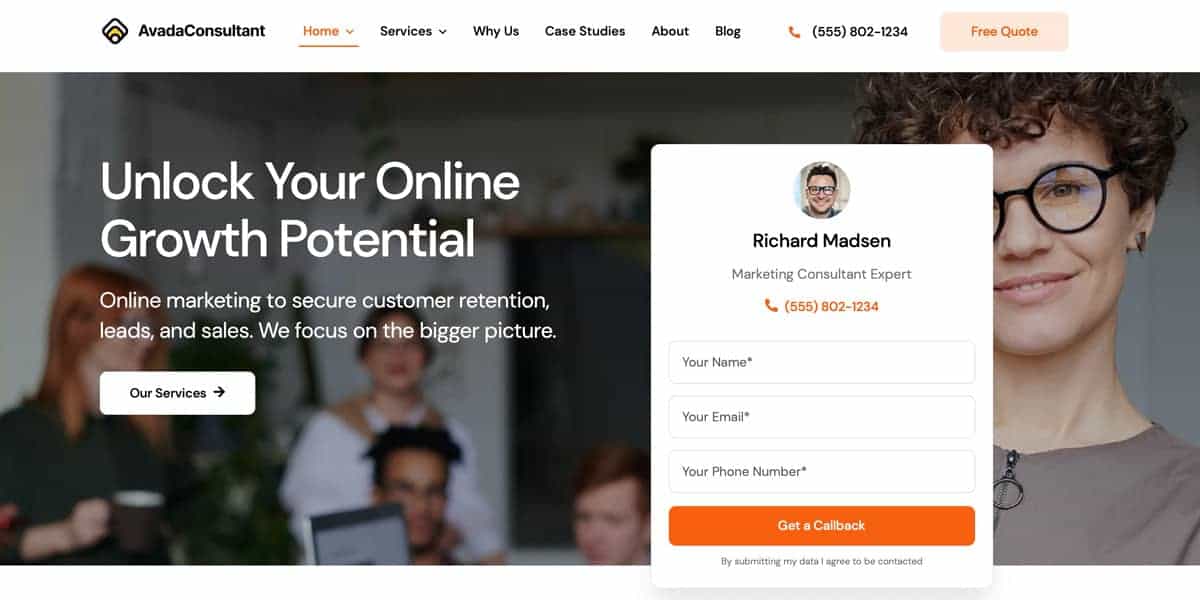 A multipurpose theme, this is another business first consulting theme for WordPress that's perfect for consultants that don't want to spend a lot of time designing or customizing their website – but can't afford a less than professional look, either.
Currently on the 7.4 version, this platform has everything you could want from a WordPress theme for consulting businesses.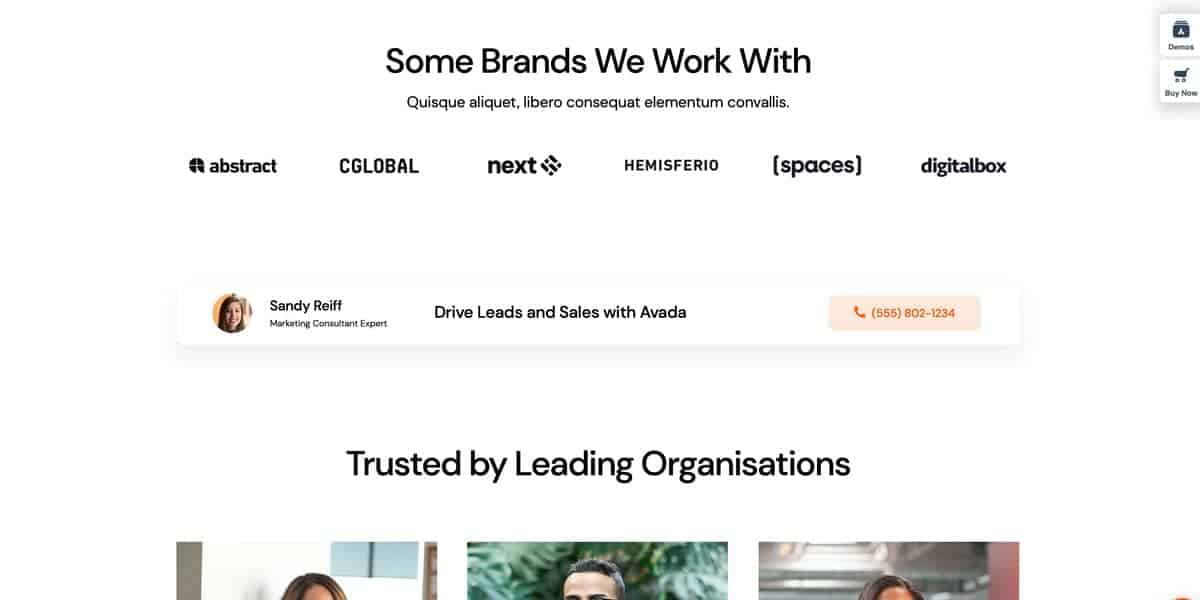 For starters, the drag & drop page builder plugin is really easy to use. That allows you to customize every aspect of the powerful theme options without having to write a line of code.
The library of design elements, Google Fonts, sliders, and other "extras" helps to separate this WordPress theme from the rest of the pack, too.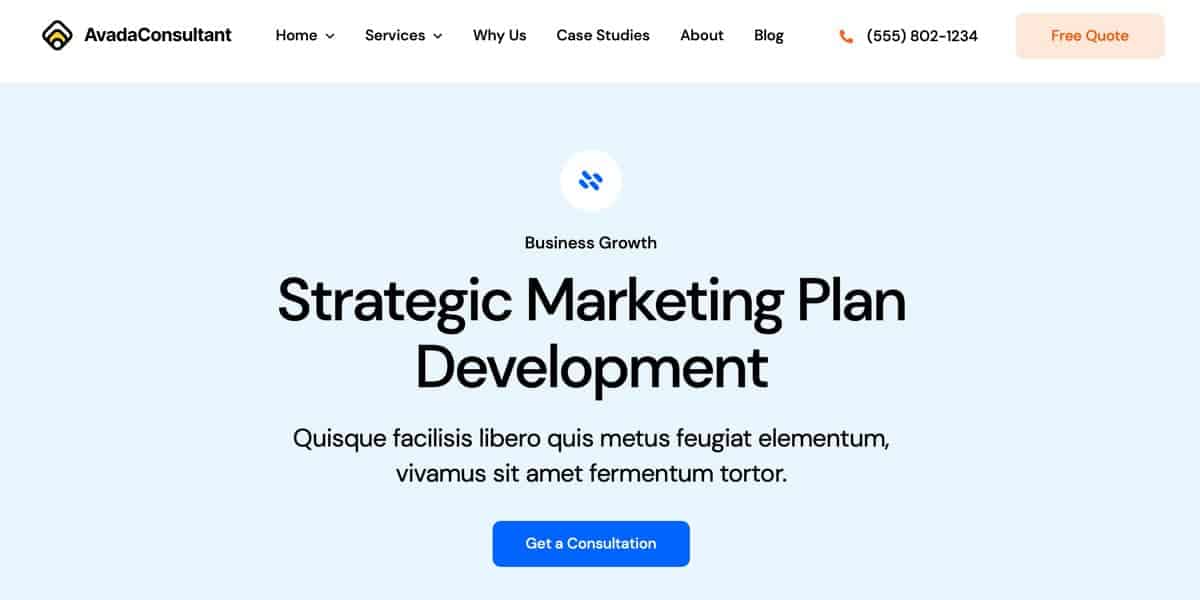 What I really liked, though, were the video tutorials walking me through how to use this consulting theme for WordPress. These tutorials unlocked the power of this multipurpose theme and help me use Child Theme options to speed up design time.
I ended up with a gorgeous WordPress website built in just a few hours – all while spending a fraction of the money I would have spent on a bigger template package or custom web design work.
---
3. GeneratePress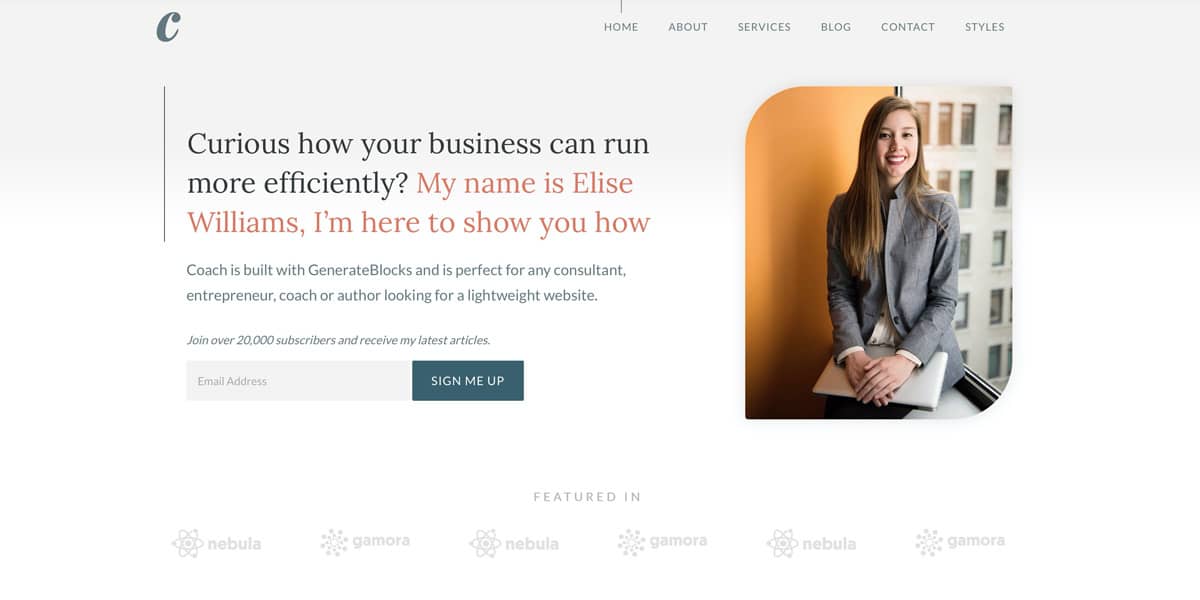 The best way to think about this WordPress theme for consulting business owners is to think of it as a framework or a set of blueprints rather than a fully designed and conceived of "theme" ready to rock 'n' roll.
All the bones are there. All the pieces you need to put together gorgeous customizations in WordPress are easy to access and even easier to use.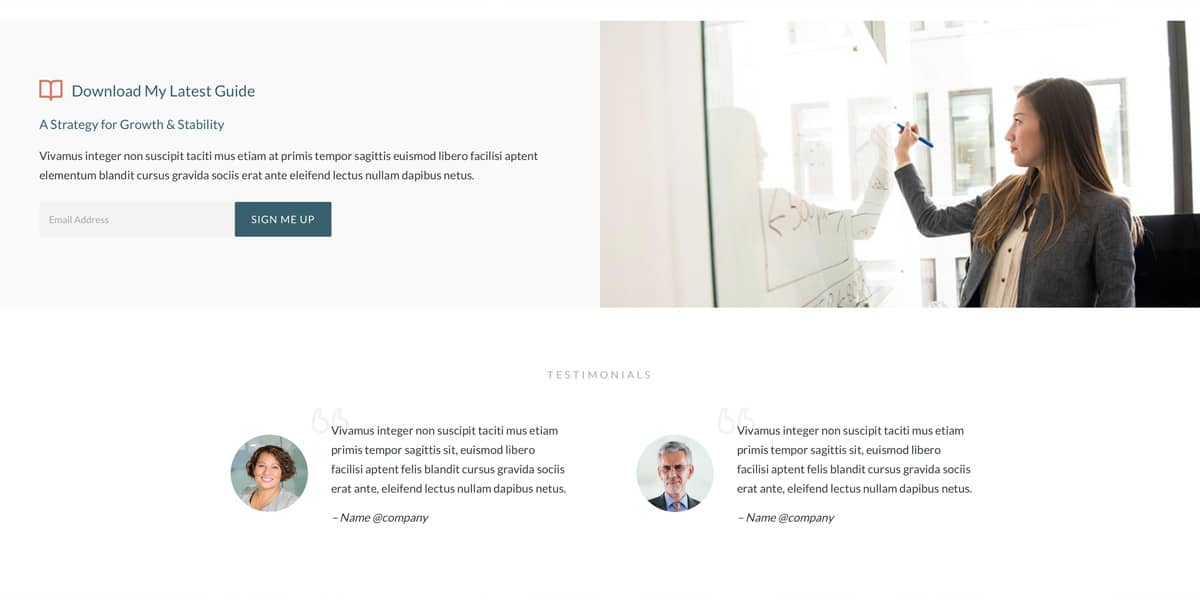 The visual page builder plugin is highly responsive, showing you exactly what your website is going to look like (in real time). That alone is reason enough to consider moving forward with this over other consulting business WordPress themes!
Add in the freedom and flexibility this builder offers (the ability to generate services, business info, about us, contact pages, blogs, and more in two seconds or less) and it becomes a real no-brainer.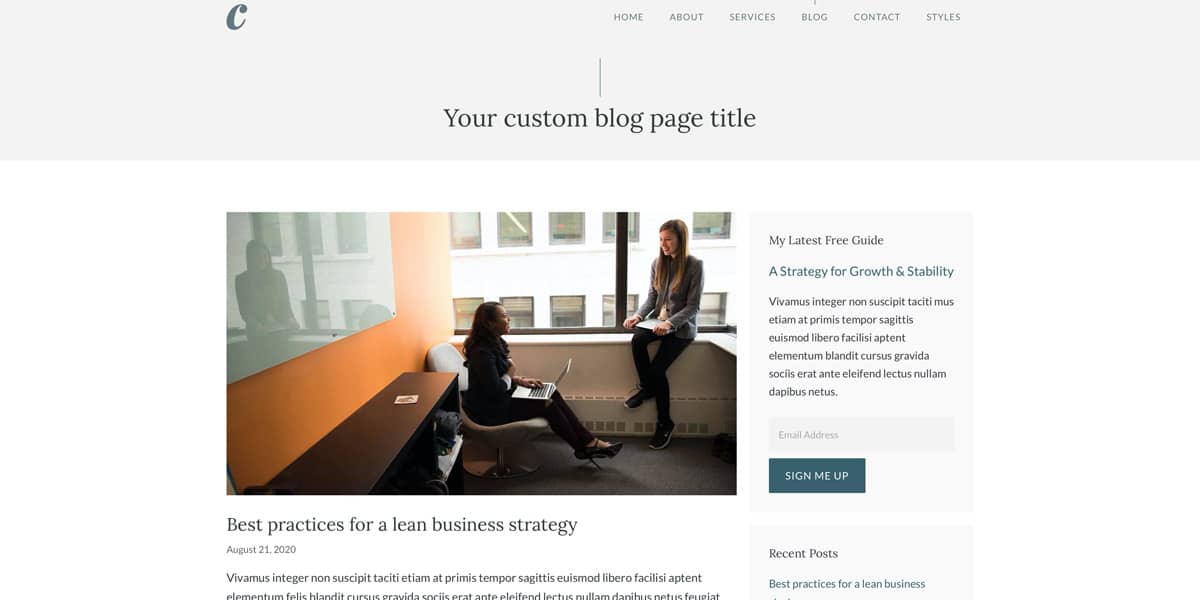 This is quickly becoming one of the most frequently recommended themes for me.
All the people that I've pointed in this direction have been very happy with the unlimited colors, unlimited design freedom, and unlimited functionality capabilities of this WordPress template, too.
---
4. Avantage WordPress Theme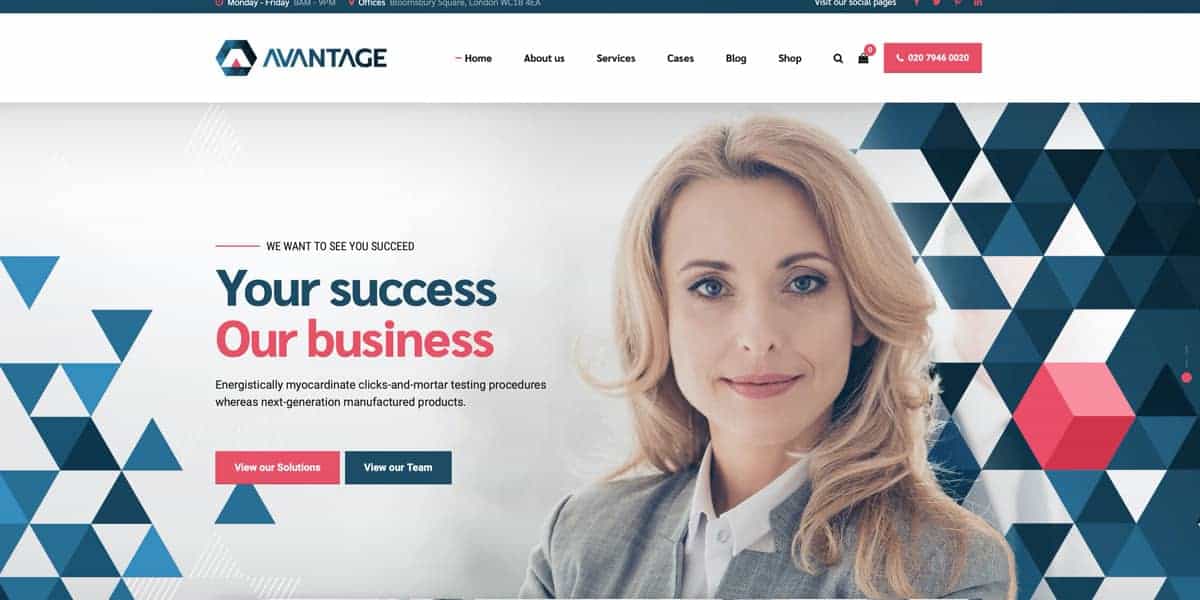 You'd be crazy not to guarantee that your new website was built on the top of a responsive theme like this one.
The Advantage WordPress theme was built from scratch with business consulting services in mind.
Marketing consultants, advertising consultants, financial advisors, investment brokers, and any other consultant you can imagine will be able to make this responsive design WordPress theme their own.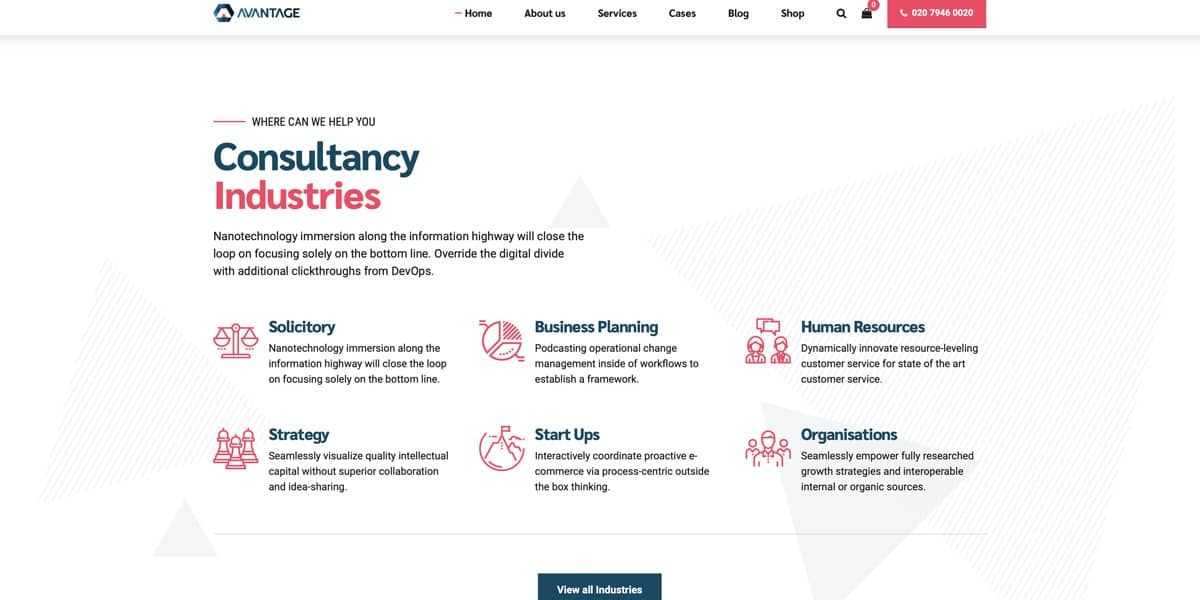 And they'll be able to pull it off a lot faster than they would have with other consulting themes, too!
That's because advantage provides a whole run of prebuilt content pages (page layouts, really) that can be dragged and dropped onto your site in no time at all.
Nine individual header styles allow you to customize the look of your pages a little more, and the inclusion of the Bold timeline plugin (100% free of charge with purchase of this WordPress template for consulting businesses) is a nice bonus, too.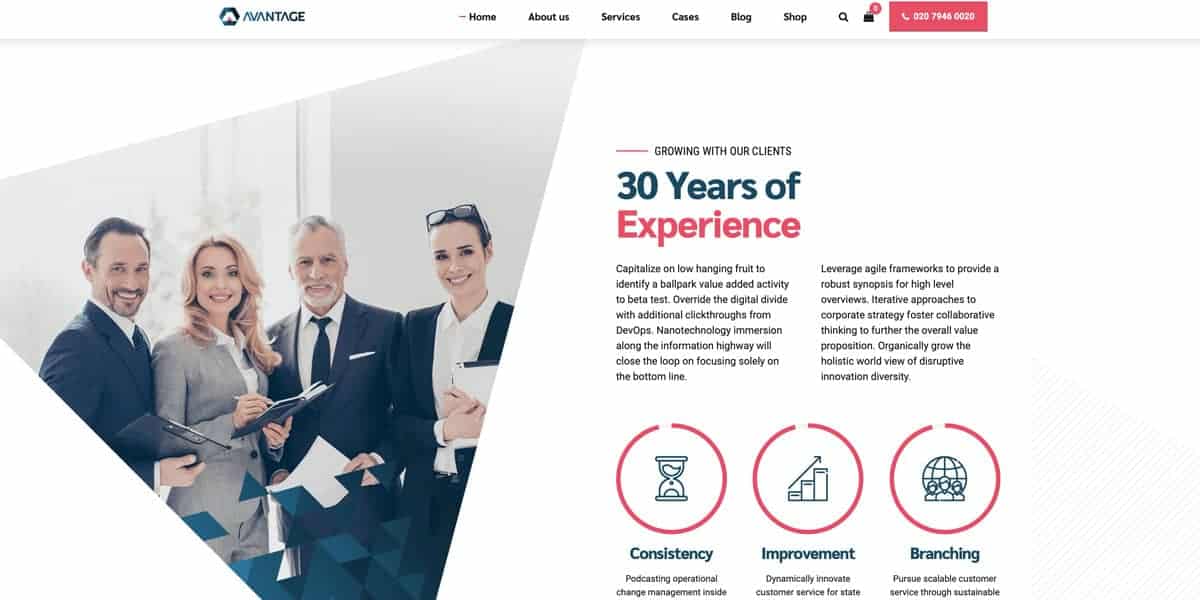 Imagery and copy design are huge priorities here, recognizing that this theme is (first and foremost) going to be used to win more consulting business.
You'll be able to present a very professional face (on widescreen monitors and the smallest mobile devices alike) when you use Advantage to power your WordPress install.
---
5. Consulting WP – Business and Finance WordPress Theme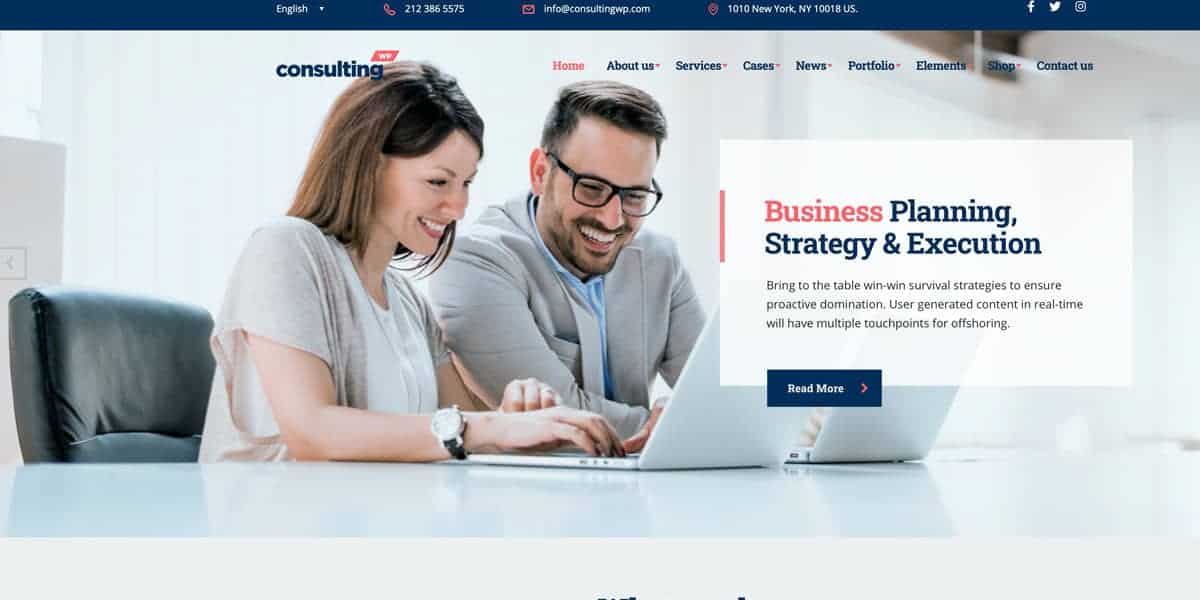 The top, number one best-selling consulting theme for WordPress on ThemeForest there's no way I could make a list of the best consulting business WordPress themes without touching on this one.
For starters, the whole platform has been engineered to use both Elementor and WP Bakery.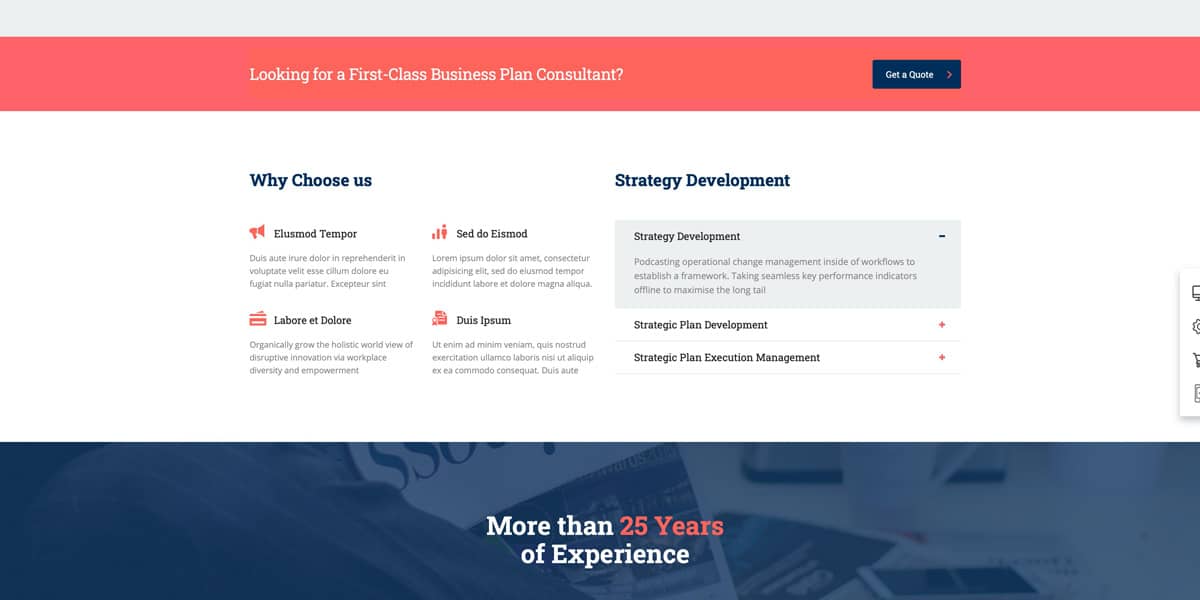 That right there dramatically extends the capabilities of this responsive design theme. You'll be able to drag and drop, plug and play, and tinker with the look, feel, and functionality of this theme bundle with no extra effort at all.
Digging a little deeper into the theme options (for business purposes, anyway) and you'll find the ability to run digital meetings – over Zoom and other services – right through your website.
That's a huge bonus for consultants today, especially in the emerging era of remote work.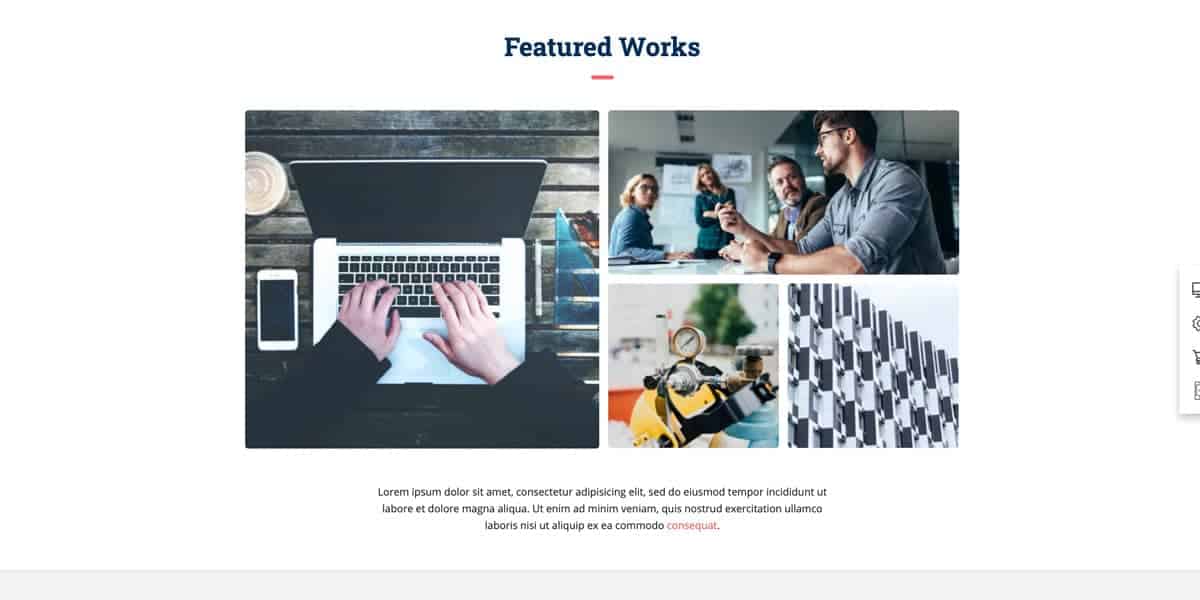 On top of that, a custom sidebar can be loaded up with all kinds of plug-ins and add-ons. A calendar system (highly advanced booking system) can work on the front end or the backend to make this consulting theme for WordPress even more useful for your business.
48 individual design demo content layouts are ready to rock 'n' roll as well, helping you jumpstart the customization process. You can really make this platform your own with almost no trouble at all.
---
6. Consultio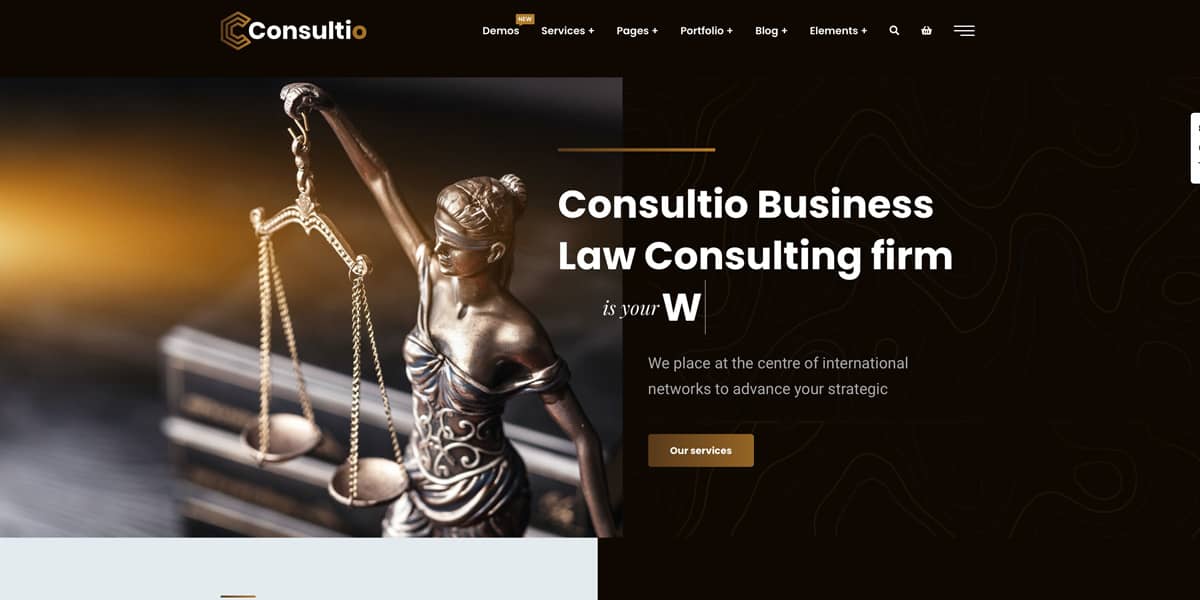 Another of my favorite consulting business WordPress themes, this one has won numerous awards as well – and is a runaway bestseller on ThemeForest for sure.
With 62 (last count) predesigned demos ready to roll, consultants are going to be able to get a polished, slick, well-designed website up and running in about three clicks of their mouse.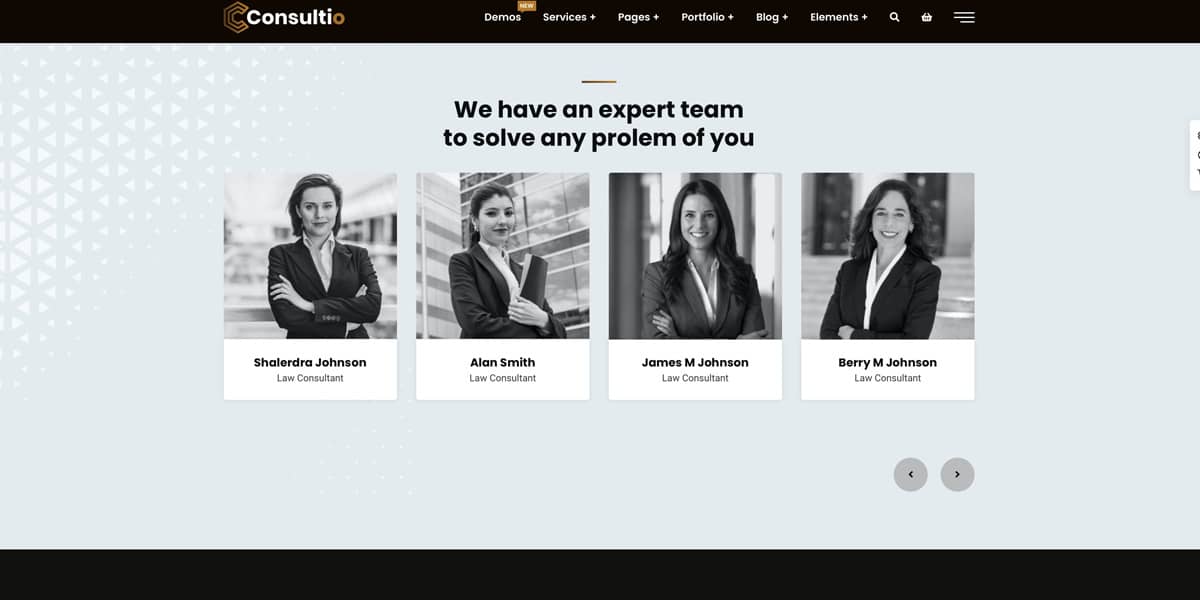 After that you are going to have total control over the minimal design aspects of this platform. You can tinker with the look, the feel, the color, and the multimedia of this template using the built-in builder tools, too.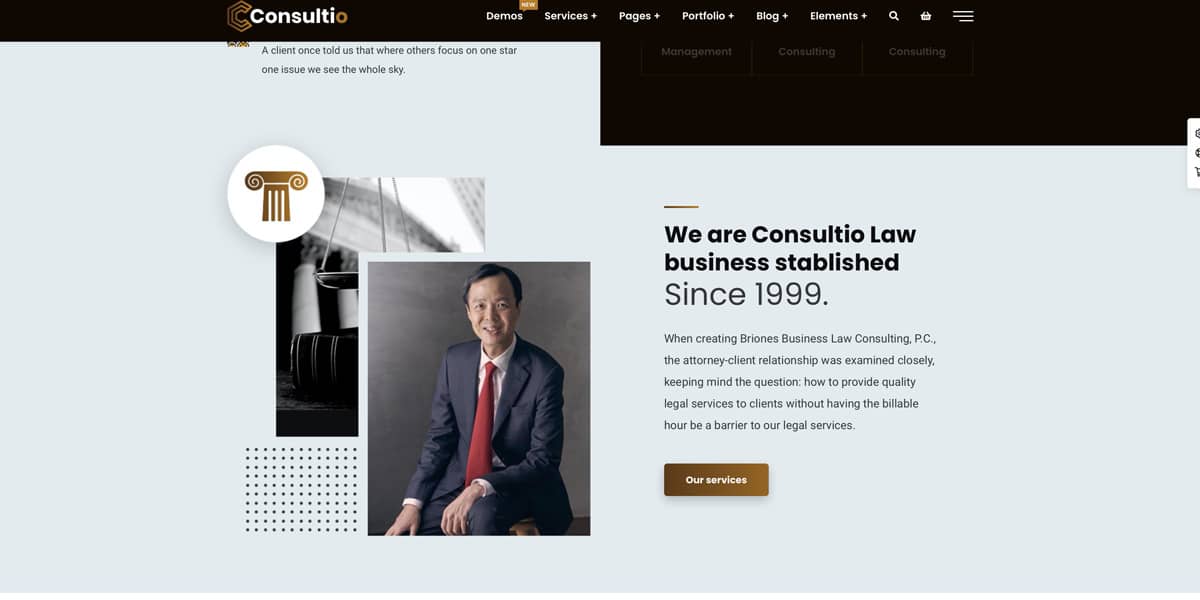 Contact forms are perfectly implemented with this business focused theme, giving your online presence a bit of a boost in the usefulness department. Add in the polished SEO practices that this theme is built on top of (quick load times, on page and off page optimization, etc.) and it's well worth a closer consideration.
---
7. Corzo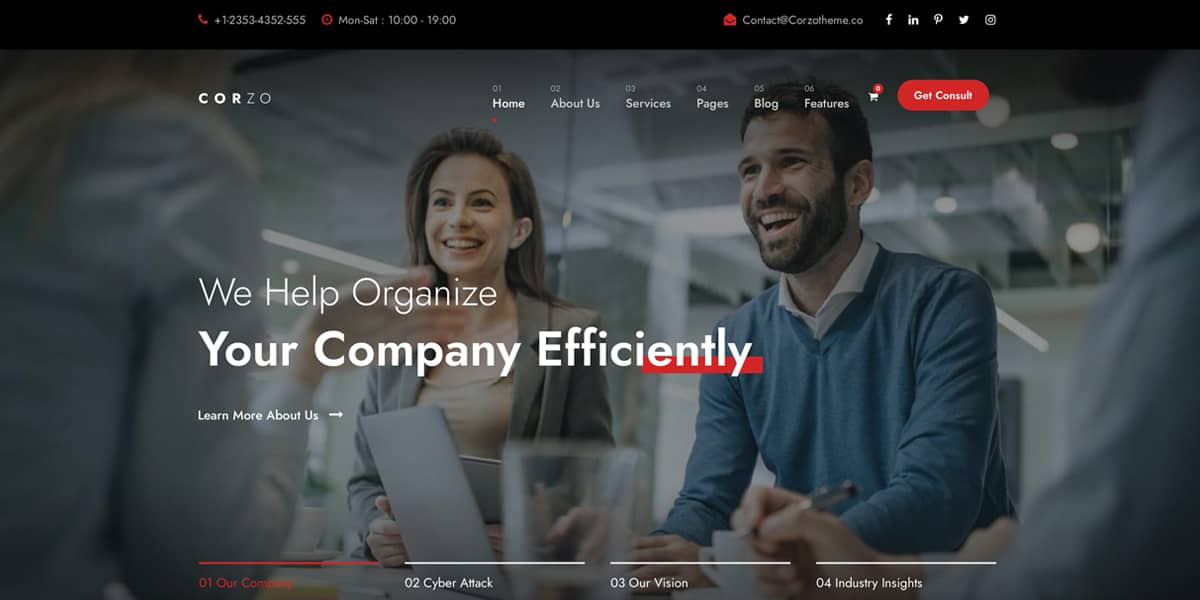 This WordPress theme for consulting business owners has been made by WordPress pros with more than 170,000 customers worldwide – all of them very happy with the responsive layouts, complete customization options, and business focused build principles a theme like this brings to the table.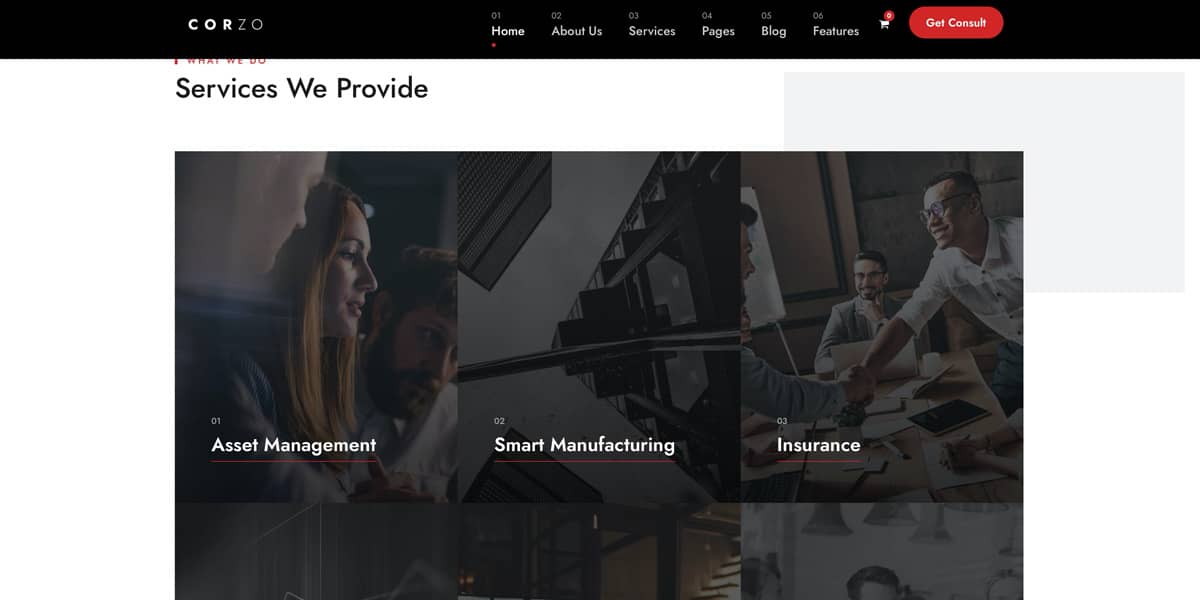 The page builder on this modern design website is a little less complex than some of the other options. But that makes it a lot easier to pick up, especially for newbies that want to be able to produce engaging design elements for their site without spending hours and hours carefully crafting every pixel.
Multiple header layouts for a professional design are available to speed the design process up, and other theme options allow you to customize individual pages – like services pages and blog posts, for example – so that everything doesn't have that run-of-the-mill, sort of bland look.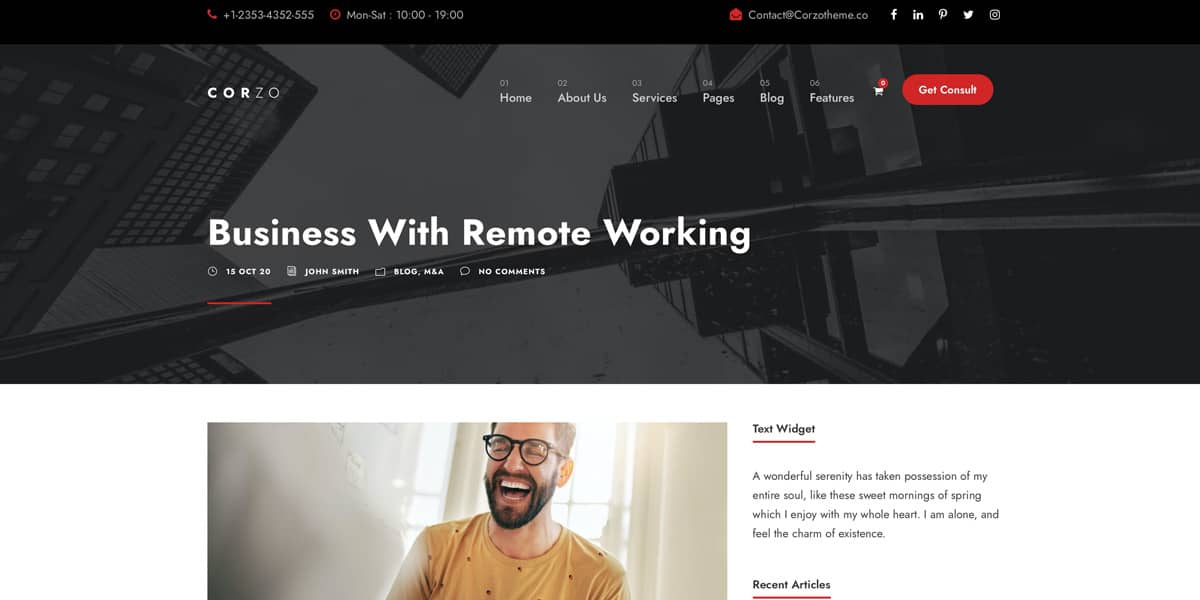 All in all, not a bad option for consulting businesses that want to upgrade their look online without an agency.
---
8. Ekko – A consulting business finance WordPress theme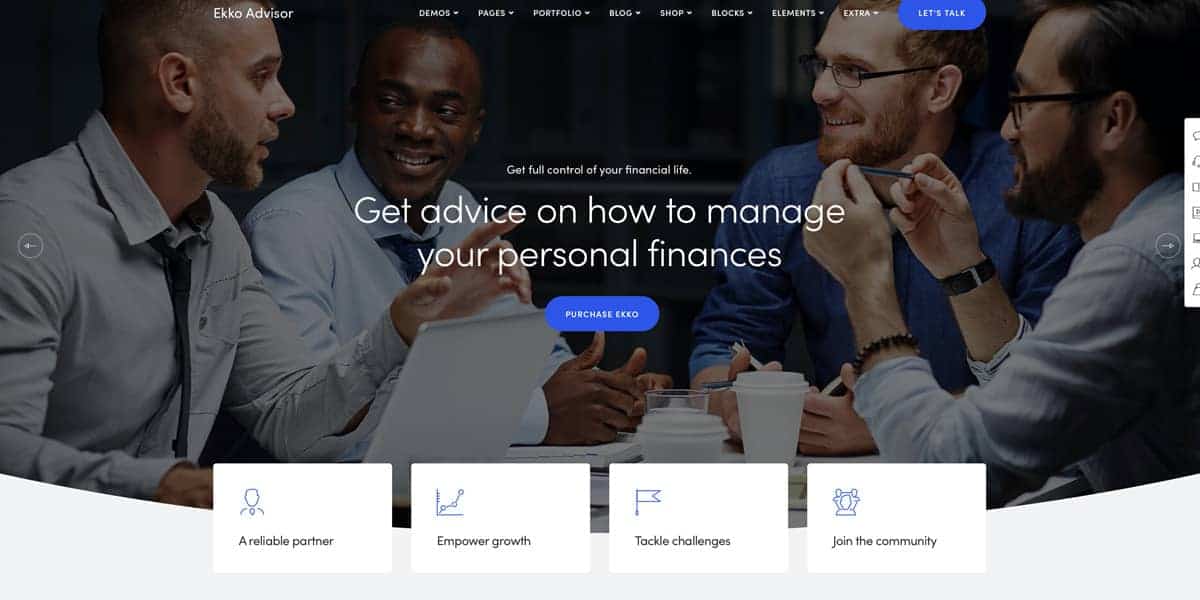 This beautiful theme is a little harder to review than some of the other consulting business WordPress themes out there, if only because it's such a "blank canvas".
Not only will the clear design principles of this WordPress template work well for corporate websites (ideal for consultants), but there's a lot of creative freedom here as well. That creative freedom helps make this theme particularly well-suited to a variety of different applications – including e-books, event and conferences, web hosting, sales pages, and more.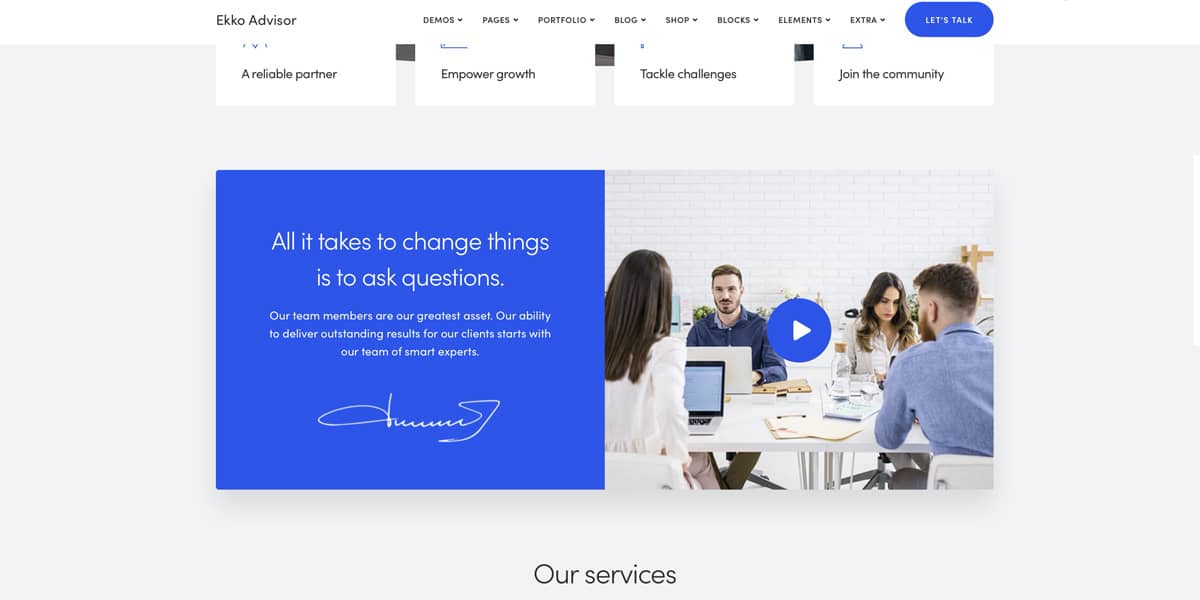 At the end of the day, though, the reason that I like this as one of the best WordPress consulting designs is because of that freedom and flexibility.
Every page can be carefully tailored to my exact needs, making my services page look a world apart from my blog pages – which both look completely different than my about us page, all while maintaining branding and an over arcing theme across the board.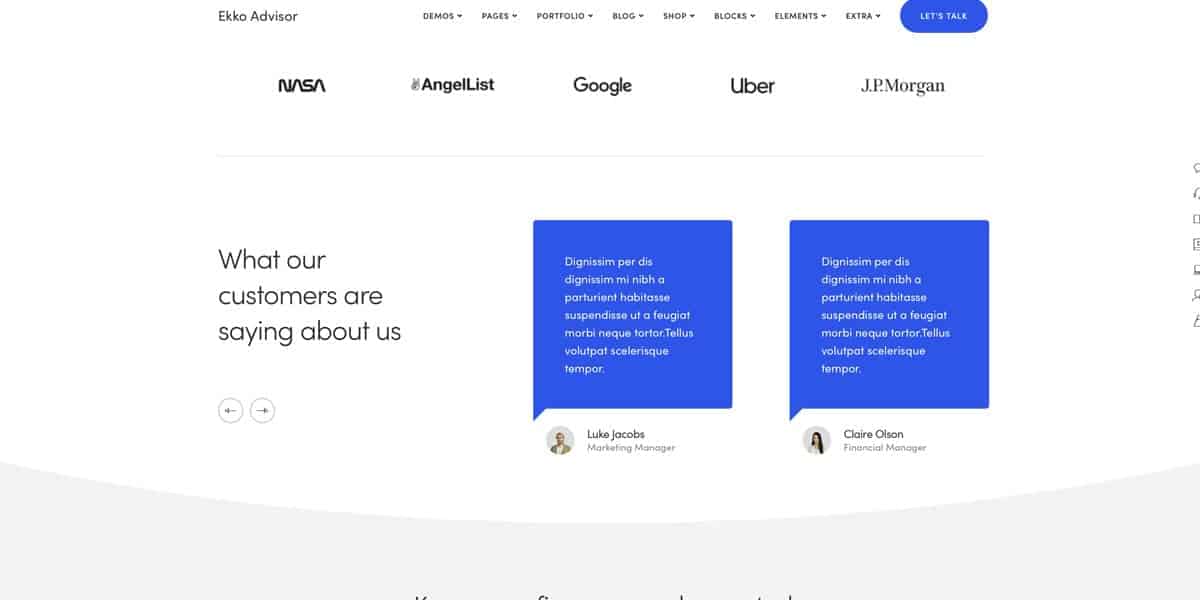 When you get right down to it, the implementation of these customizations (and the inclusion of some premium plug-ins that make life as a consultant very easy) help to make this a very attractive option.
---
9. Blossom Coach Pro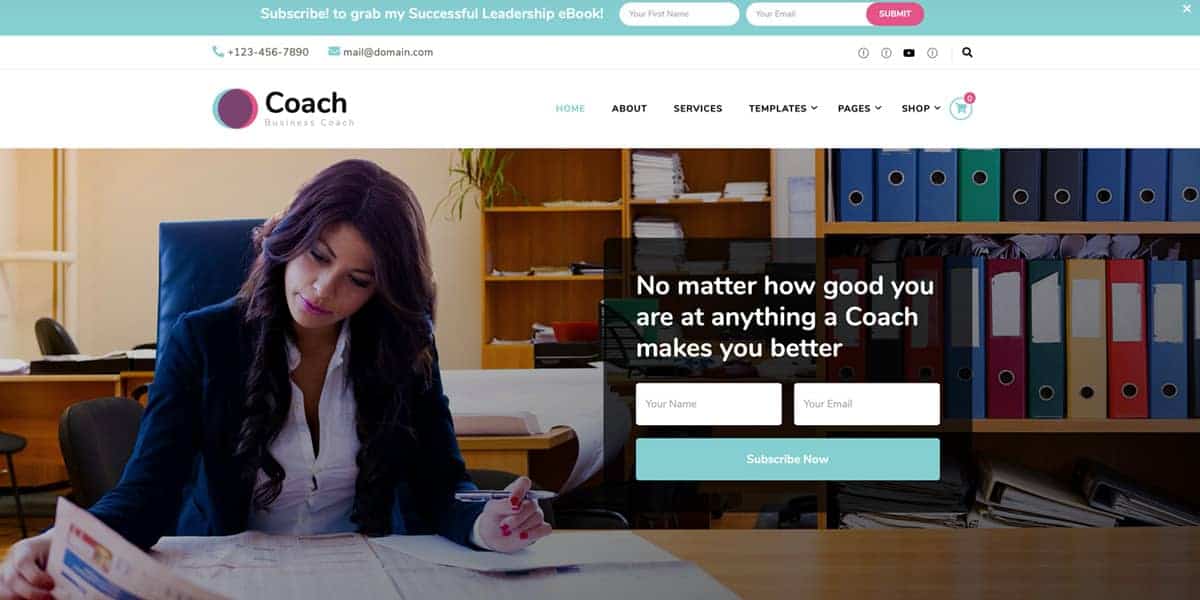 Consultants that want to put the mission up front and center, really showcasing the impact their professional services produce, will love this WordPress theme.
A multimedia focused theme for sure, the "infrastructure" of this platform is still able to deliver pages quickly. Load times are minimized without reducing the quality of the images or videos on these pages.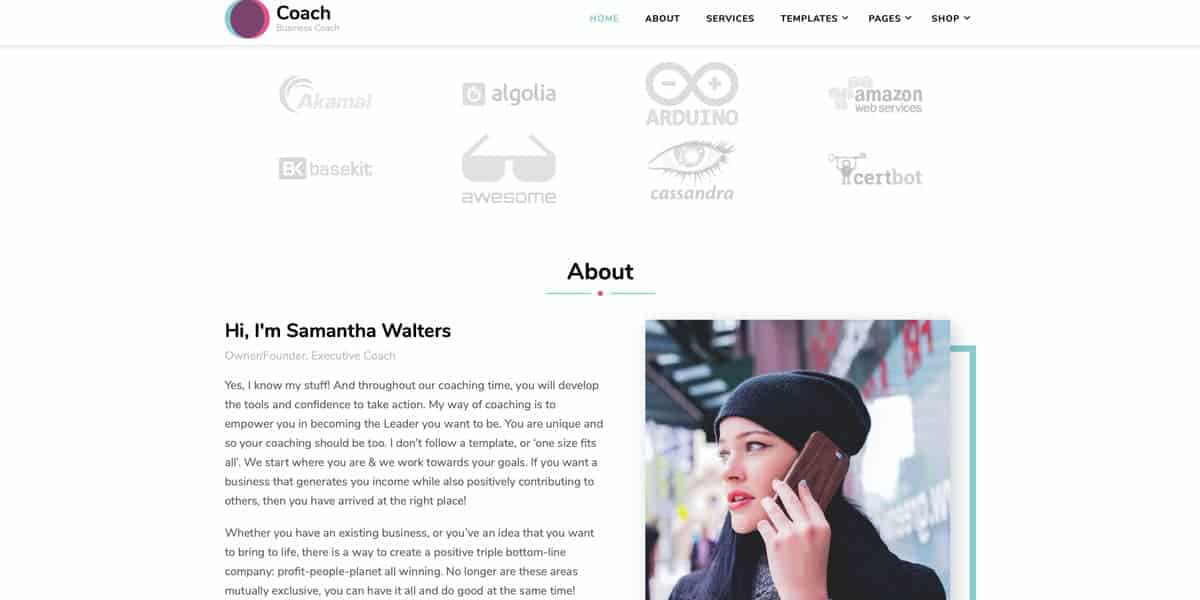 The actual custom builder tools on this theme are a little bit more basic than some of the other consulting business WordPress themes I mentioned earlier. But that shouldn't turn you off from this great-looking, modern, professional theme.
You'll still be able to tinker with different design elements – different colors, different layouts, different Google Fonts, and more. And you'll be able to use all your favorite plug-in and add-on extras with this WordPress theme, too.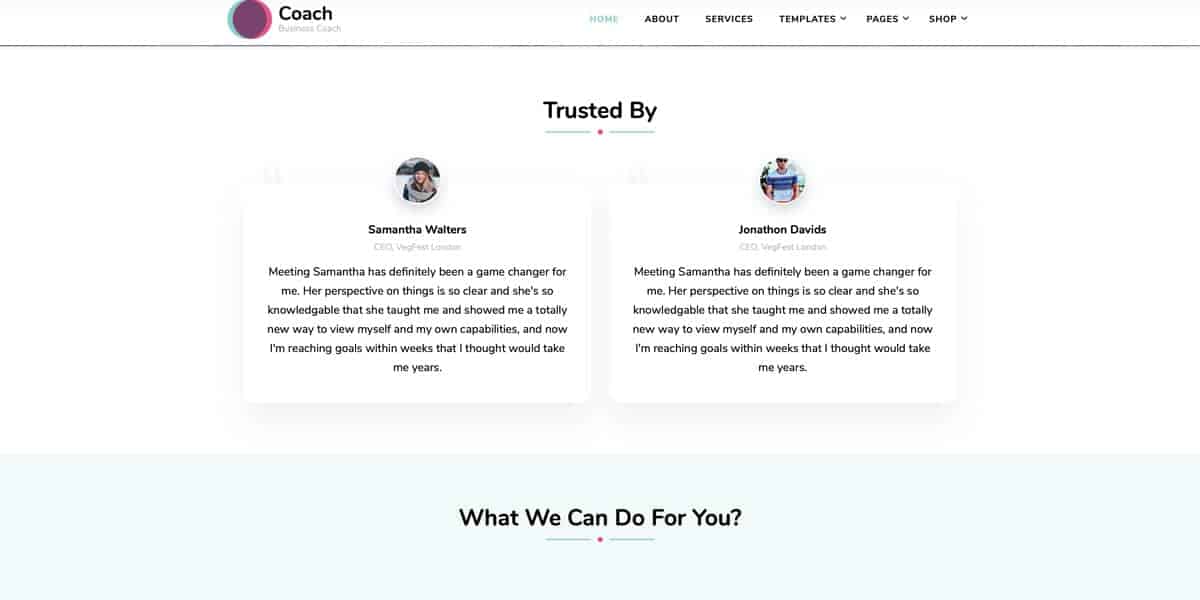 Have a closer look. You might find that the Blossom Coach Pro WordPress theme is ideally suited for the kind of consultancy you are running!
---
Was that helpful for you?
I would be very happy if I could help you by recommending these themes.
Do you already have experience with your own website? Then leave me a comment. The WP Fellows community is happy about every exchange of experiences.