You've got your new website up and running and now it's time to install plugins. As a long-time developer, I'm always asked: Which are the best WordPress plugins?
What are the optimal tools, eCommerce extensions, page builders, booking addons, galleries, and backup plugins? And what about the GDPR compliance of plugins for WordPress?
All these questions are answered by my list of recommendations for WordPress plugins, which belong to the absolute must-haves. With many explanations and nicely sorted by application on your website or blog for you.
Fewer plugins are the best choice for your website
Each of your WordPress plugins adds not only functionality to the website but also additional code. And this code is also very often loaded on every single page.
The more code is loaded, the slower your page will become over time.
That's why I strongly recommend you to think carefully about which WordPress plugins you need and which ones you don't. Many small things can often be solved without an extension.
Tip:
By the way, deactivated plugins also have an impact on your website performance. Usually, there is still data of them in your database.
It's best to delete WordPress plugins you no longer need directly instead of keeping them disabled.
The best free WordPress plugins
For the very hurried among you, there are the best free WordPress plugins here directly as a table at a glance. With a click on the respective plugin name, you come directly to the description of the plugin.
| Plugin | Purpose | Downloads |
| --- | --- | --- |
| 1. Rank Math | One of the best SEO plugins on the market. Helps you to quickly and effectively optimize your WordPress site for search engines. | |
| 2. iThemes | Secures your website with many functions against attackers and hackers. Easy to use even for beginners. | |
| 3. AntiSpam Bee | Helps you keep spam comments under control. | |
| 4. Yoast Duplicate Post | Let's you duplicate and revise posts, pages, and more. | |
| 5. Redirection | Helps you with 301 redirects. | |
| 6. Duplicator | Duplicates entire WordPress installations. Helpful for website moves. | |
| 7. WP Show Posts | Lets you easily view posts from any category on any page. | |
The best free WordPress plugins
Now I come to the presentation of the individual plugins and extensions. To give you the best overview, I have sorted the plugins into categories.
Best WordPress Plugins for SEO
Without good SEO no visibility on Google and without visibility no visitors on your site. It's as simple as that.
To be on top of this game, you need a good SEO tool that will help you master the high requirements of good optimization.
Here we go…
1. Rank Math – The best free plugin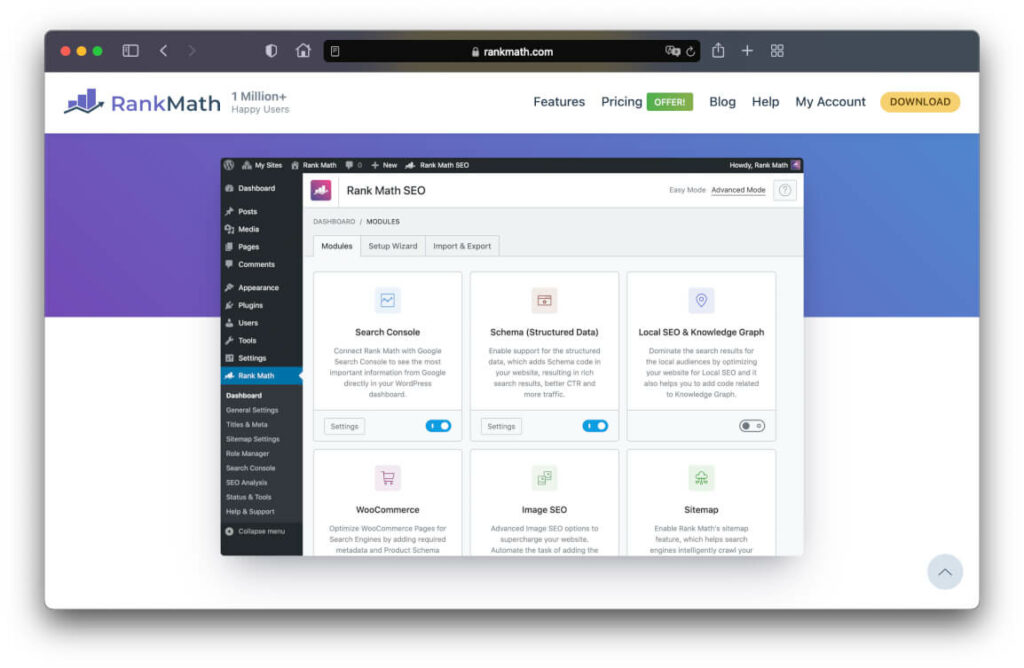 Why Rank Math is on top of the best SEO plugins here and not Yoast SEO? Because that's the way it is now for SEO professionals worldwide.
Rank Math already offers you much more features in the free version than you will find in the very expensive premium version of the Yoast SEO extension.
If you are serious about your SEO and want to generate traffic, then you should go for the pretty cheap Pro version of the WordPress plugin. Without it, we are not currently working on any website that we want to make money with.
These features distinguish the Rank Math SEO plugin from the competition:
Numerous functions for local SEO
Built-in news and video sitemap
Option to optimize an article for multiple keywords
Automatically generate social media sharing graphics
Easily customize breadcrumbs
Integrated Schema Editor, Importer and Linker
Very highly customizable XML sitemap and an additional table of contents for your XML sitemaps.
In addition, there is a Broken Link Checker that helps you avoid 404 errors on your website. The Broken Link Checker checks in real-time if your visitors land on a 404 error page and notifies you about it.
If you delete a single page and the URL is no longer available, you will receive recommendations for a 301 redirect, which can also be set up in Rank Math.
One of the most convincing advantages of Rank Math for me is the implementation of Structured Data, i.e. schema data. Where Yoast SEO offers only very rudimentary features, Rank Math simply sets the standard with a complete schema editor.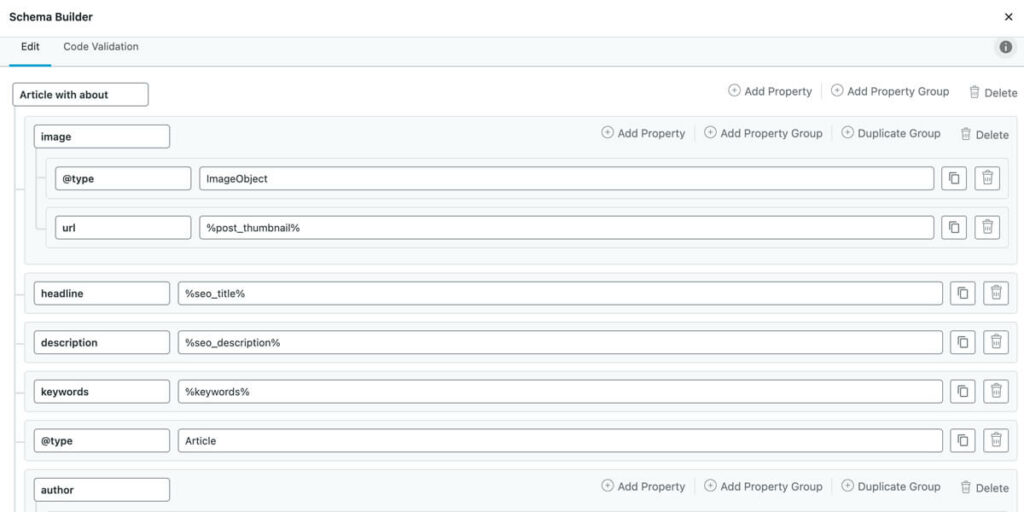 And you can believe me that Structured Data often makes the difference between winning and losing in SEO. For me, an absolute must-have plugin in the field of SEO for any online business.
Also free alternative: Yoast SEO
The best alternative to Rank Math is Yoast SEO. For many years, this addon has been one of the most popular WordPress plugins in the world and can be found on most WordPress sites.
The functionality includes a simple accompaniment when optimizing your texts for a single keyword, the automatic creation of your sitemap, and some very simple schema elements.
One more alternative: All in One SEO
All in One SEO is not too different from the free variant of Yoast SEO. The addon is virtually the dinosaur among the SEO plugins for WordPress and has been developed since 2007.
Here you can also find a Pro version, which offers you a bit more options. But my recommendation remains clear with Rank Math.
2. Link Whisper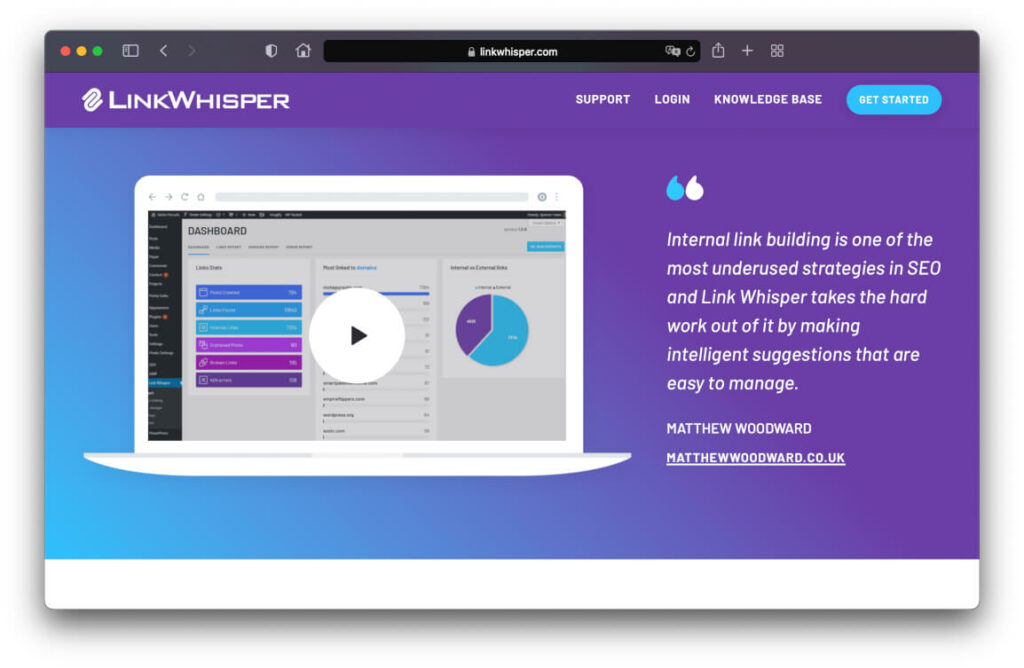 Internal linking is one of the most important aspects of good OnPage SEO. The more links you place within your own website, the stronger the impact on your search engine positions.
Not so many people know that, that's why most of them focus on getting backlinks from external sites.
The problem:
The more content you push onto your website, the more complicated good internal linking becomes. Simply because at some point you start to lose the overview.
The Link Whisper plugin regularly helps me build perfect internal linking on my websites. And it's not for nothing that I keep getting top rankings for highly competitive keywords.
Link Whisper continuously scans your website and provides you with highly relevant suggestions for links within your site. Additionally, you can define certain keywords and let the plugin link to them automatically.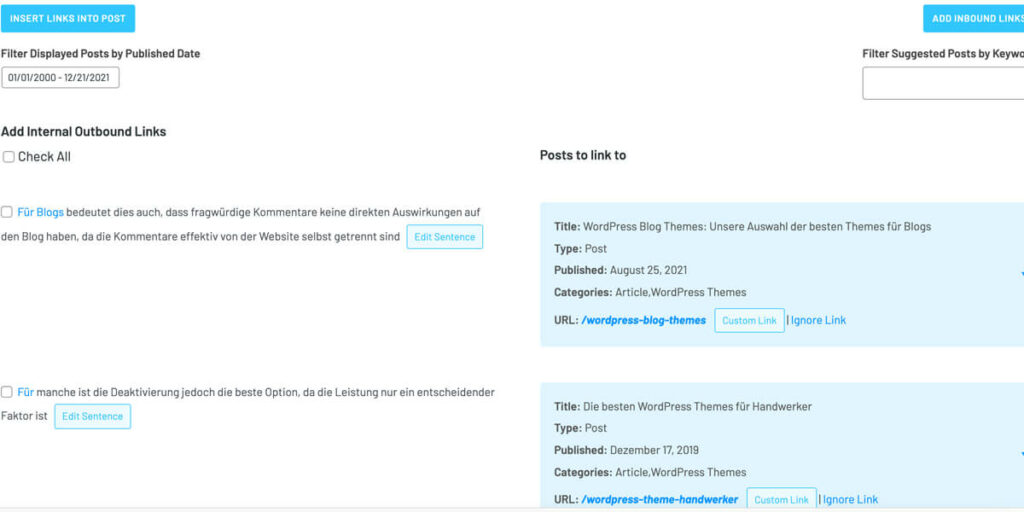 Alternative: Interlinks Manager
The alternative to Link Whisper is the Interlinks Manager plugin. The range of functions is not quite as large as my recommendation above, but at least you can have certain keywords linked internally by the plugin fully automatically.
Very nicely solved is that you get the history of the so-called Link Juice evaluated in the Interlinks Manager. So you can see how much "link power" you transfer to your subpages.
A big advantage of Interlinks Manager is the payment model. The entry is cheaper than with Link Whisper and you pay once for a lifetime license.
So if you don't feel like a subscription model, rather use Interlinks Manager.
3. Redirection – Free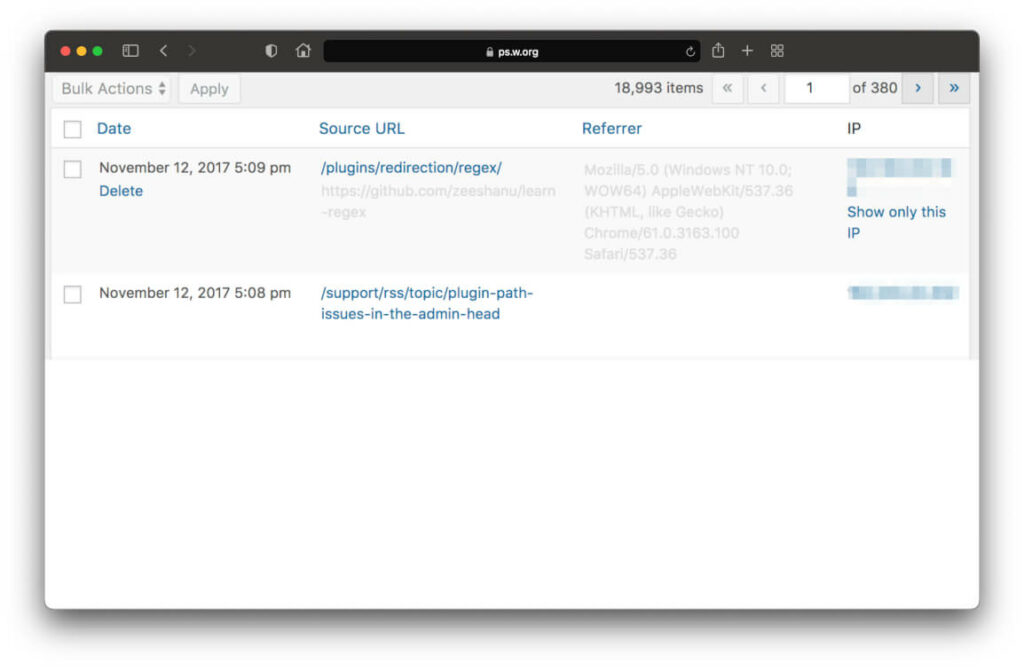 The Redirection plugin is a useful plugin that you will always need when it comes to redirections on your website.
You usually create redirects whenever you have deleted an old post, for example, and want to redirect the URL to another post.
With Redirection, you can create these redirections very easily without having to make adjustments in your .htaccess file every time.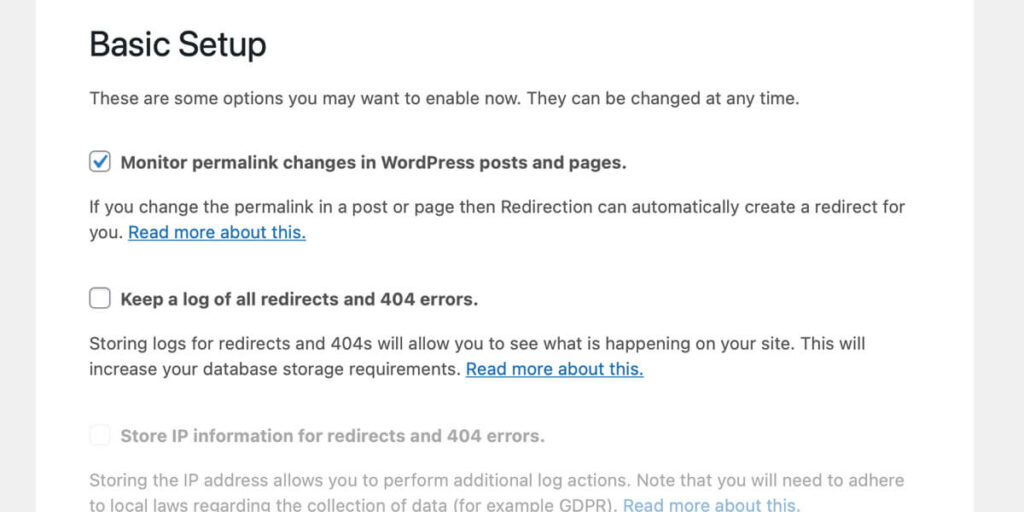 Especially good:
The redirection plugin can be set to automatically detect when you delete a post. In this case, suggestions for redirections will be made to you.
Ugly 404 errors are now a thing of the past.

By the way, you can save this extension if you use the Rank Math SEO plugin recommended above. Rank Math provides this function as well.
4. Limit Modified Date – Free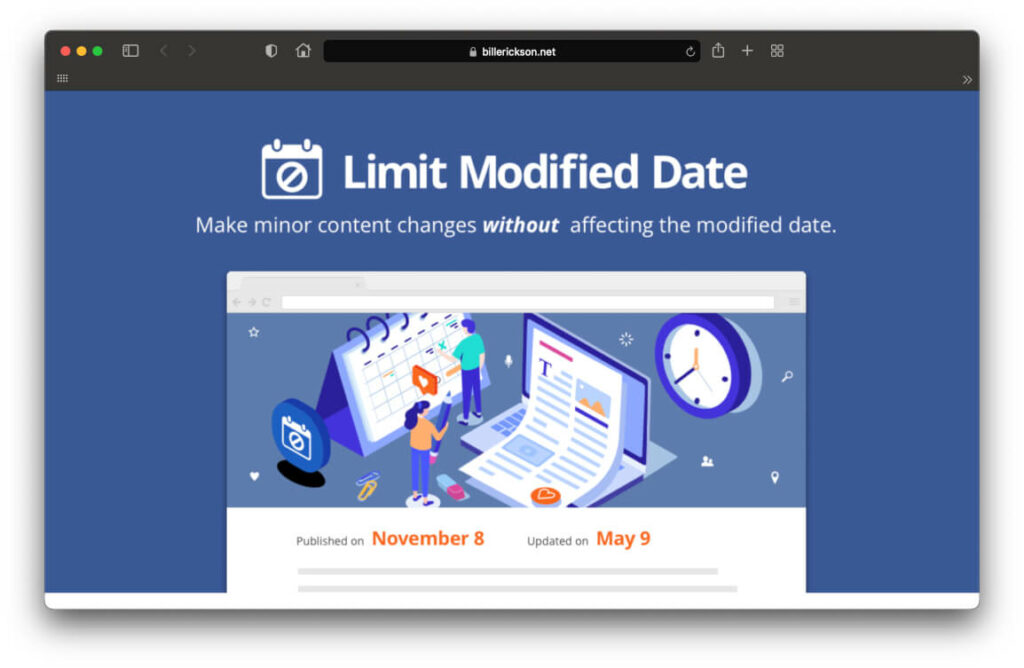 The plugin Limit Modified Date is probably known by very few WordPress users. It is extremely useful and belongs to every WordPress installation.
Every time you customize a page or article on your website, the date of the customization is entered in the page's code. This is called the modified date.
This update will also be added to your sitemap and the Google bot will come by your site to index the update.
But if you have only made a few very small changes or corrected a spelling error, the bot will come by for next to nothing, which will have a negative impact on your Google Bot visits budget.
With the Limit Modified Date plugin, you get a small checkbox directly in your editor that prevents the date from being updated. This way you can control exactly when it's worth for the bot to visit you and when not.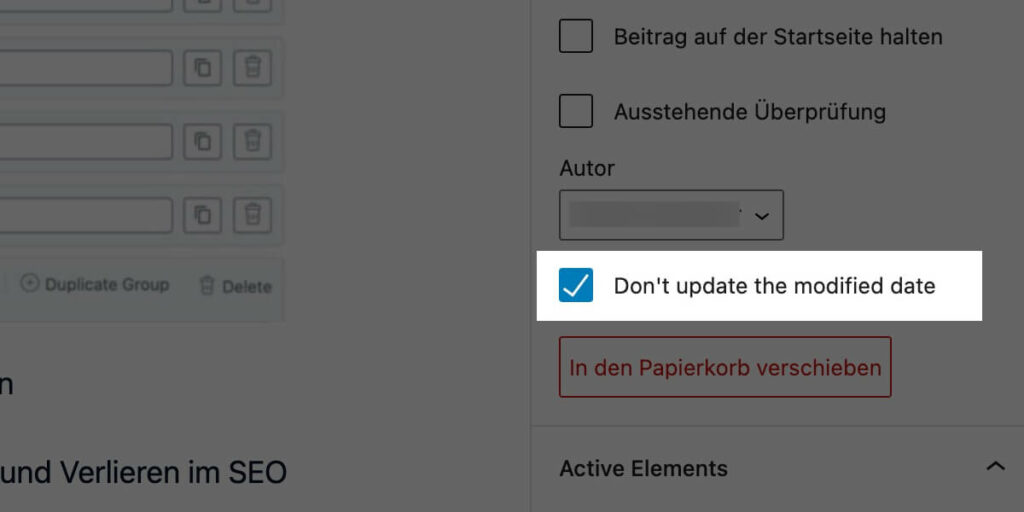 Security & Privacy Plugins
Your website's security and privacy are among the most important features you should provide.
A website is quickly hacked. With these WordPress plugins, you are a whole lot safer on the road.
5. iThemes Security – Freemium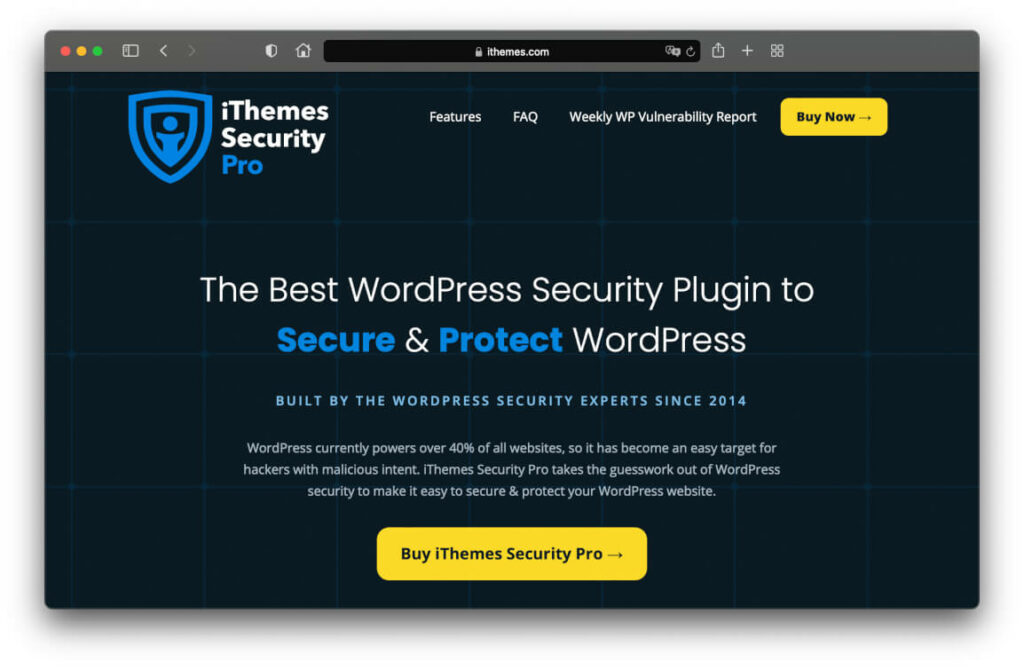 A must-have plugin for me because I hardly have to worry about the security of my websites.
If you work in the website industry, you know that the number of attacks on websites is increasing. At times we register up to 200 attacks per day!
A remedy for this is a really good security plugin like iThemes Security. This is ensured by the numerous, really well-designed functions:
Hide the URL of your WordPress administration area.
2-factor authentication for your admin accounts (super secure!).
Protection against so-called bruteforce attacks.
Changing the name for your wp-content folder.
Regular security scans of your WordPress files.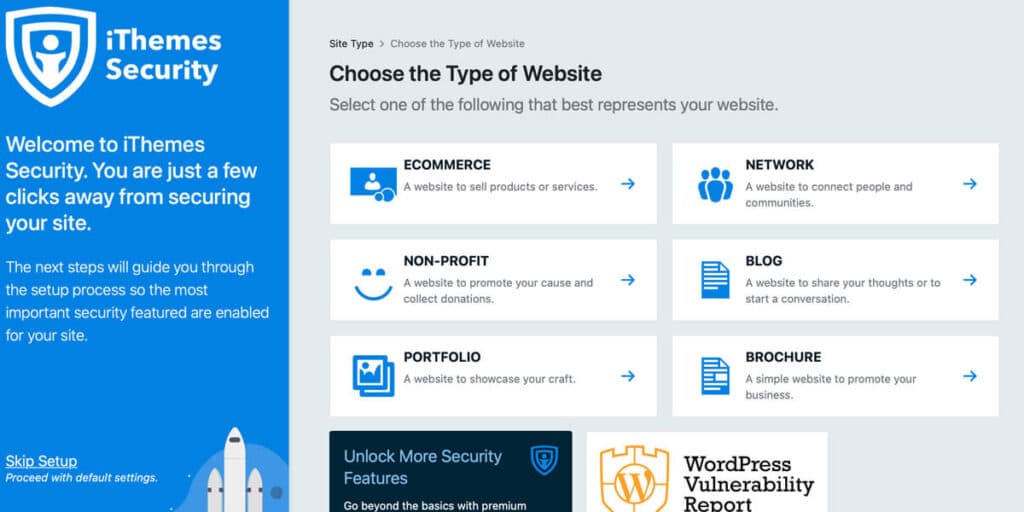 The plugin comes in a free and a premium variant. The Pro version adds a few more features and a security dashboard.
In my opinion, the free version is already so powerful that I would recommend it to you for the time being. You get all the features that will make your website much more secure in the first step.
Tipp:
When installing WordPress, the very first plugin you should install is iThemes Security. This way you'll be secured from the very beginning and can focus on your website work in peace.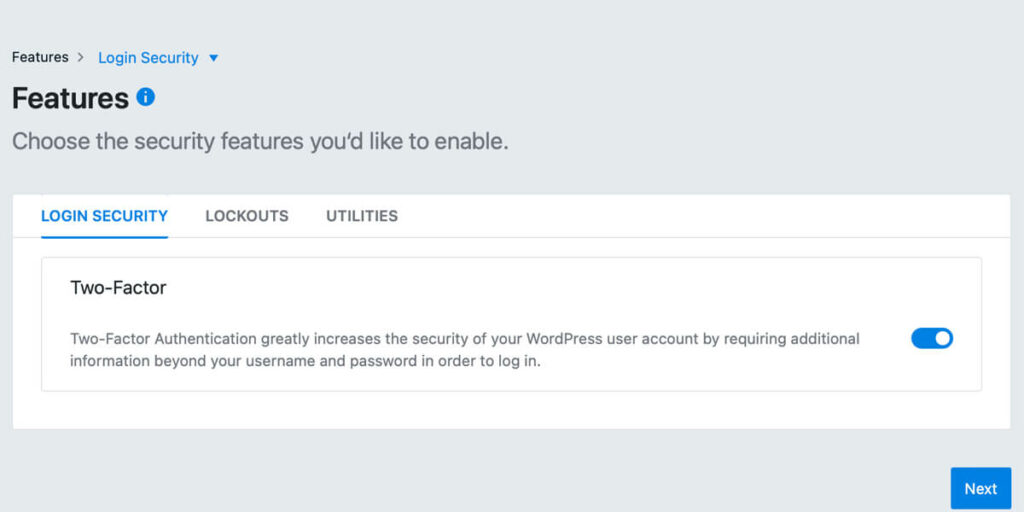 Alternative: Wordfence
Wordfence is a relatively good alternative to iThemes Security. The functions are almost the same and there is also a free and a premium version.
iThemes Security is still higher on my list because it doesn't affect the performance of your website the way Wordfence does. In my tests, websites slowed down significantly after Wordfence was enabled.
6. GDPR Cookie Consent Plugin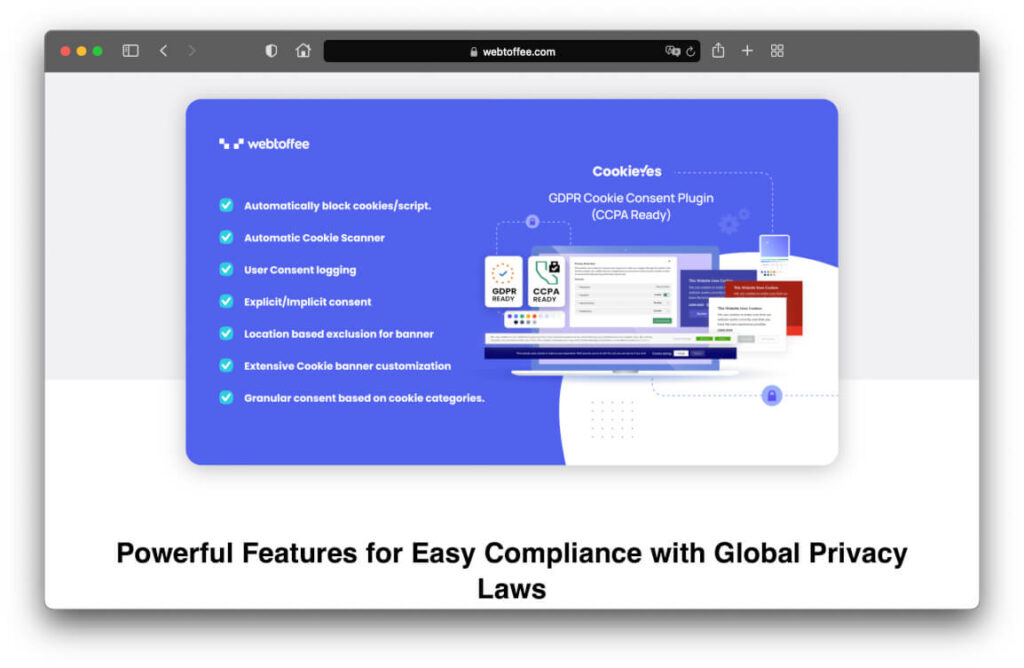 Now, in any other list of top WordPress plugins, Borlabs Cookie would be at the top. But not here, because the GDPR Cookie Consent plugin offers far more features.
While you have to set almost everything manually in Borlabs, GDPR Cookie Consent automatically scans your site for cookies and then adds them to the consent prompt in the Cookie Banner. Easy, especially for anyone who can't manually check for cookies in the Developer Console.
This way, even if you are not a cookie specialist, you can make your website compliant with the GDPR in no time at all.
The other features also offer more than can be expected from Borlabs Cookie:
2 minutes installation
Your cookie banner is fully compliant and live in just 2 minutes.
Automatically detects the cookies you use
Here comes the biggest difference to the competitor Borlabs. The plugin automatically detects all cookies that your website drops and includes them in the cookie query.
Automatic script blocker
Scripts like Google Analytics, Facebook, Twitter or Google Tag Manager are blocked automatically until the visitor gives his consent. So you don't have to set it manually.
Plenty of styling options
IHave you ever noticed that all Borlabs banners look kind of the same? With GDPR Cookie Consent you can easily design the banner the way you want it.
GDPR compliant user log
The tool automatically writes every approval to a log. If you ever have trouble with a complaint, you can quickly prove that everything is safe with you via the records.
Alternative: Borlabs Cookie
7. Updraft Plus – Free & Premium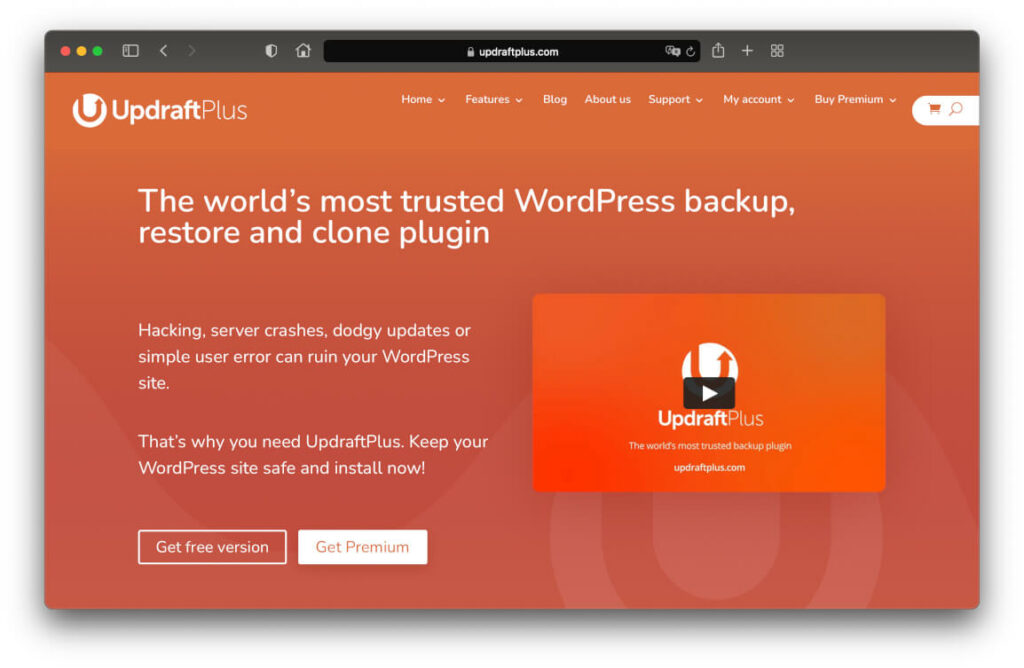 Rule #1 If you run a website: "No backup is as expensive as the one you didn't create."
Therefore, in any case, you need a good backup plugin that will take care of backing up your entire website regularly, reliably, and automatically.
In my opinion, Updraft Plus is the most reliable backup plugin on the market. And it comes with a lot of features that make it easier for beginners and advanced users to create perfect backups:
Creates backups of websites up to 100GB in size.
Backs up your site, your database and any folder in your web directory.
Lets you create schedules according to which your backups will be created automatically.
Backs up your data not only on the web server, but also in your favorite cloud service. So support for Dropbox, Google Drive Box and Co. is given.
Lets you restore your site from a backup in just a few clicks.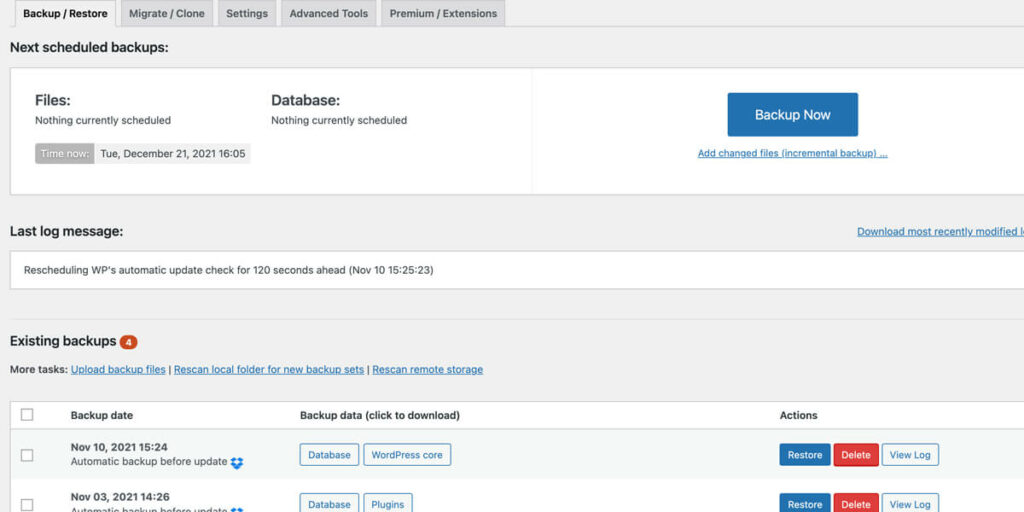 Alternative 1: Backup Buddy
An alternative to Updraft Plus is Backup Buddy. A plugin from the iThemes development team.
Backup Buddy shines more or less with the same features as Updraft. So all the features you read in the description above also apply to Backup Buddy.
This is also the case for my recommendation. No matter which of the two backup plugins you choose: You'll get a high-quality addition to your site that will make you sleep better at night.
8. Duplicator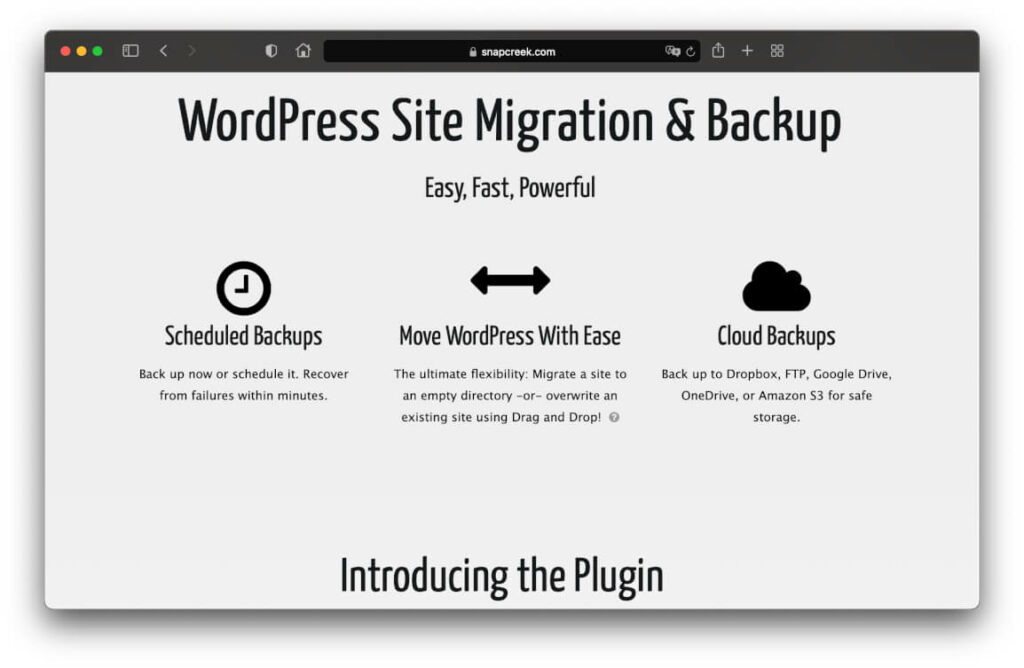 There are always situations where you want to copy a WordPress site. So you want to create a complete duplicate of a complete website.
Duplicator is a small plugin that does exactly that. And it's so reliable that I haven't had a problem with about 200 duplicates.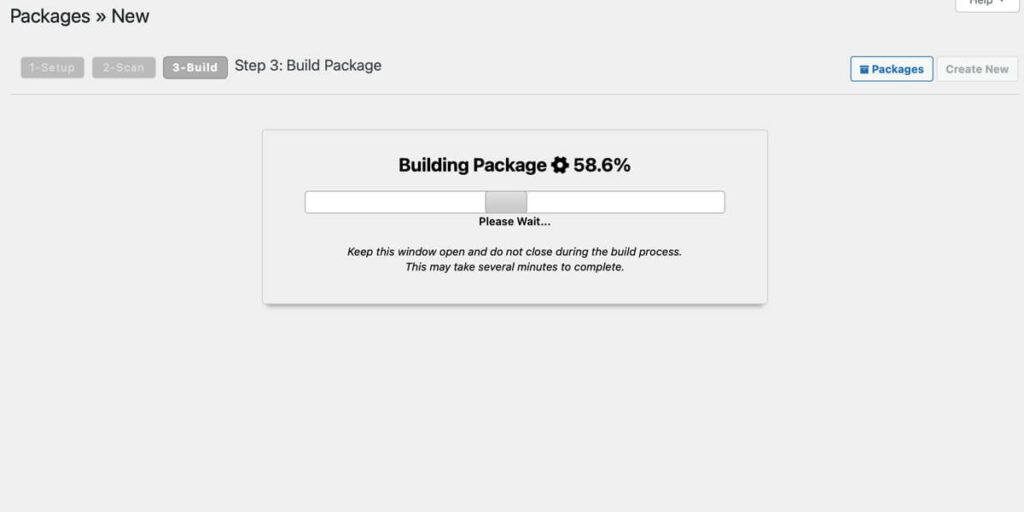 With Duplicator you simply pack an existing website, copy the packed files to another WordPress installation and unpack them again.
You don't have to worry about tedious changes and adjustments in the database at all.
9. Antispam Bee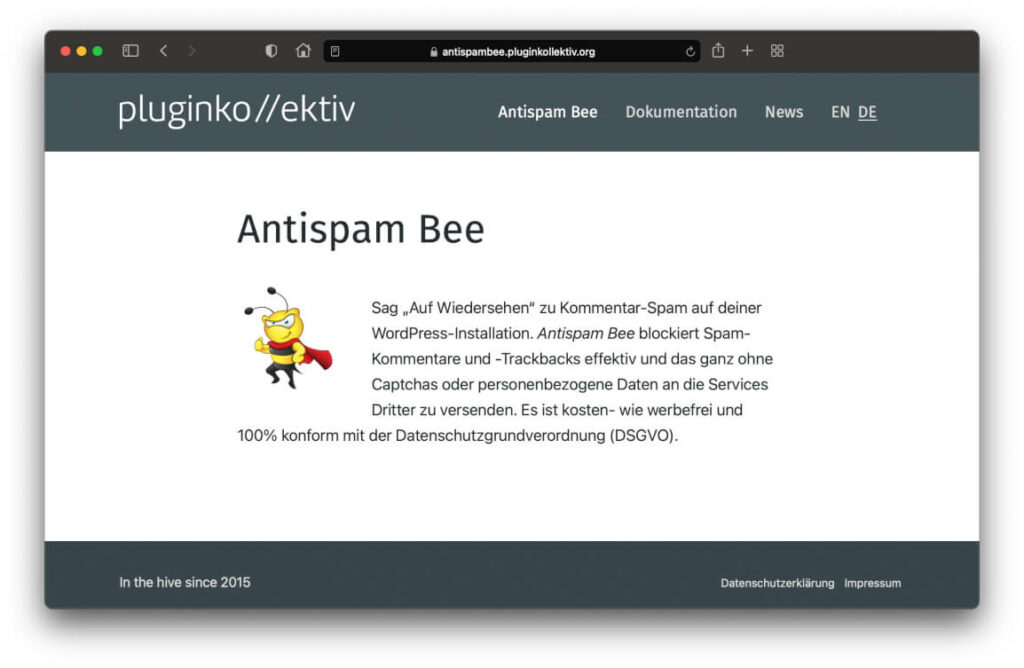 Comment spam annoys me immensely. After all, you waste valuable time deleting all the nonsensical comments.
One option would be to simply turn off the comment function. I do not like that, because communication with you is important for me.
Another option is the free extension Antispam Bee. Superfast setup and within a few minutes you have the spam problem reliably off the table.
Alternative: Akismet
If for some reason you don't like Antispam Bee, you can fall back on Akismet. The plugin comes from the creators of WordPress and is therefore already present when you install WordPress.
However, for Akismet, you also need a WordPress.com account and for large sites also a paid plan.
Useful WordPress Plugins
There are also all sorts of useful plugins for WordPress, which I like to use from time to time. Mostly, however, they are extensions that are intended to serve a specific purpose for a short time and then are deactivated again.
10. Better Search Replace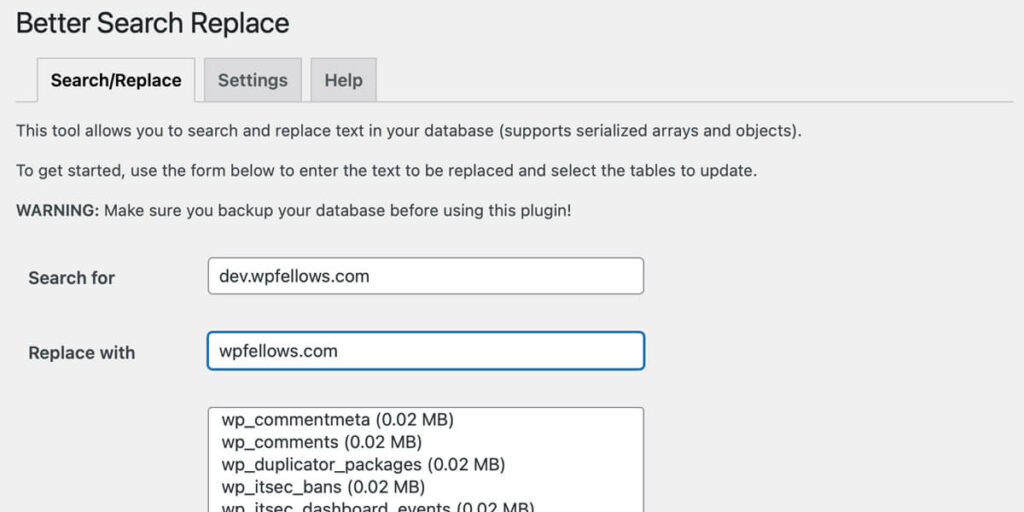 Better Search Replace is a plugin that lets you search for and modify specific entries in your database.
This always makes sense if, for example, you want to move your WordPress installation to a new domain, or move from a development environment to the live site.
If you had to search for all paths in the database by hand and then change them, you can do that with this plugin within a few minutes.
11. Really Simple SSL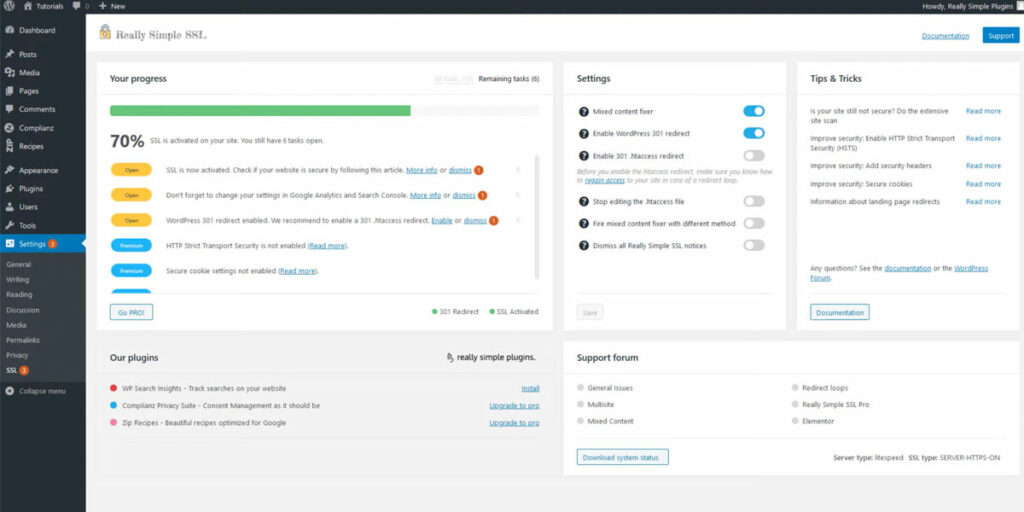 For those who want to be on the safe side when switching to SSL, Really Simple SSL is a very useful little tool.
Once you have SSL enabled in your hosting account, this plugin will take care of making sure that all of your website's queries are properly routed through a secure connection.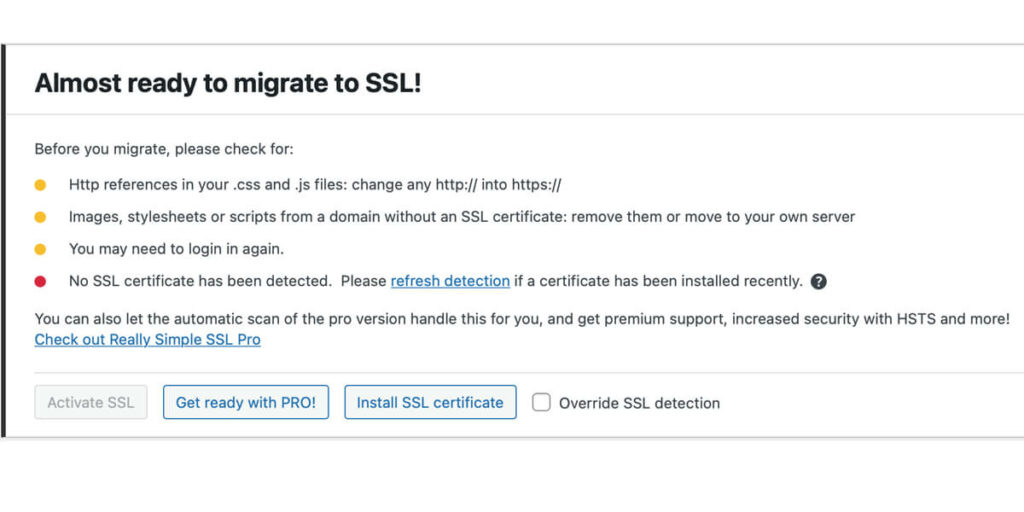 Extremely helpful, especially for beginners, to ensure that all images, scripts, and files are loaded via SSL and that no security messages are displayed in visitors' browsers.
Performance & Caching Plugins
WordPress can't really work without decent performance. The system is actually relatively fast but is always slowed down by themes, other extensions, and your images.
To achieve faster loading time and better performance, there are some WordPress caching plugins and helpers that I would like to recommend to you after many years of use.
12. WP Rocket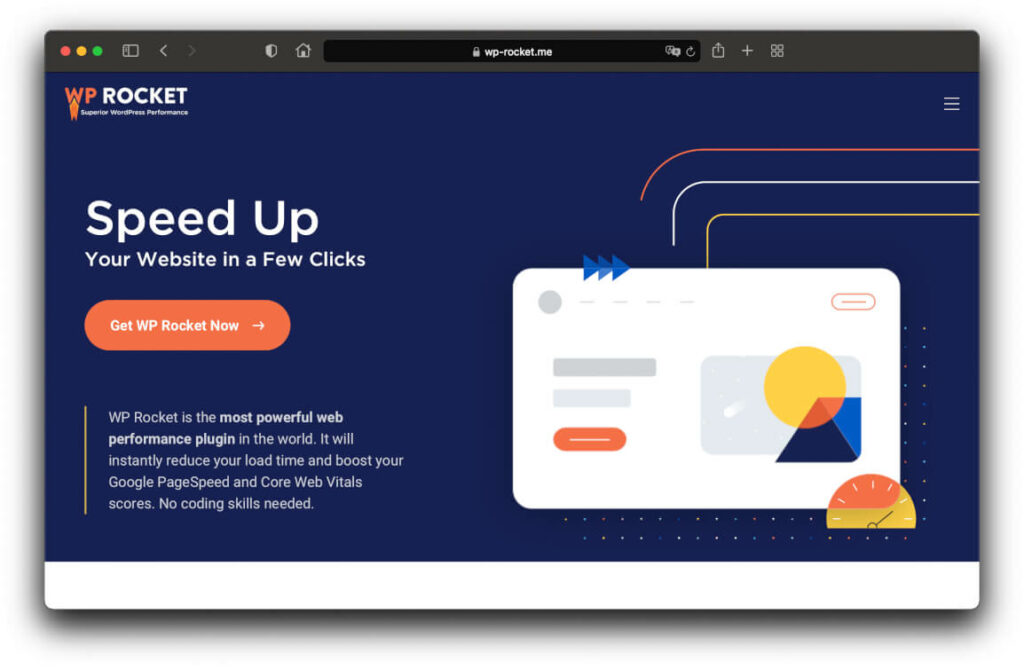 WP Rocket is by far the best caching plugin for WordPress. And that for two reasons:
It offers beginners a huge performance gain in loading website content with just a few clicks.
For advanced users, there are so many detailed settings that you can completely go wild with the optimization down to the last JavaScript file.
I myself have used the free caching plugins for many years. First and foremost W3 Total Cache. But after many tests, I have to say that I would prefer WP Rocket over all other caching plugins.
Advantages:
Adjustment of the browser caching
Minify and compress CSS and JavaScript files
Cleans up the WordPress database. E.g. delete revisions and other data corpses.
Disabling or limiting WordPress features like Health and Emoji support that make your site slower.
Local, optimized hosting of Google Fonts. Better for search engine optimization and GDPR, because Google Fonts are loaded faster and without data sharing.
Offloading files to a content delivery network (CDN).
Integrated lazy loading with an advanced function.
If you run an online store, WP Rocket will speed up your site without affecting your store's functionality.
And does it all work?
WPFellows is a pretty big, international site with extremely many functions running in the background. Not so easy to implement good page speed scores with such a battleship. With WP Rocket, however, not a particularly big problem for us 😉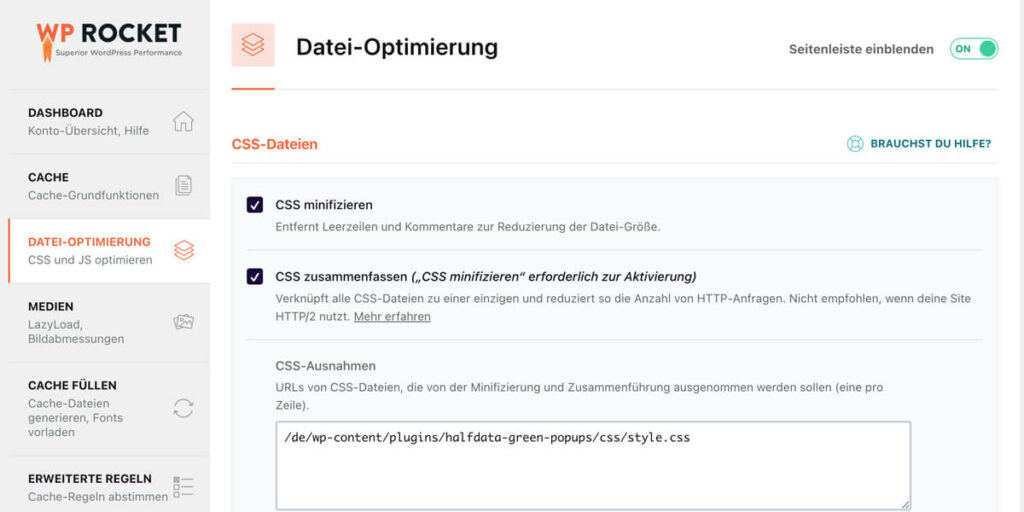 I would like to briefly discuss the Lazy Load function again. Lazy loading is when images on a page are only loaded when they come into the focus of the visitor. That is, when he has scrolled to the appropriate position.
The problem is always the very first image at the top of your page. With Lazy Load, Google can see this as a CLS error (Cumulative Layout Shift), which is not optimal. WP Rocket, therefore, does not apply laazy loading to the very first image at the top of a page.
13. Perfmatters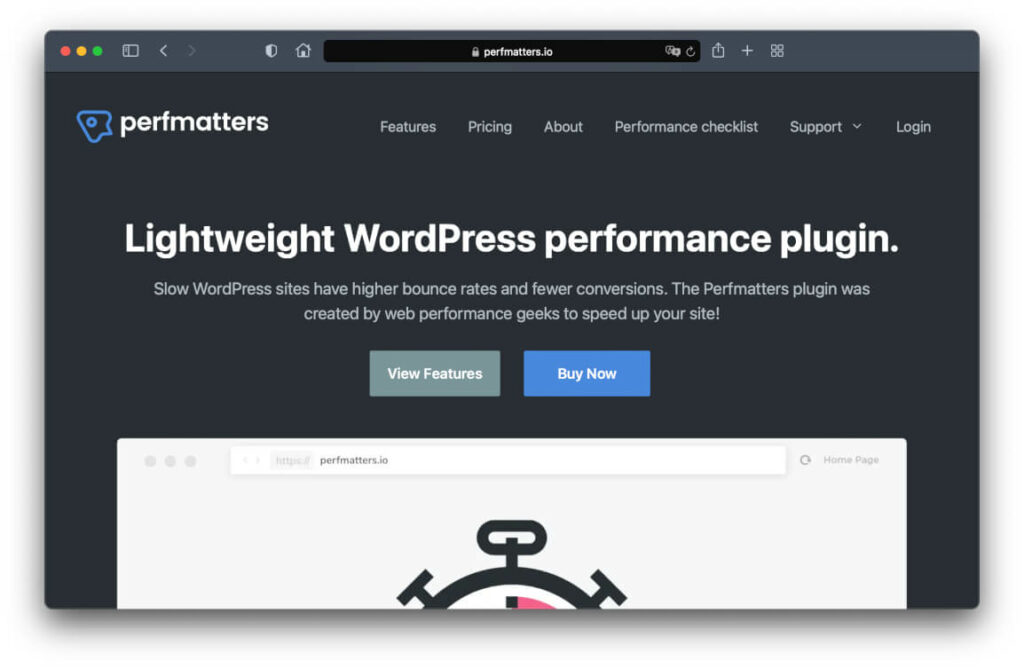 Perfmatters is such a special plugin that it is relatively unknown to most people. Good for you, because with this addon you can get a decent advantage over your competitors 😉
With Perfmatters you can determine exactly which scripts and which CSS should be loaded on which of your pages. Many WordPress plugins have the tendency to integrate their code into your entire page, although it is only needed on certain pages.
Let's just take the WooCommerce eCommerce solution as an example.
You would only need the code and the styling on your individual store pages and not on your blog. Nevertheless, the WooCommerce code is also loaded in parts on your blog. And whenever something is loaded, your page slows down.
With Perfmatters you can fix these problems in no time. A simple user interface lets you determine exactly where to load which scripts.
Content Plugins
Content management and building doesn't have to be complicated. WordPress, after all, already makes it very easy for us to build our blog articles and website pages beautifully.
But there are a few tools you can use to build your web pages a little better for your website visitors or potential customers.
14. Generate Blocks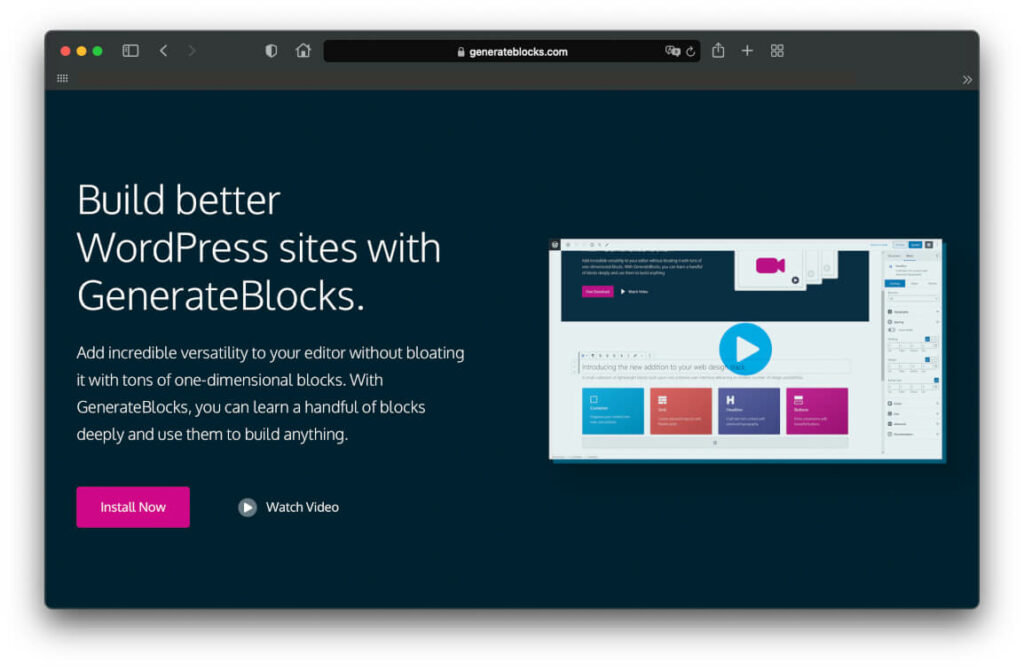 By now there are countless plugins for the WordPress Gutenberg editor. With the help of these plugins, you can extend your editor with many new blocks and possibilities.
Gutenberg is very disputed, but I think that nothing better could have happened to a content management system.
The problem with page builders: they often have an extreme impact on your page load times. Especially the popular plugin Elementor.
GenerateBlocks is completely different. It offers you many useful ways to customize your content with blocks the way you want it. Without being overloaded.
The programmer behind the page builder is Tom Usborne. A developer known for having loading times high on his list of priorities.
15. WP Show Posts
There are always situations where you want to display a selection of posts on a page. At best, a dynamic selection of posts, such as.
the latest posts from a specific category
only posts with a specific tag
or exclusively contributions written by a specific author
Normally, this would not work without a lot of code, a special template and the WordPress Loop.
For beginners and also for advanced users a very complicated solution.
This is where the free WP Show Posts plugin comes into play, taking this work off your hands almost completely.
With the help of the plugin you can define your own "post lists" and query posts according to your own criteria. These post lists can be inserted as a list or as a grid via a simple shortcode at any place on your website.
Without any programmer and without having to write any code. And because I know how much work this saves you, WP Show Posts belongs on my list of the best WordPress plugins.
By the way, the plugin comes from the same developer as the aforementioned Generateblocks. For me, a real seal of approval, because I can rely on the benefits of regular updates.
16. Easy Table of Contents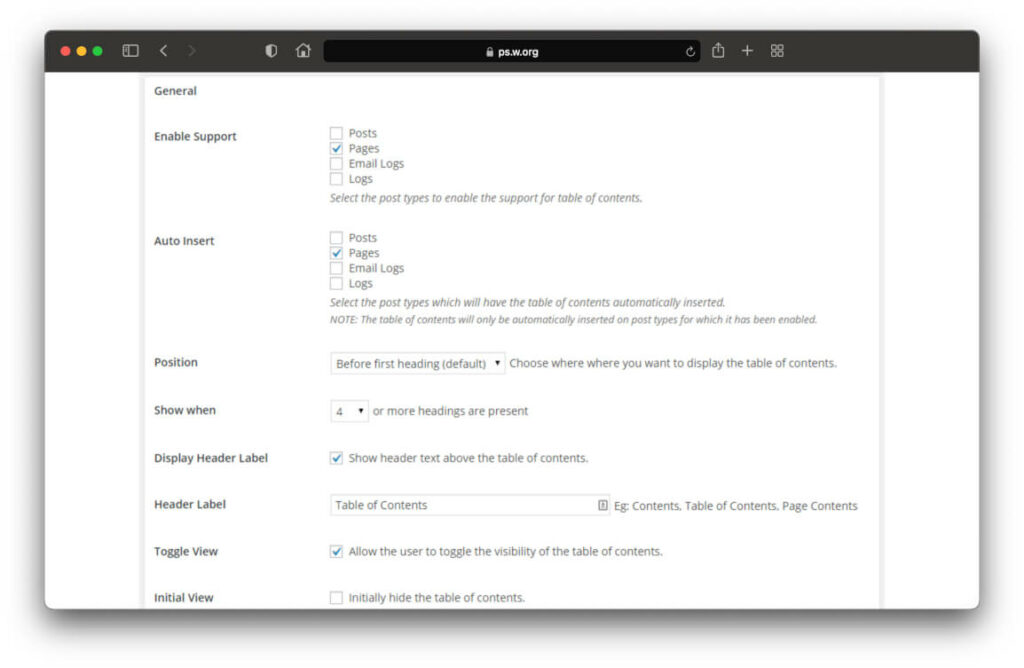 In content management, tables of contents are an unbroken trend. Since web pages are usually only scanned by visitors and not read, tables of contents help them find the most interesting passages on your pages.
By now there are a lot of WordPress plugins for tables of contents for your articles on the market. And I have tried them all. With regard to:
the simplicity of insertion.
Styling options.
Influence on the loading times of a page.
Except for the free plugin Easy Table of Contents, no plugin could really convince me.
With Easy Table of Contents, you can build automatically created tables of contents as a list in your articles and pages within a few minutes. The plugin recognizes H2 and H3 headings and can use them as a source for the table of contents.
You can then have your tables of contents automatically inserted into the article or insert them manually via shortcode using the Gutenberg Editor.
17. Yoast Duplicate Post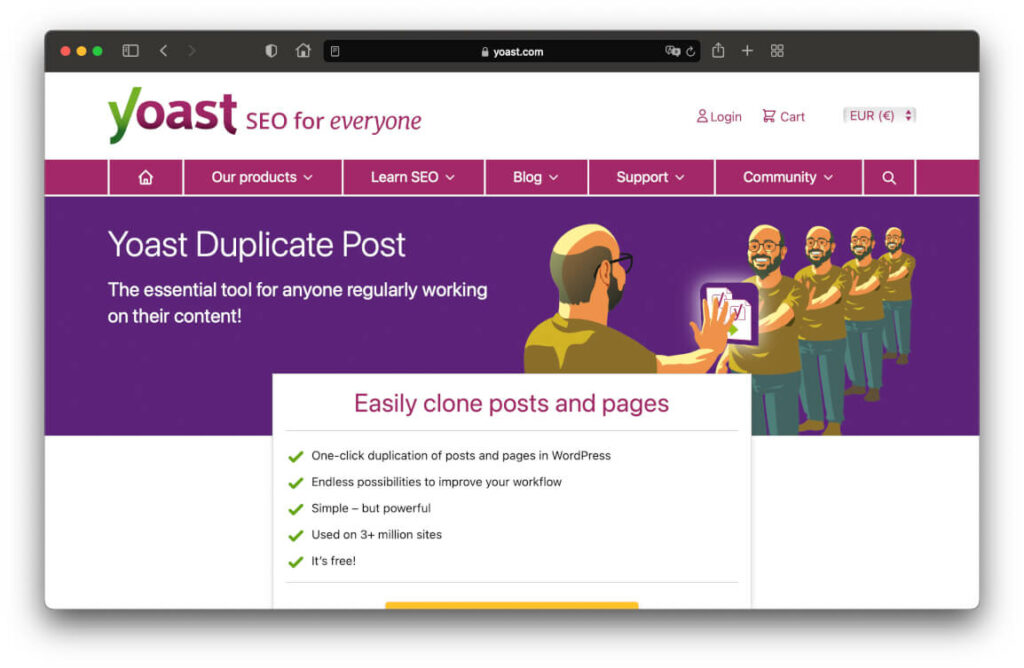 The free plugin Yoast Duplicate Post is actually designed to let you create a copy of a post or page with just one click. A feature that I would actually like to have implemented in the WordPress Core.
But what makes it one of the best WordPress plugins for me is the "copy and revise" feature. A brilliant thing!
Normally, you can just edit a WordPress post and then click Update. But this means that your revision will go live directly. However, you don't always want this.
With the Yoast Duplicate Post plugin, you can create a kind of copy of the post that you can then revise. This copy can also be saved over and over again without affecting your live post.
Only when you click Republish the copy will be automatically deleted and your original post will be overwritten with your changes.
Whenever we install WordPress, this plugin is at the top of our list because of this feature.
18. SVG Support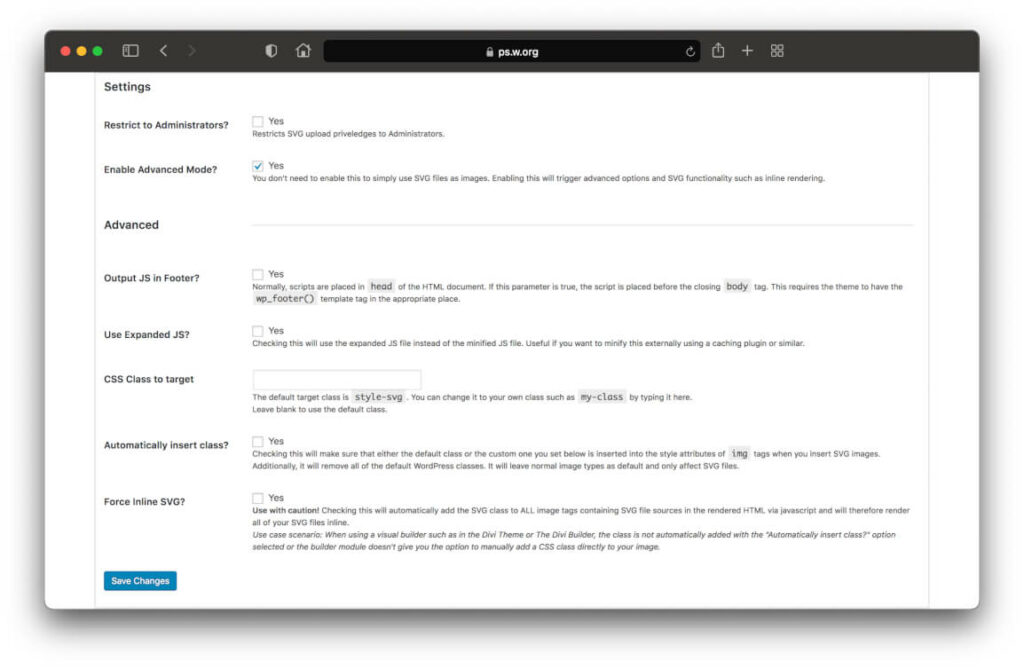 SVG is an image format for vector-based images. The abbreviation stands for Scalable Vector Graphics and the advantage is that an SVG never becomes roughly pixelated. No matter how much you enlarge it.
And that with minimal file size, too, which benefits your loading times.
The only problem is that WordPress does not support inserting SVG images for security reasons.
With the small plugin SVG Support, it is possible for you to load SVG graphics into your WordPress library and use them normally. The security concerns that the creators of WordPress have with this are also taken into account.
That's why SVG support is a useful little helper in every WordPress installation.
19. Classic Widgets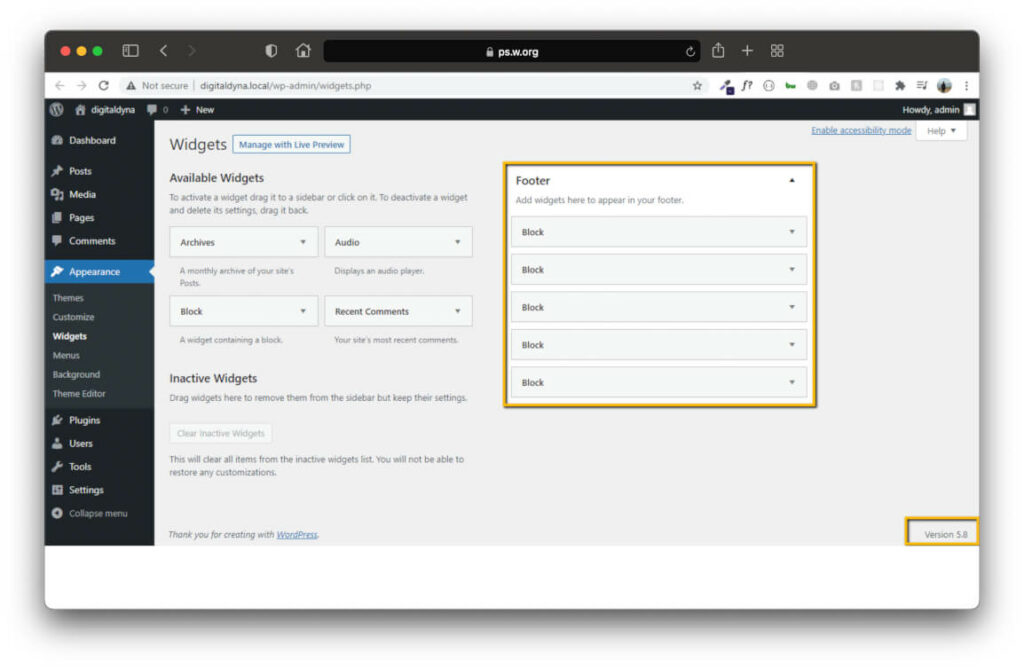 In 2021, WordPress has fundamentally changed the way you work with widgets. In the newer versions, WordPress no longer has the good old widget overview, but a whole new block editor, as you already know it from your articles and pages.
Of course, this is not everyone's cup of tea.
If you prefer to have the old widget view, you can easily restore it with the Classic Widgets plugin. Just install and activate the plugin and you will have the familiar widget overview again.
20. WP Mail SMTP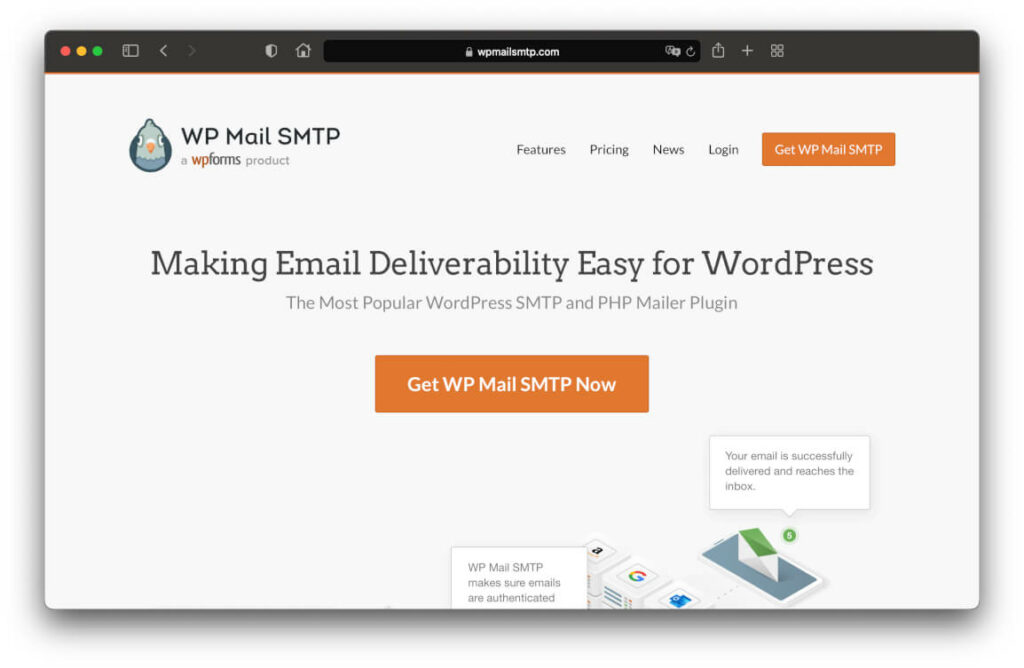 Whenever WordPress sends out emails to you or your visitors, this is usually done via a module that is installed directly on your server. The so-called PHP Mailer.
This is used, for example, when registering or submitting forms.
The only big drawback of the PHP Mailer is that it is so poorly designed that mails are often recognized as spam by mail programs and providers and disappear into the depths of the spam folders.
With the plugin WP Mail SMTP, you can change that. You configure the plugin with your mail data and from that moment on email will no longer be sent via the PHP mailer but via your own SMTP server.
Doesn't cost you anything and your mails finally arrive safely where they should.
21. Insert Headers and Footers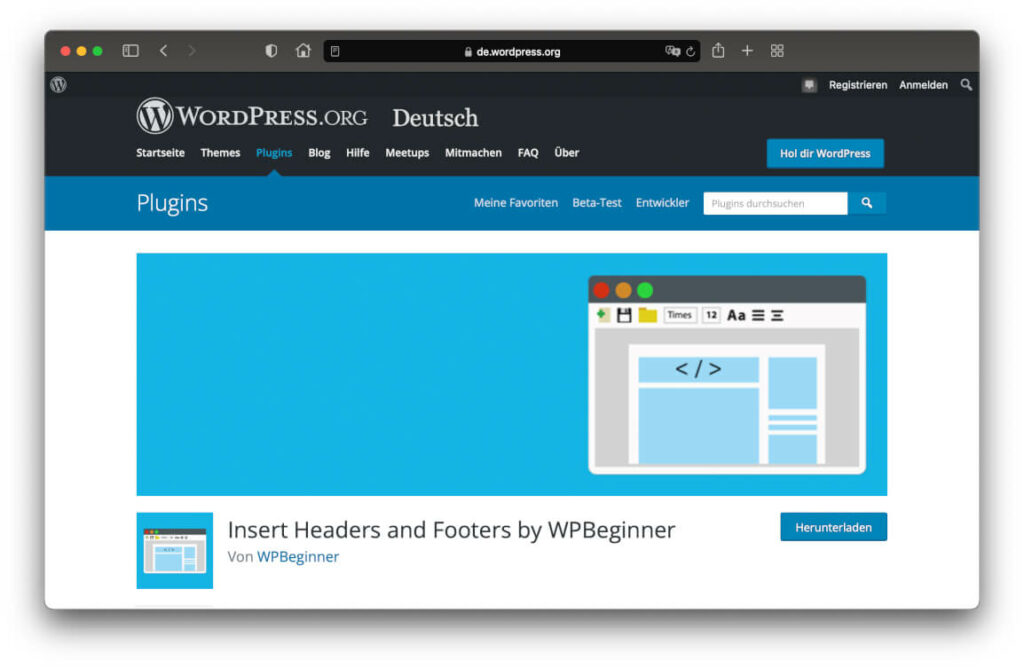 There are always occasions when you need to edit the code in your header or footer. For example, if you want to add the tracking code for Google Analytics or other tools.
Normally you have to connect to your server via FTP, call the header.php file and then change it in an editor. Especially for beginners, this is not a nice thing to do.
With the free plugin Insert Headers and Footers, you can do the whole thing comfortably directly from your WordPress administration area. Without any programming knowledge and FTP.
Marketing
22. Gravity Forms – Much more than a simple contact form plugin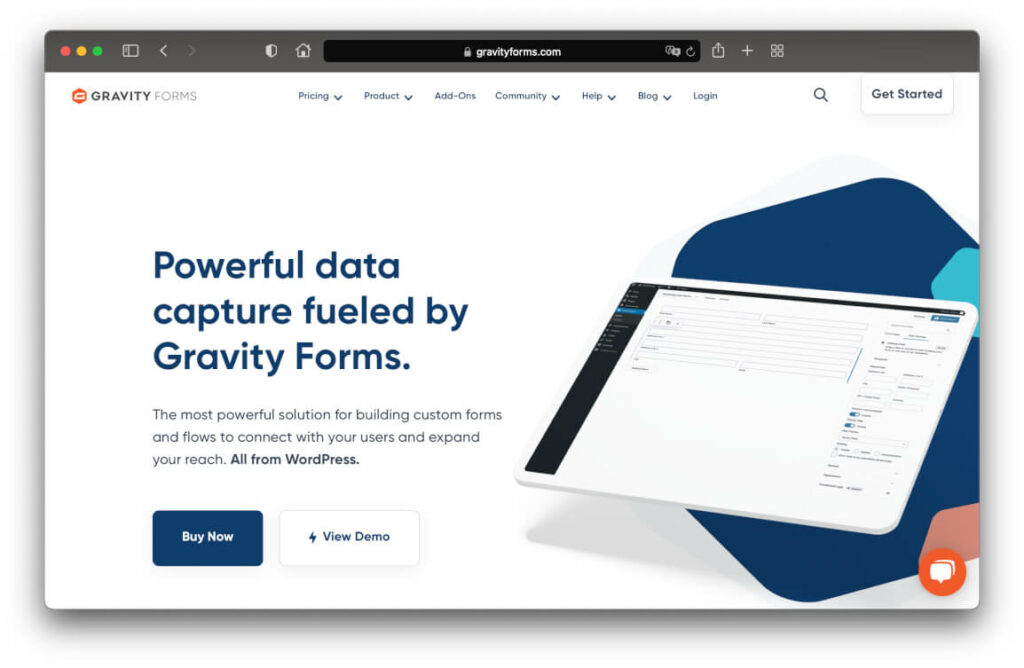 Pretty much every website needs a proper contact form. Maybe even several different forms. However, this can't be created with WordPress onboard tools.
A frequently used contact form plugin is the free Contact Form 7, but it is very limited and difficult to use for beginners. In addition, it is not really compliant with the GDPR.
The best WordPress plugin for forms is Gravity Forms. Extremely flexible and very quick to learn, even for beginners. Essential for your marketing.
The main functions include:
Easy creation of forms via drag & drop.
Show certain form fields based on input to other fields (Conditional Logic).
Define any number of confirmations and notifications. By mail, by text overlay or page redirection.
Calculate field inputs according to your own mathematical formulas.
Insertion of special store fields that allow you to sell products via the plugin.
Scalable with countless extensions. From payment providers to connectivity to external marketing tools.
Perfect for converting your blog readers into subscribers to your email list via Lead Magnets. For example, if you offer an e-book.
Important to know:
Gravity Forms is fully compliant with the GDPR. You can set in the plugin exactly which data should be stored and for how long. This data can be deleted automatically after a selectable period of time.
If you extend Gravity Forms with the DoubleOptin extension from Albert Brückmann, you have a secure, privacy-compliant form solution.
Alternative 1: WP Forms
WP Forms is a decent alternative for Gravity Forms. The functionality doesn't quite match that of Gravity, but the interface is very easy to use.
Alternative 2: Contact Form 7
If you like it very puristic, you can also use the completely free Contact Form 7. The range of functions corresponds completely to the name. Apart from ordinary contact forms, you can't do much with Contact Form 7 for the time being.
The whole thing can be extended with additional plugins, but at some point, it will also become relatively complicated and legally unsafe in terms of the GDPR.
23. MC4WP for MailChimp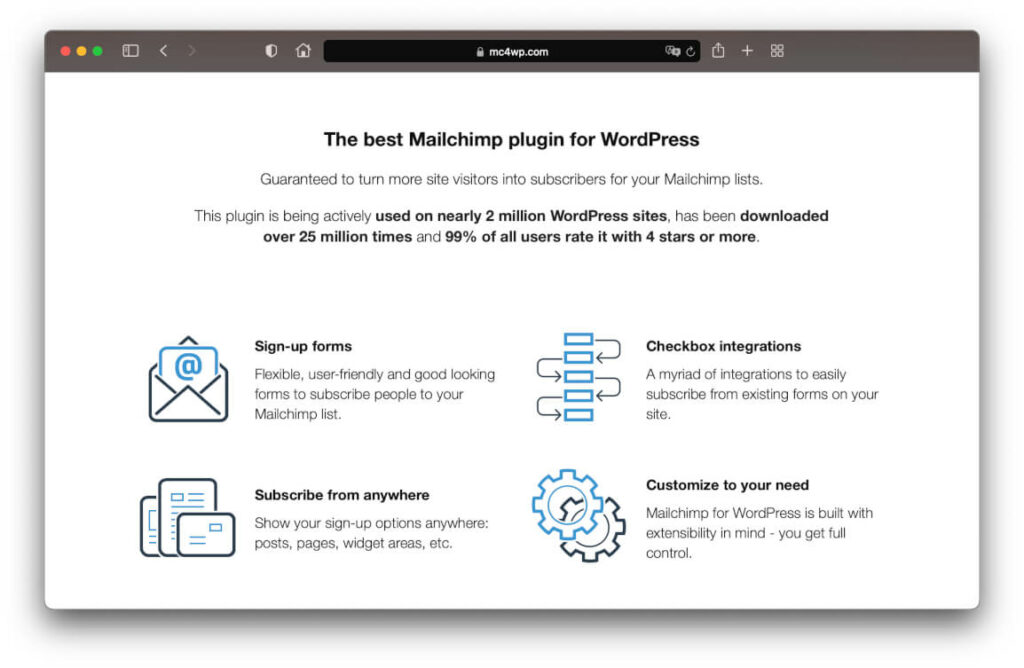 Choosing the best newsletter plugin is quite difficult for one reason. It depends on the service you use to send your newsletter.
Since I am very happy to recommend MailChimp as a provider to everyone, I also have the matching plugin for you right away.
MC4WP has a complicated name, but it is super easy to install and set up. The plugin connects your WordPress site directly with MailChimp and then brings you so some features:
Easily create newsletter forms that you can embed as a widget or anywhere on your site.
Integrates with your comment function. Commenting visitors can also subscribe to your newsletter.
Is compatible with numerous form plugins. Among them Contact Form 7, Gravity Forms and WP Forms.
Provides you with accurate reports on your forms and the subscribers you have acquired through them.
The alternative would be the official solution from MailChimp, but unfortunately, you can only use it if you also use JetPack. Very rudimentary and not particularly recommendable.
Important:
If you want to use MailChimp, this is not a problem with regard to the GDPR. However, you must conclude a contract for data processing with the provider.
You can simply download it from the MailChimp website and send it to the provider via a form. The whole process takes only a few minutes.
24. Green Popups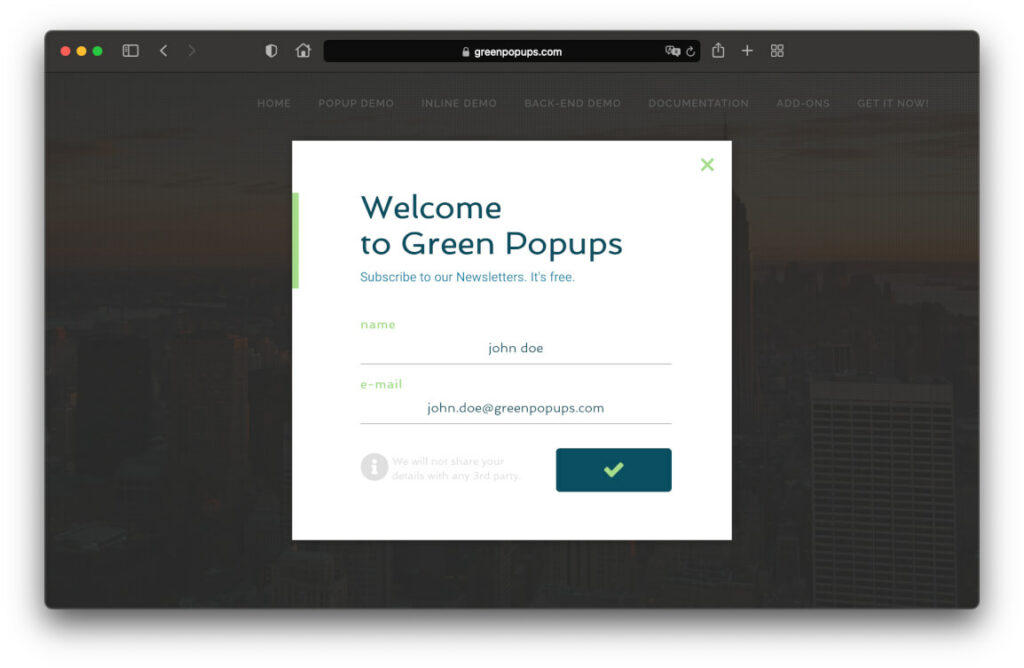 We all agree that popups are annoying. But good online marketers also know that they are the most effective way to push your conversions up.
In my opinion, Green Popups is the best WordPress plugin for popups.
It allows you to create your popups with a very simple WYSIWYG editor and design them absolutely any way you want. You can use one of the many templates, but you don't have to rely on them.
25. Bookly Pro – The best WordPress plugin for appointment booking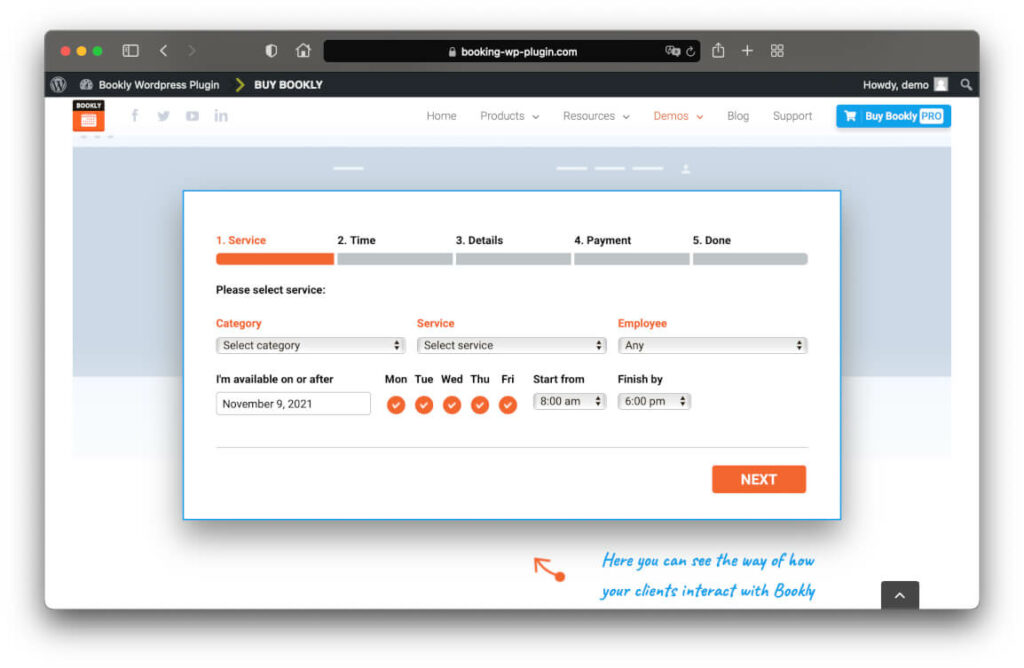 Are you like me? In 2020, even more of my business shifted online. Suddenly, online meetings and video conferencing were no longer exceptional, but the standard.
That's why I was looking for the best plugin for booking appointments and I more than found it with Bookly Pro.
And that is due to the extreme variety of functions:
The plugin can be connected to one or more calendars, so that there are no appointment overlaps.
Appointments can be booked for any number of employees and services.
You can offer appointments not only for free, but also paid. Payment interfaces are directly integrated.
Email messages can be defined to keep your client updated before and after the appointment.
eCommerce
26. MemberPress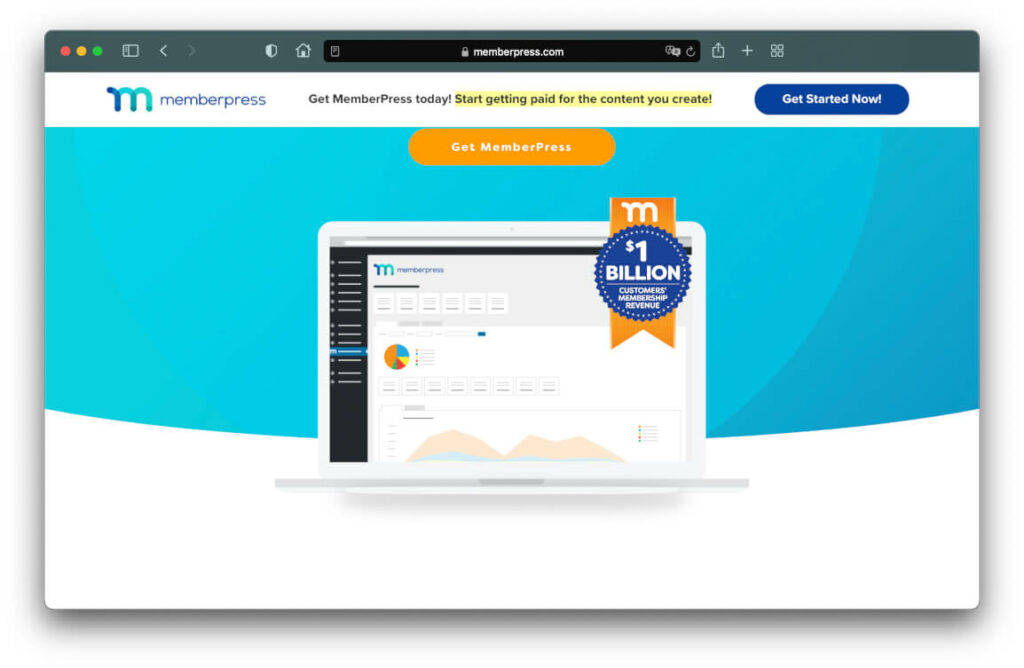 Social Media Plugins
27. Blog2Social
28. Social Warfare
Frequently asked questions
What WordPress plugins do you need?
WordPress already comes with a whole range of features that allow you to display your content nicely on the page.
Also SEO-technically, the system is actually already relatively well-positioned. With a lot of room for improvement.
That's why I would always recommend you to pay special attention to three areas:
Plugins that improve the security of your website. So offer protection against hackers and data loss.
Extensions that help you attract visitors via search engine optimization (SEO).
Plugins that you absolutely need for your online marketing. After all, your website is probably important for your business.
Only when you have these important features properly covered, should you worry about "the rest".
Are WordPress plugins free?
No. WordPress plugins are not free across the board. There are many useful little plugins in the WordPress repository that you can use for free. But many of the more powerful extensions cost money. Often you will find a Lite and a Pro version of plugins.
With the Lite version, you can test the plugin with limited functionality and then decide if you want to switch to the paid Pro version.
How many WordPress plugins are there?
Currently, a total of 59,774 plugins are listed in the official plugin directory. However, there are also countless extensions that are not officially listed. For example, extensions from the Codecanyon marketplace are rarely listed on WordPress.org.