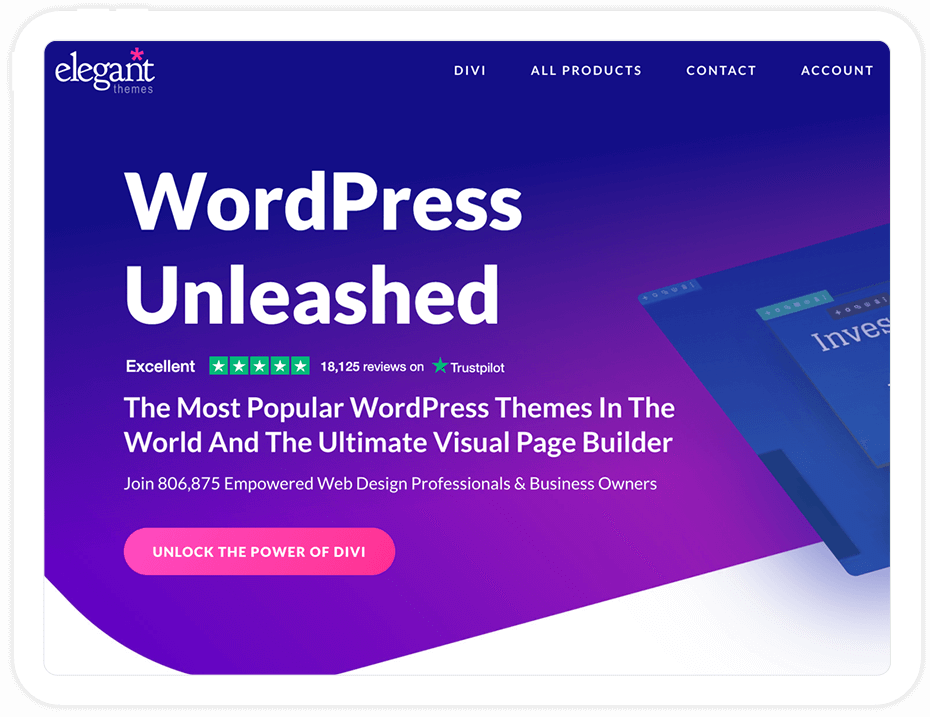 What I like about Divi
Super lightweight, fast, and modular for easy customization.
Effortless user interface that gives you full control over the Divi tools.
Can be used on an unlimited number of WordPress websites.
Literal "drag and drop" design tools that make building pages effortless.
Includes access to hundreds of professionally designed templates out-of-the-box, with more added to the layout library all the time.
What I don't like about Divi
The almost unlimited amount of design tools can take a bit of time to learn.
Somewhat limited in-line editing options.
Frequent updates may cause incompatibility with some plug-ins (until they themselves are updated, anyway).
The bottom line
In my opinion, the Divi theme is one of the best WordPress themes available right now.
Easy to use, easy to customize, and about as flexible and versatile as they come, Divi just might be the best "bang for your buck" WordPress theme builder on the planet today. You really can create any WordPress website you can imagine with nothing more than the Divi theme.
I give it a full five out of five stars!
What is Divi?
Originally launched by the Elegant Themes WordPress developers all the way back in 2013, Divi has grown into being one of the world's most popular "theme builders" available on the market today.
Unique compared to traditional WordPress themes that really only change the style and aesthetics of a WordPress installation, Divi allows you to change absolutely everything about your WordPress setup!
Want to drag and drop different design elements to different places on each individual page?
Want to transform your WordPress blog into an e-commerce shop?
Looking for a way to build a safe, secure, and beautiful website that's purpose-built for business online these days?
Divi has you covered!
The coolest thing about this tool, though, is that it is available in two separate forms – the WordPress theme itself and the Divi plug-in (called the Divi Builder).
Both of these tools are powerful enough on their own, but when combined together they give you ultimate control over how your WordPress website looks, feels, and functions, all without you having to know anything at all about coding or programming.
That's tough to beat.
| | | |
| --- | --- | --- |
| Overall rating | | 4.7 |
| Ease of use | | 4.5 |
| Reliability | | 5 |
| SEO performance | | 4.5 |
| Loading times | | 4.2 |
| Learning curve | | 4.3 |
| Price | | 5 |
Divi Theme Features
Divi is one of the most feature-rich WordPress setups under the sun today.
Giving you the ability to custom design every aspect of your WordPress theme with a drag and drop system, you also get incredibly lightweight code so that your pages load faster, full extensibility and compatibility with WordPress plug-ins and add-ons, and one of the deepest theme and web element libraries available from any developer.
There's a lot to fall in love with when it comes to the features Divi brings to the table.
Avada's particularly noteworthy features
| | |
| --- | --- |
| Shape Dividers | Divi offers you so-called Shape Dividers with which you can make individual sections of your website stand out. |
| CSS Effects | CSS effects are integrated directly into Divi. Without knowing anything about CSS, you can use effects like a pro. |
| Layout Library | The huge layout library provides you with countless designs to make individual elements of your website look really good. |
| True Visual Editing | Edit your website purely visually. Without programming and without writing a single line of code. Ideal for beginners and those who are in a hurry. |
| Responsive Editing | Determine exactly how your website should be displayed on different devices. So you can optimize your WordPress website for mobile devices with just a few clicks. |
| 800+ Pre-Made Designs | Over 800 ready-made themes and over 100 fully importable websites will help you launch your new WordPress website in just a few hours. |



The Divi Theme Builder Plugin
This is the real "bread and butter" of the Divi platform, the reason that almost a million people have chosen the Divi WordPress tools to build their websites.
Offering legitimate drag and drop design tools that make it so that anyone – ANYONE – can customize their own WordPress installation without any designing, developing, or programming knowledge necessary, you also get a live look at your design in real time to see how these changes shake things up.
Being able to change the way your site looks just by clicking your mouse, dragging things around, and adding prebuilt elements completely changes the way that you'll use WordPress forever.
You get put right in the driver seat when it comes to customizing your WordPress site from top to bottom, giving you total control over the way it looks, the way it feels, and the way it functions.
Divi Theme Templates and Layouts Library
Divi offers one of the deepest digital design asset libraries of any theme builder on the market today.
This gives everyday users the chance to access more than 800+ ready-made WordPress themes, templates, layouts, and other design elements they can use to customize their website anyway they see fit.
If you need to get a new website up and running as quickly as possible, but also want it to look custom-built and professional, the theme libraries from Divi are a game changer.
You'll be able to modify these designs the same way you would be able to modify anything else with Divi, too. Think of these theme libraries as "cheat codes" or shortcuts to building better, beautiful websites in record time.
Let's not forget about the web element library that Divi offers, either.
More than 40+ elements are available right now (2021), including galleries, sliders, contact forms, comment sections, pricing tables, portfolios, calls to action, and so much more.
This means that you'll not only be able to hit the ground running with a beautiful website using the theme library from Divi but that you'll be able to give it all the functionality it needs in no time at all, too.
More Divi Features to Highlight
Lightweight Code Under the Hood
Page load times are hugely important these days, not just for search engine optimization purposes but for end-user purposes as well.
If your visitors have to wait any longer than a second or two for your page to load they are most likely going to leave and never return. Lightweight code under the hood of Divi keeps your pages fast and snappy, even if you go overboard when you designed them using the WYSIWYG tools.
Full Responsive Design Capabilities
Divi is built from the ground up with responsive design principles in mind, meaning your site will look fantastic (and organized) no matter what kind of device your visitors are using to view it.
On top of that, the Divi Builder tools themselves are responsive, showing you what your design changes would look like in real-time – on your site – before you make them live.
Split Testing Capabilities
The best online marketers and entrepreneurs understand the importance of split testing different changes, different updates, and different designs or copy changes.
Being able to effortlessly split test every page or component of your website with built-in tools from Divi separate this theme and builder plug-in from the rest of the pack.
Full Extendibility
Not only are you going to get access to everything that Divi has to offer from a site building and theme standpoint, but you get to use everything under the sun that works with WordPress installations, too.
All your favorite themes, all your favorite plug-ins, and all your favorite WordPress tools are going to help you really customize your Divi installation.
The Divi Performance Review: Is Divi Theme Slow?
Divi theme is not the fastest WordPress theme on the market. The many features of the theme make it easier to use but also come at the expense of loading times.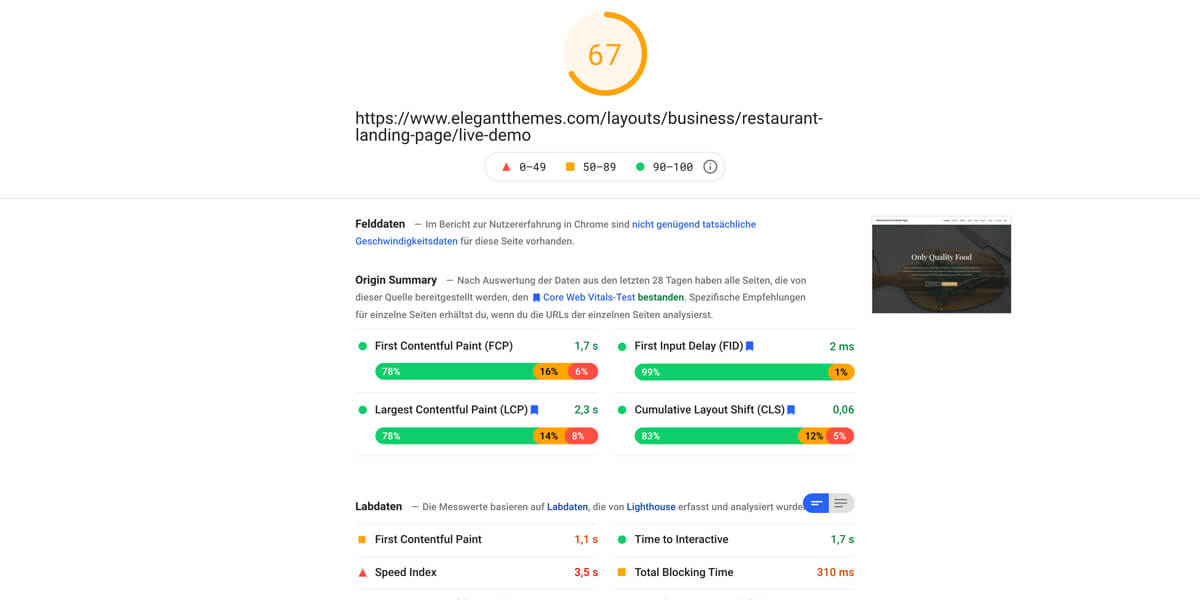 In our test, Divi scored just 67 out of 100 possible points in Google Page Speed Insights. And that is the test for the desktop version. The test for the mobile version was even worse with 36 out of 100 points.
If you want to use Divi on your website, you should be aware of the higher loading times. The manufacturer hardly addresses this issue at all.
With the help of really good caching plugins, you can easily make up for the speed disadvantage. Our recommendation is WP Rocket. A caching plugin that makes every theme and website much faster.
Divi Theme Examples
Avada is so versatile that even large companies, corporations, and famous personalities have implemented the theme! Included among Avada clients are:
Kissmetrics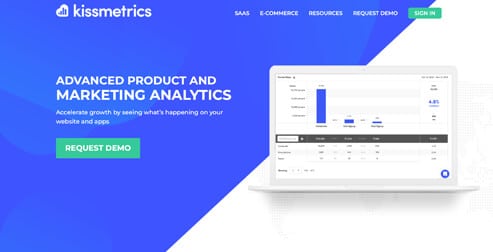 The website for one of the most popular marketing analytic and metric tracking services on the planet is built on the back of the Divi platform. This site showcases just how flexible and how customizable Divi really is!
Adam's Leap Wines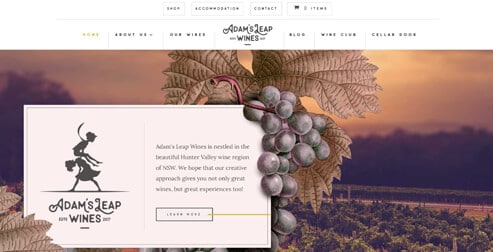 To see how well Divi handles modern web design you've got to check out the Adam's Leap Wines website. Dropdead gorgeous with a lot of "high-minded" design elements all made possible by Divi, this site shows just how creative you can get with the theme and page builder while also implementing really impressive e-commerce capabilities, too.
Boon Creative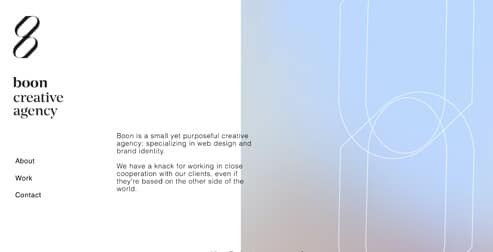 Those on the hunt for a modern, minimalist, slick-looking website (perfect for an agency or freelancer operation) are going to fall in love with this website built with Divi. Lightweight, highly responsive, yet featuring gorgeous graphic design elements, perfect typography, and a unique navigation structure, this shows the flexibility of Divi for sure.
Aperitoon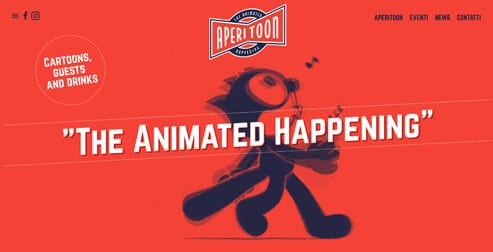 To really see how fast Divi can load (even when flooded with rich multimedia) thanks to its clean, organized coding and responsive optimization you need to check out this Divi-made website. It's going to blow your mind!
Sleeknote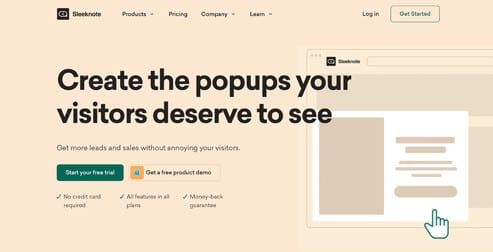 This website took a bit of a different approach to creating with Divi, opting for a more streamlined and simplified kind of platform that still looks very modern, very professional, and very clean. The "one-page" approach to this design really showcases how much creative freedom you'll have when you are using the Divi theme and builder.
Divi Theme Price – How Much Does the Divi Theme Cost?
There are two different ways to pay for the Divi theme and Builder plug-in:
The first is to pay $89 a year for it an unlimited license to use this platform as much or as little as you like on as many websites as you'd like, all while taking advantage of any of the updates that are pushed within that 12-month block of time.
The second (and the more valuable way to use Divi, at least in our opinion) is to pay $249 for a lifetime fee, giving you unlimited access to the Divi Theme and Divi Builder components, as well as every update ever, released going forward, too.
There's a lot of value in that second option, especially when you consider the addition of premium support, a full money-back guarantee, and all the updates you'll get from Divi.
Is There a Free Download of the Divi Theme?
While there isn't a full-featured free version of Divi that you can run on all of your websites, you can request and use a free trial demo version of the platform – on your own website – straight from the folks at Divi themselves.
Pop over to their website and request a demo today for more details!
Where to buy the Divi Theme?
Divi Theme is distributed directly from the manufacturer's website. The manufacturer is called Elegant Themes and offers you a lot of information and demos on the website, which you should take a look at before buying.
Is Divi Worth Buying?
While the $89 yearly fee (or the $249 lifetime access price) is a little bit on the steeper side of things, considering the fact that WordPress itself is available 100% free of charge with no strings attached, we have to say that you get more than your money's worth when you buy Divi.
This theme and builder setup eliminates all of the headaches and all of the hassle that building a WordPress site from scratch involves.
Forget about having to fight "out-of-the-box" themes to do what you want. Forget about having to dig into piles of code spaghetti to make simple changes. And forget about having to pay designers and developers to bring your WordPress dreams to life.
Now (for a relatively small amount of money) you can get your hands on Divi and handle all of it yourself – with very little effort and no technical skills necessary.
For me, that's a no-brainer!
Divi Theme Alternatives
GeneratePress
Avada
Enfold
GeneratePress is one of the most flexible WordPress themes I know. The loading times of the theme are far faster than most other premium themes on the market. GeneratePress is my first choice when it comes to a theme for a fast, SEO-friendly website.
Avada is by far one of the most popular WordPress themes on the market. The biggest advantage of the Avada theme is its fast customizability and its user-friendliness.
Enfold has been on the market as a theme for a very long time and is continuously developed by the Austrian team around the developer Kriesi.
Enfold also comes with its own page builder, which is not as extensive as Elementor and Co. but offers all the important functions.
Is Divi Bad for SEO?
Divi does a great job at handling search engine optimization (SEO), not only because it produces clean, organized, responsive pages that work well on all devices – a huge piece of the puzzle to search engine success these days – but also because it works well with all popular SEO plug-ins.
Sure, the "out-of-the-box" search engine optimization capabilities for Divi are a little bit lacking (but not by much) compared to some of the other options out there.
But when you factor in everything that Divi does right from an SEO standpoint with the ability to extend its SEO capabilities with plug-ins and add-ons effortlessly you start to see the whole picture.
In any case, we would recommend you additionally install a caching plugin like WP Rocket to improve loading times. Also, you can significantly improve the SEO capabilities with the affordable pro version of Rank Math.
Is Divi Better Than Elementor?
Elementor definitely has a couple of benefits (there's a free license and a $49 PRO license compared to the $89 "entry-level" fee for Divi), but the whole platform is nowhere near as well-designed, as well implemented, or as regularly updated as Divi is.
It's important to remember that Divi is more than eight years old right now. There's a lot of "mileage" under this theme builder and plug-in and almost all of the bugs have been ironed out by now.
What you get with Divi is a lean, mean, page-building machine with all the functionality you could ever want at a very fair price point.
Elementor is a decent tool to be sure (no knock against it).
It's just a bit of a lightweight compared to everything that you get when you go with Divi.
Recap of our Divi Theme Review: Is Divi a good theme?
Divi is a good theme. You can't deny that to the manufacturer. Especially for beginners, Divi offers the possibility to quickly and easily create your own website.
Numerous functions make every website a real eye-catcher.
If you are already a somewhat experienced WordPress user, we would rather recommend a theme like GeneratePress. GeneratePress doesn't offer quite as many features as Divi, but has fantastic loading times. And as long as load times are a critical factor for your SEO, you should keep them in mind.